2021 Contact Lens Educator Award winners
IACLE recognizes and applauds the achievements of its 2021 Contact Lens Educator Award winners
Contact lens educators from three countries – Colombia, China and the United Kingdom – are celebrating their success in the 2021 IACLE Contact Lens Educator of the Year Awards. The meetings they will attend to receive their awards will be confirmed once COVID-19 restrictions allow.
The IACLE Contact Lens Educator of the Year Awards recognize and reward achievements in contact lens education worldwide. Sponsored by CooperVision, these prestigious awards are presented each year to an individual from each of IACLE's global regions.
The 2021 winners are:
IACLE Americas Contact Lens Educator of the Year
Dr Johanna Garzón
Universidad de La Salle, Bogota, Colombia
IACLE Asia Pacific Contact Lens Educator of the Year
Wei Xu
Jinling Institute of Technology, Nanjing, China
IACLE Europe/Africa – Middle East Contact Lens Educator of the Year
Dr Byki Huntjens
City, University of London, UK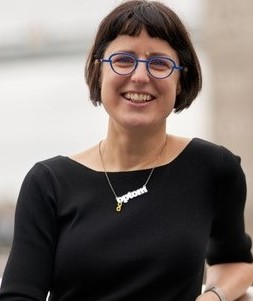 Dr Huntjens commented, 'IACLE provides immeasurable support for any contact lens educator worldwide, and particularly during the global Covid-19 pandemic. The Association comprises of an extraordinary group of professionals who, like me, have a passion for contact lenses and are willing to share their knowledge to enhance our educational provision. Because in the end, everything we do is for the next generation of eye care practitioners. Thank you IACLE, for this awesome award; I cannot wait to share this news with my students!'
IACLE President Dr Shehzad Naroo added, 'It's that time of year for IACLE to announce the winners of the Educator of the Year Awards. The winner for the Asia Pacific region is Wei Xu; for the Americas is Johanna Garzón; and for Europe Africa and Middle East is Byki Huntjens. Thank you to CooperVision for continuing to sponsor the Educator of the Year Awards.'
For media enquiries please contact:
Amelia Morgan
Marketing Consultant | International Association of Contact Lens Educators
Leeds | United Kingdom
Email: amelia@ameliamorgan.org
Work / Mobile: + 44 7740 858 395
Skype: ameliagracemorgan_1 | Web: www.iacle.org
NOTES FOR EDITORS
Click here for full details of the IACLE Contact Lens Educator of the Year Awards and their comments on winning. Find biographies of this year's Educator Award winners here.
Dr Shehzad Naroo is Reader at Aston University in Birmingham, UK.
Information on all IACLE activities and membership benefits is available at www.iacle.org.
ABOUT IACLE
The International Association of Contact Lens Educators was established in 1979 and is a non-profit, non-political association. IACLE has 731 (as of December 2020) active members in 74 countries and welcomes contact lens educators from all eye care professions and related disciplines. IACLE is dedicated to raising the standard of contact lens education and promoting the safe use of contact lenses worldwide. It is the leading provider of educational and information resources essential to contact lens educators. IACLE is supported by leading global contact lens manufacturers: Platinum Sponsor Alcon, Gold Sponsor CooperVision, Silver Sponsor Johnson & Johnson Vision, Bronze Sponsor Bausch + Lomb and Donor Sponsor Euclid.
ABOUT COOPERVISION
CooperVision, a division of CooperCompanies (NYSE:COO), is one of the world's leading manufacturers of contact lenses. The company produces a full array of daily disposable, two-week and monthly soft contact lenses that feature advanced materials and optics, and premium rigid gas permeable lenses for orthokeratology and scleral designs. CooperVision has a strong heritage of addressing the toughest vision challenges such as astigmatism, presbyopia, childhood myopia, and highly irregular corneas; and offers the most complete portfolio of spherical, toric and multifocal products available. Through a combination of innovative products and focused practitioner support, the company brings a refreshing perspective to the marketplace, creating real advantages for customers and wearers. For more information, visit www.coopervision.com.