2023 IACLE Educator of the Year Awards
Read this email in
Applications are now open for the 2023 IACLE Educator of the Year Awards
Three contact lens educators from around the world will travel to the 4th IACLE World Congress and the British Contact Lens Association's Clinical Conference & Exhibition this year as winners of the 2023 IACLE Contact Lens Educator of the Year Awards.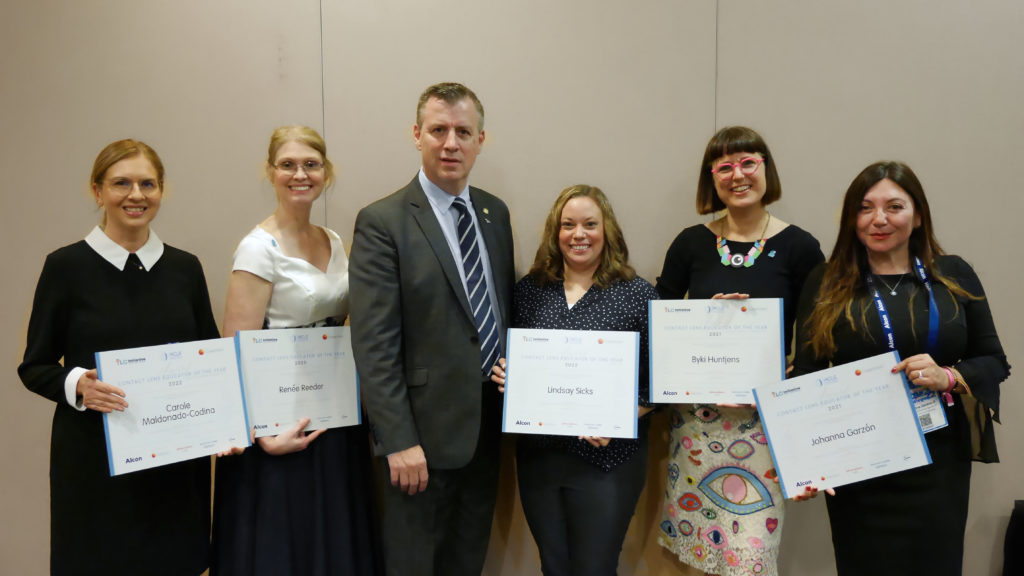 IACLE is offering educators the chance to become IACLE Contact Lens Educators of the Year and travel to the BCLA's biennial conference in Manchester, UK. The 2023 awards ceremony will take place during the Gala Dinner at our 4th World Congress in Birmingham, UK, which immediately precedes the BCLA, so we hope all winners can attend. Fees to attend WC4 are waived for all IACLE members. For more information about WC4, please visit our website.
The title of the 2023 IACLE Contact Lens Educator of the Year will be awarded to three individuals, one from each of IACLE's three global regions:
Asia Pacific
Europe, Africa and Middle East
Americas
These awards recognize achievements in contact lens education and are sponsored by Gold Sponsor CooperVision. The winners will each receive a bursary of up to US$3,000 towards the cost of attending the BCLA this year (including free registration for the conference) and the right to use the title 2023 IACLE Contact Lens Educator of the Year for their region.
The IACLE Contact Lens Educator of the Year Awards are open to all IACLE members who have been paid-up members for at least three years. Members can either nominate themselves, be nominated by another member or IACLE staff. Applicants must demonstrate use of IACLE resources, engagement with IACLE, impact on their institution and how they inspire their students to become future contact lens practitioners.
Director, Global Professional Affairs at CooperVision Karen Walsh said: 'The IACLE Contact Lens Educator of the Year Awards provides a great opportunity for those involved in teaching the next generation of eye care professionals to be recognized for their work on the international stage. CooperVision, as long-term supporters of these awards, look forward to celebrating with the successful nominees later in the year.'
IACLE President Professor Philip Morgan commented, 'On behalf of IACLE, I am pleased to announce that nominations for our Educator of the Year Awards are open. One Award is made for each IACLE region – Asia Pacific, Americas and Europe, Africa, Middle East – with the awardees scheduled to receive their awards at our 4th World Congress. I encourage our members to consider nominating themselves or a colleague to be recognized in this way. Thanks to CooperVision for once again sponsoring the IACLE Educator of the Year Awards.'
The deadline for entries for the 2023 awards is midnight (EST) on Friday 24 February. Entries must be submitted using the application form. If you would like to nominate a friend or colleague, please fill out their details in this form and we will contact them directly to inform them about their nomination.  
If you have any questions or would like any additional information, please contact IACLE Chief Executive Officer Bonnie Boshart.
---
or
---
IACLE IS SPONSORED BY