IACLE Travel Awards
These annual awards enable IACLE members to travel to international contact lens meetings. Due to the current restrictions to travel and events as a result of COVID-19 these awards are temporarily on hold.

The IACLE Travel Awards are funded by all of IACLE's Industry Sponsors (Alcon, CooperVision, Johnson & Johnson Vision, Bausch + Lomb and donor Euclid).
About The Awards
The IACLE Travel Award winners will demonstrate their commitment to IACLE, its resources, programs and events, as well as the impact they have had on their institutions and students. Successful applicants will describe their achievements in contact lens education and also how they would apply information gained at the meeting they attend in their teaching.
Eligibility
These awards are open to any IACLE Educator Member from any country.
The 2020 Travel Award recipients are:
Details of the meetings they will attend will be confirmed once COVID-19 restrictions allow.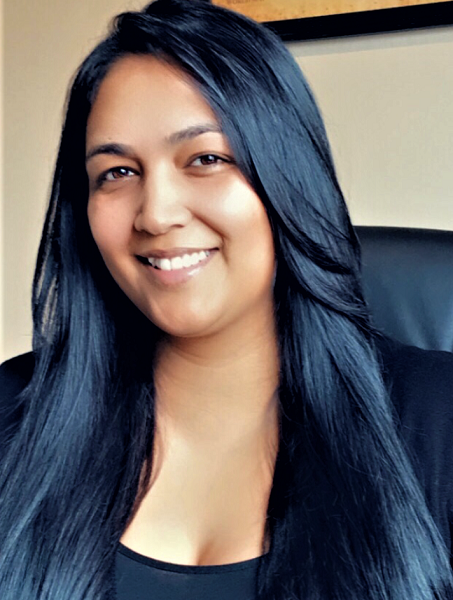 Dr Elizabeth Chetty
University of Johannesburg, South Africa
'I am greatly honored to be chosen as one of the recipients of IACLE's Travel Awards. I am looking forward to spending time with and learning from some of the world's greatest minds in contact lenses and keratoconus at the AOCLE meeting. I am also excited to have this opportunity to share my experiences in fitting specialty contact lenses with the university's contact lens community clinic where we see many advanced cases of keratoconus.'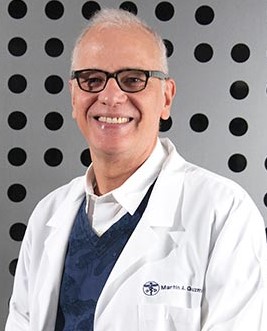 Professor Martín Guzmán
Universidad Nacional Experimental Romulo Gallegos, Zaraza, Venezuela
'I am immensely honored to be chosen as the recipient of this award, taking into account the times we are currently going through and the relevance of knowledge in the different areas of health and the potential contribution that we have ahead. It is our duty to continue studying in order to better serve our patients. This award will be fully used for that purpose. Thanks to IACLE.'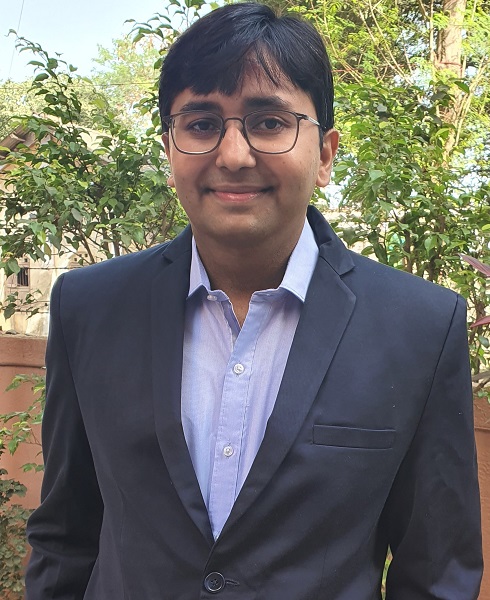 Associate Professor Nirav Mehta
Hari Jyot College of Optometry, Navsari, India
'This award is something every optometry educator will have dreamed of and will have wanted to attend such a prestigious meeting as the American Academy of Optometry. The award means a lot to me and to my institution. I will get the chance to meet researchers, speakers and faculty from around the world, and understand how optometry and contact lens education has grown in other parts of world. This adds more responsibility to me: how can I benefit optometry and specially contact lens education in India? Thank you IACLE for choosing me.'


What previous recipients say…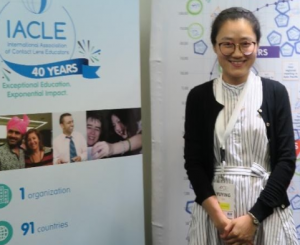 Ma Yuying of Wuxi Vocational Institute of Arts & Technology, China travelled to the Asia Pacific Optometric Congress in Manila, the Philippines. 'Being recognized as a winner of 2019 IACLE Travel Award is a great honor for me. By this special award, I will have the opportunity to meet eminent academicians, researchers and experienced clinicians from all over the world and gain more valuable experience in teaching and spreading knowledge about contact lenses and optometry.
---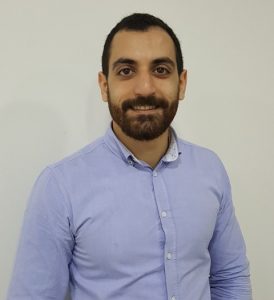 Ahmed Sherry from the Modern University of Business & Science, Beirut, Lebanon, attended the 2018 AOCLE Annual Workshop in San Antonio, Texas, USA. 'Thanks to IACLE and AOCLE, I had the opportunity to be part of this three-day workshop and learn from skilled colleagues in the world of teaching and contact lenses. It was a pleasure meeting AOCLE members from the North America region and sharing with them professional expertise and cultural richness. I will definitely use what I have gained from this workshop and try to improve optometry education in Lebanon, especially in the field of contact lenses.'
---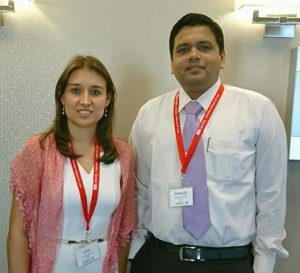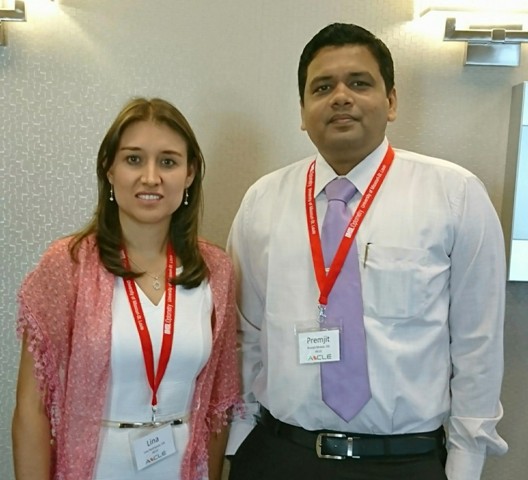 Dr Lina María Rodríguez Cely from the Federación Colombiana de Optómetras, Colombia and Premjit Bhakat from Manipal University, India represented IACLE at the 2017 AOCLE Annual Workshop at the University of Missouri – St Louis. Lina commented: 'It was a great personal and professional experience, which allowed me to meet colleagues whom I admire a lot for their work and contribution to education in contact lenses. I learned about the diversity of professional practise in the US. It was also very interesting to find out there are new concepts in the technological development of scleral lenses, a field that in Colombia is growing fast.'
---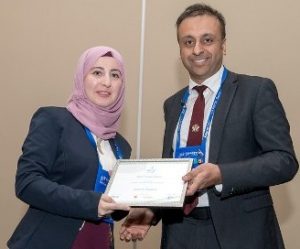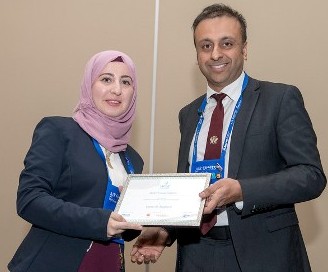 The 2016 IACLE Travel Award winner was Dr Eman Alzghoul from Jordan University of Science and Technology, Irbid, pictured at Academy 2016 with IACLE President Dr Shehzad Naroo. 'The award has been the biggest opportunity I've had since I started teaching and practicing contact lenses. Thanks to this opportunity, my experience, knowledge and confidence increased incredibly.'
---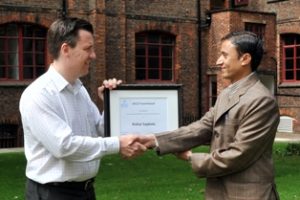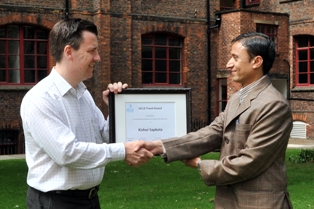 The recipient of the first IACLE Travel Award, in 2013, was Kishor Sapkota from Nepal Eye Hospital in Kathmandu, Nepal, pictured with Professor Philip Morgan at the University of Manchester, at an IACLE Education Day prior to the 2013 British Contact Lens Association Clinical Conference & Exhibition.
The IACLE Travel Awards are funded by all IACLE's Industry Sponsors