Read this email in
MEMBERSHIP PERKS IN OCTOBER
Register for our upcoming Virtual Conference

We thank all our members who attended our 6th Virtual Conference themed 'Integrating myopia management into teaching' and our speakers for their valuable insights into this topic. We also thank all our sponsors for their continued support that allows us to host these events. We look forward to future virtual conferences in the coming year.
Access the conference recordings. Read a post-meeting report
The 2023 Fellowship Exam takes place this month
Next week, almost 170 IACLE members globally are scheduled to sit the 2023 IACLE Fellowship Exam, the only internationally recognized method of assessing the contact lens knowledge of eye care professionals. This is the second time IACLE members will undertake the exam virtually via IACLETOP. The exam is available in five languages: Bahasa, Chinese, English, Korean and Spanish.
It is crucial that all exam candidates are aware of the timing of their respective exams and complete the compulsory mock exam by Friday 17 November. On Monday 20 November, members who have not downloaded the software and run the mock exam will be withdrawn from the exam. They will receive an email informing them of their exam cancellation (no refund will be given). Please get in touch with Professor Craig Woods if you have any questions or concerns. We wish all exam candidates the best of luck!
Access the Fellowship Exam Area
---
NEWS IN NOVEMBER
Image of the Month

Madhumathi Subramanian from Sankara Nethralaya in Chennai, India, captured the above images of a 20-year-old male who experienced a chemical injury to his eye around 1.5 years ago, which resulted in partial limbal stem cell deficiency and associated nebula macular haze affecting the visual axis and underwent treatment using the Boston PROSE device in his left eye. The slit lamp examination revealed central corneal haze and corneal vascularization (pictured left). The UCVA was measured at 6/60 but improved to a BCVA of 6/18 with mild foggy vision after using the PROSE device. Upon returning for a review visit after one year, a subsequent examination showed a centrally clear cornea. With the continued use of the Boston PROSE, the BCVA improved significantly from 6/60 to 6/6 with enhanced clarity (pictured right).
Would you like to feature in next month's Image of the Month? Submit your image here
Renew your IACLE membership now to receive all benefits
Thank you to all our members who have already renewed their membership for 2024. We have exciting plans for the year ahead and look forward to delivering more programs, resources, and events. A kind reminder that access to our full membership benefits – including the resources and programs within IACLETOP and all resources and events – is exclusively available for IACLE members. Please note that IACLE membership runs annually and expires when payment is not received. Therefore, please renew your membership by 31 December 2023. Please note the IACLE Offices are closed from 23 December – 2 January. If you have any questions regarding membership renewal, please contact your IACLE Representative.
More information on renewing your membership
---
RESOURCE
Study evaluates diagnosis tests for dry eye
This new study aimed to assess the accuracy of various clinical tests in diagnosing dry eye disease. The Bayes-Price rule and beta distribution estimated specificity and sensitivity values for different tests. Corneal staining had the highest diagnostic probability (0.28), while the ocular surface disease index (OSDI) questionnaire had the lowest (0.14). Combining tests improved accuracy, with the 5-item dry eye questionnaire (DEQ-5) + corneal staining yielding the best results (0.42). The study recommends performing multiple tests to reduce misdiagnosis risk, emphasizing the importance of conjunctival and corneal staining in future guidelines.
CORE release TFOS Lifestyle Report infographics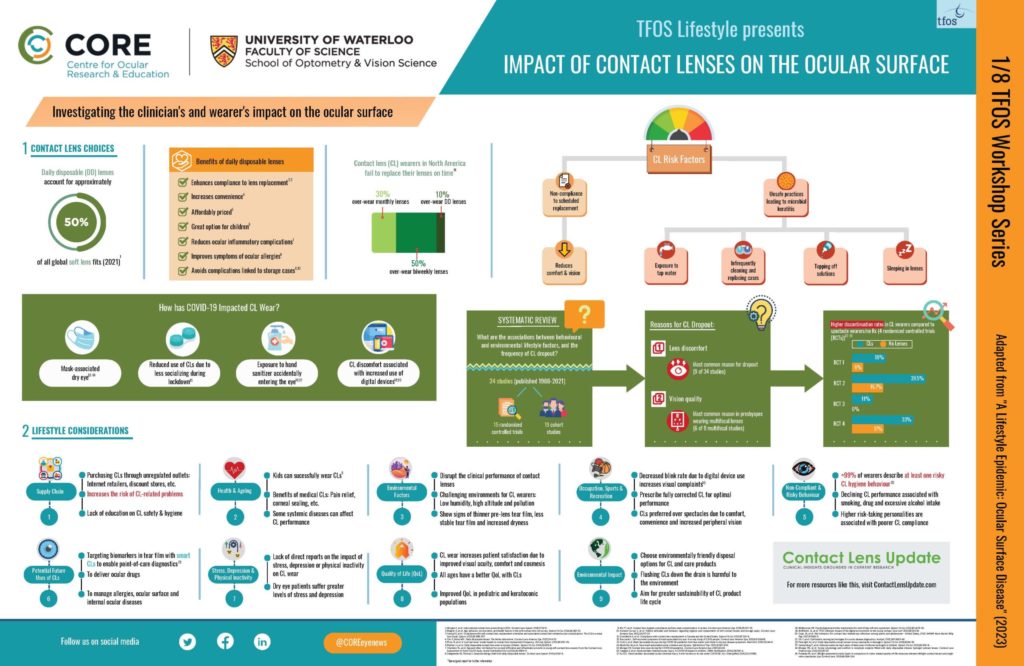 The Centre for Ocular Research and Education (CORE) has recently published summaries of the Tear Film & Ocular Surface Society (TFOS) Lifestyle Reports. These concise summaries, comprising informative infographics, promote a better understanding among the global eye care community and their patients. Covering topics such as the impact of contact lenses, cosmetics, and digital environments, the eight information sheets provide insights into their impact on the ocular surface.
---
WHAT'S HAPPENING IN OUR REGIONS?
AMERICAS
IACLE Americas lead contact lens workshop

At the Congress of Optics and Contact Lenses in Paraguay, IACLE Americas Regional Coordinator Professor Guillermo Carrillo conducted a soft contact lens workshop focusing on fitting considerations and assessment. The workshop targeted students from the TESĀ institution, with IACLE member Miguel Garcia organizing approximately 50 participants. Johnson & Johnson and Alcon provided support with trial contact lenses and solutions. TESĀ educators actively participated in the three-hour workshop, and Dr Antonella Postiglione from Johnson & Johnson and Gloria Villalba from Alcon were also involved.
2023 Americas CL Educator of the Year visits AAO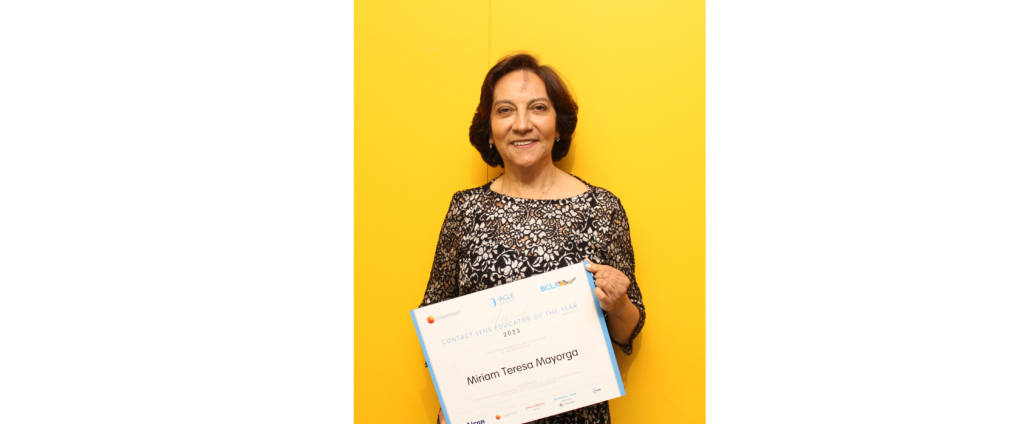 As part of winning the 2023 Americas IACLE Contact Lens Educator of the Year Award, Dr Myriam Teresa Mayorga (pictured above) from La Salle University in Colombia attended the American Academy of Optometry in New Orleans, supported by Gold Sponsor CooperVision. During the meeting, Dr Mayorga saw the latest developments in contact lenses, myopia management, visual function, pediatrics, general optometry and other related topics. 'It was a great experience on a professional, academic, and personal level. Thank you again IACLE for this opportunity to improve my teaching skills', said Dr Mayorga.
Applications for the 2024 IACLE Awards open in the new year
ASIA PACIFIC
Contact Lens Awareness Campaign at SEGi University

In October, students from the SEGi Optometry Club orchestrated an event at SEGi University in Malaysia, promoting safe and hygienic contact lens wear among students and staff (3-4 October), emphasizing the importance of proper dispensing by eye care professionals. Over 100 individuals were screened during the two-day event, and over 60 were scheduled for new contact lens fittings and aftercare examinations at SEGi Eye Care. This initiative was made possible through the support of Oculus Shd Bhd.
Menicon host workshop at SEGi University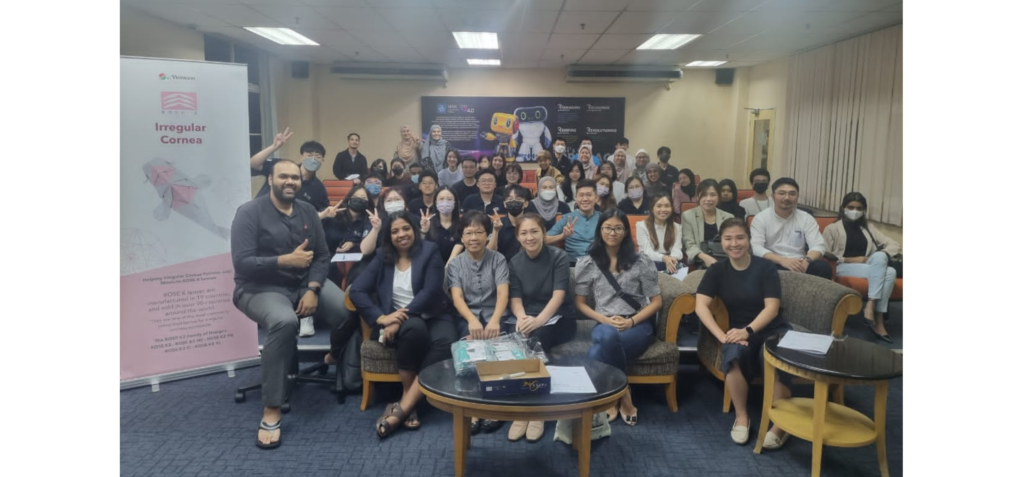 Menicon Regional Professional Affairs Manager Jess Ooi organized a Menicon Rose K2 XL workshop at SEGi University to introduce the lenses and fitting procedures to eye care practitioners and final year students (16 October). IACLE Director and Lecturer at SEGi University Fakhruddin Barodawala presented two clinical cases from SEGi Eye Care, followed by a live fitting session. The event was attended by around 25 eye care practitioners from the Klang Valley in Malaysia and 18 SEGi University students and staff.
IACLE Ambassador updates in Pakistan

Newly appointed IACLE Ambassador FIACLE Mutahir Shah, along with other FIACLEs and the Pakistan Optometric Society (POS), organized a series of workshops and awareness campaigns across optometry institutions in Khyber Pakhtunkhwa, Punjab, and Azad Jammu and Kashmir in September and October. Mutahir says, 'the sessions enriched students' knowledge of contact lenses and myopia management, thereby significantly contributing to eye health education throughout KP, Punjab, and AJK'. The collective efforts of FIACLEs and the involvement of POS representatives have undoubtedly enhanced the success of these events, benefiting students and educational institutions across the region. Well done to all involved.
Are you attending the International STEAM Conference?
We are interested to know if any of our members plan to attend the 1st International Conference on Advanced STEAM Education Challenges and Opportunities at the University of Faisalabad in Pakistan on 5-6 December. The conference brings together leading experts and practitioners to deliberate on the emerging opportunities and challenges in the intersection of STEAM (Science, Technology, Engineering, Arts, and Mathematics) education and various disciplines. IACLE Ambassador Dr Memoona Arshad will be available at a dedicated IACLE booth to discuss contact lens education and IACLE membership. If you are attending and would like to meet with fellow IACLE members or would like to learn more about IACLE, please get in touch with Memoona via iacle@iacle.org.
EUROPE / AFRICA / MIDDLE EAST
FIACLE hosts meeting in Saudi Arabia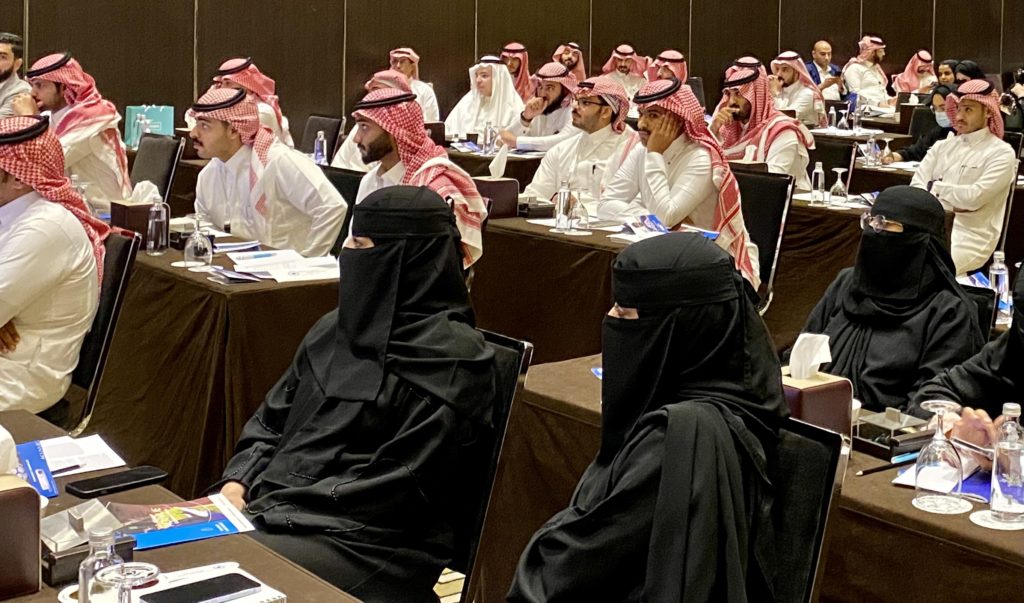 FIACLE Dr Yazan Gammoh facilitated an IACLE meeting at the 8th Saudi Society of Optometry Conference in Saudi Arabia, where more than 100 participants were introduced to FIACLE. Six IACLE members from Saudi Arabia, UAE, Sudan, Jordan, Iran, and Algeria were present. IACLE thanks Dr Yazan Gammoh and IACLE Middle East Ambassador FIACLE Dr May Bakkar for their help with arranging the IACLE update and members' meeting. More details
Lebanese University students sit STE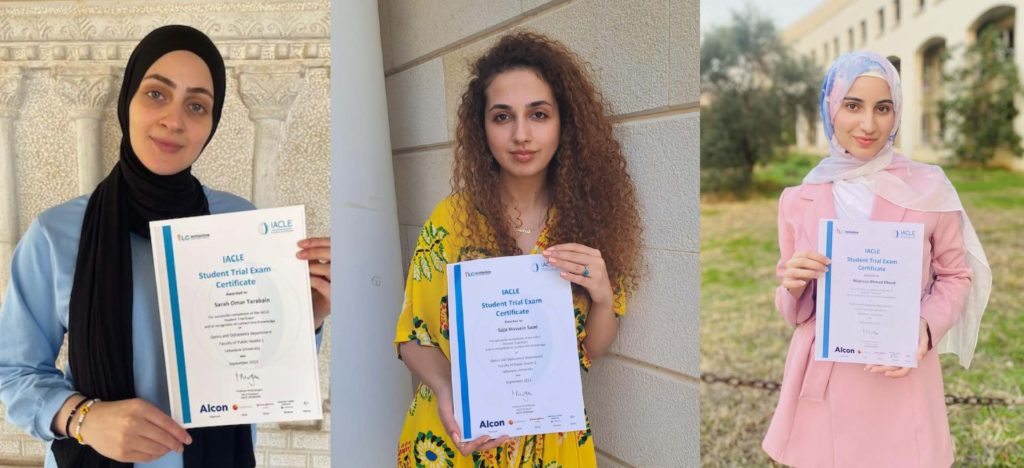 FIACLE Mohamad Hamade from the Lebanese University in Beirut has recently used IACLE's Student Trial Exam (STE) with his students. Pictured above, Sarah Omar Tarabain, Sara Hussein Saad and Mayssaa Ahmad Dbouk (l-r) successfully completed the STE in September.
Would you like your students to take the Student Trial Exam? The IACLE Student Area allows educators to produce individual teaching content and assessments, including the Student Trial Exam and Basic Student Trial Exam. As a way for our members to explore this resource and evaluate the impact on your teaching, we offer complimentary one-year access to a Student Area for those who have not yet registered.
For more information on IACLE Student Areas
Upcoming conference in Rome
Are you planning to attend the Accademia Italiana Lenti a Contatto in Rome, Italy, on 19-20 November? IACLE Regional Director Dr Fabrizio Zeri is hosting a 30-minute meeting for both current IACLE members and those interested in becoming members. Dr Zeri invites you to attend this session in the conference hall on 20 November at 12:30 pm. For more information, please contact Siobhan Allen at s.allen@iacle.org.
Upcoming conference in Muscat
IACLE Middle East Ambassador FIACLE Dr May Bakkar are presenting an update on IACLE at the 17th International Congress of The Middle East Africa Council of Ophthalmology from 29 November to 2 December in Muscat, Oman. If you are attending and would like to meet with fellow IACLE members in your region, please get in touch by emailing Siobhan Allen at s.allen@iacle.org.
---
DATES FOR YOUR DIARY
IACLE TLC (Teach. Learn. Connect) WEBINARS
Visit the IACLE Webinars area on IACLETOP to view the schedule for upcoming webinars.
GLOBAL MEETINGS IN THE COMING MONTHS
The 17th International Congress of the Middle East Africa Council of Ophthalmology / 19th Muscat International Ophthalmology Conference (MIOC 2023), Muscat, Oman, 29 November – 2 December. Details.
GLOBAL MEETINGS IN 2024
Global Specialty Lens Symposium (GSLS), Las Vegas, USA, 17-20 January. Details.
50th EFCLIN Congress and Exhibition, Algarve, Portugal, 25-27 April. Details.
IACLE IS SPONSORED BY