Global Member Newsletter April 2020
NEW ICLC2020 goes live this month

The latest version of the IACLE Contact Lens Course (ICLC) – our most important and valued resource – will be available online from this month. Exclusive to IACLE members, ICLC2020 has been reviewed and revised by world authorities on contact lenses. From this year the course will be regularly updated every 2 years.
Find out more. Access the course via Member Login
NEW IACLE introduces live and recorded narrated lectures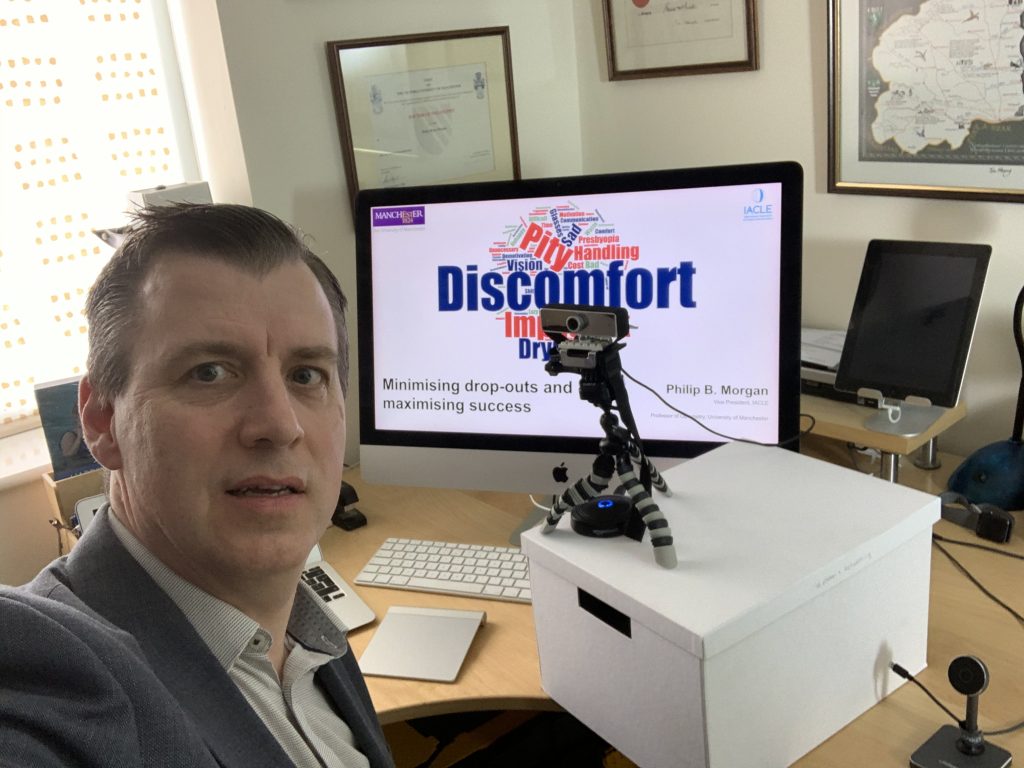 Members from countries including Germany, Greece, Malaysia and Palestine took part in our live narrated lectures this month (6-9 April). The theme for the daily lectures was 'Building successful contact lens practice' with speakers Dr Shehzad Naroo, Professor Philip Morgan (pictured), Lakshmi Shinde and Nilesh Thite. Recorded versions of the lectures are available live via Member Login under Video Resources.
NEW IACLE announces 2020 Award winners

Congratulations to the 2020 IACLE Contact Lens Educators of the Year and IACLE Travel Awards winners. Pictured are Educators of the Year (l-r): Professor Renée Reeder, Professor Bariah Mohd Ali and Jo Underwood. The Educator Awards are sponsored by CooperVision and supported by the American Academy of Optometry (AAO). The IACLE Travel Awards are supported by all our Industry Sponsors, the Association of Optometric Contact Lens Educators and AAO.
NEW Education adapts to meet the challenge of COVID-19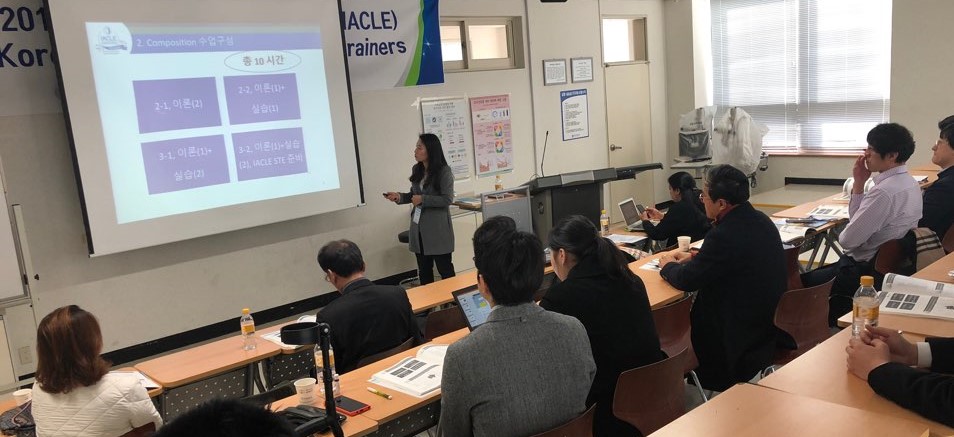 Educational institutions are having to adapt to serve the needs of their students as the effects of the COVID-19 pandemic continue to be felt worldwide. IACLE has also issued a position statement on COVID-19 and contact lens use, with key points to consider and measures for contact lens wearers and clinicians to adopt during the pandemic.
Read a full report. Read the IACLE Position Statement on COVID-19.
Renew your membership now to receive all IACLE benefits

Members will recently have received notices to renew their annual membership. Access to our full range of membership benefits – including ICLC2020 – is only available to IACLE members. Note that membership expires when payment is not received. Contact Siobhan Allen at s.allen@iacle.org if you have not received your membership renewal notice.
WOULD YOU LIKE TO INTRODUCE YOURSELF TO IACLE MEMBERS WORLDWIDE? WE'RE LOOKING FOR MORE MEMBERS TO TAKE PART IN MEET A MEMBER.
Contact your regional / country coordinator for details
MEET A MEMBER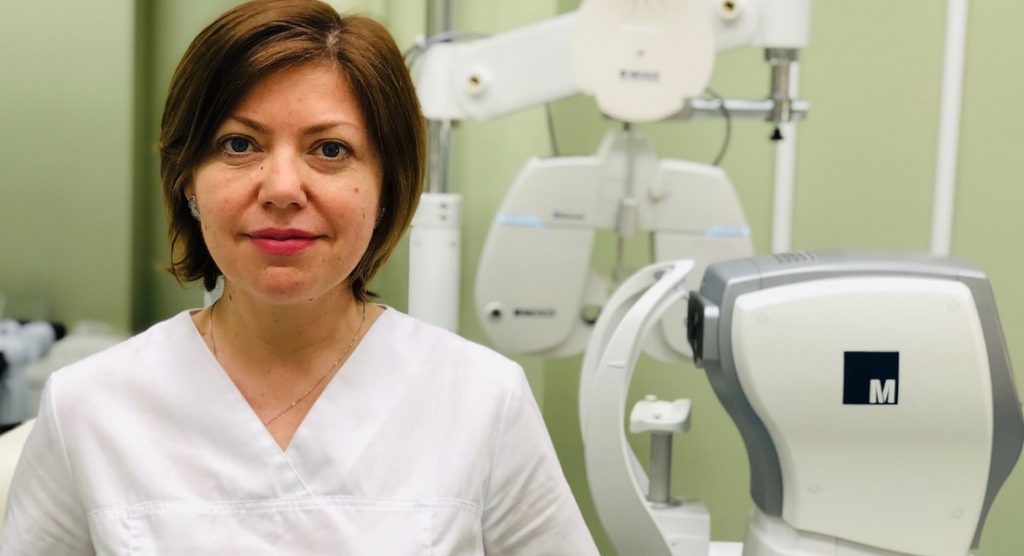 Meet Gulnara Andrienko, an ophthalmologist at the Russian Academy of Medical Optics and Optometry in Moscow, whose interests include orthokeratology and myopia control. 'For over 25 years, I've not stopped learning about this specialty and teaching it to my young colleagues. IACLE helps to combine the experience of specialists in different countries and make the learning process more accessible, convenient and effective,' says Gulnara. Outside work, her interests are travel, snowboarding, swimming and Italian opera.
WOULD YOU LIKE TO INTRODUCE YOURSELF TO IACLE MEMBERS WORLDWIDE? WE'RE LOOKING FOR MORE MEMBERS TO TAKE PART IN MEET A MEMBER.
Contact your nearest IACLE office for details
IMAGE OF THE MONTH
Epithelial defect due to fingernail injury

FIACLE Ajay Shinde from Sankara College of Optometry and Shinde Eye Care Centre in Bangalore, India submitted these images. The patient presented complaining of pain and watering after her child had poked her in the eye. On examination a corneal epithelial defect was noted. A yellow filter was used following fluorescein instillation, which helped the defect to stand out under the yellow illumination. The same technique can be used for contact lens fits, especially in orthokeratology.
COULD NEXT MONTH'S IMAGE BE YOURS? SHARE YOUR PHOTOGRAPHS FOR THE 2020 IACLE IMAGE COLLECTION AND ENTER OUR IMAGE OF THE YEAR COMPETITION FOR THE CHANCE TO WIN A YEAR'S IACLE MEMBERSHIP AND A US$100 AMAZON VOUCHER!
Submit your Image of the Month
RESOURCES
Board members step up to provide new resources
Asia Pacific Regional President Dr Rajeswari Mahadevan (left) and Treasurer Professor Etty Bitton (right) have both contributed new online resources this month. Raji's lecture on 'Scleral lens fitting challenges' is now under Contributed Resources – Presentations / Lectures. Etty's accredited EyeSchool.ca course on 'Highlights of the TFOS DEWS II Report and its clinical implications', is available in English and French under Free Resources.
Access Raji's lecture via Member Login. Take part in Etty's dry eye course.
DO YOU HAVE RESOURCES TO SHARE WITH FELLOW MEMBERS AT THIS TIME? PLEASE CONTACT SIOBHAN ALLEN AT s.allen@iacle.org IF YOU CAN HELP.
NEW IACLE videos target new members and sponsors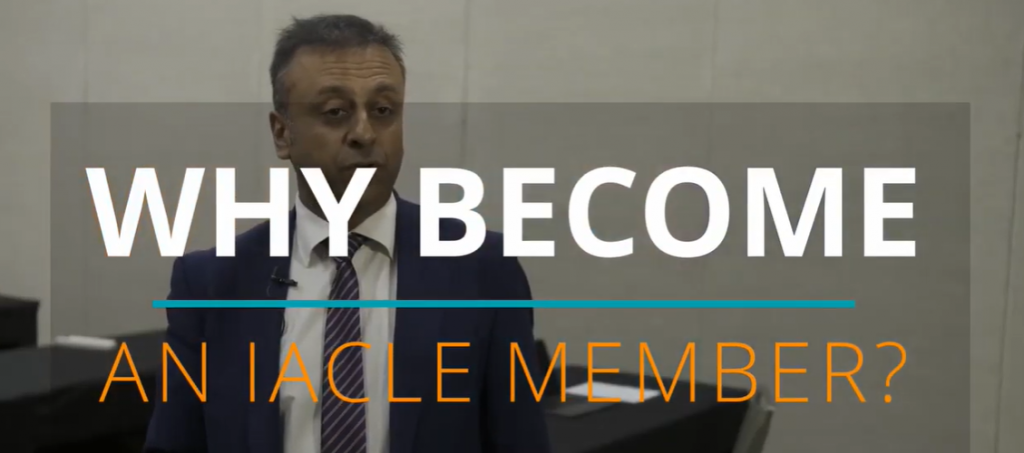 IACLE has released two new videos to promote the benefits of membership and sponsorship. Filmed by production company Limestone Group, the videos feature interviews with members Dr Dimitra Makrynioti (Greece) and Professor Renée Reeder (USA), as well as IACLE President Dr Shehzad Naroo and Vice President Professor Philip Morgan.
Watch the member video. Watch the sponsor video.
ACLM Year Book goes online at new website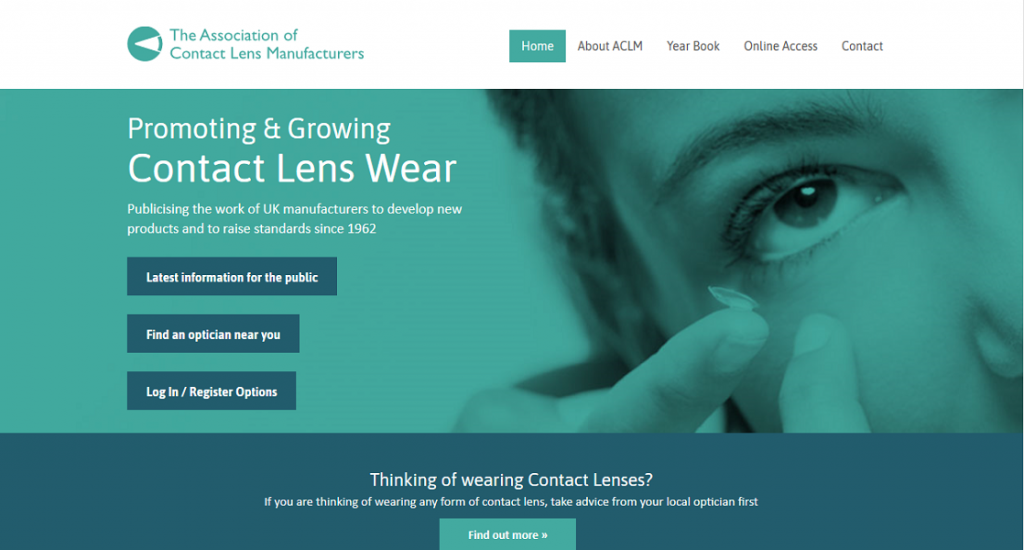 The Association of Contact Lens Manufacturers' ACLM Year Book has been published online on a newly launched website. The Year Book lists technical details for all contact lenses, solutions and materials produced by ACLM member companies in the UK. British Contact Lens Association members and selected students receive free access.
GLOBAL UPDATE
Americas
NEW IACLE helps strengthen contact lens education in Mexico

The IACLE Americas office played a key role in the First Mexican Consensus in Contact Lens Education. The meeting was convened last month (March 4) to set goals for strengthening education in Mexico. Academics from 10 institutions and industry representatives took part. Last month also marked the 100th broadcast of the IACLE radio program, IACLE in the World.
FIACLEs in LA region lead the way in exam success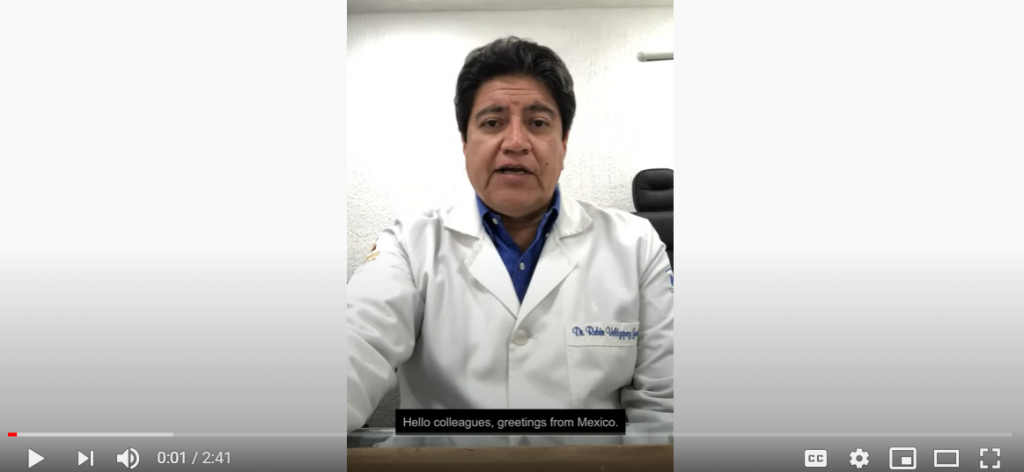 Six Fellows of IACLE who have successfully completed the Fellowship Exam more than three times are eligible for the new Acknowledgement of Fellowship Excellence Certificate. Receiving certificates are the following FIACLEs, all from Latin America: Daniela Garese (Uruguay), Orlando Neira (Colombia), Ricardo Pintor (Mexico), Robin Rodriguez (Peru), Rolando Rojas (Peru) and Ruben Velazquez (Mexico, pictured)
Asia Pacific
NEW Indian educators take part in web-based discussions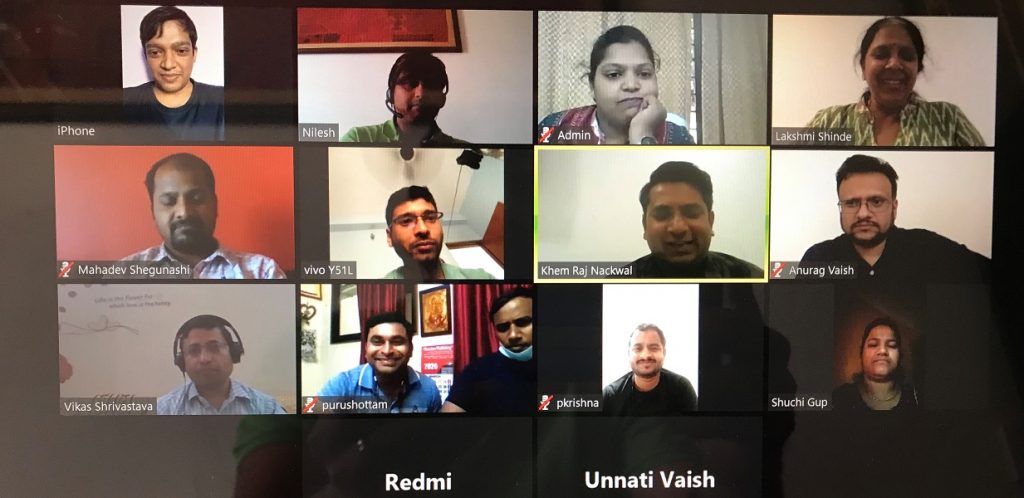 Educators across India participated in weekly web-based discussions. Lakshmi Shinde and Nilesh Thite discussed IACLE resources with 14 attendees in 10 institutions (20 March). FIACLE Isha Dave talked about the SOAPE (Subjective, Objective, Assessment, Plan, Evaluation) format for case reporting, with 22 educators at 16 institutions (27 March). And FIACLE Professor Prema Chande discussed how to conduct students' skill assessments in limited time, with 31 attendees in 16 institutions (3 April).
AP Fellowship candidates on top of the world

Three members from the Asia Pacific region gained the highest marks in the 2019 Fellowship Exam. Yanru Wang (left) from Beijing Tongren Hospital in China achieved the top mark. Second was Minh Anh (centre) from Hanoi Medical University, Vietnam. In third place came FIACLE Abdul Halim (right) from Akademi Refraksi Optisi Widya Husada, Indonesia, who resat the exam to update his knowledge.
Read their comments on the exam
Europe / Africa – Middle East
Wim and Robert awarded IACLE Emeritus Membership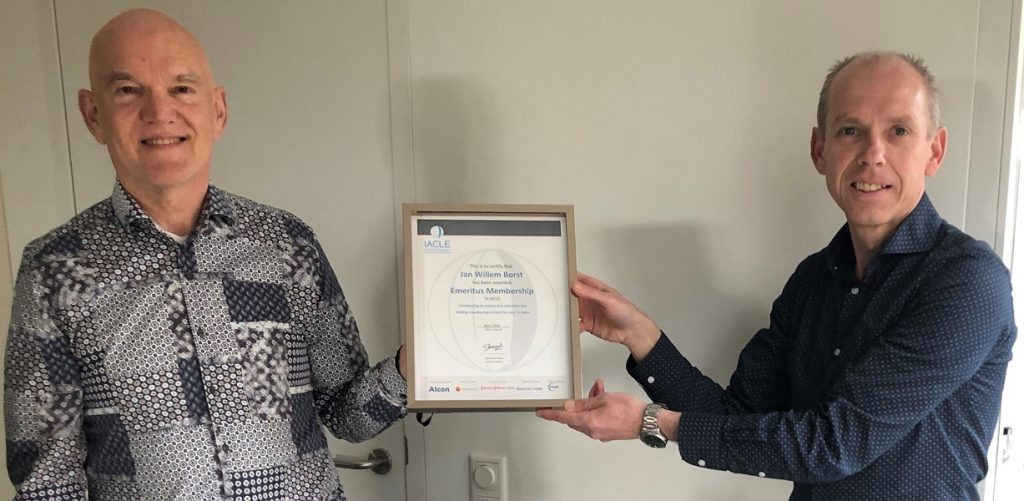 Two members from the EAME region have received Emeritus Membership having been members for more than 15 years and recently retired. Dutch educator Wim Borst (left), 2018 EAME Contact Lens Educator of the Year, who served 20 years at Deltion College at Zwolle, received his certificate from his colleague Henri Eek (right). UK-based Robert Conway, IACLE's Founding President for the Asia-Pacific region, also becomes an Emeritus Member.
Read Henri's comments on Wim's career. Watch a video of the ceremony. Read Robert's comments.
NEW Luke takes the helm at BCLA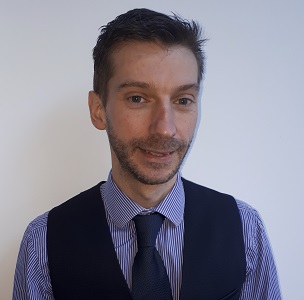 Luke Stevens-Burt is the new chief executive of the British Contact Lens Association (BCLA). Luke has a background in membership associations across several sectors. He commented: 'The BCLA exists within a similar ecosystem to all other membership bodies and professional associations. I intend to tap into the wide amount of knowledge from across this ecosystem to implement positive change.'
Meetings in Europe set new dates for autumn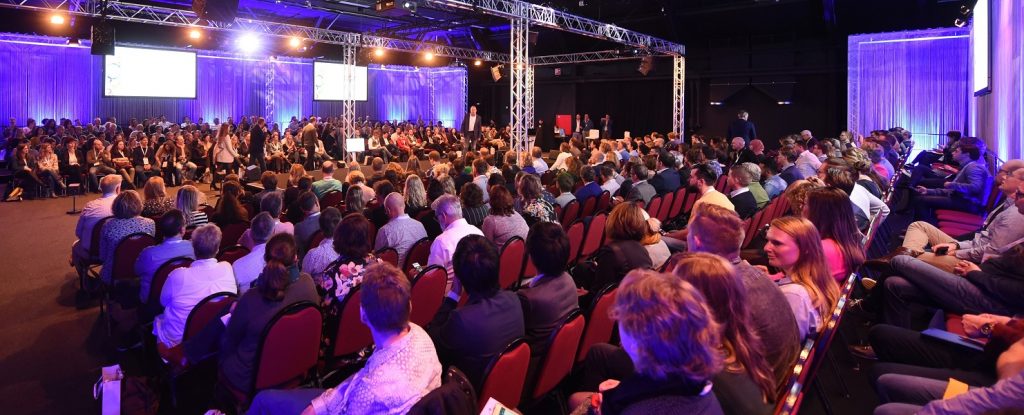 Major events in the Netherlands, Croatia and UK have been postponed due to the COVID-19 pandemic. The Nederlands Contactlens Congres (pictured in 2018), 5th Optometry Conference of Central and South-Eastern Europe and BCLA UK Conference and Exhibition have all been rescheduled for the autumn.
DATES FOR YOUR DIARY
The following meetings have new dates for this year due to the COVID-19 pandemic:
5-9 August – Asia Pacific Academy of Ophthalmology Congress, Xiamen, China. Details.
6-7 September 2020 – Nederlands Contactlens Congres (NCC 2020), Veldhoven, the Netherlands. Details.
23-25 October 2020 – 5th Optometry Conference of Central and South-Eastern Europe (OCCSEE), Split, Croatia. Details.
8 November 2020 – BCLA UK Conference and Exhibition, Birmingham, UK. Details.
And these are among the meetings that will now take place in 2021:
Association of Optometric Contact Lens Educators (AOCLE) Annual Workshop. Details.
Association for Research in Vision and Ophthalmology (ARVO) Annual Meeting. Details.
A full list of IACLE and other events in 2020 is available at our Annual Meeting Schedule. Please email dates of events to s.allen@iacle.org.
THANKS TO OUR SPONSORS