Global Member Newsletter April 2022
MEMBERSHIP PERKS IN APRIL
Registration opens soon for our Virtual Conference
Please save the date for our Virtual Conference taking place on Saturday 14 May from 12 noon – 3 pm UK (BST). The theme for the conference is 'Make students practice ready', featuring a range of speakers and topics, including assessing students' skills, communicating with patients, and a panel discussion discussing how to establish contact lens clinics at teaching institutions.
Find out what time the conference begins in your time zone
---
IACLETOP UPDATE
New Case Reports added
The IACLE Education Team and FIACLE Daddi Fadel have developed two new Case Series – #11 and #12 – each containing two Case Reports. The new additions focus on the use and management of scleral contact lenses. Members receive a completion certificate after completing each case. The new Case Series is currently available in English, with other languages and student versions in development.
---
GLOBAL WEBINARS IN APRIL
'Effect of water exposure on the contact lens storage case'
Join Dr Memoona Arshad on Wednesday 20 April at 12 noon UK (BST) for a global webinar titled 'Effect of water exposure on the contact lens storage case'. Water exposure during contact lens wear can transfer pathogenic microorganisms to the eye and cause ocular complications. Dr Memoona Arshad and her co-authors determined that water exposure is prevalent among lens wearers and is independently associated with higher case contamination. In this webinar, she will discuss the findings of their study.
Find out what time the webinar begins in your time zone
Catch up on last month's global webinar with Dr Andrew Pucker
---
NEWS IN APRIL
Image of the Month

IACLE Board Member Fakhruddin Barodawala from SEGi University in Malaysia captured the above image of a patient who bought cosmetic lenses online without a prior fitting assessment. The patient reported no complaints, with the lenses for just two hours prior to evaluation. On examination, fitting assessment revealed that the lens had minimal post blink movement and on all gazes, with an acceptable lower lid push-up test in both eyes. On ocular health examination, 360° conjunctival indentation staining was seen in both eyes. The patient was asked to cease contact lens wear. Preservative-free artificial tears were prescribed, as well as scheduling a follow-up visit a week later to monitor the staining and fit the patient with a different lens design in a daily disposable modality.
Would you like to feature in next month's Image of the Month?
World Optometry Day in India

Executive Manager of Global Education Lakshmi Shinde celebrated World Optometry Day with students at Sushant School of Health Sciences in Haryana, India (22 March). Lakshmi gave a lecture about the future of optometry in India and its aspects toward career growth in both the hospital and corporate sectors. She also gave a detailed discussion on IACLETOP and how students can utilize Student Areas.
IACLE is saddened by the passing of Dr William J Benjamin
We regret to announce the passing of the University of Alabama at Birmingham School of Optometry Professor Emeritus Dr William J Benjamin. Dr Benjamin was a respected and valued colleague to many at the UAB School of Optometry and will be greatly missed.
More information on Dr Benjamin's life
IACLE Director awarded Distinguished Optometry Fellowship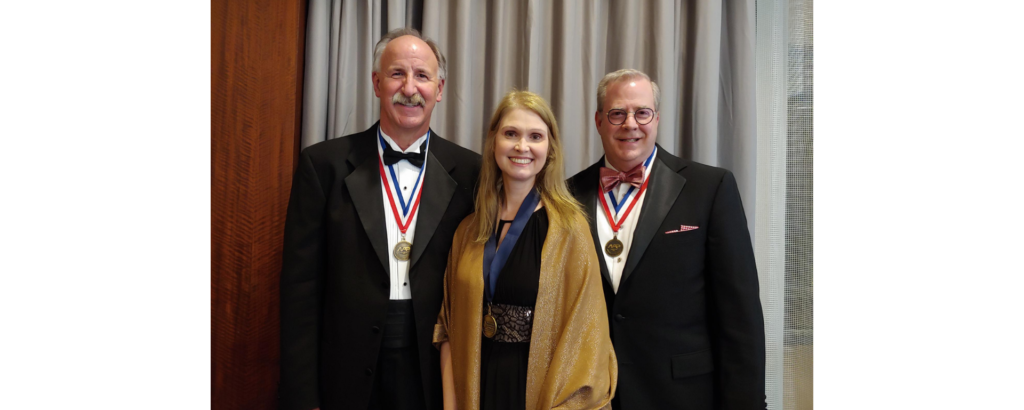 The National Academies of Practice (NAP) recently announced the election of IACLE Director Dr Renée Reeder as a Distinguished Optometry Fellow. Class of 2022 Fellows were welcomed into the National Academies of Practice during the awards and induction ceremony in San Diego, California on 5 March. Congratulations Renée!
---
RESOURCES
Life as an optometry academic on latest podcast
Dr Langis Michaud, Dean of the School of Optometry at the University of Montreal hosts the latest GlobalEyes Podcast, sponsored by CooperVision. Dr Michaud speaks about life as an optometry academic, scleral lenses, and myopia management.
Managing keratoconus with rigid lenses
A recent paper outlines the strategies for keratoconus management with rigid contact lenses employed in Japan. The report describes how corneas can be classified into one of four types based on topographic characteristics and how overall, rigid lenses are able to offer a safe, comfortable, and effective form of management for keratoconus patients.
---
COVID-19 RESOURCES
This recent study examined whether face masks were equally protective against the transmission of microbes. The authors concluded that face masks effectively reduce the transmission of microbes in laboratory tests. However, they become rapidly contaminated during wear. Hence, if masks are re-used, they should be regularly replaced or appropriately washed.
---
WHAT'S HAPPENING IN OUR REGIONS?
AMERICAS
Catch up on the latest Latin American webinars
During the last month, we heard from four different speakers in the Latin America region. Efrain Castellanos spoke on 'Collaborative optometry education in Latin America', Martha Marquez discussed 'Semiology aimed especially at the papillary reaction', Ana Agudelo's webinar was on 'New options for clinical measurement with slit lamps', and Jesus Espinoza spoke on 'Ethical aspects of contact lens practice'. Finally, IACLE Americas Regional Coordinator Guillermo Carrillo hosted the March Spanish-speaking Journal Club, where he discussed the paper titled 'Systematic review of the quality of life in contact lens wearers'.
Read the full Americas meeting report for more details
ASIA PACIFIC
Industry session takes place at Indian optometry school
Rupam Sinha Professional Affairs Manager at Alcon hosted a webinar on 'Recent advancements in the contact lens industry' at Ahalia School of Optometry & Research Centre in Palakkad, India (18 March). The session's objectives were around recent advancements and innovations that have recently occurred in commercially available contact lens products. An evidence-based discussion in connection with corneal and tear film physiology was delivered during the session. A total of 45 students and faculty members attended.
Read the full Asia Pacific meeting report for more details
EUROPE / AFRICA / MIDDLE EAST
Update from Jordanian member

FIACLE Dr Eman Alzghoul is currently a PhD student at the University of New South Wales in Sydney, Australia, researching the impact of using multifocal contact lenses in basic visual functions among myopic patients. 'I consider joining IACLE in 2014 a turning point in my academic career. IACLE has enriched my career by honing my professional behaviour and networking skills and has helped me expand my teaching methods. IACLE also supports me in developing the contact lens course due to the huge array of online resources that I use in both my academic teaching and practical career', says Eman, who recently met with Executive Manager of Global Operations Siobhan Allen to receive her FIACLE certificate and badge (pictured above).
Do you have any updates you would like to share with the IACLE membership?
Registration opens for the Summit of Specialty Contacts
Early bird registration is now open for the Summit of Specialty Contacts, taking place on 14-16 October in Sorrento, Italy. The agenda includes discussions on specialty contact lens topics, a day devoted to myopia and ortho-k, and one day designed for pre-track, society-based lectures, and sponsor presentations.
To register and for more information
---
DATES FOR YOUR DIARY
IACLE TLC (Teach. Learn. Connect) WEBINARS
Visit the IACLE Webinars area on IACLETOP to view the schedule for upcoming webinars.
GLOBAL MEETINGS IN COMING MONTHS
European Federation of the Contact Lens and IOL Industries Congress and Exhibition (EFCLIN), Barcelona, Spain, 28-30 April. Details.
OPTI, Munich, Germany, 13-15 May. Details.
Cornea & Contact Lens Society Conference, Auckland, New Zealand, 1-2 July. Details.
6th International Congress of Scleral Contacts (ICSC), Florida, USA, 29-30 July. Details.
The Summit of Specialty Contacts, Sorrento, Italy, 14-16 October. Details.
American Academy of Optometry, San Diego, USA, 26-29 October. Details.
3rd Asia Optometric Congress and 8th ASEAN Optometric Conference, Kuala Lumpur, Malaysia, 15-16 November. Details.
---
IACLE IS SPONSORED BY