Global Member Newsletter April 2023
MEMBERSHIP PERKS IN APRIL
Read this email in
DLP2023 goes live next month
We are excited to announce that the Distance Learning Program 2023 is now live. Access the DLP2023 via IACLETOP, where you will find 13 assessments spread across 4 ICLC-based phases. The DLP is a self-study program designed to improve the contact lens knowledge of educators, assist in contact lens teaching endeavors, and prepare candidates for the Fellowship Exam. We encourage all those registered for the Fellowship Exam to complete the DLP2023.
Are you a Fellow of IACLE?
The IACLE Fellowship Exam takes place every two years and a successful outcome of the exam qualifies members to apply for Fellow of IACLE (FIACLE) status. The upcoming 2023 exam will take place virtually via IACLETOP on Wednesday 22 November in English, Chinese, Spanish, Korean and Bahasa. If you are interested in taking this year's Fellowship Exam, please register following the link below. Please note, members must hold IACLE membership for at least one year before applying for FIACLE status.
Register for the Fellowship Exam. For more information
Fellowship Exam Area launches next month
We are pleased to announce the upcoming launch of the Fellowship Exam Area in May, exclusively for paid-up candidates of the Fellowship Exam. This dedicated space will host a series of monthly workshops leading up to the exam aimed at providing valuable guidance and support. All IACLE members are invited to join the first webinar titled 'An introduction to the Fellowship Exam' on 24 May at 11 am (BST).
Register for the Fellowship Exam
---
CATCH UP ON LAST MONTH'S GLOBAL WEBINAR
Last month, authors of the paper 'Effect of material and care system combination on subclinical inflammation of the ocular surface in soft contact lens wear' hosted a global webinar to discuss the ocular subclinical inflammatory response in two soft contact lens materials when combined with two different care systems (multipurpose solution and hydrogen peroxide). Noor Haziq Saliman, Professor Philip Morgan and Dr Carole Maldonado-Codina answered questions from the audience.
---
NEWS IN APRIL
Image of the Month

Dr Atanu Samanta from Nagar School of Optometry in Gujarat, India, captured the above images using an iPhone 13 Pro Max ultra-wide camera and a 13mm f/1.8 lens with a 12 MP camera. The images show a 35-year-old female who presented with a corneal opacity in her right eye caused by a previous corneal ulceration 10 years ago. The brightness acuity test showed that she was not suitable for a corneal transplant. As an alternative, she was fitted with a prosthetic contact lens to improve her vision.
Would you like to feature in next month's Image of the Month? Submit your image
Student Area feedback from member in Pakistan
IACLE member Memoona Arshad from the Green International University in Lahore, Pakistan, recently expressed her appreciation for the Student Area, a space for educators to offer their students a unique teaching environment for learning and assessment opportunities. Memoona has been using the Student Area for three months and has found it to be an invaluable resource that has not only benefited her as an educator but has also been thoroughly enjoyed by her students. Among the various tools available, the Case Report Series has become the students' favorite as it 'provides a fantastic opportunity to conduct an interactive contact lens tutorial without needing a contact lens clinical set up.
To give you a chance to try the area and see if this resource enhances your teaching, we are offering complimentary access for one year to our members who haven't yet registered for a Student Area.
IACLE members collaborate on EBT report
Last summer, a team led by EAME Regional Director Dr Fabrizio Zeri and Vice President Professor Shehzad Naroo invited IACLE members to contribute to an evidence-based teaching report specific to contact lens education. The team, consisting of Dr Zeri, Professor Naroo, Professor Craig Woods, Dr Frank Eperjesi, and IACLE members Dr Stefan Bandlitz, Ajay Kumar Bhootra, Dr Mahesh Raj Joshi, and Helmer Schweizer utilized their expertise to complete a comprehensive literature review of current evidence of teaching methods in contact lens training.
Read the outcomes of the report
Dr Rick Weisbarth retires as VP of Professional Affairs
After a career of over four decades in the optometric industry, Dr Rick Weisbarth Vice President of Professional Affairs at Alcon, has announced his retirement. Dr Weisbarth's commitment to collaborating with eyecare professionals has played a crucial role in shaping the future of contact lenses and eyecare more generally. As a longstanding member of IACLE and Fellow since 2009, we are grateful for Dr Weisbarth's guidance and insights over many years. Dr Carla Mack will be transitioning to a combined role of Global and US Head of Professional Education and Development at Alcon.
---
RESOURCES
IACLE survey leads to most downloaded article
A research paper authored by IACLE staff and officers, which focused on changes to contact lens education during the COVID-19 pandemic, has been recognized as one of the most downloaded articles in the journal Ophthalmic and Physiological Optics within its first 12 months of publication. In response to the global health crisis, IACLE conducted a comprehensive survey in 2020 to assess the impact of the pandemic on contact lens education, with members worldwide confirming a shift towards online teaching and modified practical sessions.
---
COVID-19 RESOURCES
A recent paper explored the socio-emotional consequences of COVID-19 in people of Latin American origin or descent. The study examined the psychosocial impact of the pandemic on adults in California and Florida through online focus group interviews. Influential factors affecting their mental health were identified, informing efforts to increase support and resources to address their psychological difficulties during the pandemic.
---
WHAT'S HAPPENING IN OUR REGIONS?
AMERICAS
Latest webinars in Latin America
In March, the IACLE Americas office hosted five 'Miércoles de Lentes de Contacto' (Contact Lens Wednesdays) webinars with 285 attendees, including IACLE members and ECPs. Speakers from Latin America shared their expertise on contact lens fittings, including scleral lens fitting, hygiene and care, technology and apps, choosing between spherical and toric landing zones in scleral lenses, and rotation assessment in soft toric lenses.
ASIA PACIFIC
Indian institution awarded Certificate of Affiliation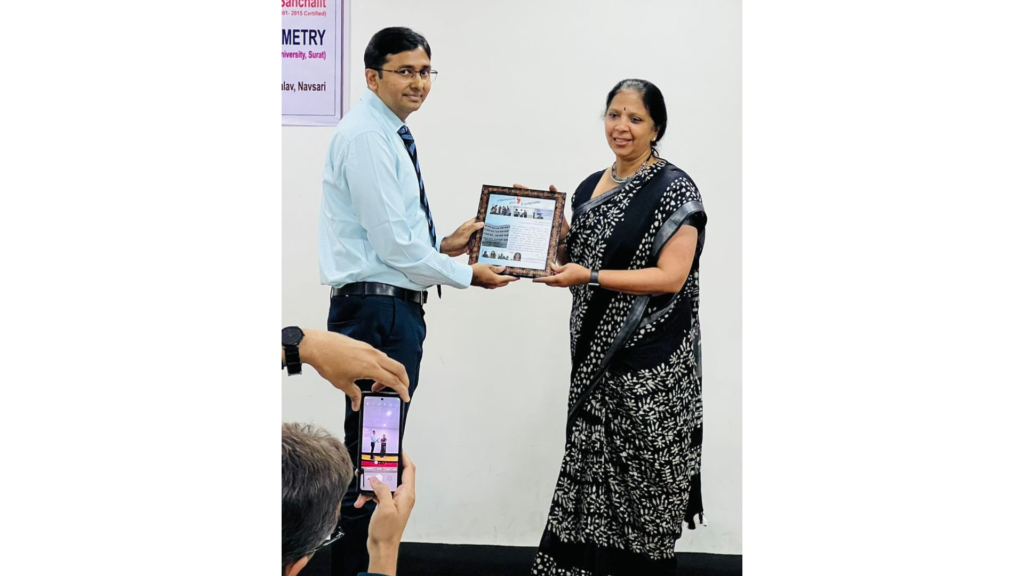 On World Optometry Day, Executive Manager of Global Education Lakshmi Shinde visited Hari Jyot College of Optometry in Gujarat (23 March). The visit covered various aspects of optometry, including soft skills, different application methods and the evolution of optometry. In addition, Lakshmi shared insights on career opportunities, and there were discussions surrounding postgraduate and PhD options and settling overseas after completing an optometry degree in India. During the day, Lakshmi awarded Hari Jyot College of Optometry with a Certificate of Affiliation from IACLE and presented this to FIACLE Dr Nirav Mehta (pictured above).
Read the full Asia Pacific report
EUROPE / AFRICA / MIDDLE EAST
BCLA invites you to its upcoming webinar

The British Contact Lens Association invites IACLE members to its upcoming webinar on 'An overview of modern contact lens fitting #TechnologyRocks' on Wednesday 19 April at 6:30 pm (BST). FIACLE David Berkow and Brian Tompkins will discuss modern technologies used in specialty contact lens fitting, including topography, slit lamp imaging, OCT, and profilometry. The webinar will emphasize the importance of screening patients before fitting, analyzing tears, and grading dry eye issues, and using technology for comparison and monitoring.
For more information and to register
---
DATES FOR YOUR DIARY
IACLE TLC (Teach. Learn. Connect) WEBINARS
Visit the IACLE Webinars area on IACLETOP to view the schedule for upcoming webinars.
GLOBAL MEETINGS IN THE COMING MONTHS
49th EFCLIN Congress and Exhibition, The Hague, The Netherlands, 20-22 April. Details.
23rd Asia Pacific Optometric Congress (APOC), New Delhi, India, 2-4 June. Details.
IACLE 4th World Congress, Birmingham, UK, 5-8 June. Details.
BCLA Clinical Conference & Exhibition, Manchester, UK, 9-11 June. Details.
4th World Congress of Optometry (WCO4) and O=MEGA23, Melbourne, Australia, 8-10 September. Details.
American Academy of Optometry, New Orleans, USA, 11-14 October. Details.
---
IACLE IS SPONSORED BY