Global Member Newsletter August 2020
WHAT'S NEW AT IACLE
Join us for our half-day virtual conference in September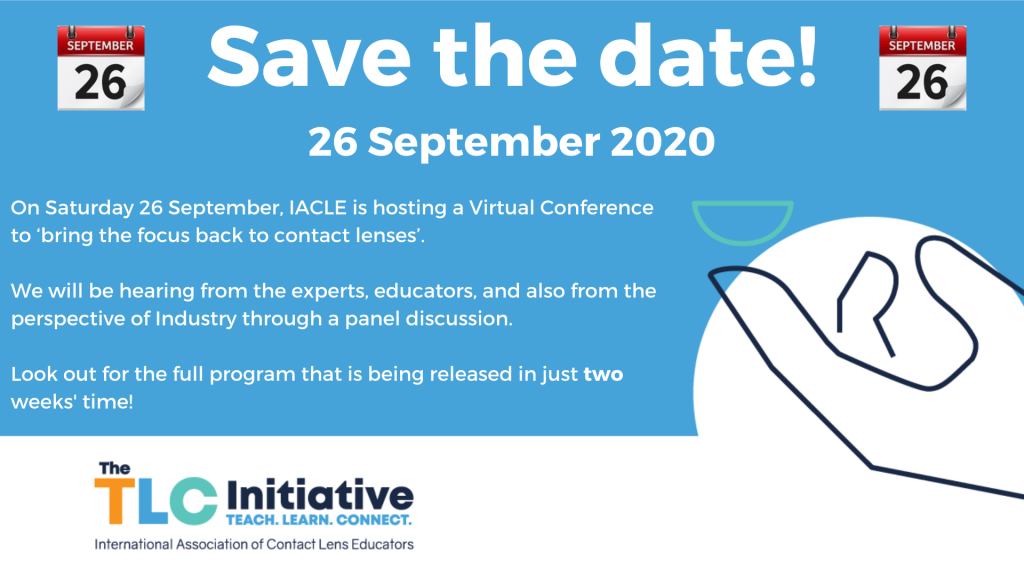 On Saturday 26 September, IACLE is hosting a virtual conference to 'Bring the focus back to contact lenses'. There will be an industry panel discussion to update delegates on the current situation with COVID-19. The group will reflect on the impact to the industry since the start of the pandemic, how consumers have been affected and give their thoughts on how the next 6-9 months may play out.
Look out for the full program in our Special Notice
NEW IACLETOP adds Flashcards for students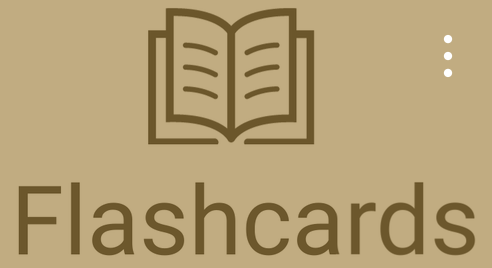 Soft contact lens application, removal and lens care systems are the topics for the first in a series of Flashcards for students, now available on IACLETOP. The Flashcards – in PDF, PowerPoint and Nearpod formats – have been designed to support the delivery of practical skills through summary sheets to highlight the key aspects of a particular skill.
Access the flashcards via IACLETOP
NEW The TLC Initiative records social media success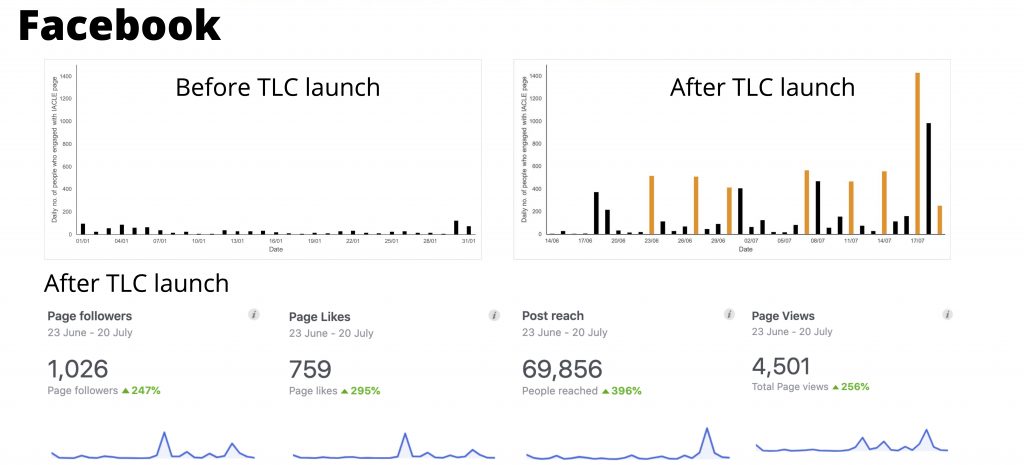 IACLE introduced a new initiative in June 2020 to supplement existing educational activities with the aim to support members, students and industry as recovery from the COVID-19 pandemic continues. The TLC (Teach. Learn. Connect.) Initiative has been a great success, and this is shown in the huge shift in engagement across all IACLE social channels. Amelia Morgan, Digital Marketing Consultant, says: 'Although this is an uncertain time for all, this can be the catalyst for change, and for producing great opportunities and success.'
See the full social media metrics report
IACLE's first webinars in Arabic now on IACLETOP

In a first for IACLE, the recent Arabic-speaking webinar series is now available for members to use on IACLETOP, along with more than 30 other recorded lectures. Topics covered in the Arabic series are myopia management, contact lens compliance, meibomian gland dysfunction and atopic diseases.
Read the Arabic webinars report
IACLE France completes webinar series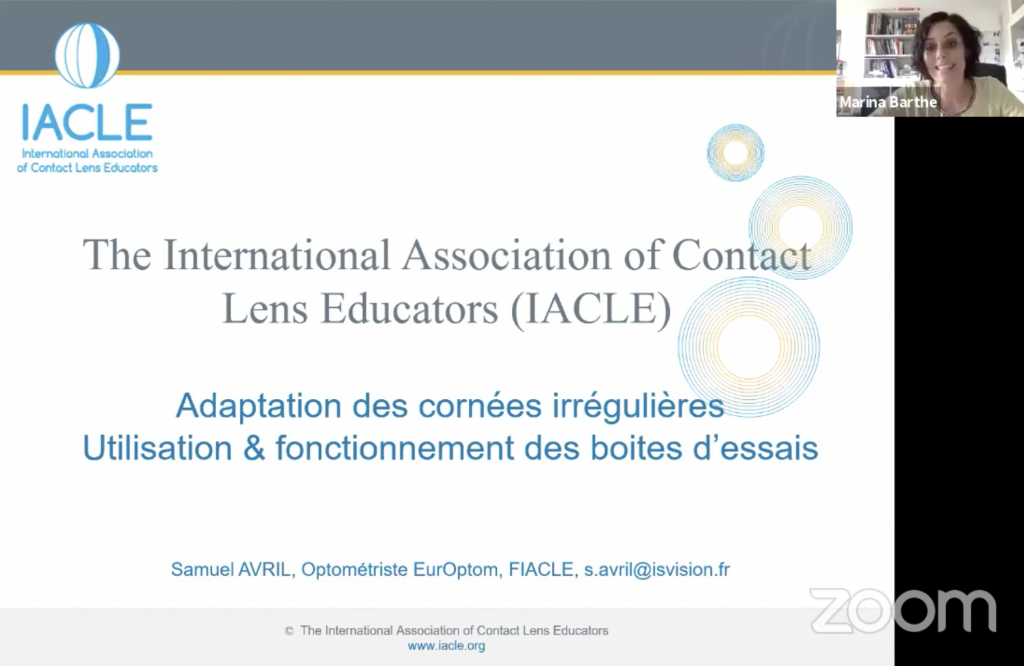 Around 25 members took part in the recent French-speaking webinars which are now available on IACLETOP. IACLE Treasurer Professor Etty Bitton joined the speaker panel from Montreal, Canada, along with FIACLEs Marina Barthe and Samuel Avril in France.
Read the French webinars report
---
MEET A MEMBER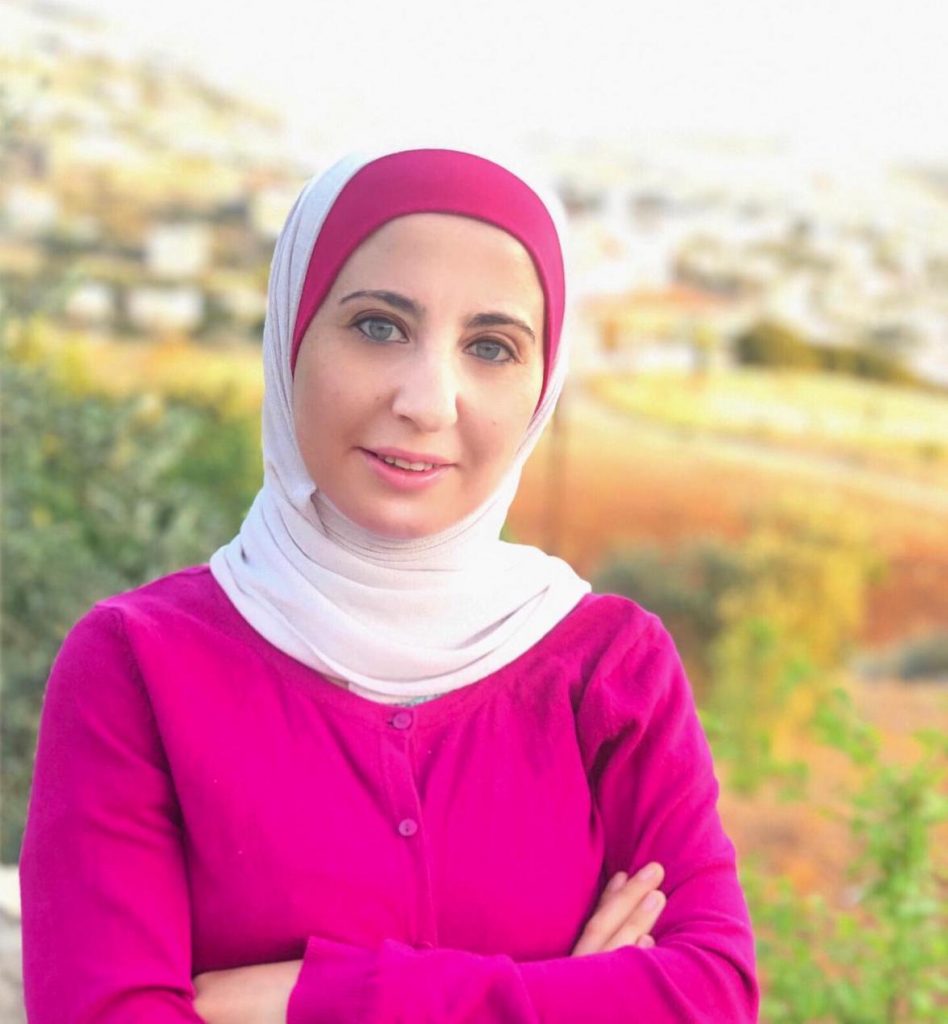 Eman Alzghoul is a 2016 IACLE Travel Award winner and lecturer at Jordan University of Science and Technology, specialising in RGP, therapeutic and myopia control contact lenses. Eman says: 'IACLE has enriched my career path by honing my professional behaviour and networking skills, and has helped me expand my teaching methods. IACLE also supports me in developing the contact lens course due to having access to a huge array of online resources that I use in my academic teaching and practical career.' Eman is also currently a PhD student at the University of New South Wales, Australia conducting research on the impact of using multifocal contact lenses in basic visual functions among myopic patients.
WOULD YOU LIKE TO INTRODUCE YOURSELF TO IACLE MEMBERS WORLDWIDE? WE'RE LOOKING FOR MORE MEMBERS TO TAKE PART IN MEET A MEMBER.
---
IMAGE OF THE MONTH
Conjunctival de-epithelialisation in dry eye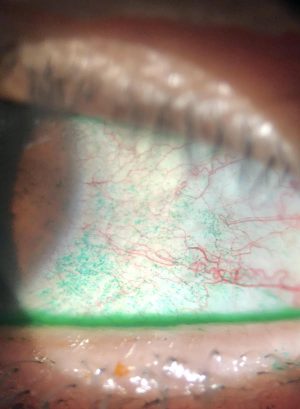 Alejandra De la Hoya Olvera from Universo Visual Optica in Mexico captured this image using a slit lamp with an attached mobile phone adapter with diffuse slit-lamp illumination, low magnification and white light. Lissamine green stain was used to show bulbar conjunctival de-epithelialisation in dry eye syndrome.
---
RESOURCES
IACLE survey report reveals impact of COVID-19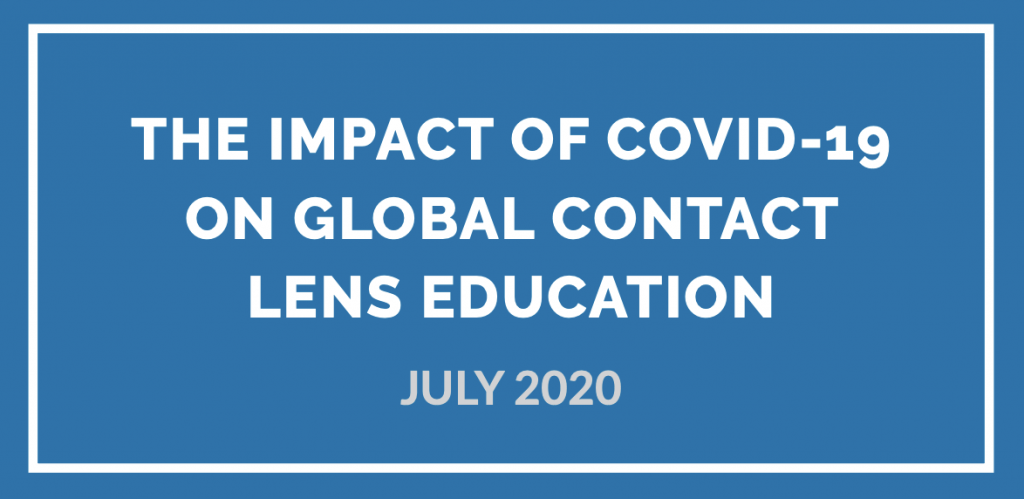 To determine the impact of COVID-19 on contact lens education, and how educators and institutions plan to adapt in the future, IACLE conducted an online survey among its Educator Members. A full report on the survey findings is now available on our website.
Institutions take part in first Online STEs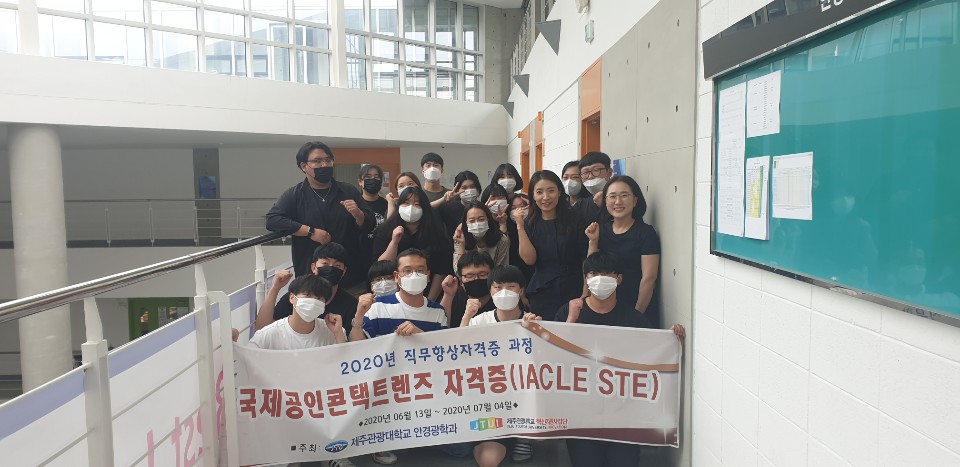 IACLE has introduced an online version of its Student Trial Exam to support its educators and their students following the COVID-19 pandemic. To date, a total of five universities use the STEs with a total of 192 students participating. Jeju Tourism University students (pictured) have used the STEs.
Find out more about the Online STE
ICLC now includes dry eye lecture in Korean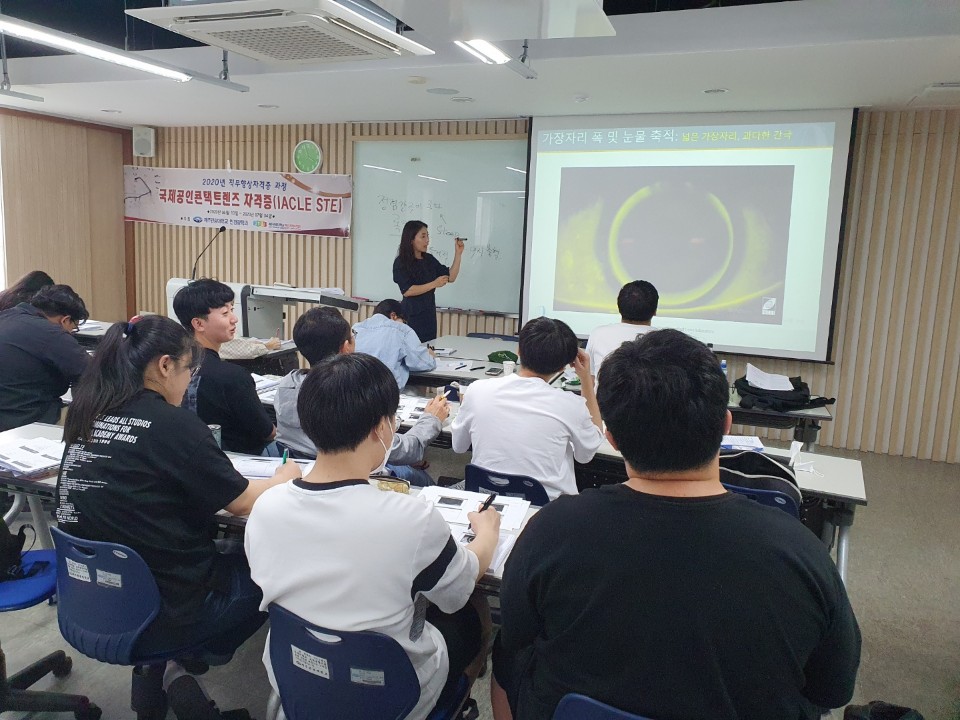 'Dry eye and contact lenses' (D4) is the latest lecture in Korean to be added to the IACLE Contact Lens Course (ICLC2015 version). Translations of Contact Lens Care (module C) and Myopia and its Management (module F) are pending to complete the course for Korean members.
The Summit provides access to specialist lens webinars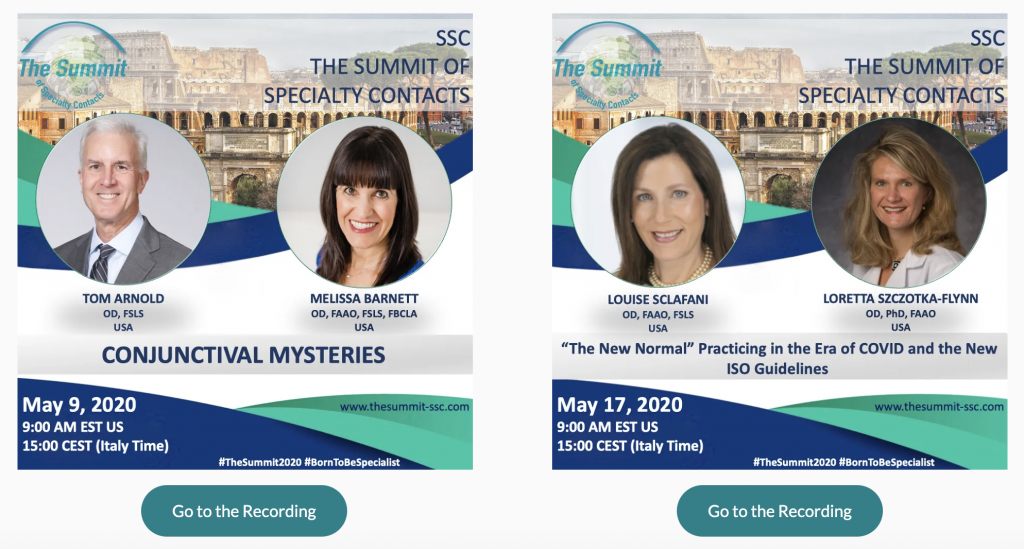 The Summit of Specialty Contacts spring and summer webinars are now complete and recordings are available online. The Summit virtual conference comprised a total of 15 lectures on specialist contact lens fitting and is free to view.
Global Myopia Symposium becomes virtual event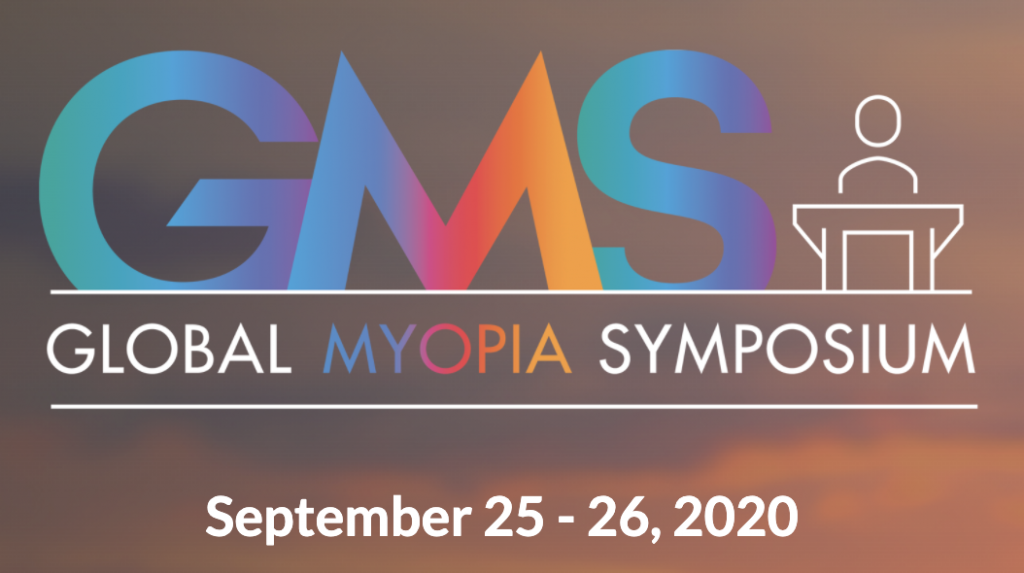 FIACLE Professor Lyndon Jones of the University of Waterloo, Canada will be among the presenters for the Global Myopia Symposium, a virtual meeting focused on myopia management for clinicians, researchers and educators, taking place on 25-26 September.
Survey explores impact of COVID-19 on CL wear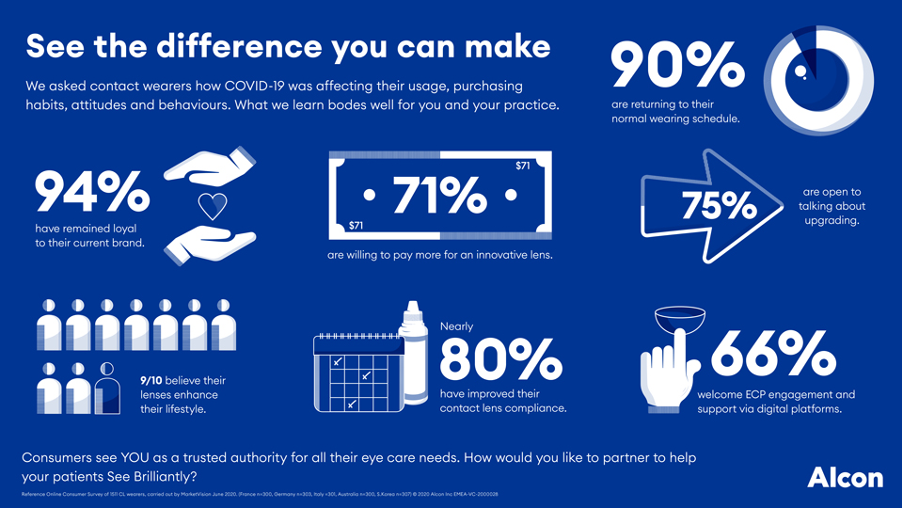 Nine in 10 contact lens wearers anticipate going back to their normal wearing schedule and almost all (94%) have remained loyal to their current brand during the COVID-19 pandemic. These are among the findings of a survey by IACLE Platinum Sponsor Alcon of 1,500 contact wearers in five countries.
CDC offers resources for Contact Lens Health Week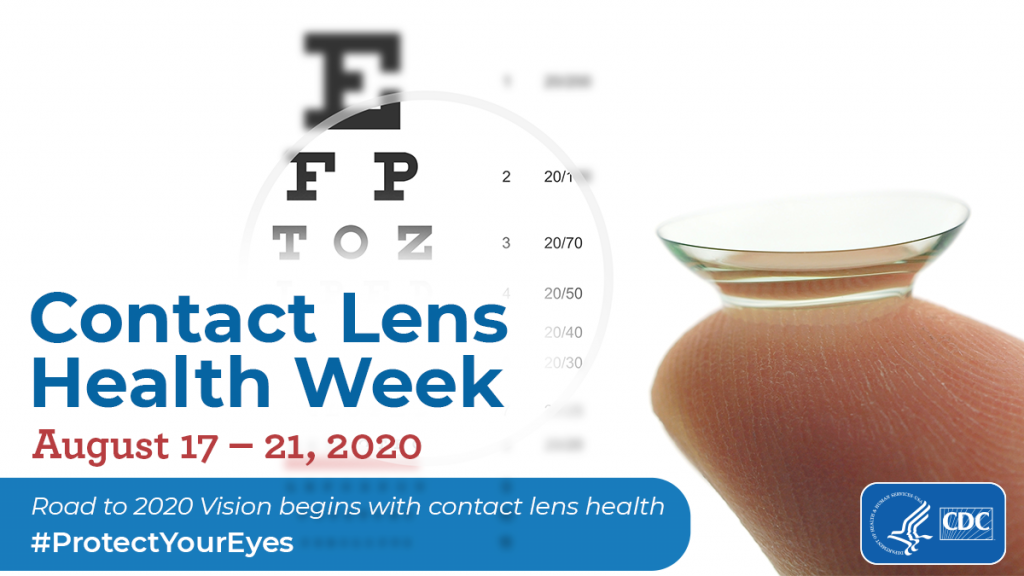 The US Centers for Disease Control and Prevention (CDC), along with its partners, is holding the seventh annual Contact Lens Health Week from 17-21 August. CDC has a range of educational resources available around this year's theme of 'Road to 2020 vision begins with contact lens health'.
Access the Contact Lens Health Week toolkit
---
COVID-19 RESOURCES
Special issue of Eye on COVID-19
Comments, reviews and original articles on the effects of SARS-CoV-2 on the eye.
Ophthalmology education
A global perspective on transforming ophthalmic education into virtual learning during the COVID-19 pandemic.
COVID-19 and contact lens wear in Spain
The influence of COVID-19 on contact lens habits and perceived risk of infection due to contact lens wear during the pandemic.
Implications of the pandemic on eye care practice
An editorial by two UK Professors discusses the implications of the current pandemic for eye care practitioners.
---
GLOBAL UPDATE
AMERICAS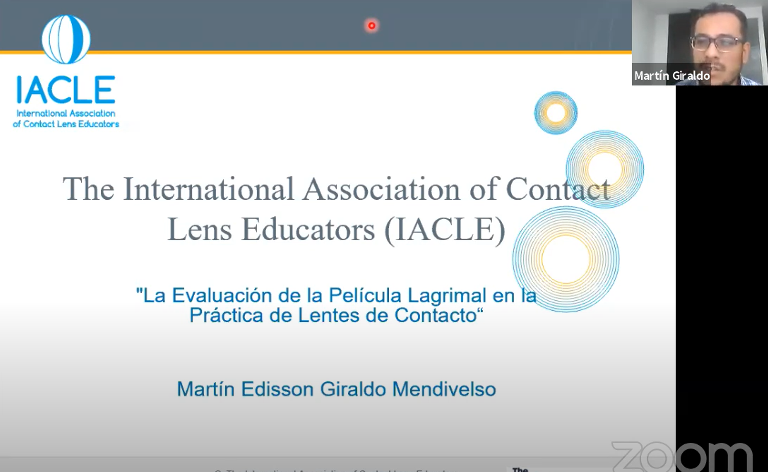 IACLE has made the switch from streaming Spanish-speaking webinars via YouTube to Facebook to ensure accessibility in one central location. The second Latin America TLC webinar was hosted by Dr Martin Giraldo from Columbia on the topic of 'Tear film assessment on contact lens practice'. Recorded programs can be listened to on demand. In other news from the LA region, IACLE Americas Regional Coordinator, Guillermo Carrillo, features in a documentary highlighting the importance of the optometry role in preventative medicine.
Watch the documentary (Password: LATAM). Read the Americas report
AAO 2020 moves to virtual meeting

The annual meeting of the American Academy of Optometry (AAO) is now taking place virtually and will be available from 7-22 October during select periods. Check the Academy website for the latest news, program and registration.
CooperVision announces scholarship recipients

IACLE Gold Sponsor CooperVision has announced the 2020 recipients of its National Optometric Association Future Contact Lens Scholarships. The recipients are Christina Huynh from Kentucky College of Optometry, Jessica Olson Livermont from Northeastern State University Oklahoma College of Optometry and Richard Wan from The Ohio State University College of Optometry.
ASIA PACIFIC
Tributes paid to Dr Rajeswari Mahadevan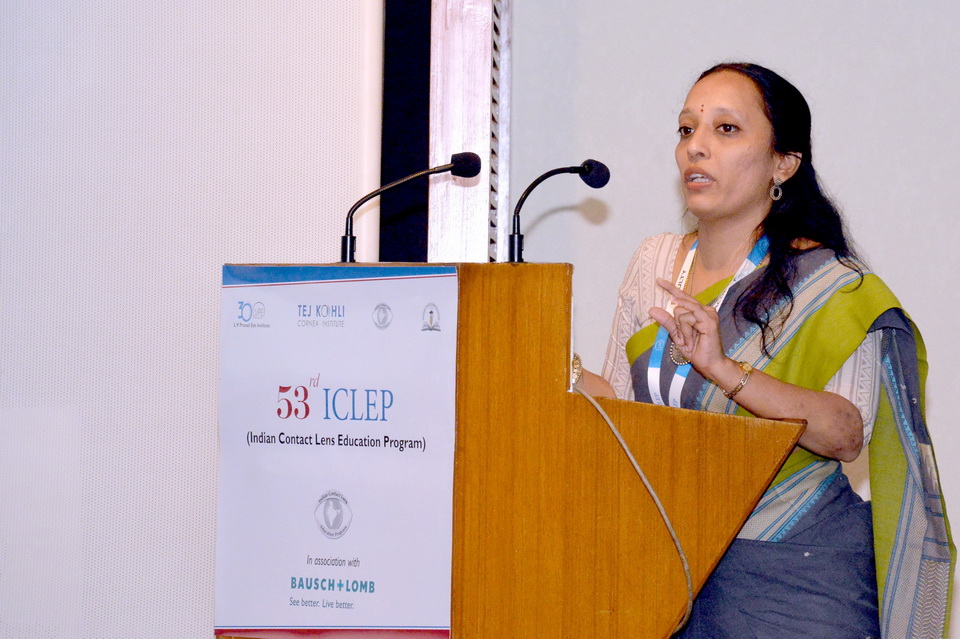 The Elite School of Optometry in Chennai, India was among those paying tribute to IACLE's Asia Pacific Regional President Dr Rajeswari Mahadevan who passed away on 15 July. Raji graduated from the school in 1998 and went on to pursue her MPhil and PhD studies in contact lenses while serving at Sankara Nethralaya.
Read an obituary and a tribute from our President
Lakshmi delivers invited talk across AP region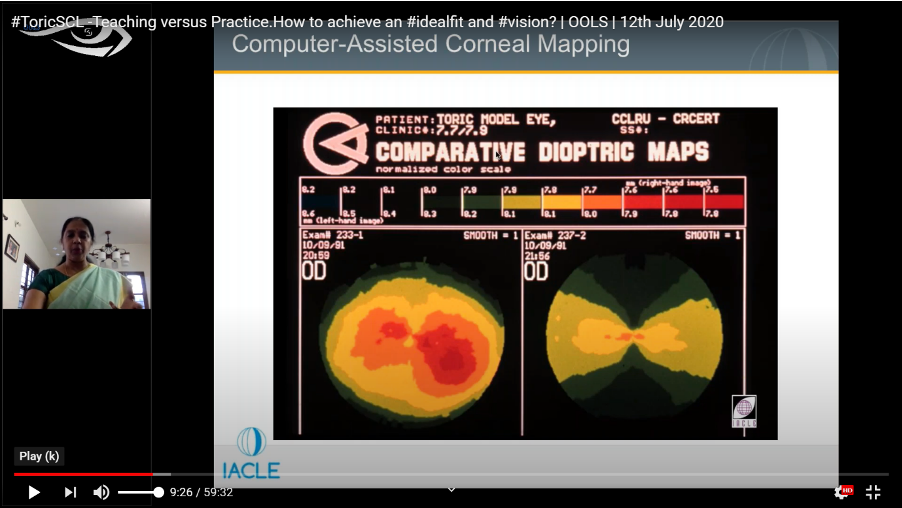 Lakshmi Shinde, IACLE's Executive Manager of Global Education, spoke on 'Soft torics: teaching vs practice' at an invited lecture (12 July), organized by FIACLE Fakhruddin Barodawala for Online Optom Learning Series (OOLS). 'OOLS is an initiative by some optometrist friends to create an online learning platform,' says Fakhruddin. Optometrists and optometry students from countries including India, Malaysia, Vietnam and the Phillipines have joined the 44 OOLS sessions since April.
IACLE team heads for the IVI virtual conference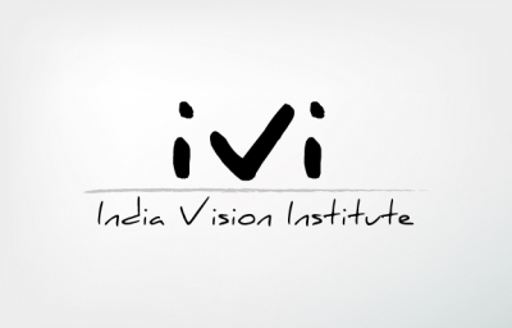 The IACLE India team will be taking part in the India Vision Institute (IVI) virtual conference, Eye Health in a Changing World, on 3-4 October. Nilesh Thite will present an introduction to IACLE and Lakshmi Shinde will dedicate her talk on discomfort and dry eye to Dr Rajeswari Mahadevan. FIACLEs Dr Byki Huntjens and Rajesh Wadhwa complete the line-up of IACLE speakers.
IACLE India panel discusses virtual learning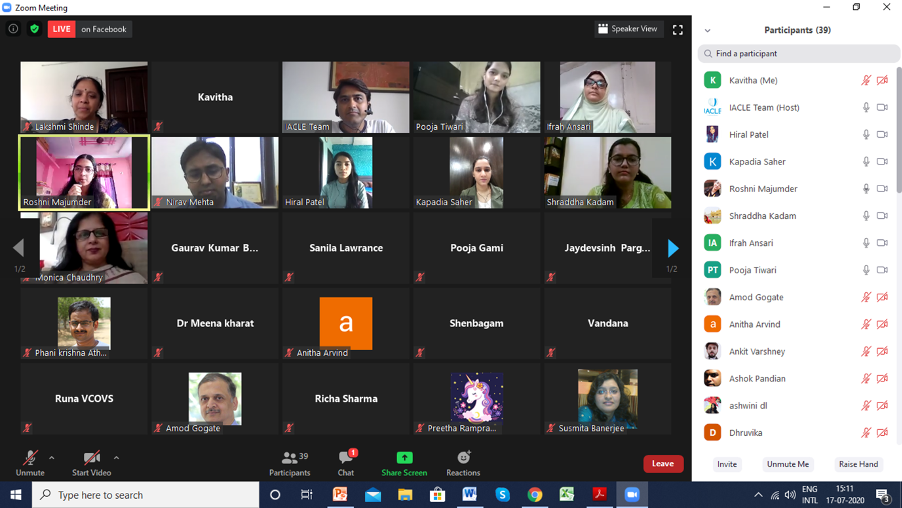 Lakshmi Shinde and Executive Manager of Educational Programs Nilesh Thite hosted an online panel discussion on virtual learning (17 July), alongside FIACLEs Professor Monica Chaudhry, Shraddha Kadam and Nirav Mehta. They were joined by students from Lotus College of Optometry, Vidyasagar College of Optometry and Shree Bharatimaiya College of Optometry. A total of 142 educators and students participated in the webinar.
IACLE China presents dry eye lecture via IACLETOP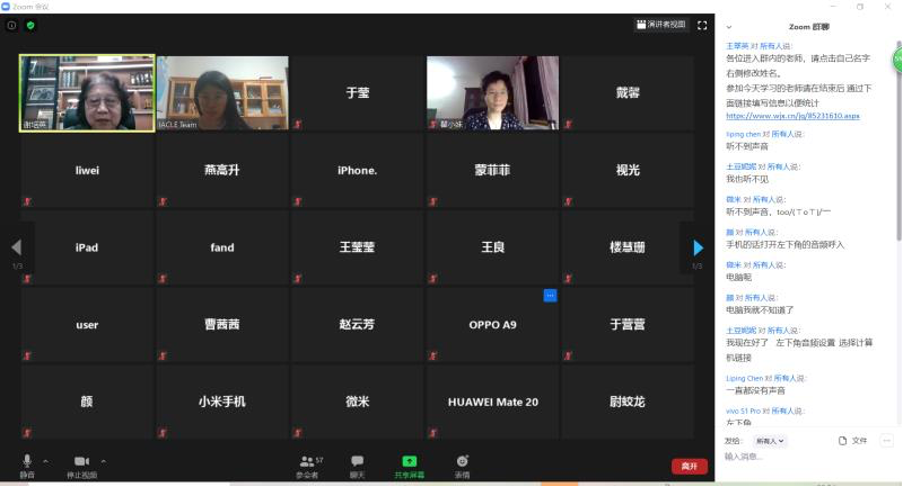 China National Coordinator Professor Wang Haiying held an online lecture on 'Dry eye and contact lenses' last month. Haiying discussed IACLETOP and presented Professor James Wolffsohn's lecture on 'Contact lens induced dry eye: causes, investigations and management'. Xie Peiying from the Optometry Research Center of Peking University and China National Coordinator Professor Qu Xiaomei also delivered presentations.
EUROPE / AFRICA / MIDDLE EAST
BCLA to host Presidential Address and first-ever podcast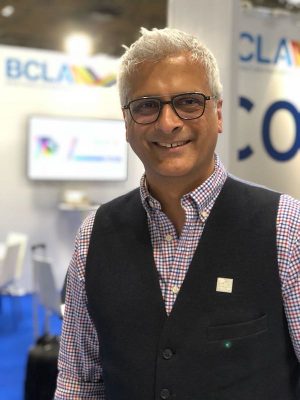 For the first time, the British Contact Lens Association (BCLA) Presidential Address will be held via a live webinar (10 September). The event will include an address from incoming President Indie Grewal (pictured) entitled 'Making a lasting first impression'. Last month the BCLA produced its first-ever podcast, entitled 'The community speaks'. The podcast gave BCLA members the opportunity to hear from experts about the impact COVID-19 has had on the contact lens profession.
Find more details of BCLA events
UK and Italian universities join up to produce COVID-19 survey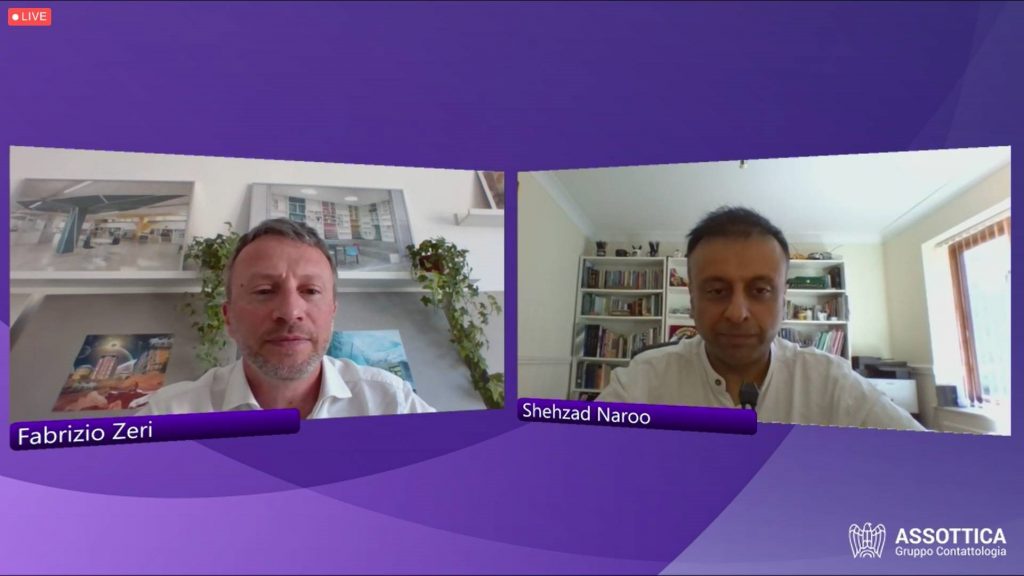 IACLE members are invited to take part in a study designed by Aston University, University of Milano Bicocca and Sapienza University of Rome, with the aim of investigating different aspects relating to contact lens practice following the Coronavirus pandemic.
---
DATES FOR YOUR DIARY
The following meetings are among those that have new dates for later in 2020 and beyond due to the COVID-19 pandemic:
23-25 October 2020 – Optometry Conference of Central and South-Eastern Europe, Split, Croatia. Details.
8 November 2020 – BCLA UK, Birmingham, United Kingdom. Details.
23-25 April 2021 – European Academy of Optometry and Optics Annual Conference (Helsinki2021), Helsinki, Finland. Details.
20-23 May 2021 – Association of Optometric Contact Lens Educators (AOCLE) Annual Workshop, Fort Lauderdale, Florida, USA. Details.
13-14 March 2022 – Nederlands Contactlens Congres, Veldhoven, The Netherlands. Details.
Please email dates of events to s.allen@iacle.org.
Global Meetings and Events Schedule
IACLE Events Calendar providing all information and login details to the TLC Initiative events go to www.iacle.org member login
---
IACLE IS SPONSORED BY