Global Member Newsletter August 2022
Translation: Chinese
IACLETOP UPDATE
French Student Area is now complete
We are pleased to inform you that the French Student Area is now complete and ready to use. All IACLE members have access to a dedicated Student Area within IACLETOP. The area is designed for educators to offer their students a unique teaching space for learning and assessment opportunities. Members can deliver the Student Trial Exam (STE) and the new Basic STE (a version of the STE with assessments set at entry level to assess students at the beginning of their contact lens journey) via the Student Area.
Register here to access a Student Area
---
GLOBAL WEBINAR IN AUGUST
Reviewing 20 years of soft contact lens wearer ocular physiology data


Join Dr Nina Tahhan on Wednesday 17 August at 10 am UK (BST) for a global webinar on 'A review of 20 years of soft contact lens wearer ocular physiology data'. Dr Tahhan is currently a Senior Research Scientist at the Brien Holden Vision Institute and a Senior Conjoint Lecturer at the School of Optometry at the University of New South Wales in Sydney, Australia, and has over 20 years of experience in the eye health sector.
Members can watch live online via Zoom, and the event will be live streamed to our Facebook page for students to get involved.
Find out what time the webinar begins in your time zone
---
NEWS IN AUGUST
Image of the Month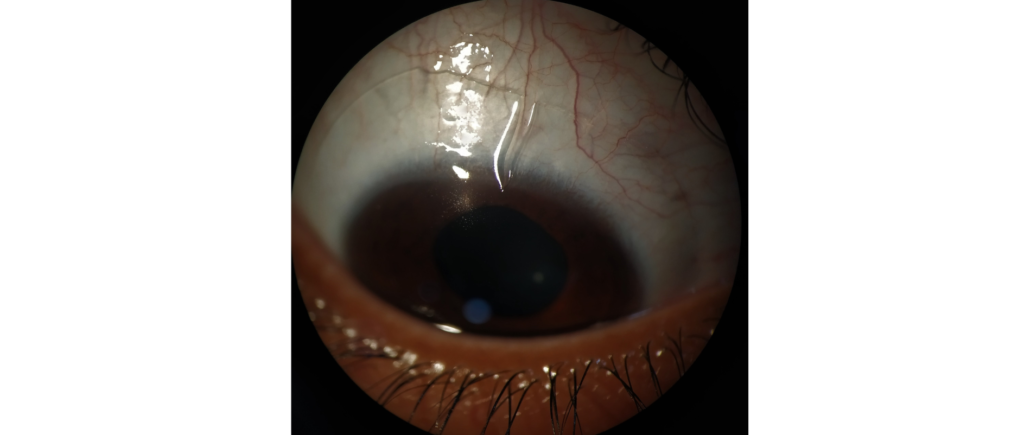 Suraj Kumar Chaurasiya from the CL Gupta Eye Institute in Moradabad, India, captured the above image using a Redmi note 7 AI camera phone. A 22-year-old patient wearing soft toric monthly disposables complained of foreign body sensation and discomfort. Upon examination, a vertical linear lens with edge tear superiorly was found. The tearing of the contact lens can be caused by holding the lens with nails. Therefore, when removing lenses, it is recommended to use a thumb and forefinger to slide the lens to break the suction and remove it.
Would you like to feature in next month's Image of the Month?
Congratulations to Shehzad on his professorship!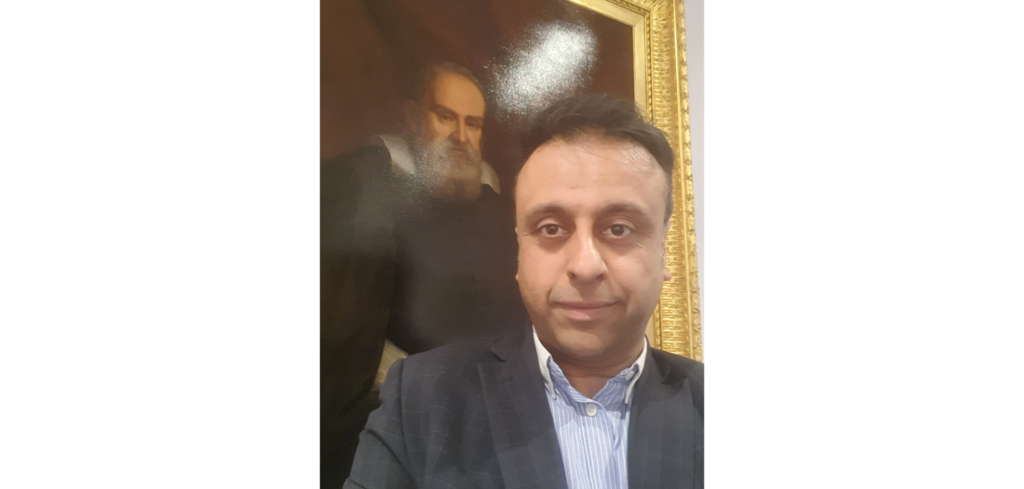 IACLE Vice President Shehzad Naroo has recently been promoted to the position of Professor – the highest academic ranking in the UK system – from Aston University in Birmingham, UK. He now holds the title of Professor of Optometry. Congratulations Professor Naroo!
Upcoming Academy meeting in San Diego
Are you attending the American Academy of Optometry (AAO) Meeting in San Diego? We'd love to know if you are so we can meet up and catch up. We are planning to shoot some video content from our members and FIACLEs, so please let us know if you will be there by emailing us at iacle@iacle.org. We look forward to seeing you there!
Catch up on the Annual General Meeting
If you missed our Annual General Meeting that took place in June, it is now available to watch online.
We are now accepting PayPal payments
We are pleased to inform our members that we have added PayPal as a means to pay for your annual membership fee.
Register now for the Global Myopia Symposium

The Global Myopia Symposium is running a complimentary virtual conference, taking place on 8-10 September, led by experts in myopia management. Attendees can earn up to 15 hours of CE credits by attending sessions, discussion panels and workshops on topics such as pathologic myopia, ortho-k lenses and the latest research in myopia control.
Register here. For more information on the conference
---
RESOURCES
Study compares short-term tolerability of eyelid cleaners
A randomized crossover study compared short-term tolerability of five commercial anti-demodectic lid cleansers with 30 healthy non-contact lens wearers. Visual acuity, non-invasive tear film stability, conjunctival hyperaemia, and ocular surface staining were assessed at baseline and 10 minutes. The authors reported varying tolerability profiles to different anti-demodectic lid cleanser preparations and the potential of these products to induce tear film instability, conjunctival hyperaemia, and ocular surface staining on application.
Opportunities and threats to contact lens practice in Spain
An international survey evaluated the opportunities and threats related to contact lens practice reported by eye care professionals worldwide. This study compares how results in Spain compare with those from other regions of the world.
---
COVID-19 RESOURCES
A cross-sectional study in China, including 4,825 high school students, investigated the prevalence of dry eye disease (DED) during the COVID-19 outbreak. The study concluded that most Chinese high school students were in high-risk environments and were more likely to suffer from DED (prevalence of 70.5%).
---
WHAT'S HAPPENING IN OUR REGIONS?
AMERICAS
Latin America collaborates with CooperVision LATAM
During July, CooperVision in the Latin America region held the 2022 International Contact Lens Summit, focusing on topics such as myopia management, sustainability in contact lenses, toric lens designs, multifocal lenses, and specialty lenses (1-2 July). Americas Regional Coordinator Guillermo Carrillo, Lifetime FIACLEs Professor Ruben Velazquez and Ricardo Pintor, and Dr Andrea Puentes held discussions during the event.
ASIA PACIFIC
Visit to Korean university to prepare students for the STE
Korea National Coordinator Professor Kyounghee Park delivered a lecture on Case Reports and contact lens fitting using the IACLE Contact Lens Course for students at Jeju Tourism University in South Korea. In addition, Professor Park explained how to prepare for the Student Trial Exam (STE) and demonstrated how to use a slit lamp. Jeju Tourism University students have taken the STE every year since 2019, with their latest administration in July.
Read the full Asia Pacific report
Masterclass Knowledge Fest – 'an experience like no other'
Lifetime FIACLEs Nilesh Thite and Yeshwant Saoji successfully organized a three-day optometry conference, with a significant focus on contact lens-related topics, in Pune, India (1-3 August). The meeting saw an attendance of over 270 delegates, including practitioners, educators, and students, and a large group of IACLE colleagues and FIACLEs spoke at the event.
Among the speakers and session chairs were Lifetime FIACLEs Lakshmi Shinde and Ajay Shinde, FIACLEs Dr Pancham Kulkarni, Usman Memon, Prasad Sawant, Isha Dave, Khemraj Nackwal, Pushpendra Singh, Mamta Joshi, Saranya Balasubramaniam and Amod Gogate.
EUROPE / AFRICA / MIDDLE EAST
Join IACLE at the AECSO meeting in October
FIACLE Professor Raquel Gil Cazorla is running an exciting IACLE event at the upcoming Congress of the Spanish Association of Contactology and Ocular Surface, taking place from 7-9 October in Alicante, Spain. The IACLE event will feature a workshop on dry eye examinations and a discussion session for IACLE members. This is an excellent opportunity for our members in Spain and others attending the Congress to meet and network.
Please confirm your interest with Siobhan Allen at s.allen@iacle.org.
Myopia management guidance features in next webinar

The latest British Contact Lens Association's (BCLA) webinar will put myopia management under the microscope, with an expert panel discussing recent guidance issued by the College of Optometrists. The session will be held on 6 September at 7 pm UK time (BST).
To register for the session and for more information
---
DATES FOR YOUR DIARY
IACLE TLC (Teach. Learn. Connect) WEBINARS
Visit the IACLE Webinars area on IACLETOP to view the schedule for upcoming webinars.
GLOBAL MEETINGS IN COMING MONTHS
Cornea & Contact Lens Society Conference, Auckland, New Zealand, 11-13 August. Details.
Assottica Conference, Milan, Italy, 2-3 October. Details.
Congress of the Spanish Association of Contactology and Ocular Surface, Alicante, Spain, 7-9 October. Details.
The Summit of Specialty Contacts, Sorrento, Italy, 14-16 October. Details.
American Academy of Optometry, San Diego, USA, 26-29 October. Details.
3rd Asia Optometric Congress and 8th ASEAN Optometric Conference, Kuala Lumpur, Malaysia, 15-16 November. Details.
---
IACLE IS SPONSORED BY