Global Member Newsletter August 2023
MEMBERSHIP PERKS IN AUGUST
Read this email in
IACLETOP UPDATE
Save the date for our 6th Virtual Conference
We are excited to announce that we are hosting a virtual conference on Saturday 21 October from 12:00 – 3:00 pm UK (BST) themed 'Incorporating myopia management into teaching'.
The global rise in myopia's prevalence has led to increased attention to its management. IACLE's upcoming virtual conference focuses on integrating myopia management into curricula, covering topics on setting up labs and clinics, student and instructor roles, how to stay updated with the latest literature, clinic promotion, and how to counsel children and parents. We will hear from worldwide experts in the myopia and education field who will share their knowledge, experiences and expertise.
Look out for more details coming soon
Preparing for the Fellowship Exam
There is still adequate time to prepare for the upcoming Fellowship Exam (22 November). For those who have registered for the exam, be sure to accept the invitation via IACLETOP to access the Fellowship Exam area where you can join monthly workshops to assist with your revision. It is recommended that all exam-sitting members complete the Distance Learning Program (DLP) and utilize the IACLE Contact Lens Course and Case Report Series for optimal preparation. From November, our focus will be on assisting those who have actively engaged with the Fellowship Exam area. Exam candidates who have not engaged with the area by the end of October will be withdrawn from the exam.
If you have any queries, please contact your coordinator
---
IACLETOP UPDATE
WC4 post-meeting report now available
During IACLE's 4th World Congress, six of IACLE's sponsors delivered eight workshops across two days. Summary videos of the sessions will be available to view via IACLETOP soon. A detailed post-meeting report is now available to read.
---
GLOBAL WEBINAR IN AUGUST
Potential interventions to grow contact lens practice

Join us on Wednesday 23 August at 12 noon UK (BST) for a webinar with Alfredo Desiato.
Understanding the drivers of proactivity among eye care practitioners holds significance in optimizing the approach to expanding the contact lens market. This knowledge can assist in planning effective strategies to increase the number of contact lens wearers worldwide.
Alfredo will present a study that aimed to evaluate the characteristics of contact lens practices, the attitudes of practitioners and their impact on the monthly rate of new contact lens fittings. In addition, the webinar will explore the potential interventions perceived as more pertinent by contact lens practitioners to reveal strategies to grow contact lens practice.
This webinar will be introduced by Gold Sponsor CooperVision and chaired by Lifetime FIACLE Dr Raquel Gil-Cazorla.
Members can watch live online via Zoom, and the event will be live streamed to our Facebook page for students and eye care practitioners to tune into.
Find out what time the webinar begins in your time zone
---
NEWS IN AUGUST
Image of the Month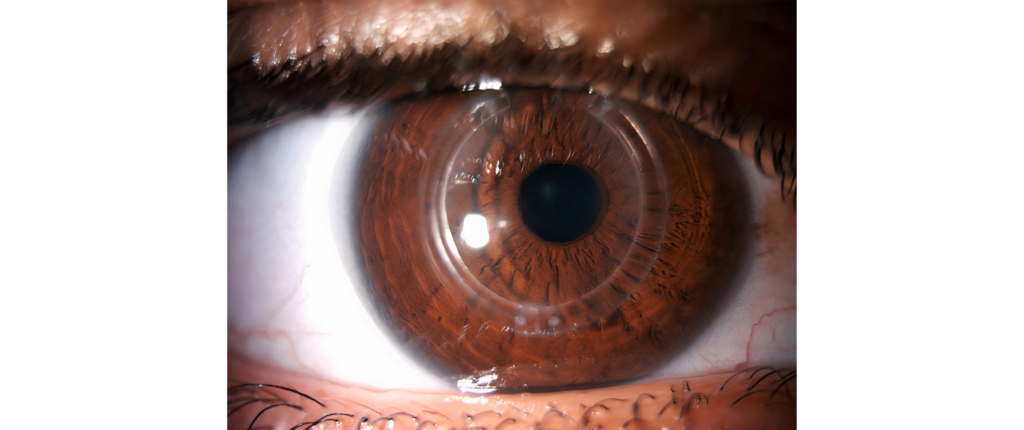 Karpagavalli Subramanian from Sankara Nethralaya in Chennai, India, captured the above image using a Topcon photo slit lamp. A 25-year-old male with keratoconus received corneal Intacs, enhancing BCVA from 6/36 to 6/9. Intacs can improve UCVA, BCVA and reduce irregular astigmatism. Combining Intacs with collagen cross-linking improves vision and decreases the possibility of keratoconus progression.
Would you like to feature in next month's Image of the Month? Submit your image here
Upcoming Annual General Meeting
IACLE's Annual General Meeting is taking place virtually on Wednesday 20 September at 12 noon UK (BST) via Zoom and is open to all IACLE members and our industry partners. The Directors of the association will present IACLE's financial position for 2022, along with an update on activity. IACLE will also transact such other business as may be properly brought before the meeting. If you cannot attend, you can assign a proxy via the link below.
Please register your attendance or apologies here
India Team hosts member meeting next month
Indian members will gather next month at the College of Optometry PBMA's HV Desai Eye Hospital in Pune, India, for a members' meeting on contact lens education (16-17 September). The agenda includes various topics relating to contact lens education, including how to teach presbyopic contact lens fittings, discomfort and dry eye, how to motivate students, and FIACLEs will share their learnings from IACLE's 4th World Congress.
We look forward to seeing your posts on social media
Call for members to update details
We kindly ask all members to provide any information that may be outdated. This could include details such as title, job title, country, or email address. Please reach out to us at iacle@iacle.org if any updates are necessary.
---
RESOURCE
Latest update features ocular surface immunology
Clinician scientist and cornea specialist Sezen Karakus authors the latest Contact Lens Update editorial reviewing ocular surface immunology. The review highlights that ocular surface immunology is an evolving field with profound implications for eye health. Immune-ocular surface interaction underpins disease understanding and innovative treatments. Researchers and clinicians are devising targeted therapies and personalized approaches to restore ocular surface homeostasis and improve patient outcomes. As complexities unfold, preventative measures and personalized treatments emerge. Collaborative efforts among researchers, clinicians and industry stakeholders will shape the future of ocular surface immunology, elevating global eye health and well-being.
---
WHAT'S HAPPENING IN OUR REGIONS?
AMERICAS
Contact lens workshop in Peru

IACLE Americas Regional Coordinator Professor Guillermo Carrillo in collaboration with Instituto de Educación Superior Tecnológico Privado (IESTPOO) in Peru, conducted a two-day workshop for final-year students. The workshop covered topics such as contact lens assessment, RGP and toric soft contact lens fitting. A total of 36 students participated in the eight hours of contact lens education.
ASIA PACIFIC
Korea hosts Train-the-Trainer Program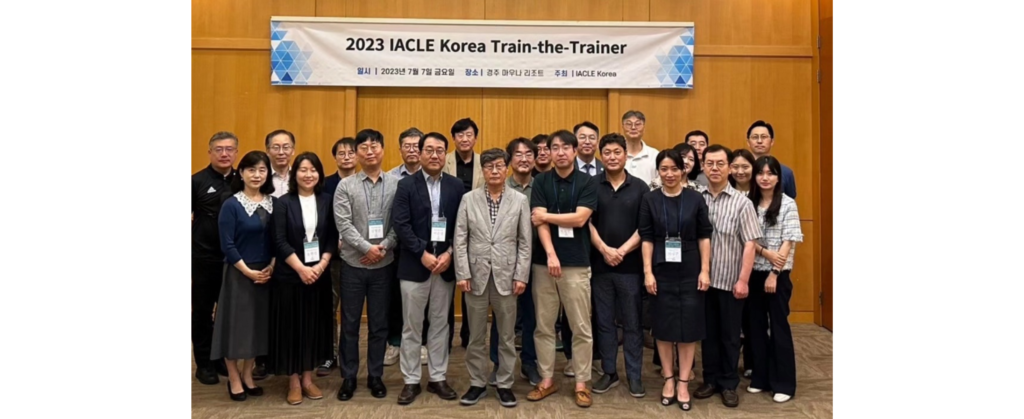 IACLE Korea Coordinator Professor Jessica Park led a members' meeting and a Train-the-Trainer Program at Mauna Ocean Resort in South Korea. Updates on IACLE and myopia management were discussed. Professor Hyeong-Su Kim shared insights on how to teach contact lenses online, while Soo-Kyung Nam introduced the curriculum for beginners in contact lens practice. Professor Woo-Yeong Jang highlighted the importance of meetings like WC4 and the BCLA and urged Korean members to attend IACLE global meetings moving forward.
Read the full Asia Pacific report
Update from member in Pakistan
FIACLE Mutahir Shah from the Pakistan Institute of Ophthalmology was invited to speak at a workshop focusing on bifocal and multifocal contact lenses with an attendance of 30 students and faculty (26 May). The objective was to provide participants with essential knowledge and practical tips relating to multifocal and bifocal contact lenses, and the session incorporated the use of IACLE resources, such as the IACLE Contact Lens Course and IACLETOP Library for demonstration purposes, which Mutahir says, enhanced the overall learning experience.
We encourage all members to share their experiences using IACLE resources and programs. If you would like to share any news or updates with fellow IACLE members, please contact your coordinator.
EUROPE / AFRICA / MIDDLE EAST
Upcoming member meeting in South Africa
Are you attending the Contact Connect Conference in Gauteng, South Africa? During the conference, FIACLE Dr Elizabeth Chetty and Dina Bournman will lead an IACLE members' breakfast meeting, along with an introduction from IACLE President Professor Philip Morgan. The meeting is taking place on Saturday 2 September at 7 am and aims to allow members to share their experiences and opinions on IACLE resources and WC4.
For more information, please contact Siobhan Allen at s.allen@iacle.org
---
DATES FOR YOUR DIARY
IACLE TLC (Teach. Learn. Connect) WEBINARS
Visit the IACLE Webinars area on IACLETOP to view the schedule for upcoming webinars.
GLOBAL MEETINGS IN THE COMING MONTHS
Contact Connect Conference, Gauteng, South Africa, 1-3 September. Details.
4th World Congress of Optometry (WCO4) and O=MEGA23, Melbourne, Australia, 8-10 September. Details.
American Academy of Optometry, New Orleans, USA, 11-14 October. Details.
---
IACLE IS SPONSORED BY