Global Member Newsletter December 2019
WHAT'S NEW AT IACLE
Happy holidays to the IACLE family around the world

2019 has been an exceptional year for IACLE across all three of our global regions. Thank you to all members and to our industry sponsors for your continued support. We look forward to your participation during 2020 when we will be introducing new resources and programs, and announcing exciting plans for our next World Congress on Contact Lens Education.
Please note the IACLE office will be closed from 25 December, reopening 2 January
NEW 2020 IACLE Awards to be launched in the new year

Educators will travel to major global meetings in 2020, as winners of the IACLE Contact Lens Educator of the Year and IACLE Travel Awards. The Educator Awards are sponsored by CooperVision and Travel Awards by all our industry partners. Attendance at Academy 2020 Nashville (7-10 October) will be supported by the American Academy of Optometry.
Look out for full details
Members worldwide await results of Fellowship Exam

150 members around the world sat the IACLE Fellowship Exam last month (16 November). India had the highest participation with 38 candidates at seven regional exam centers. Individualized results reports are underway and will be released from late January until the end of February. The next administration of the exam with be in November 2021.
Unauthorized use of IACLE branding

A reminder that use of the IACLE name and logo – such as by organizations or events – is strictly prohibited without written permission from the Association's Executive Officers or their designate. As our anniversary year ends, we will revert to using our usual logo throughout our materials from January.
40th ANNIVERSARY NEWS
Final celebrations of our 40th year take place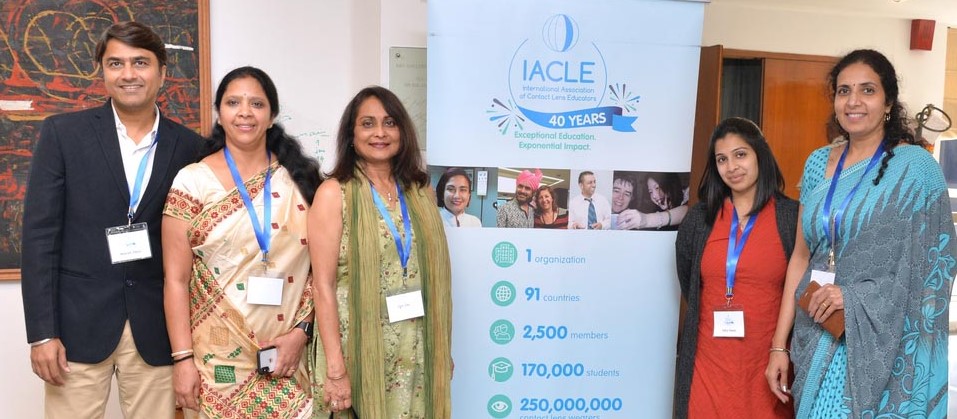 Former Asia Pacific Regional President Professor Gullapalli Rao (top center) delivered a 40th anniversary address at the IACLE India Annual Members' Meeting in Hyderabad (23-24 November). Professor Rao has also contributed an editorial to the Indian Journal of Ophthalmology on 40 years of IACLE. Pictured (above left) are Director of Educational Programs Nilesh Thite and Director of Global Education Lakshmi Shinde with delegates.
View our picture gallery of 40th events
MEET A MEMBER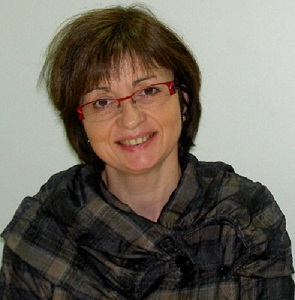 'I've practised contactology throughout my day for the past 35 years, fitting contact lenses in my company, at the hospital and in my teaching,' says Brigitte Couture, optometrist at the Institut Supérieur d'Optique (ISO) Nantes, France. She adds: 'IACLE has been very helpful in preparing my courses.' Outside work, Brigitte likes reading, walking and aqua gym!
WOULD YOU LIKE TO INTRODUCE YOURSELF TO IACLE MEMBERS WORLDWIDE? WE'D LIKE TO MEET MORE MEMBERS IN 2020!
Fill in this form and send us your favourite image of yourself!
IMAGE OF THE MONTH
Non-invasive breakup time

Professor Mijung Park of Seoul National University of Science and Technology in Korea captured this image using a Topcon OM-4 keratometer. The image pictured left shows clear keratometry mires indicating an intact tear film. The image on the right shows distorted mires indicating the tear film is broken.
SHARE YOUR PHOTOGRAPHS FOR THE 2019 IACLE IMAGE COLLECTION AND ENTER OUR IMAGE OF THE YEAR COMPETITION FOR THE CHANCE TO WIN A YEAR'S IACLE MEMBERSHIP AND A US$100 AMAZON VOUCHER! Submit your Image of the Month
RESOURCES
Research Update completes third year of monthly issues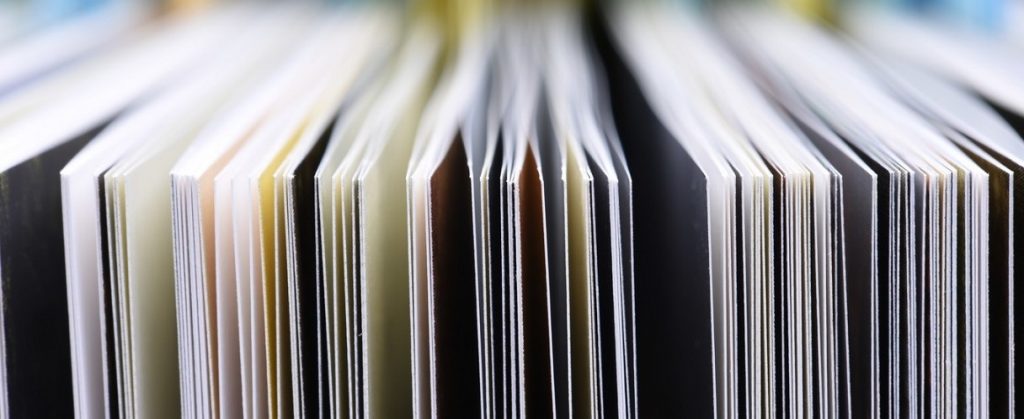 This month the IACLE Education Team will compile the 36th issue of Research Update. Launched in 2017, this resource is available exclusively to IACLE and British Contact Lens Association members. 'I love to read the articles…and conduct journal clubs on various topics,' says Sayani Pal Chowdhury, Master's student at Vidyasagar College of Optometry & Vision Science in Kolkata, India. Past issues are archived under Member Login.
Watch a video of Sayani's comments
ICLC2020 images: can you help?

The New IACLE Contact Lens Course will be revised and updated for release next year as ICLC2020. Director of Educational Programs Nilesh Thite is coordinating the new version and is looking for help with the following images: conjunctival / limbal / corneal desiccation staining with lissamine green, and topography maps of normal and astigmatic eyes.
Contact Nilesh to supply these images: n.thite@iacle.org
Global data on ophthalmologists in practice and training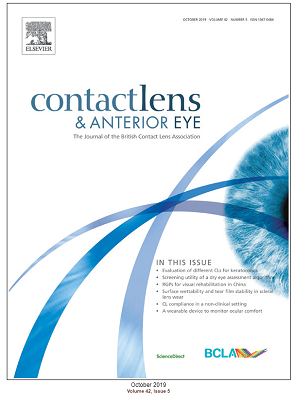 An editorial in Contact Lens and Anterior Eye by IACLE President Dr Shehzad Naroo discusses differences in contact lens training around the world. Shehzad highlights a useful table from the International Council of Ophthalmology of the Number of ophthalmologists in practice and in training worldwide. 'IACLE works with whoever offers contact lens education, regardless of whether they are ophthalmologists or optometrists or opticians,' he writes.
GLOBAL UPDATE
Americas
NEW IACLE LA pilots Student Case Reports Discussion

Students and staff from two Mexican optometric programs, Universidad Nacional Autónoma de México (above) and Universidad Autónoma de Querétaro, have taken part in a new case studies program proposed by IACLE member Arturo Aguirre. Groups of students discussed a specific case they had managed in their clinics, via the IACLE WebEx platform.
Find out more about the program
NEW AAOF announces VSP Global Scholarship recipients

The American Academy of Optometry Foundation (AAOF) and VSP Global have announced the recipients of this year's Practice Excellence Scholarships. Nearly $200,000 was awarded to 44 top-performing fourth-year optometry students in the US, Puerto Rico and Canada, as well as four additional students from Australia. Pictured are the 2018 scholarship recipients.
Asia Pacific
IACLE China hails success of annual meeting

A live online lecture on myopia control from Dr Fiona Cruikshank, broadcast from the University of Manchester, UK was among the highlights of the IACLE China Annual Members' Meeting held at the Tianjin Vocational Institute this month (15-16 November). Australian educator Rob Terry joined China National Coordinators Professor Wang Haiying and Qu Xiaomei for the meeting, which attracted delegates from across China.
…and IACLE India event benefits from interactive approach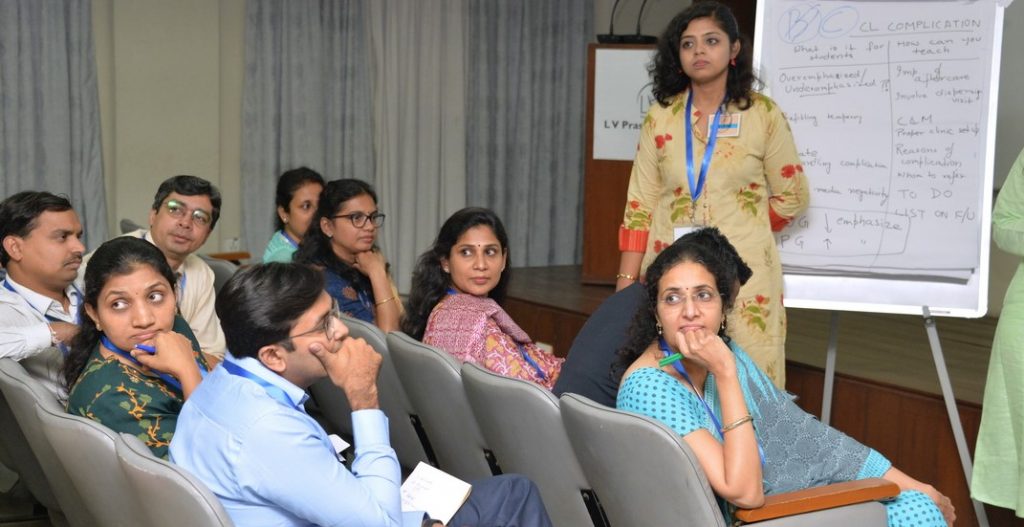 Group activities and shared experiences were popular features of the IACLE India Annual Members' Meeting, as 36 educators from 23 institutions met at the LV Prasad Eye Institute in Hyderabad (23-24 November). 'It's been a very interesting and interactive meeting. As a new member of the IACLE family, I learned so many things,' said one delegate.
Professions team up for education program in Pune

IACLE speakers joined ophthalmologists and optometrists for a contact lens education program organized by the Poona Ophthalmological Society (3 November). The program was coordinated by FIACLE Meena Kharat and there were lectures from IACLE's Director of Educational Programs, Nilesh Thite, FIACLE Veshal Madan and IACLE members.
FIACLEs extends their reach across the region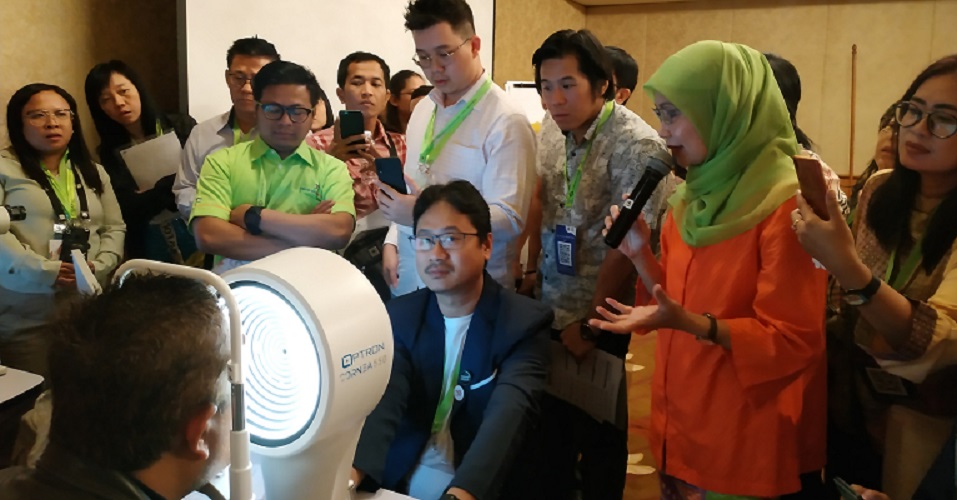 Two FIACLEs recently delivered continuing education to nearly 500 practitioners in Manila, Philippines and Jakarta, Indonesia. Dr Elena Borromeo lectured on myopia control using orthokeratology to the Integrated Philippine Association of Optometrists (9-10 November) and Dr Tri Rahayu (pictured) led a corneal topography workshop for the Indonesian Optometrists Association (29 October).
Kyoung Hee visits Jeju Island to prepare students for STE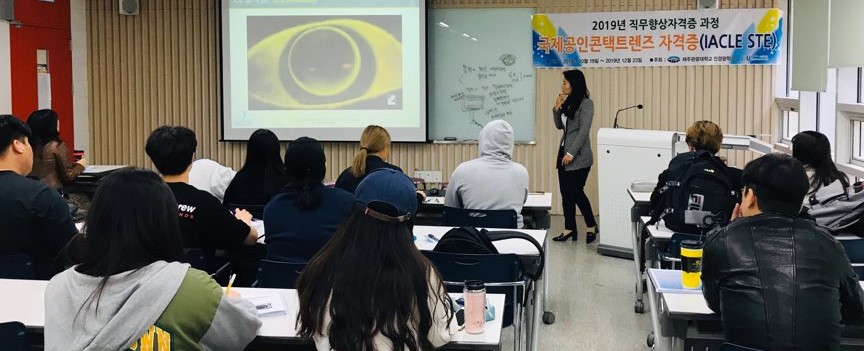 Professor Jiyoung Choi, a new IACLE member from Jeju Tourism University, invited Korea National Coordinator Professor Kyoung Hee Park (pictured) to lecture on soft contact lens and RGP fitting (7-8 November). The lectures served as a review for students sitting the Student Trial Exam this year. Twenty-one students and two faculty attended the session.
Europe / Africa – Middle East
Specialist summit marks 40 years of IACLE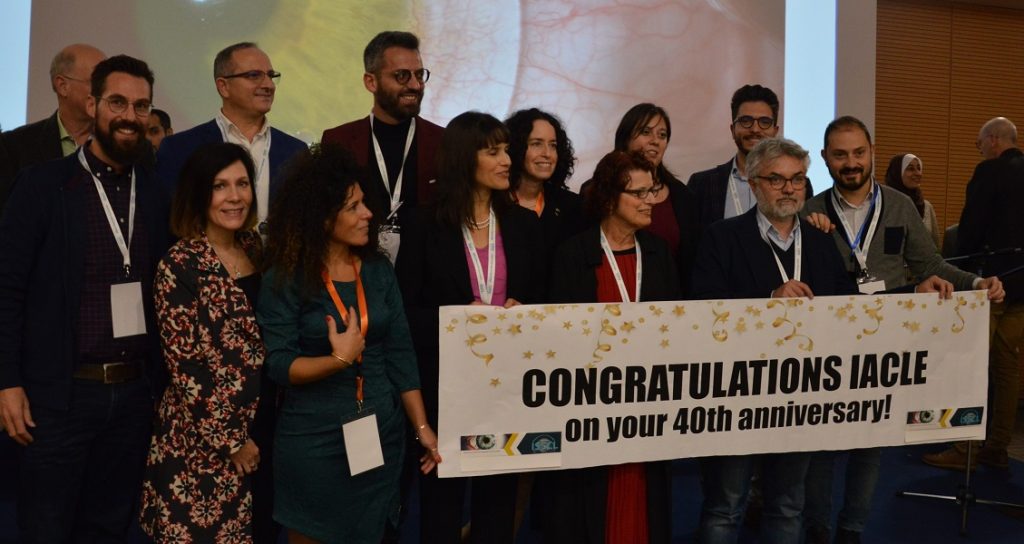 Forty IACLE members were among the 230 delegates from 31 countries attending the International Summit of Specialty Contact Lenses in Rome last month (8-10 November). IACLE Assistant Secretary Dr Luigina Sorbara led a break-out session, new member Dr Daddi Fadel co-organized the summit, and Professor Jan Bergmanson and Dr Elise Kramer were among the speakers.
BCLA honors pioneer Guillon at Visionaries event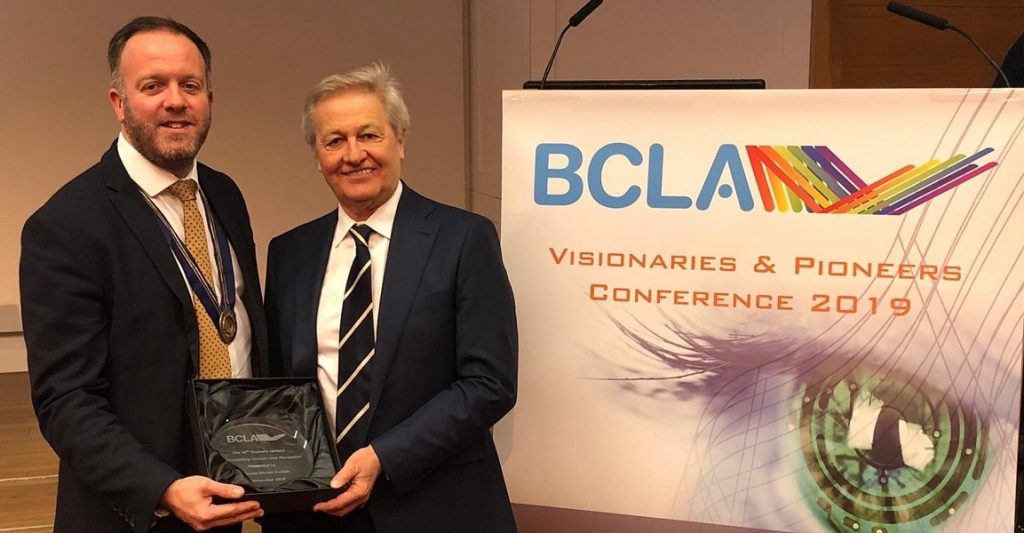 Former IACLE Regional President Professor Michel Guillon delivered the 2019 Pioneers' Lecture at the British Contact Lens Association (BCLA) Visionaries & Pioneers Conference in London last month (26 November). Professor Guillon (right) received his award from BCLA President Jonathon Bench. IACLE members Dr Manbir Nagra and Dr Byki Huntjens were presenters.
NEW IACLE to hold Educators' Meeting at NCC2020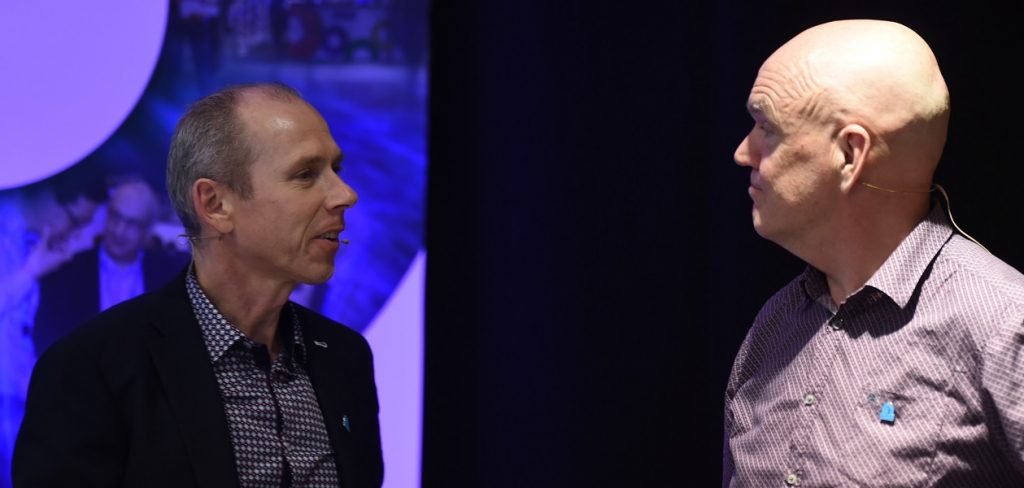 2018 IACLE Contact Lens Educators of the Year for the EAME region, Henri Eek (left) and Wim Borst, are organizing an Educators' Meeting at the Nederlands Contactlens Congres (NCC) to be held in Verhoven on 15-16 March. Register your interest in attending by emailing Siobhan Allen at s.allen@iacle.org. Look out for more details next month.
NEW Call-out for members attending Helsinki 2020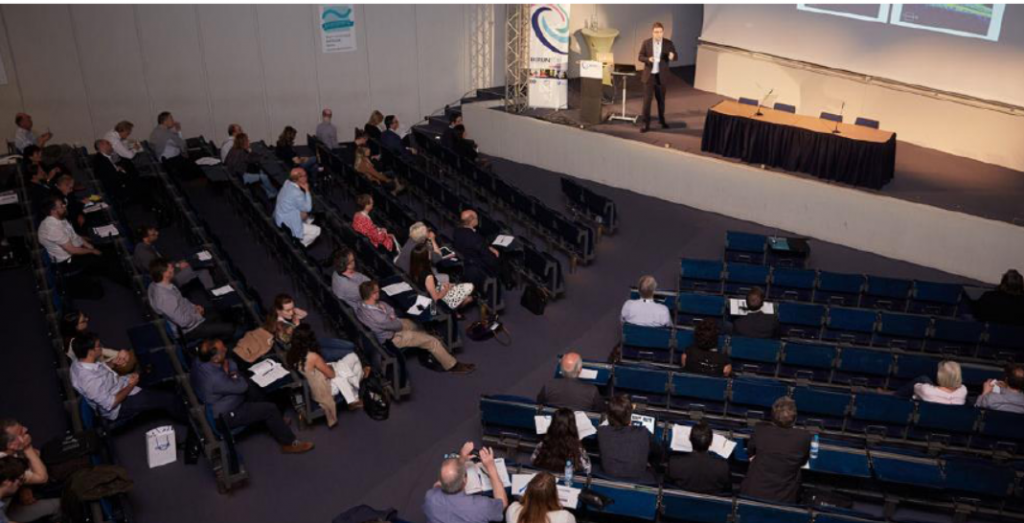 Members attending the annual conference of the European Academy of Optometry and Optics in Finland (15-17 May) are invited to express their interest in attending an IACLE event during their stay. 'Eye health for all – emerging technologies in eye care' is the theme for Helsinki 2020. Please email Siobhan at s.allen@iacle.org if you plan to attend.
DATES FOR YOUR DIARY
22 January – International Forum for Scleral Lens Research, Las Vegas, Nevada, USA. Details.
22-25 January – Global Specialty Lens Symposium (GSLS 2020), Las Vegas, Nevada, USA. Details.
15-16 March – Nederlands Contactlens Congres (NCC 2020), Verhoven, the Netherlands. Details.
15-17 May – European Academy of Optometry and Optics Annual Conference (Helsinki 2020), Helsinki, Finland. Details.
A full list of IACLE and other events in 2020 is available at our Annual Meeting Schedule. Please email dates of events to s.allen@iacle.org.
THANKS TO OUR SPONSORS