Global Member Newsletter February 2021
WHAT'S NEW AT IACLE
NEW IACLE Library launches later this month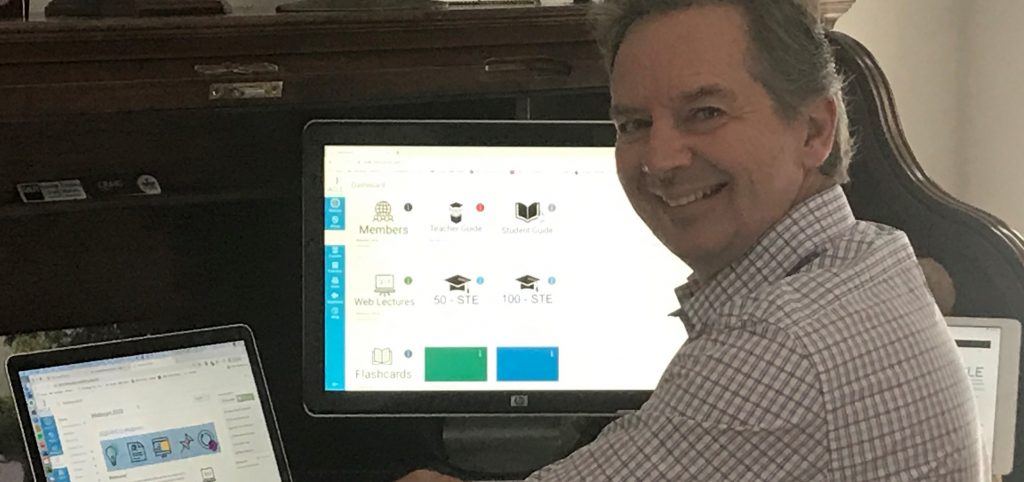 A new searchable database accessible through IACLETOP is launching this month. The IACLE Library consists of IACLE images, videos and PDFs, and members can upload resources they wish to share with other IACLE colleagues. Photographs from the Image of the Month initiative can also be found here.
NEW Research Update area added to IACLETOP
Our monthly Research Update email now has a designated area within IACLETOP, with access through the Dashboard. Catch-up with previous issues, along with summary videos produced by Executive Manager of Educational Programs Nilesh Thite. Nilesh reviews the contact lens-related research literature and provides a summary of the most topical and essential articles.
Access the Research Update area
NEW Student Area released on IACLETOP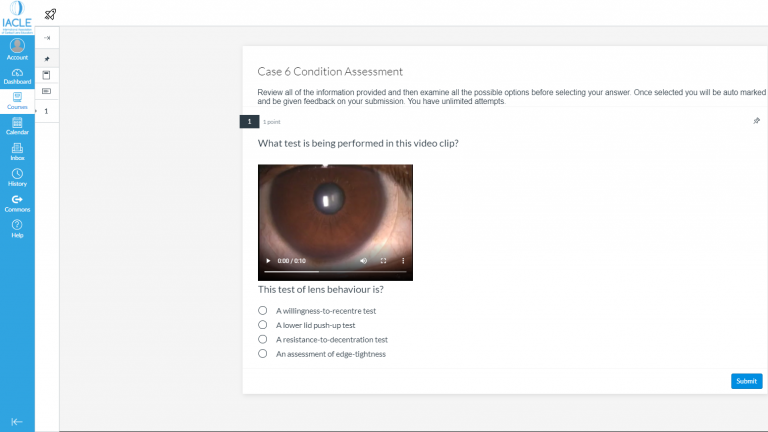 A new Student Area for educators to use with their students is launching this month. This separate area allows educators to release the IACLE Case Reports to their students as and when they wish, giving educators control over which topics their students cover. Assigned STEs can also be found here.
Access the Case Reports on IACLETOP
NEW Case Reports now available as flipped classes
The Teacher Area within IACLETOP has been updated so members now have access to use the Case Reports as flipped classes using the Nearpod software. This software allows educators and their students to review each case using discussion boards and instant polling (pictured above) in an engaging online environment to stimulate conversation.
Access the Case Reports using Nearpod
NEW Save the date for our second Virtual Conference
Following our first-ever Virtual Conference's success in September 2020, the IACLE Education Team is hosting a second global Virtual Conference on Saturday 24 April, starting at 12 noon (GMT), themed 'Integrating research into education'. International experts will share their knowledge and experiences on how to combine research and education to become a successful academic.
Look out for more details soon
NEW Brochure for 2021
The IACLE Brochure has had an update for the year ahead, highlighting activities, resources, programs and initiatives that are taking place throughout the year. We encourage all members to share the document with their peers.
NEW Fellowship Exam date announced

We are pleased to announce that the Fellowship Exam will take place on Friday 12 November. Registration for the exam will open via the IACLE website on 1 April and closes on 30 June, and payment must be made by 30 June. A reminder to members that enrolment for the Distance Learning Program (DLP), designed to improve the contact lens knowledge of educators and support members who are taking the Fellowship Exam, opens in March on IACLETOP. Once members have paid and registered for the exam, a dedicated area will be accessible to give further support to those sitting the exam, including discussion groups, mock exams and periodic mentoring sessions.
Look out for the opening of the DLP on IACLETOP
Innovative ways to assess students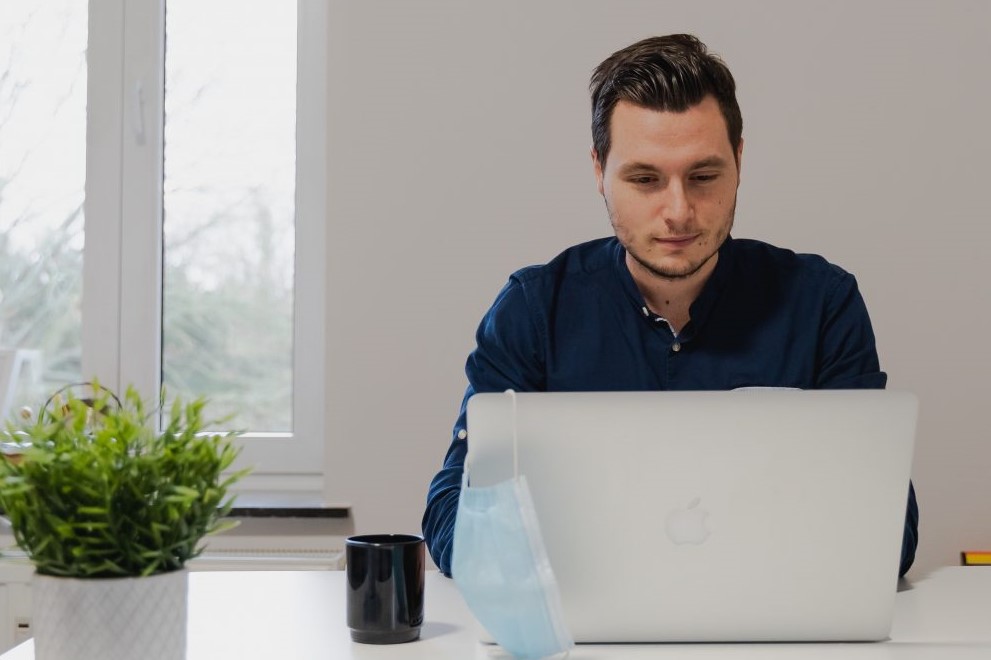 As many institutions have suspended most face-to-face teaching activity due to the Coronavirus pandemic, educators have had to adapt to new ways of assessing their students. This month, our Worldwide Wednesday Webinar Series theme is 'Innovative ways to assess students', where educators will explore novel methods in this area. Members can find the Zoom login details through the 'IACLE Webinars' tab on the IACLETOP Dashboard.
Watch the first webinar from this month's theme
Renew your membership to receive full benefits this year
In November, we announced some changes to our terms and conditions of membership renewal. Please renew your membership now to ensure open access to all our member-only benefits continues. Access to full membership benefits ended on 31 January if payment was not received, and a late fee is payable after the end of February. Please note that members with an Emeritus Membership are exempt from the annual fee.
Thank you Wim Borst (Emeritus Member) from the Netherlands for his kind donation to IACLE.
More information on membership renewal
MEET A MEMBER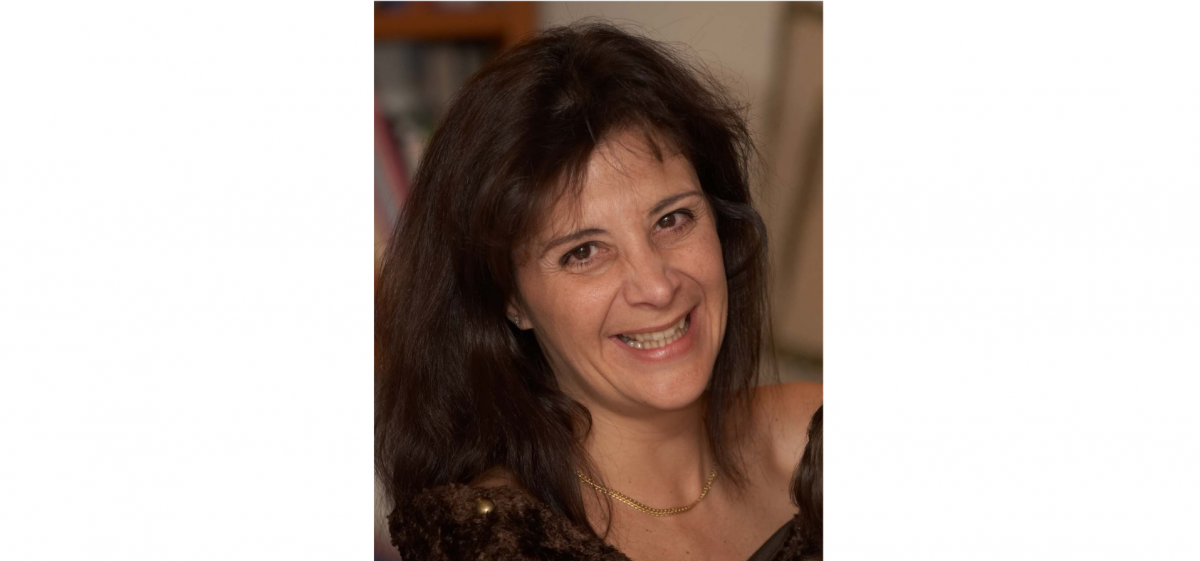 Introducing Silvia Pulido, Professional Education and Development Manager at Johnson & Johnson in Madrid, Spain. Silvia specializes in contact lenses and anterior eye and uses IACLE resources to leverage her educational material. She has a keen passion for learning from colleagues who are from different backgrounds and cultures. Outside of work, Silvia enjoys family time, sailing, biking and swimming.
Have you advanced the teaching of contact lenses in your institution/company over the past year but have already taken part in Meet a Member? We'd like to hear about your achievements and share them with our membership. If IACLE colleagues would like to connect with other members, we can arrange this by simply emailing us at iacle@iacle.org.
Introduce yourself to other IACLE members by completing this short online questionnaire
IMAGE OF THE MONTH
Norma takes the winning image
Lifetime FIACLE Ajay Shinde from the Shinde Eye Centre in Bengaluru, India, captured this image using a slit lamp camera. The patient complained of a burning sensation when inserting their contact lenses but had not used tap water or moisturizer on their hands prior to incision. On slit lamp examination, diffuse superficial punctate keratitis (SPK) was observed. Ajay noted that the care solution was changed two months prior, and the patient was recommended tear substitutes and to stop contact lens wear for the time being. The patient was seen for a follow-up examination and the condition resolved within a week. Contact lens wear soon resumed with a new pair of lenses.
RESOURCES
BCLA CLEAR initiative reviews academic contact lens literature
Ahead of the launch of its Contact Lens Evidence-based Academic Reports (CLEAR) initiative, the British Contact Lens Association (BCLA) describes the various papers in a series of blog articles. FIACLE Professor James Wolffsohn (pictured left) and IACLE Vice President Professor Philip Morgan (pictured middle) led the CLEAR initiative and it features several IACLE Fellows and members as authors, including IACLE President Dr Shehzad Naroo (pictured right). CLEAR will be published in the March issue of Contact Lens and Anterior Eye and will be available to BCLA members and non-members.
Myopia tests for children
CooperVision has devised a tool for parents to test whether their children may become myopic. The Nearsightedness Assessment Tool is a short survey featuring questions for parents to answer about the age of their child, relevant family history and the amount of close work performed.
Myopia in children at the forefront of research
Johnson & Johnson, the American Optometric Association, the American Academy of Optometry, the Association of Schools and Colleges of Optometry, and the Singapore Optometric Association have collaborated to produce a new myopia resource. The guide, titled 'Managing Myopia: A Clinical Response to the Growing Epidemic', provides a research-based rationale for how and why children's eye health should be prioritized.
What does the future hold for ECPs?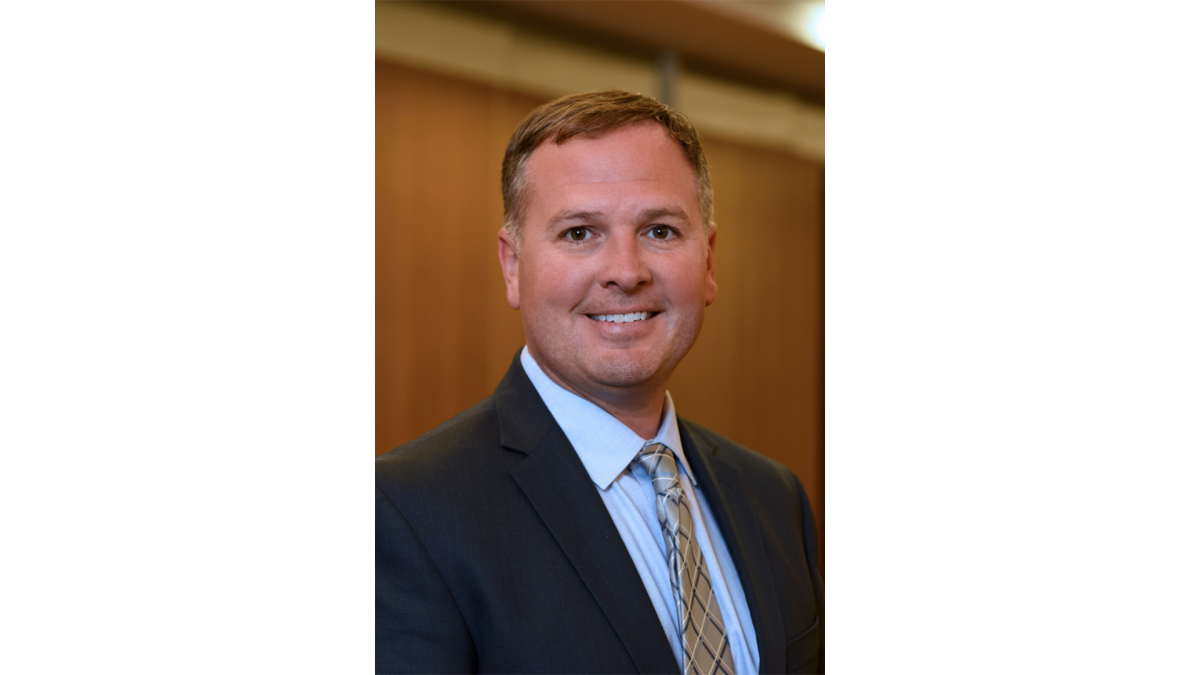 Editor of Contact Lenses Today Dr Jason Nichols authors an article on the impact the COVID-19 pandemic has had on the contact lens industry titled 'Contact Lenses 2020'. The 2020 Annual Report highlights the key trends in contact lens prescribing and discusses eyecare professionals' future.
COVID-19 RESOURCES
Progression of myopia after COVID-19 home confinement
A recent study published by Wang et al in the Journal of the American Medical Association (JAMA) suggests an association between home confinement during the COVID-19 pandemic and a substantial myopic shift for young children aged 6-8.
Attitudes to wear and care during the pandemic in Jordan
A survey conducted in Jordan by FIACLE Dr May Bakkar and IACLE member Eman Alzghoul, recently published in Contact Lens & Anterior Eye, revealed that most patients continued to wear their lenses during the pandemic and reported improved contact lens hygiene habits.
GLOBAL UPDATE
AMERICAS
Students in Mexico sit the STE
For the first time, a large group of students (124) from the Interdisciplinary Center for Health Sciences Unit Santo Tomás IPN and FES Iztacala in Mexico City, Mexico, are sitting IACLE's Student Trial Exam this month. This is a direct outcome of the second Mexican Consensus in Contact Lens Education meeting, held in Puebla in March 2020.
ASIA PACIFIC
China Team explore online teaching methods
Due to the Coronavirus pandemic, educators have had to adapt to different teaching methods. Ma Yuying from Wuxi Vocational Institute of Arts & Technology in Jiangsu, China, and Liu Wenlan from Xi'an Medical University in Xi'an, China, held an online teaching methods session and interactive case presentations.
Read the full Asia Pacific report
EUROPE / AFRICA / MIDDLE EAST
Meet and Chat with Judith Morris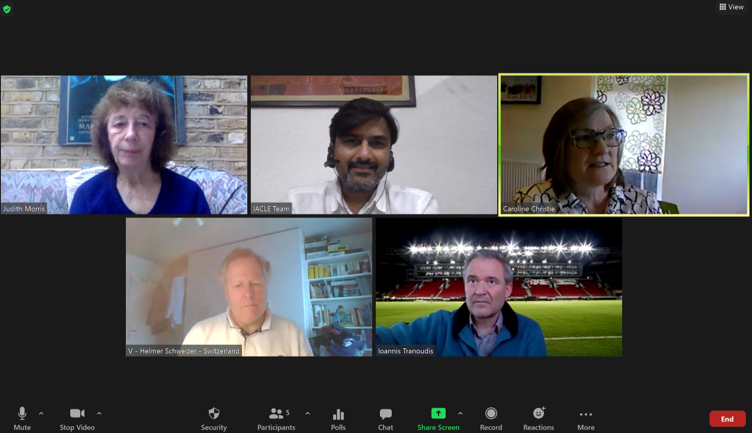 EAME Regional President Judith Morris hosted the first Meet and Chat for our European members. An array of topical thoughts was discussed, including the difficulties faced in clinical teaching due to COVID-19, assessments in practice and the effect of the current lack of hands-on experience. The next Meet and Chat session is on Saturday 20 February at 3.00 pm (GMT) for our Middle Eastern members who will receive the Zoom login details via email prior to the event.
Tune into the next Meet and Chat
EAOO goes virtual

Due to the current situation, the European Academy of Optometry and Optics (EAOO) have announced that their Helsinki 2021 meeting will now go ahead virtually. The event will take place from 23-25 April, and both lectures and exhibitions will be live streamed.
For more information and to register
DATES FOR YOUR DIARY
Key dates for 2021:
23-25 April – European Academy of Optometry and Optics Annual (EAOO) Conference (virtual meeting). Details.
1-7 May – Association for Research in Vision and Ophthalmology (ARVO) Annual Meeting (virtual meeting). Details.
20-23 May – Association of Optometric Contact Lens Educators (AOCLE) Annual Workshop, Fort Lauderdale FL, USA. Details.
13-14 June – BCLA Clinical Conference and Exhibition, Manchester, UK. Details.
1-4 July – 5th Asia Pacific Ophthalmic Trauma Society Meeting, Bali, Indonesia. Details.
3-4 September – 49th European Contact Lens and Ocular Surface Congress (ECLSO), Paris, France. Details.
29-30 October – New Zealand Association of Optometrists 90th Annual Conference, Christchurch, New Zealand. Details.
3-6 November – American Academy of Optometry, Boston, USA. Details.
23-24 November – 3rd Asia Optometric Congress and 8th ASEAN Optometric Conference, Kuala Lumpur Convention Centre, Malaysia. Details.
IACLE IS SPONSORED BY