Global Member Newsletter February 2022
MEMBERSHIP PERKS IN FEBRUARY
Catch up on the Presidential Address
Last week, IACLE President Professor Philip Morgan delivered his Presidential Address outlining current challenges for contact lens practice. He discussed the opportunities and challenges likely to face contact lens educators and practitioners in the coming years. Related to vision, he noted that perhaps only 2-5% of presbyopes use multifocal contact lenses – a proportion much lower than for younger people – highlighting the significant opportunity (and responsibility) here of both educators and practitioners. Professor Morgan also spoke about augmented reality systems in contact lenses, contact lens comfort (and discomfort), and future developments to improve comfort and minimize adverse physiological events.
---
NEWS IN FEBRUARY
Image of the Month
Dr Atanu Samanta from the Nagar School of Optometry in Ahmedabad, India, captured the above image of a 60-year-old male patient with monocular aphakia in the left eye due to penetrating limbal trauma. The right eye was emmetropic with no ocular pathology. Pre-contact lens fitting, the patient complained of diplopia with spectacle correction. On slit lamp examination, the patient was found to have a horizontal heart shaped iris. The patient was successfully fitted with custom made hydrogel toric contact lenses with corrected visual acuity of 6/9 in the left eye, with no further complaints of diplopia.
Would you like to feature in next month's Image of the Month?
Suraj receives IOTY Award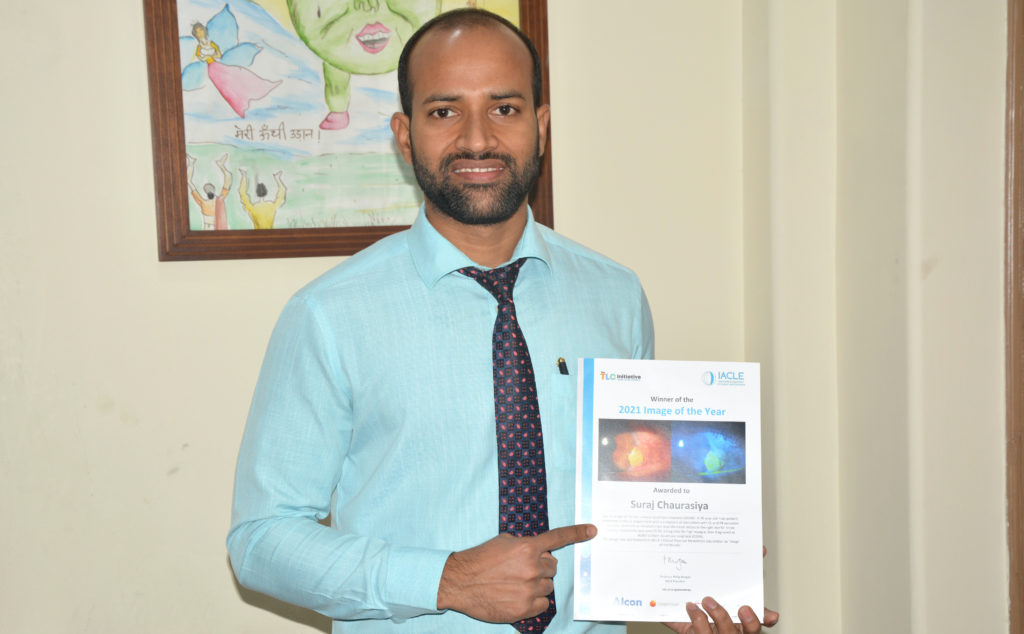 Congratulations to Indian member Suraj Chaurasiya, winner of the 2021 IACLE Image of the Year. Suraj receives one year of complimentary IACLE membership, a US$100 Amazon voucher and a certificate. We introduced the Image of the Month initiative in 2018 to give members a chance to share their clinical photographic skills with other IACLE colleagues. Submit your best clinical images, gain recognition for your skills and be in the running for the Image of the Year Award.
Congratulations to all who passed the Fellowship Exam
In November 2021, over 160 members took the IACLE Fellowship Exam, with 39% of candidates successfully passing the exam. Members who achieved the highest marks were Sylvianti Simanjuntak and Dian Leila Sari from the Academy of Optometry Leprindo in Indonesia and Marina Barthe from ISO Bordeaux in France. In addition, eight existing FIACLEs resat the exam, including Rolando Rojas Bernuy from the Universidad Peruana Los Andes in Peru, who has successfully passed the Fellowship Exam nine times! Congratulations to all those who passed the exam.
More information on the Fellowship Exam
Apply now for FIACLE status
A successful outcome of the Fellowship Exam qualifies members to apply to become a Fellow of IACLE (FIACLE), providing they have held IACLE membership for at least one year and meet the FIACLE terms and conditions and member guidelines. If you would like to apply for FIACLE status, please fill out the application form by Friday 25 February. The IACLE Board of Directors will review the applications, and approval of FIACLE status will be issued next month. Thank you to those who have submitted their applications – they are currently being processed.
Save the date for our Annual General Meeting
Notice is hereby given that an Annual General Meeting of the International Association of Contact Lens Educators (IACLE) will take place virtually on Tuesday 21 June at 12 noon (BST) via Zoom. A formal invitation will be distributed in the coming months.
More details to follow soon
Final call for the 2022 IACLE Awards
Four contact lens educators from around the world will be attending major international meetings this year as winners of the 2022 IACLE Contact Lens Educator of the Year and Travel Awards. IACLE is offering educators worldwide the opportunity to travel to a national, regional, or international meeting as winners of the IACLE Awards. Applications close on Monday 28 February at midnight (EST).
Read a Special Notice for more details
Apply for the IACLE Contact Lens Educator of the Year Awards – Apply for the IACLE Travel Award
Renew your IACLE membership
Thank you to all our members who have renewed their membership for 2022. We are looking forward to delivering more programs, resources, and events in the coming year. This is a kind reminder that access to our full range of membership benefits – including the resources and programs within IACLETOP and all resources and events under the Teach. Learn. Connect. Initiative – is exclusively available for IACLE members. IACLE membership runs on an annual cycle and expires when payment is not received. Access to full membership benefits ended on 31 January if payment had not been received, and a late fee will be payable for members failing to pay by the end of February.
Please note membership renewal is not required for Honorary Members. 
---
MEET A MEMBER
More information on how to renew your membership
Have you advanced the teaching of contact lenses in your institution/company over the past year but have already taken part in Meet a Member? We'd like to hear about your achievements and share them with our membership. If IACLE colleagues would like to connect with other members, we can arrange this by simply emailing us at iacle@iacle.org.
Introduce yourself to other IACLE members by completing this short online form
---
RESOURCES
CORE educational materials
Our in-kind sponsor, the Centre for Ocular Research & Education (CORE), has made available various educational assets, including an online clinical contact lens management guide which presents information on cornea, limbus, conjunctiva, and lid conditions along with signs and symptoms, and biomicroscopy techniques. In addition, the guide features key management principles, images, and short video clips.
CORE also manages a Contact Lens Compendium featuring 387 lens brands in Canada and 607 in the United States, in addition to a range of solutions. Although the compendium provides information about lenses in Canada and the United States, many of the products are available internationally so this resource will be helpful to IACLE members across the world.
Canadian compendium – United States compendium
---
COVID-19 RESOURCES
Patient satisfaction in the COVID-19 era
A retrospective study, including 514 patients, explored patient satisfaction with ophthalmology care delivered either face-to-face or virtually during the pandemic. The authors found patient satisfaction to be comparable between virtual and in-person visits, validating the continued usage of telemedicine for eye care visits.
---
WHAT'S HAPPENING IN OUR REGIONS?
AMERICAS
Colombian university takes lead in research project
IACLE members from Mexico and Colombia are currently involved with a research project taking place at the Universidad Antonio Nariño (UAN) in Colombia and the Universidad Autonoma de Aguascalientes in Mexico. Previous IACLE Contact Lens Educator of the Year Johanna Garzon is leading the project titled 'Effect of two tear substitutes and blood derivatives on the ocular surface and dry eye' and is very excited to involve other IACLE members.
ASIA PACIFIC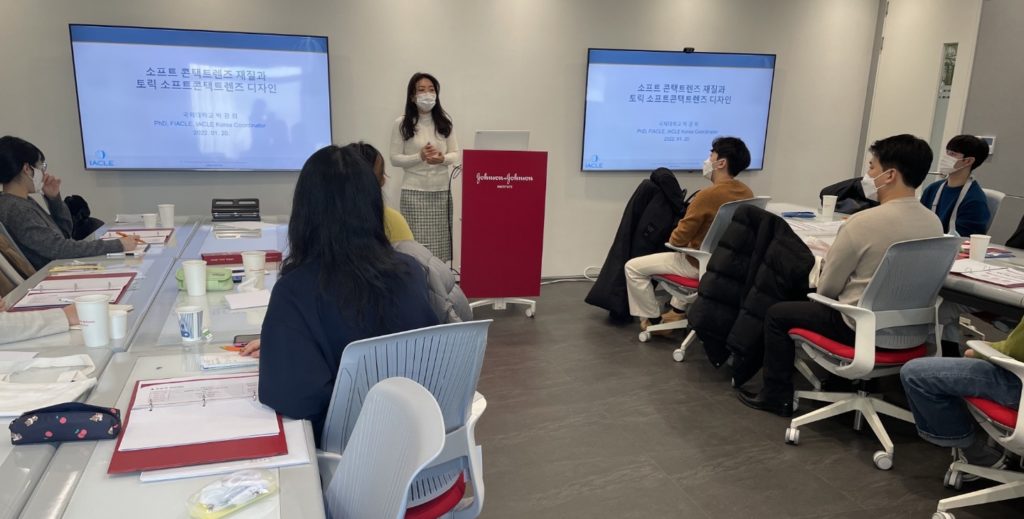 Korea National Coordinator Professor Kyounghee Park hosted a lecture for students at Konyang University in Nonsan, South Korea, on 'Soft contact lens materials and design' (20 January). She explained the characteristics of soft contact lens materials and answered questions from the students. Konyang University's optometry students will practice at an optician's office after completing an intensive two-week contact lens class at the Acuvue Education Center.
EUROPE / AFRICA / MIDDLE EAST
EAME Leadership Team discuss regional plans
In January, IACLE EAME Regional Director Dr Fabrizio Zeri organized a meeting with IACLE colleagues and member representatives from Europe, Africa, and the Middle East to discuss development opportunities in the region. Some of the ideas discussed were collaborating with other countries and organizations, disseminating IACLE information in different countries, and arranging national meetings for educators. 
IACLE at OPTI Educator Roundtable in May
During the International Trade Show for Optics and Design – the OPTI Fair – IACLE is hosting a session with Platinum Sponsor Alcon titled 'IACLE: four decades of global contact lens education. What's next?'. The fair will now take place from 13-15 May.
Look out for more details soon
---
DATES FOR YOUR DIARY
IACLE TLC (Teach. Learn. Connect) WEBINARS
Visit the IACLE Webinars area on IACLETOP to view the schedule for upcoming webinars.
GLOBAL MEETINGS IN COMING MONTHS
European Federation of the Contact Lens and IOL Industries Congress and Exhibition (EFCLIN), Barcelona, Spain, 28-30 April. Details.
OPTI, Munich, Germany, 13-15 May. Details.
Cornea & Contact Lens Society Conference, Auckland, New Zealand, 1-2 July. Details.
6th International Congress of Scleral Contacts (ICSC), Florida, USA, 29-30 July. Details.
American Academy of Optometry, San Diego, USA, 26-29 October. Details.
3rd Asia Optometric Congress and 8th ASEAN Optometric Conference, Kuala Lumpur, Malaysia, 15-16 November. Details. 
---
IACLE IS SPONSORED BY