Global Member Newsletter January 2020
WHAT'S NEW AT IACLE
NEW Your chance to enter the 2020 IACLE Awards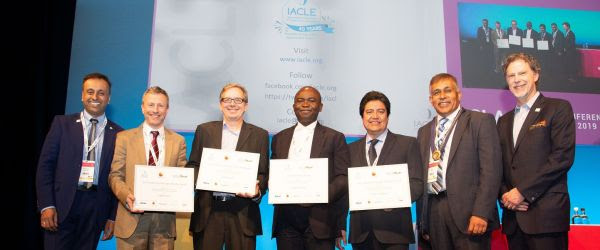 Gain recognition for your achievements and travel to a major international contact lens meeting this year, as a winner of the 2020 IACLE Awards. Entries are now open for the three IACLE Contact Lens Educator of the Year Awards and three IACLE Travel Awards. All members are welcome to nominate themselves, or be nominated by their regional / country coordinator. The Educator Awards are sponsored by CooperVision and the Travel Awards by all our industry partners. The final deadline for entries is 28 February.
NEW Craig joins the IACLE Education Team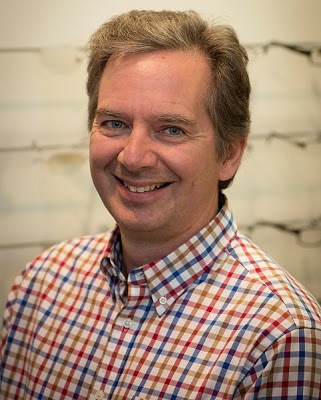 2019 IACLE Asia Pacific Contact Lens Educator of the Year, Dr Craig Woods, is IACLE's new Global Manager of Educational Development. Craig is Professor of Optometry at Deakin University, Australia and Vice President of the International Society for Contact Lens Research. He will review IACLE's resources and support our education program, review and update the curriculum, and support the Fellowship process. 'I'm very excited to be more involved with IACLE and hope to support it to become even more integral in the delivery of the contact lens curriculum in all teaching institutions around the world,' says Craig.
LeW steps down after a quarter of a century with IACLE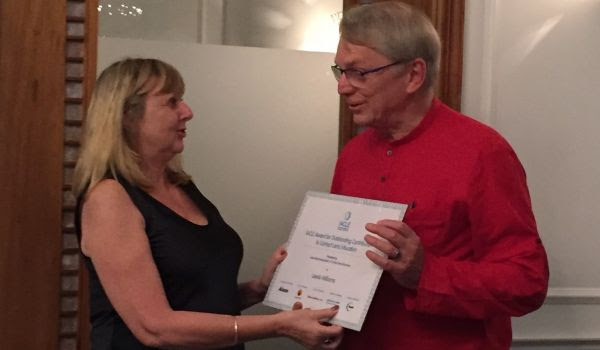 'The experience of a lifetime' is how our outgoing Director of Educational Development, Dr Lewis Williams describes his 25 years' service to IACLE. President Dr Shehzad Naroo offered his personal thanks to Lew for his years of service to IACLE, and being a friend and advisor to the current IACLE leadership. Lew is pictured receiving a special award for his outstanding contribution to contact lens education from former President Professor Deborah Sweeney at the 2019 Asia Pacific Optometry Congress.

Read Lew's account of his time with IACLE
Renew your membership now to receive all IACLE benefits in 2020

Members will recently have received notices to renew their annual membership. Access to our full range of membership benefits – including the new version of the IACLE Contact Lens Course, ICLC2020, launching early this year – is only available to IACLE members. Note that membership expires when payment is not received.
MEET A MEMBER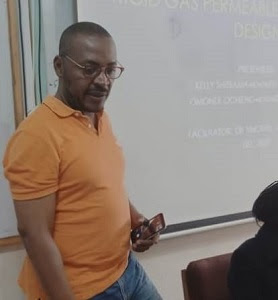 'I am vision driven,' says Dr Chikasirimobi Goodhope Timothy, MSc volunteer facilitator at Masinde Muliro University of Science and Technology in Kakamega, Kenya. 'My delight is in the success of optometry and seeing more optometrists empowered to boldly showcase the optometry profession.' Chikasirimobi says his competence, confidence and mastery of contact lenses, and management of related complications, has increased markedly through his association with IACLE. Outside work, he likes to travel, cook and explore nature.
WOULD YOU LIKE TO INTRODUCE YOURSELF TO IACLE MEMBERS WORLDWIDE? WE'RE LOOKING FOR MORE MEMBERS TO TAKE PART IN MEET A MEMBER.
Contact your nearest IACLE office for details
IMAGE OF THE YEAR

NEW Oscar takes the winning shot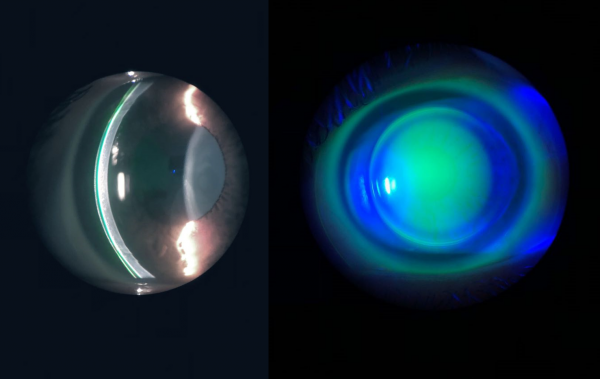 Congratulations to Colombian member Oscar Bello, winner of the 2019 IACLE Image of the Year, who receives a US$100 gift voucher and certificate. Oscar used 10X magnification and a smartphone to capture this optical section of the profile of a hybrid contact lens (left) and the fluorescein pattern with cobalt blue illumination and a yellow filter (right). The 2019 IACLE Image Collection is now available in our Online Resources under Image Gallery.

SHARE YOUR PHOTOGRAPHS FOR THE 2020 IACLE IMAGE COLLECTION AND ENTER OUR IMAGE OF THE YEAR COMPETITION FOR THE CHANCE TO WIN A YEAR'S IACLE MEMBERSHIP AND A US$100 AMAZON VOUCHER!
Submit your Image of the Month
RESOURCES

NEW A bumper issue from Contact Lens Spectrum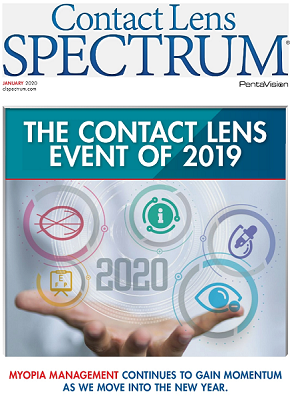 IACLE has a high profile in the January issue of Contact Lens Spectrum, with an article on proactive contact lens recommendation by Director of Educational Programs Nilesh Thite, and the latest on International Contact Lens Prescribing from Vice President Professor Philip Morgan and co-authors. There's also a mention for IACLE's 40th Anniversary under 2019 Contact Lens Event of the Year.
NEW IACLE India meeting lectures now online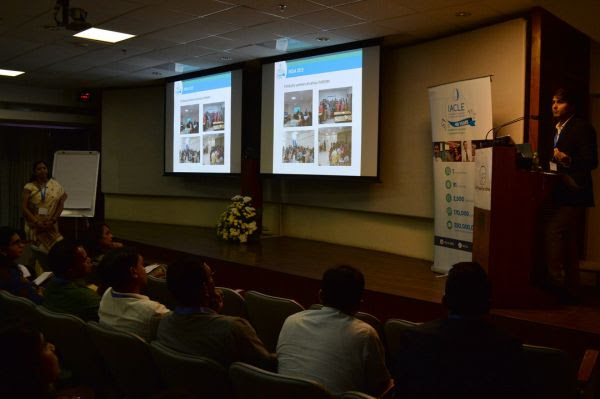 Lectures from the IACLE India Annual Members' Meeting, held in Hyderabad (23-24 November), are now available via our website. Topics and speakers are 'How to teach complications' by Pancham Kulkarni, 'How to teach lens care' by Premjit Bhakat, 'How to teach RGP lens fitting' by Dr Rajeswari Mahadevan, 'Practical assessment' by Usman Memon, and 'Research Updates – my experience' by Runa Mazumder. Find the lectures under Contributed Resources – Presentations & Lectures.
Students endorse learning with IACLE Case Reports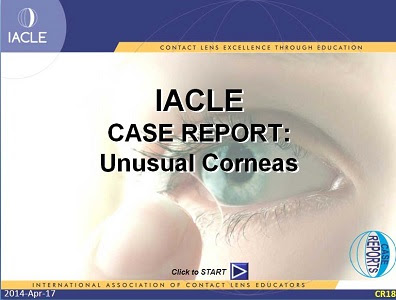 'I found the IACLE Case Reports Series a fun way of learning and understanding various conditions of the eye with contact lenses,' says Tanvi Aravind, a student at the Sankara College of Optometry in Bangalore, India. Case reports are available free and exclusively to IACLE members, in English, Spanish, Portuguese, Korean and Chinese (simplified).
NEW BCLA announces Global Consensus Report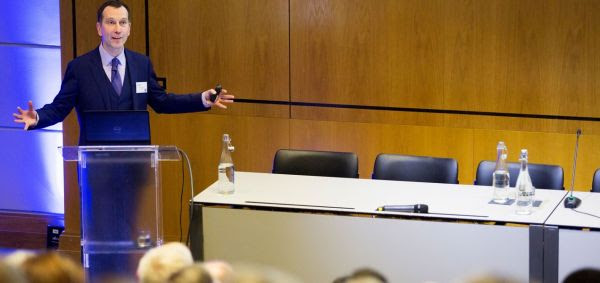 A new Global Consensus Report from the British Contact Lens Association (BCLA) will deliver evidence-based guidance on contact lenses and the anterior eye. The Contact Lens Evidence-based Academic Reports (CLEAR) will be published in the March 2021 edition of the BCLA journal Contact Lens & Anterior Eye, which is edited by IACLE President Dr Shehzad Naroo. CLEAR Executive Chair is FIACLE Professor James Wolffsohn (pictured), and its Vice Chair is IACLE Vice President Professor Philip Morgan.
GLOBAL UPDATE
Americas
NEW IACLE to support Dominican Republic's 1st optometry program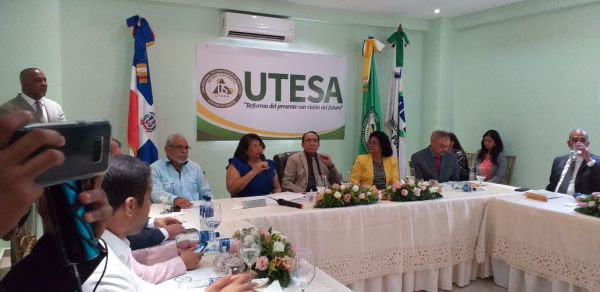 IACLE Americas has approached the Universidad Tecnologica de Santiago (UTESA) in the Dominican Republic to help set up a contact lens curriculum for the country's first-ever optometry program.The school held its official launch (pictured) in August 2019. Through Dr Hector Santiago, Chair of the Education Committee of the Latin American Association of Optometry and Optics (ALDOO), IACLE Assistant Treasurer Dr Orlando Neira and Americas Regional Coordinator Guillermo Carrillo are discussing ways for IACLE to support the new program.
Asia Pacific
From training trainers from across Korea…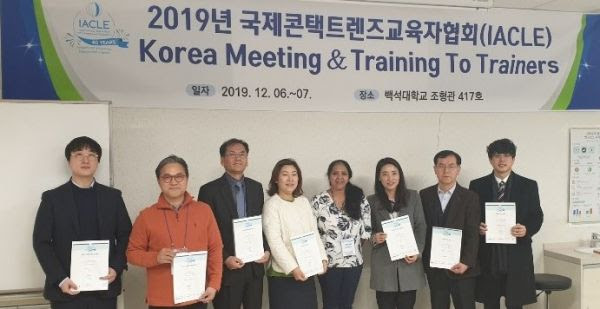 Teaching methods such as blended learning and problem-based learning proved popular topics for the IACLE Korea Annual Members' Meeting held at Baekseok University, Chungchung-do last month (6-7 December). Members from as many as 20 institutions and companies attended the meeting to learn how to teach and assess specific subjects.
…to finding effective teaching solutions in China

Guest speaker Rob Terry joined China National Coordinators Professor Wang Haiying (pictured) and Qu Xiaomei for the IACLE China Annual Members' Meeting held at the Tianjin Vocational Institute (15-16 November). A total of 46 delegates learnt about effective solutions for educators to teach the latest contact lens developments.
Europe / Africa – Middle East
NEW Sunday lunch slot for IACLE meeting at NCC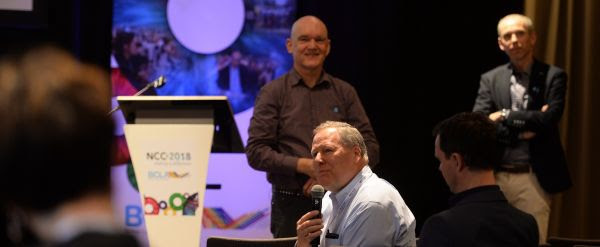 'Student education around patient education' and 'The future of contact lens fitting' are on the agenda for an IACLE meeting on 16 March at the Nederlands Contactlens Congres (NCC2020) in Verhoeven. FIACLEs Wim Borst and Henri Eek (top left and right) will host the meeting from 12.30-13.30 in the Diezezaal. All educators are welcome to attend.
Shehzad joins Scots for imaging workshop at SCO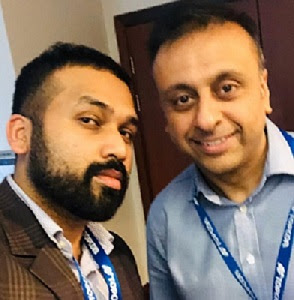 IACLE President Dr Shehzad Naroo and Dr Sandip Doshi delivered a workshop on 'Anterior imaging and clinical grading' at the Scottish Optical Conference (SCO) in Glasgow (24 November). Around 60 delegates attended the workshop. Shehzad is pictured (right) with Nikkhil Masurkar of ENTOD Research Cell, which sponsored the session. SCO is an annual event organized by FIACLE Caroline Christie and Dr Scott Mackie.
NEW BCLA UK to be live streamed worldwide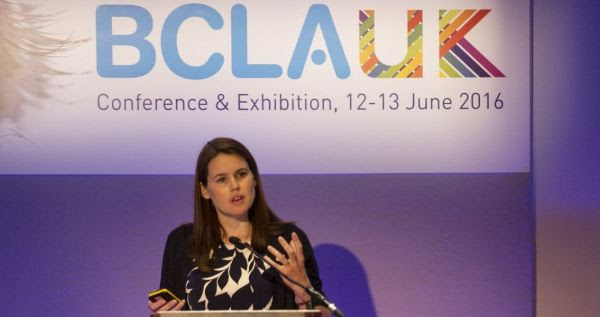 Practitioners around the world can take part in the British Contact Lens Association's BCLA UK event, to be held in Birmingham, UK on 14 June, when the event will be broadcast live. 'We are excited to welcome a 'virtual audience' to BCLA UK and the live-streaming element will add a whole new dimension to the event,' says BCLA President Jonathon Bench.
NEW TFOS calls for abstracts for 2020 conference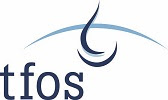 Cernobbio in the Italian Lakes will be the scenic venue for the 9th International Conference of the Tear Film & Ocular Surface Society (9-12 September). TFOS 2020: Basic Science and Clinical Relevance is this year's theme. TFOS welcomes the submission abstracts for poster presentations at the conference. Abstract submission will open on 3 February.
More information and registration
DATES FOR YOUR DIARY
22 January – International Forum for Scleral Lens Research, Las Vegas, Nevada, USA. Details.
22-25 January – Global Specialty Lens Symposium (GSLS 2020), Las Vegas, Nevada, USA. Details.
13-16 February – All India Ophthalmological Society 78th Annual Meeting 2020 (AIOS 2020), Gurugram, India. Details.
21-23 February – 24th European Society of Cataract and Refractive Surgeons Winter Meeting 2020 (ESCRS 2020), Marrakesh, Morocco. Details.
15-16 March – Nederlands Contactlens Congres (NCC 2020), Verhoven, the Netherlands. Details.
22-26 April – 34th Asia Pacific Academy of Ophthamology Congress 2020 (APAO), Xiamen, China. Details.
15-17 May – European Academy of Optometry and Optics Annual Conference (Helsinki 2020), Helsinki, Finland. Details.
THANKS TO OUR SPONSORS