Global Member Newsletter January 2022
MEMBERSHIP PERKS IN DECEMBER
Presidential Address Next Month
On Wednesday 16 February at 12 noon UK, IACLE President Professor Philip Morgan is delivering a live Presidential Address to discuss the current challenges facing contact lens practice, including maximizing comfort, vision, and ocular health with our contact lens patients to optimize the wearer experience and minimize dropouts.
Members can watch live online via Zoom, and the event will be live streamed to our Facebook page for students to get involved.
Find out what time the Presidential Address begins in your time zone
---
IACLETOP UPDATES
The IACLE Education Team are looking forward to developing IACLETOP further in the coming year and hope you are too! Some updates to look out for this year include:
Members' Area
We are redesigning the Members' Area and adding multilingual features.
Student Trial Exam
The IACLE Education Team are reviewing the Student Trial Exam (STE) and adding new content. The review includes dividing the questions into key curriculum categories to align with those in the Fellowship Program. The team are also developing a Basic STE to allow educators to assess their students' knowledge at the beginning of their learning experience.
More details on using the STE with your students
Flashcards
Keep an eye out for more Flashcards to be added to IACLETOP this year. 
---
NEWS IN JANUARY
Image of the Year 2021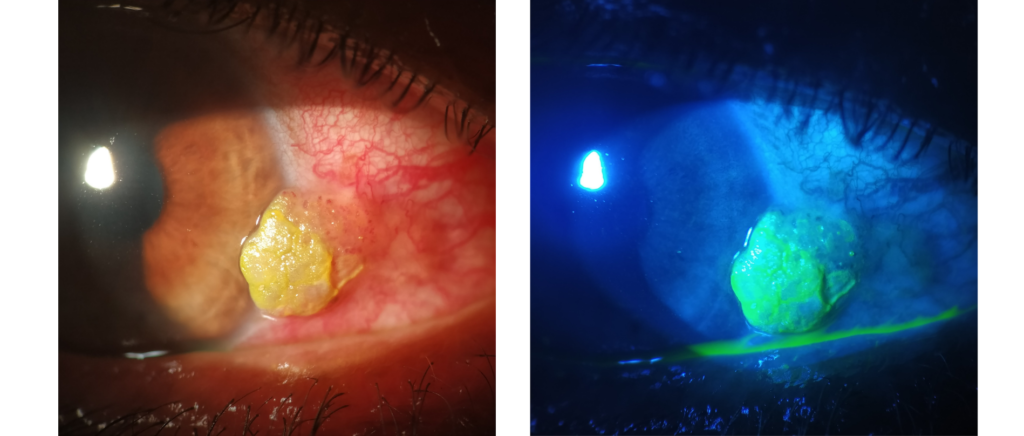 Congratulations to Indian member Suraj Chaurasiya, winner of the 2021 IACLE Image of the Year. Suraj receives one year of complimentary IACLE membership, a US$100 Amazon voucher and a certificate. Suraj, from the CL Gupta Eye Institute in Moradabad, India, captured the above images of a 38-year-old patient who complained of discomfort and foreign body sensation with his contact lenses, along with an elevated mass near the nasal limbus in the right eye for three months. The patient had used extended wear contact lenses for high myopia for a long period and was diagnosed with ocular surface squamous neoplasia (OSSN).
Share your photographs with us for the 2022 IACLE Image Collection and enter our Image of the Year competition for the chance to win a year of free IACLE membership and a US$100 Amazon voucher.
Canadian member awarded Honorary Membership
Ted Morse, an IACLE member for 28 years, has been awarded Honorary Membership due to retiring from the College of Opticians of British Columbia in Surrey, Canada, at the end of 2021. 'Contact lens educators and practitioners can look to IACLE for world-class networking opportunities and online educational resources that affect advancing individual contact lens skills and education throughout the entire world', says Ted. 'The contact lens industry can look to a bright future through the efforts of IACLE.' 
Awarding Alison Ewbank for contact lens education excellence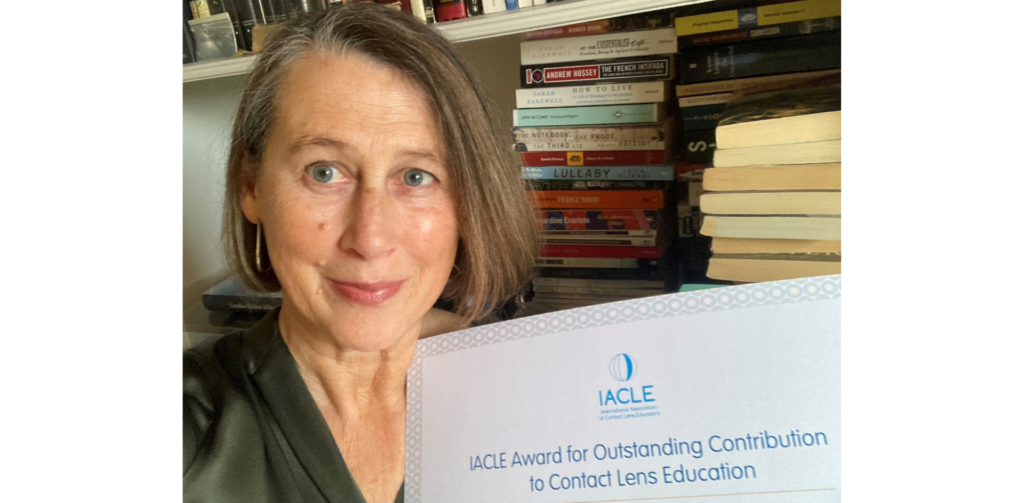 Former IACLE Head of Communications Alison Ewbank retired in December 2020. In acknowledgement of her exceptional contribution to the contact lens education sector, she was awarded the IACLE Award for Outstanding Contribution to Contact Lens Education. Past EAME Regional President Judith Morris presented Alison with the award in London last month. Congratulations Alison! 
WCO and CooperVision collaborate for virtual myopia event

The World Council of Optometry and CooperVision are hosting a global myopia management virtual event on 'Myopia management: putting it into practice', taking place on 12 February. Hear from world-leading experts in the industry share their insights into standards of care for myopia management and how they implement other aspects into their practices.
Register and find more info here
Renew your IACLE membership by 31 January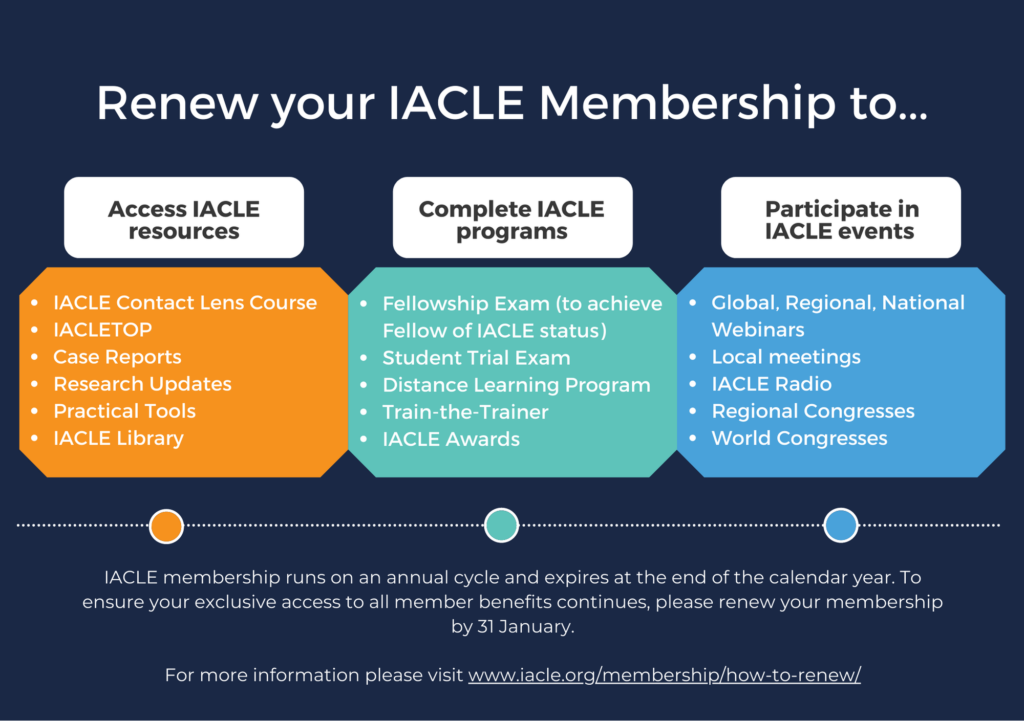 Thank you to all our members who have renewed their membership for 2022. We are looking forward to delivering more programs, resources, and events in the coming year. A kind reminder that access to our full range of membership benefits – including the resources and programs within IACLETOP and all resources and events under the Teach. Learn. Connect. Initiative – is exclusively available for IACLE members. IACLE membership runs on an annual cycle and expires when payment is not received. Access to full membership benefits will end on 31 January if payment is not received and a late fee will be payable for members failing to pay by the end of February.
Please note, membership renewal is not required for Honorary Members. 
---
MEET A MEMBER
Have you advanced the teaching of contact lenses in your institution/company over the past year but have already taken part in Meet a Member? We'd like to hear about your achievements and share them with our membership. If IACLE colleagues would like to connect with other members, we can arrange this by simply emailing us at iacle@iacle.org.
Introduce yourself to other IACLE members by completing this short online form
---
RESOURCES
Contact lenses in 2021
In this review of the contact lens market in 2021, Dr Jason Nichols and Lisa Starcher report that contact lenses have demonstrated good resilience despite the COVID-19 pandemic. The market for 2021 was around $9 billion, a little greater than in pre-pandemic 2019. There are also indicators that the contact lens market is likely to return to its annual growth rate of 4-6%.
New podcast episode on eye care in India
The latest episode of the GlobalEyes podcast features Lifetime FIACLE Professor Monica Chaudhry who discusses how contact lenses have developed over time in India, the challenges of fitting lenses and conducting research in the early days and a preview of what's to come. Dr Melissa Barnett and Dr Tom Arnold host the podcast that is supported by CooperVision.
---
COVID-19 RESOURCE
Face masks and contact lenses
Martinez-Perez et al analyse the impact of using face masks on 177 Portuguese contact lens wearers and their subjective symptoms in a questionnaire-based study. The authors concluded that prolonged mask wear throughout the day increases the symptoms of discomfort and the sensation of dry eye.
---
WHAT'S HAPPENING IN OUR REGIONS?
AMERICAS
Contact lens and anterior eye workshop in Colombia
In December, the Specialty Program of Anterior Eye and Contact Lenses at the University Santo Tomás in Bogotá, Colombia, invited IACLE Regional Coordinator Guillermo Carrillo to their 3rd Workshop on Anterior Eye and Contact Lenses. The program has been running for 18 months, and the majority of the lecturers are IACLE members.
ASIA PACIFIC
'Studometry' in India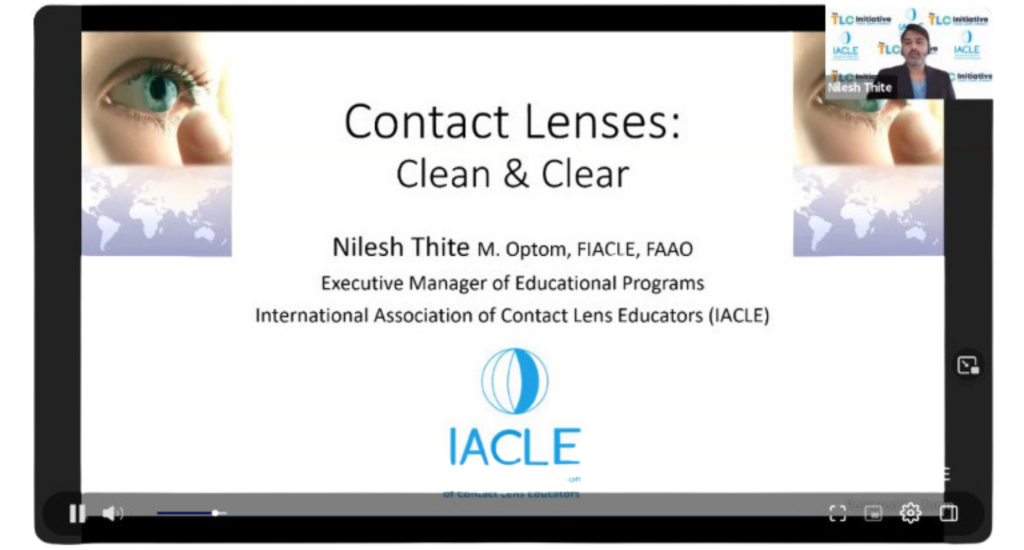 The India Vision Institute hosted 'Studometry', a virtual event for optometry students in India, designed to inspire and prepare students for their professional careers. The IVI invited Executive Manager of Educational Programs Nilesh Thite to talk on the topic 'Contact lenses – concepts made clean and clear', a case-based interactive session featuring the IACLE Case Report Series (7 January).
An update from member in Pakistan
Dr Mutahir Shah, lecturer at the Pakistan Institute of Ophthalmology, delivered a two-day workshop including hands-on training for 50 optometry students and faculty members at Ibadat International University in Islamabad, Pakistan (28-29 December). Theoretical and practical aspects of the soft, soft toric, and RGP contact lens assessment and aftercare sessions were covered using the IACLE Contact Lens Course. 'The students and faculty members showed a great interest in using IACLE resources to learn', says Dr Shah. In addition, Mutahir informed the faculty members about IACLE membership, the Distance Learning Program, the Student Trial Exam, and the Fellowship Exam.
We appreciate hearing from our members who have used any IACLE resources in their teaching and encourage all members to share their experiences. If you would like to share any news or updates with the membership, please get in touch with us at iacle@iacle.org. 
EUROPE / AFRICA / MIDDLE EAST
'BCLA Focus' – a new hybrid conference coming this year
The British Contact Lens Association (BCLA) have recently announced a new hybrid conference, both online and in-person at The Vox Conference Centre in Birmingham, UK, on 11 and 12 June. The event will feature leading keynote speakers and aims to increase eye care practitioner confidence in contact lens fitting and anterior segment management.
NCC is postponed
The Dutch Contact Lens Congress (NCC), focusing on education, innovation, news, and developments, has been postponed to 26 and 27 June and will be held at the NH Koningshof in Veldhoven, the Netherlands.
---
DATES FOR YOUR DIARY
IACLE TLC (Teach. Learn. Connect) WEBINARS
Visit the IACLE Webinars area on IACLETOP to view the schedule for upcoming webinars.
GLOBAL MEETINGS IN COMING MONTHS
Global Specialty Lens Symposium, Las Vegas, 19-22 January 2022. Details.
Cornea and Contact Lens Society's (CCLS), Auckland, New Zealand, 10-12 March. Details.
Cornea & Contact Lens Society Conference, Auckland, New Zealand, 11-12 March.
European Federation of the Contact Lens and IOL Industries Congress and Exhibition (EFCLIN), Barcelona, 28-30 April. Details. 
OPTI, Munich, Germany, 13-15 May. Details.
6th International Congress of Scleral Contacts (ICSC), Florida, USA, 29-30 July. Details.
American Academy of Optometry, San Diego, USA, 26-29 October. Details.
3rd Asia Optometric Congress and 8th ASEAN Optometric Conference, Kuala Lumpur, Malaysia, 15-16 November. Details. 
---
IACLE IS SPONSORED BY