Global Member Newsletter January 2023
Read this newsletter in:
Arabic – Chinese – French – Korean – Portuguese – Spanish
MEMBERSHIP PERKS IN JANUARY
Contact Lens Educator Award applications open next week
We are pleased to inform our members that we are opening applications for our 2023 IACLE Contact Lens Educator of the Year Awards next week. The title will be awarded to three members from each region – Asia Pacific, Europe, Africa and Middle East and the Americas. The winners will each receive a bursary of up to US$3,000 towards the cost of attending the British Contact Lens Association's Clinical Conference & Exhibition this year and the right to use the title 2023 IACLE Contact Lens Educator of the Year for their region. 
Look out for a Special Notice with more details next week
Fellowship Exam registration opens next month
We are pleased to inform our members that we are running the Fellowship Exam online via IACLETOP in November 2023. Exclusively available to IACLE members, the exam is the only internationally recognized means of measuring an eye care professional's contact lens knowledge. A successful outcome of the exam qualifies members to apply to become a Fellow of IACLE (FIACLE). Look out for more details and registration opening next month.
For more information on the Fellowship Exam
---
THIS MONTH'S PRESIDENTIAL ADDRESS
Next Wednesday 25 January at 12 noon (GMT), IACLE President Professor Philip Morgan is delivering a live Presidential Address to discuss the current state of contact lens prescribing around the world and how changes in prescribing trends can and should influence our teaching. The talk will include information and opinions on rigid corneal and scleral lenses, daily disposables, soft torics, extended wear and myopia management. As usual, there will be the opportunity to ask questions of the speaker on the day.
Members can watch live online via Zoom, and the event will be live streamed to our Facebook page for students and eye care practitioners to tune into. Find the Zoom login details here.
Find out what time the Presidential Address begins in your time zone
---
NEWS IN JANUARY
Image of the Year Award 2022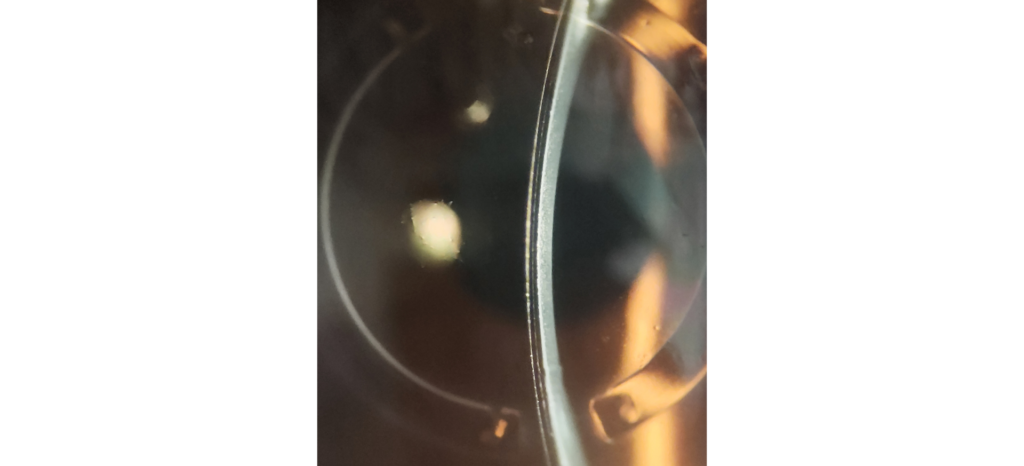 Congratulations to Mexican member Dr Fausto Rangel, winner of the 2022 Image of the Year! Dr Rangel receives one year of complimentary IACLE membership, a US$100 Amazon voucher, and a certificate. Fausto, from the Optometría y Contactología Especializada in Chalco, Mexico, captured the above image showing a scleral lens with clearance of approximately 150 microns in a keratoconus patient with Intacs, viewed through a slip lamp optic section with white light. Dr Rangel used a smartphone attached to a slit lamp to take the photo. 
Share your photographs with us for the 2023 IACLE Image Library and enter our Image of the Year competition for the chance to win a year of free IACLE membership and a US$100 Amazon voucher.
Professor Nathan Efron presents global webinar next month
Save the date for next month's global webinar on 15 February at 12 noon (GMT) titled 'Good news! Contact lens wear is inflammatory'. Eyecare practitioners typically associate the notion of ocular inflammation during contact lens wear with serious complications such as microbial keratitis. However, more subtle mechanisms may be at play. In this presentation, Professor Efron will try and answer a question that has haunted him throughout his career – Is contact lens wear intrinsically inflammatory?
Watch live online via Zoom and tell your students and colleagues to tune in via our Facebook page.
Find out what time the webinar begins in your time zone
WC4 travel stipend applications close soon
We are delighted with the number of applications we have received for the 4th IACLE World Congress. A reminder that travel stipends are reviewed on a first come first served basis, so we encourage those wishing to apply for a stipend to send in their applications as soon as possible. The stipend will depend on distance and flight costs. For example, if you are travelling from Asia, your stipend may be higher than if you are travelling from Europe. Applications for travel stipends close on 31 January 2023.
Register for WC4. More information on WC4
WCO collaborates with Alcon for webinar series
The World Council of Optometry and IACLE Platinum Sponsor Alcon have teamed up for a global webinar series on 'Dry Eye Disease: Measurement' to explore the signs and symptoms of dry eye and how to diagnose it. The webinar, taking place on 31 January, features world-renowned educators Professors James Wolffsohn, Jennifer Craig, and Lyndon Jones and will be independently presented in three global time zones.
For more information and to register
Renew your IACLE membership by 31 January
Thank you to all our members who have already renewed their membership for 2023. We look forward to delivering more programs, resources, and events this year. A kind reminder that access to our full range of membership benefits – including the resources and programs within IACLETOP and all the resources under the Teach. Learn. Connect. Initiative – is exclusively available for IACLE members. Access to full membership benefits will end on 31 January if payment is not received, and a late fee will be payable for members failing to pay by the end of February.
Please note membership renewal is not required for Honorary Members.
More information on IACLE membership
---
RESOURCES
Contact lenses in 2022
In this review of the contact lens market in 2022, IACLE President Professor Philip Morgan and a group of colleagues based around the world present their report on 2022 contact lens prescribing. In a wide-ranging article, the group report on the increase in soft toric lens prescribing since the turn of the century and the great variation in daily disposable prescribing worldwide.
---
COVID-19 RESOURCE
A cross-sectional, survey-based study, including 452 responses from international students in Chinese universities, found an extremely high prevalence of digital eye strain and dry eye disease symptoms compared to the previous studies with a similar population group; the apparent rise in these disorders appears to coincide with the COVID-19 pandemic. The authors suggest that the prevalence of dry eye disease may be underestimated in the young population.
---
WHAT'S HAPPENING IN OUR REGIONS?
AMERICAS
Tune into GSLS: Virtual now
The annual Global Specialty Lens Symposium taking place in Las Vegas, Nevada, is offering a virtual component to this year's live meeting, focusing on the successful management of ocular conditions using today's specialty contact lenses. 'GSLS: Virtual' gives the opportunity to stay up to date on best practices and new techniques through interactive, educational sessions. The four-day conference began on 18 January and continues until 21 January.
For more information and to register
ASIA PACIFIC
Nilesh presents at hybrid workshop in Pakistan
In December, Executive Manager of Educational Programs Nilesh Thite presented at the 'Advanced contact lens clinical practice' themed hybrid workshop at the Green International University in Pakistan, organized by IACLE member Dr Memoona Arshad (15 December). Nilesh presented virtually, discussing the opportunities to improve contact lens practice and gave an insight into what IACLE provides for its members. Over 100 delegates, including practitioners, educators, and students, attended the workshop.
Read the full Asia Pacific report
South Korean students receive STE certificates
In November, IACLE Korea National Coordinator Professor Kyounghee Park visited two universities in South Korea – Choonhae College of Health Sciences in Ulsan (pictured left) and Kookje University in Pyeongtaek (pictured right) – to award students with their Student Trial Exam certificates. Professor Park commented, 'Being successful in the STE is hard but a valuable process for the optometry students. The IACLETOP materials are very useful for preparing the students for the exam and are easy to use'.
More information on the Student Trial Exam
EUROPE / AFRICA / MIDDLE EAST
Upcoming BCLA webinar on specialist lenses

The British Contact Lens Association (BCLA) are hosting a webinar on 'Latest research on specialist lenses and how to apply in practice' with Josie Barlow and Katie Harrop. Join the BCLA on Wednesday 25 January at 6:30 pm (GMT). The webinar is open to all; you don't need to be a BCLA member.
For more information and to register
BCLA Fellowship applications close next month
The BCLA's Fellowship scheme aims to recognise a member's esteem in contact lenses and the anterior eye. It allows them to use the post-nominal letters FBCLA and demonstrates their commitment, abilities, and contribution they have made to the field. Applications are open until 28 February.
---
DATES FOR YOUR DIARY
IACLE TLC (Teach. Learn. Connect) WEBINARS Visit the IACLE Webinars area on IACLETOP to view the schedule for upcoming webinars.
GLOBAL MEETINGS IN THE COMING MONTHS
Global Specialty Lens Symposium, Las Vegas, USA, 18-21 January 2023. Details.
14th Annual Congress on Controversies in Ophthalmology, Lisbon, Portugal, 24-25 March 2023. Details.
IACLE 4th World Congress, Birmingham, UK, 5-8 June 2023. Details.
BCLA Clinical Conference & Exhibition, Manchester, UK, 9-11 June 2023. Details.
4th World Congress of Optometry (WCO4) and O=MEGA23, Melbourne, Australia, 8-10 September. Details.
American Academy of Optometry, New Orleans, USA. 11-14 October 2023. Details TBC.
---
IACLE IS SPONSORED BY