Global Member Newsletter July 2019
WHAT'S NEW AT IACLE?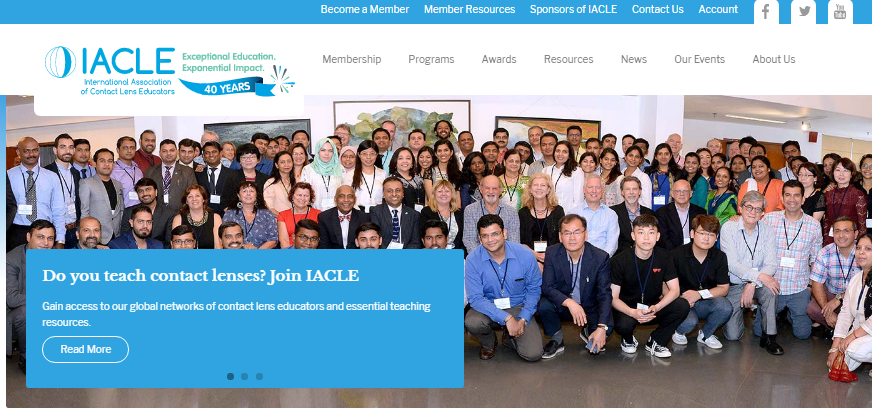 NEW Welcome to our new website
Our redesigned website goes live this month with a new Latest News section, enhanced ease of use and a modern design with a strong international feel. The site incorporates features such as a new sign-up facility for newsletters and improved access to social media. The Member Login area has a new design and better navigation. Member testimonials support a stronger message on the benefits of membership.
Take a fresh look at our website
Travel Award winners join celebrations at APOC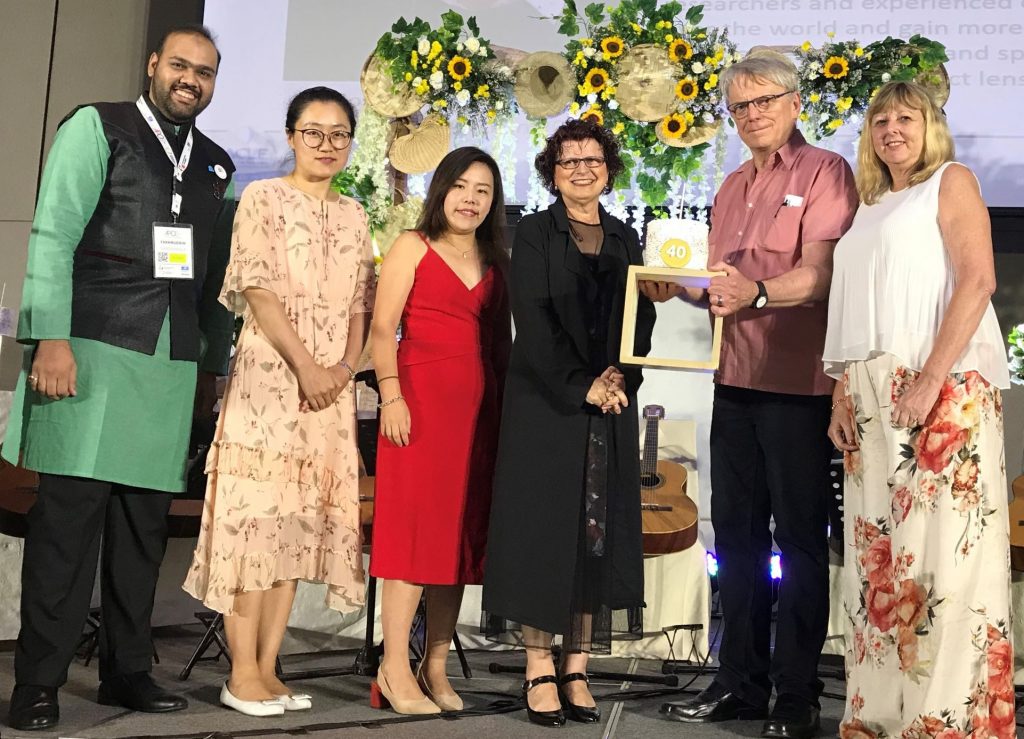 Three of our IACLE Travel Award winners for 2019 travelled to Manila, Philippines last month to attend the Asia Pacific Congress of Optometry (17-20 June). Pictured (left to right) are Fakhruddin Barodawala, Ma Yuying and Wan-Yun Tsung, celebrating IACLE's 40th anniversary with IACLE Assistant Secretary Dr Luigina Sorbara (centre) and Past President Professor Deborah Sweeney (far right). Joining them on stage was Director of Educational Development Dr Lewis Williams who received a special award for his outstanding contribution to contact lens education.
Read a full report on IACLE's presence at APOC
Feedback on Education Day reveals positive results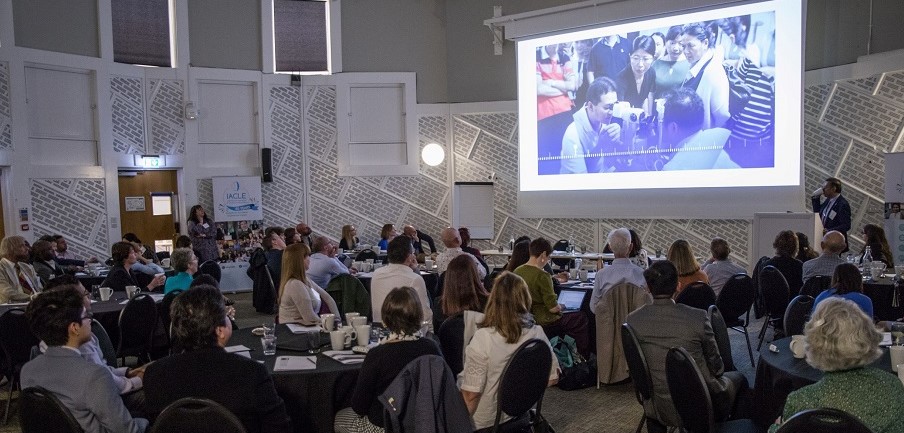 Nine in 10 delegates at the IACLE/BUCCLE Education Day in Manchester (29 May) strongly agreed that the day's topics were relevant to them, and all rated the organization either excellent (86%) or good (14%). Responses to Education Day – jointly organized with the British & Irish University & College Contact Lens Educators and provided free of charge – showed delegates placed a high value on the day and would be willing to pay, on average, US$168 to attend. The cost per delegate for running the day is approximately US$200.
Read a full report on Education Day
FULL PRESENTATIONS FROM EDUCATION DAY ARE AVAILABLE TO IACLE MEMBERS VIA MEMBER LOGIN, UNDER CONTRIBUTED RESOURCES – PRESENTATIONS / LECTURES
40TH ANNIVERSARY NEWS
FEDOPTO to host next 40th celebrations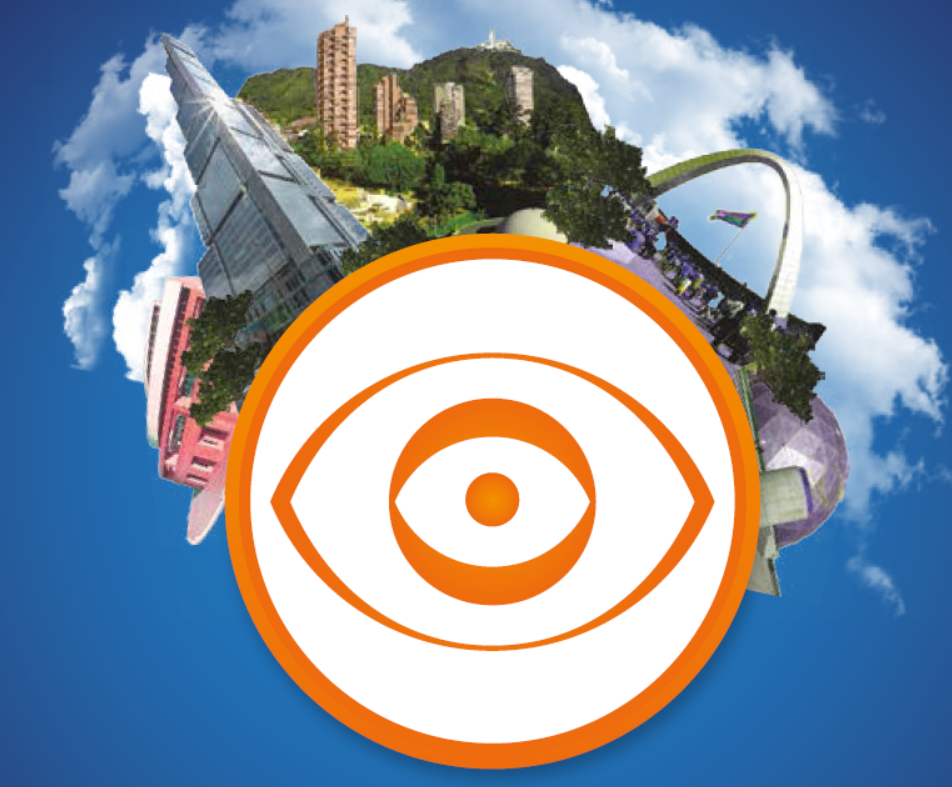 International Optometry Congress in Bogotá, Colombia next month (8-10 August). IACLE members and Fellows will be prominent on the program, including the opening lecture by IACLE's Americas Regional Coordinator Guillermo Carrillo, an IACLE-led contact lens session (9 August) and a talk on 'Presbyopia and contact lens correction' by former Vice President Professor Desmond Fonn.
MEET A MEMBER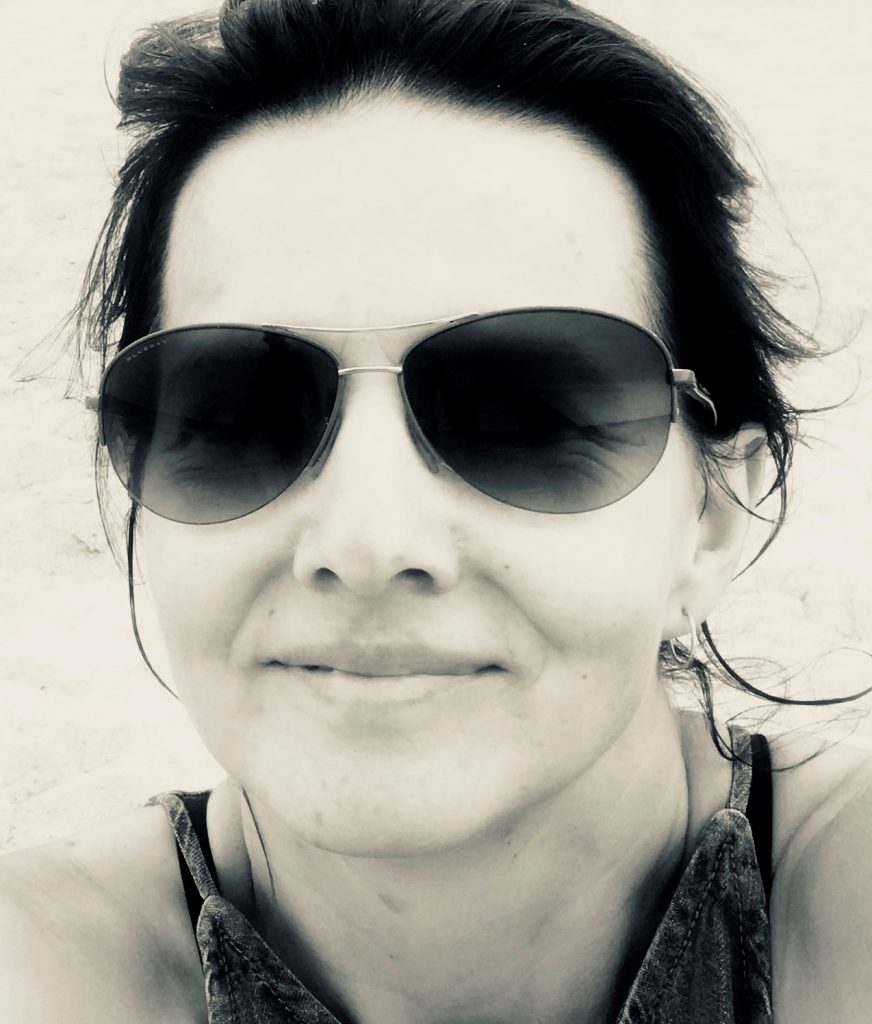 Sylvia Wulf lectures at an unusual location, the Fielmann Academy in Plön Castle, Germany, where her interests are tear film evaluation, dry eye, specialty lens fitting and myopia prevention. 'When I started teaching the IACLE course was very helpful in designing my own lecture path,' says Sylvia, who has an unusual story about her early career: 'During my studies I spent a few months at the Brien Holden Vision Institute (then the CCLRU) in Australia. I got to work with FIACLE Helen Swarbrick and so I took OrthoK to Berlin and did my thesis in this field. As we were quite nervous about this technique, I used to stay overnight at the contact lens lab with my patients, to make sure nothing could happen!'
WOULD YOU LIKE TO INTRODUCE YOURSELF TO IACLE MEMBERS WORLDWIDE? We're looking for more members to take part in Meet a Member. Contact your regional / country coordinator for details.
IMAGE OF THE MONTH
The infuriating eyelash on the eye: trichiasis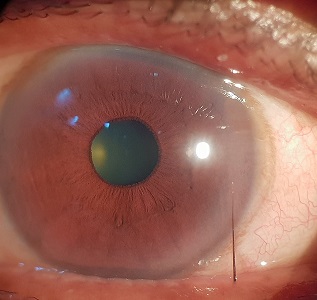 FIACLE Prasad Sawant, of Sawant Optometry Clinic in Mumbai, India, captured this image using a Samsung Galaxy S9 smartphone without any adaptor on a Keeler slit-lamp biomicroscope. A single eyelash is growing upward and touching the eye, causing constant irritation and damaging the tear film and underlying cornea. Patient complaints are redness, watery eyes, slight discharge and pain. Trichiasis can be caused by injury or inflammation and may be secondary to other eye conditions.
Watch Prasad's video on how to capture images on a smartphone
SHARE YOUR PHOTOGRAPHS FOR THE 2019 IACLE IMAGE COLLECTION AND ENTER OUR IMAGE OF THE YEAR COMPETITION FOR THE CHANCE TO WIN A YEAR'S IACLE MEMBERSHIP AND A US$100 AMAZON VOUCHER!
Submit your Image of the Month
RESOURCES
NEW IACLE's DLP in simplified Chinese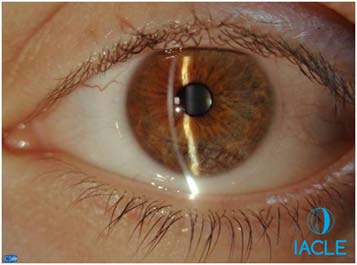 IACLE's Distance Learning Program (DLP) – fully aligned with the New IACLE Contact Lens Course – is now available to members in simplified Chinese. The DLP is an ideal way to prepare for the IACLE Fellowship Exam. On successful completion of the Fellowship Exam, members are eligible to apply to become a Fellow of IACLE (FIACLE). The next Fellowship Exam takes place on Saturday 16 November 2019.
Find out more about our Distance Learning Program
NEW Review of Myopia Management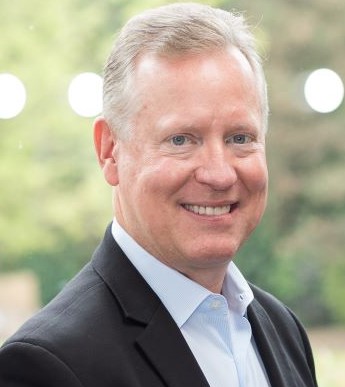 FIACLE Dr Dwight Akerman (pictured), recent recipient of an IACLE Award for his contribution to global contact lens education, has launched a new resource reviewing the latest evidence-based treatment strategies in myopia management. The website provides useful tools, videos and podcasts on myopia management, as well as continuing education and practice management information.
Access Review of Myopia Management
NEW 10th Anniversary I-site newsletter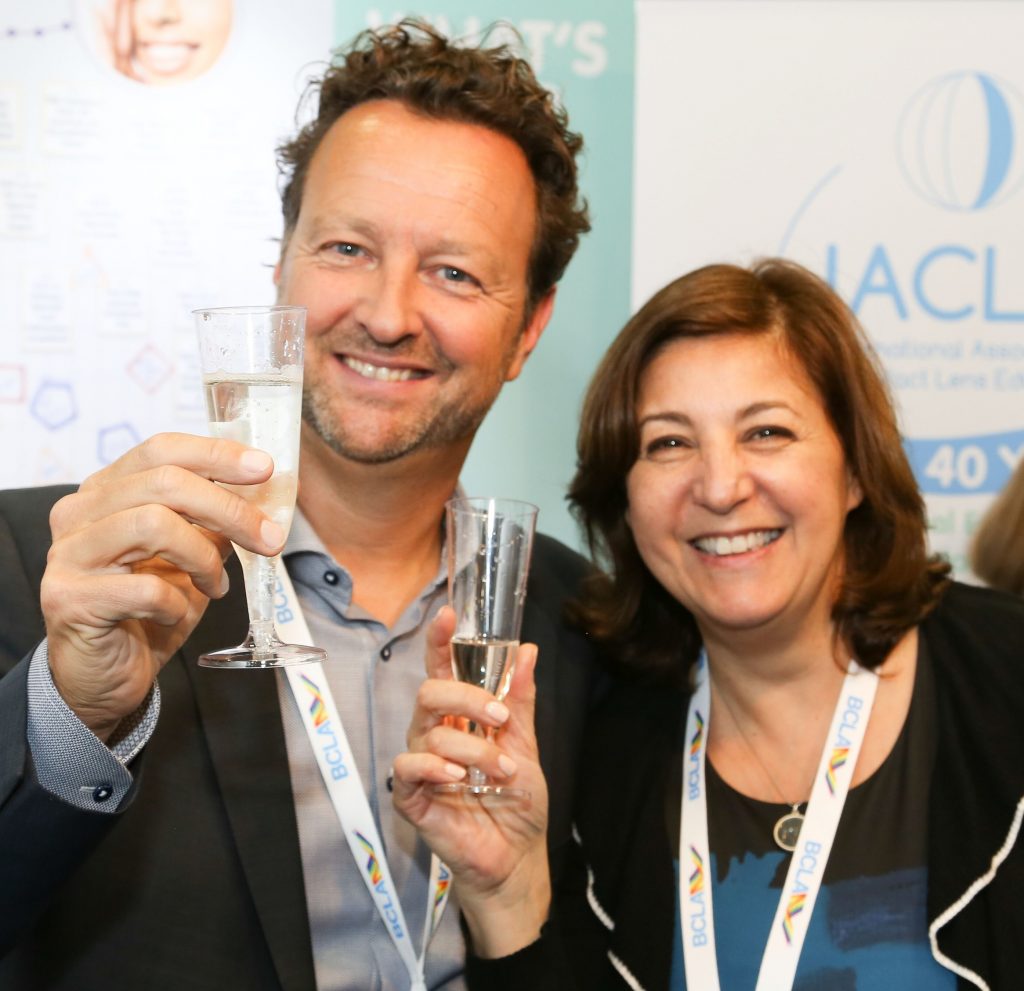 Congratulations to FIACLE Dr Eef van der Worp from the Netherlands, who celebrated an anniversary of his own last month: 10 years of his monthly I-site newsletter on specialty RGP contact lenses and related topics. Eef is pictured at the IACLE booth during the British Contact Lens Association Clinical Conference in Manchester (30 May – 1 June) with IACLE Treasurer Dr Etty Bitton.
Sign up to receive I-site here
NEW Dry Eye Awareness Month 2019

The Tear Film & Ocular Surface Society (TFOS) and US National Alliance for Eye and Vision Research have designated July 2019 as Dry Eye Awareness Month. Activities include a US Congressional Briefing and Screening entitled 'Ongoing Impact of TFOS DEWS II on Dry Eye Clinical Practice & Research' (10 July). TFOS has a range of free online resources resulting from TFOS DEWS II, available in multiple languages.
Read about Dry Eye Awareness Month
GLOBAL UPDATE
Americas
AAO Foundation presents student research awards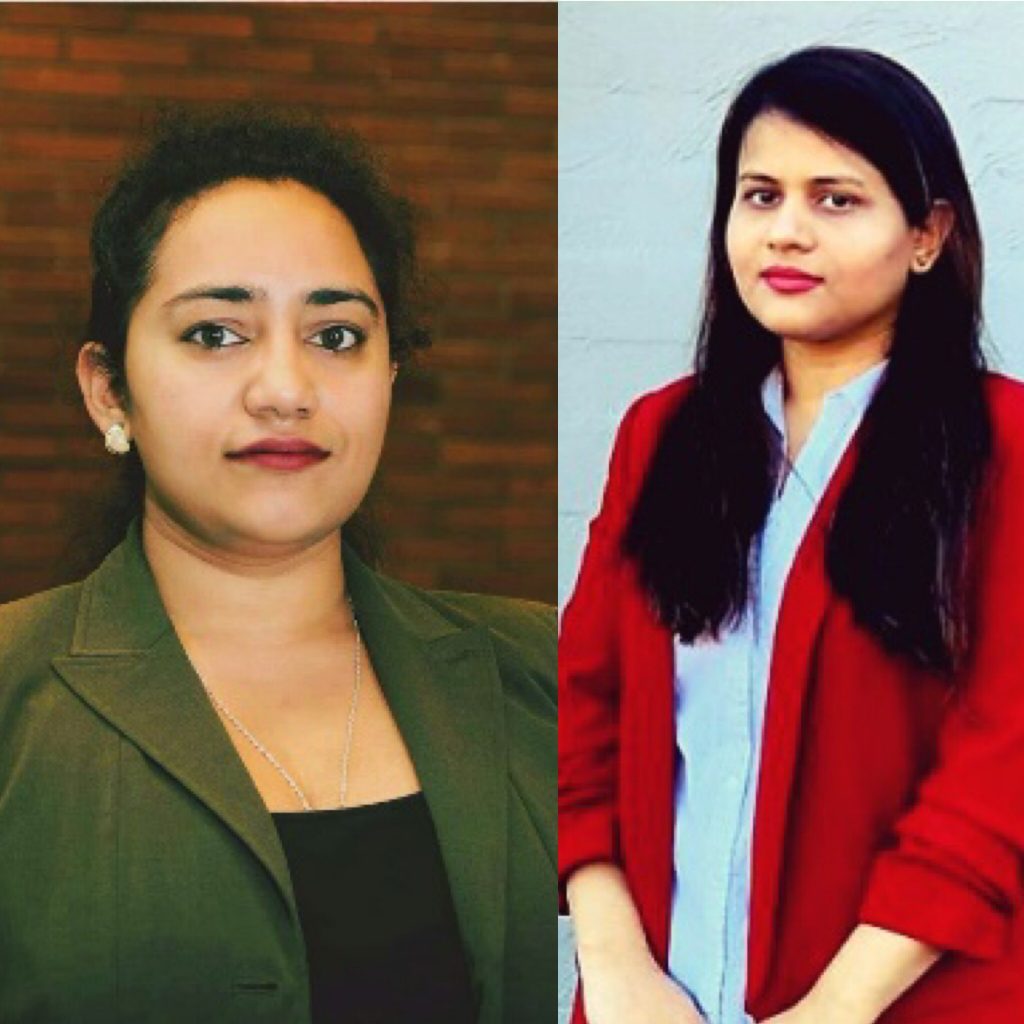 Postgraduate students from the US and Australia will attend the Academy 2019 Orlando and 3rd World Congress of Optometry in Florida, USA (23-27 October), courtesy of Joe and Janet Barr Early Career Cornea and Contact Lens Research Awards from the American Academy of Optometry Foundation. Pabita Dhungel (left) from Pacific University Oregon and Rabia Mobeen (right) from the University of New South Wales are this year's recipients.

Find out more about these awards
IACLE LA educates in Chile…and takes the lead in Ecuador

Major events in Chile and Ecuador were among IACLE's activities in the LA region in the past month. FIACLEs and members played a prominent part in the 7th Visual Science Seminar in Santiago (8 June) and led the third edition of the International Innovation Contact Lens Symposium in Quito (21-22 June). IACLE will also be running workshops at the Contact Lens of the Americas Specialists Symposium (CLASS) 2019 in Argentina in November.
Read a report on the month's activities
Asia Pacific
Indian FIACLEs collaborate across disciplines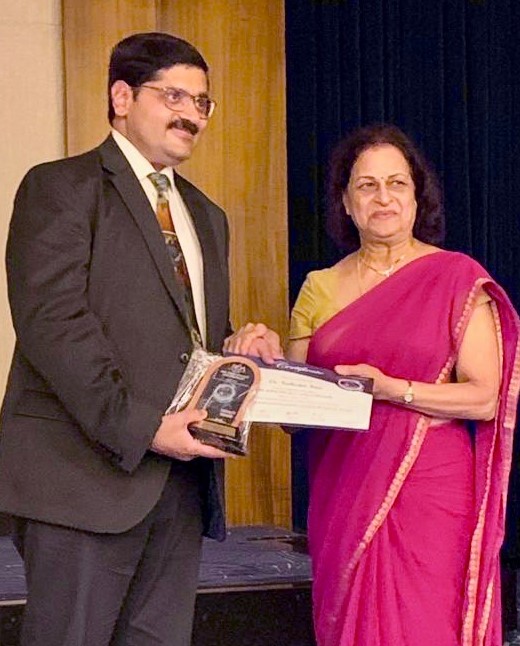 FIACLE Yeshwant Saoji, pictured (left) with IACLE member Kunda Ganatra, was invited by the Bombay Ophthalmologists ' Association to speak at the Super Speciality Lens Symposium in Mumbai (2 June). FIACLEs Prasad Sawant and Dr Meena Kharat delivered talks on the program. The BOA has since extended an invitation to all FIACLEs to attend BOA Focus, its yearly event. Yeshwant was also among the speakers at the recent For Optom 2019 meeting, held in Kathmandu, Nepal (25 May).
IACLE Korea holds Industry Seminars on toric fitting

Forty students from Kookje University in Korea (pictured) attended an Industry Seminar organized by IACLE Korea National Coordinator Professor Kyounghee Park (21 May). Dr Jungmin Lee from the Johnson & Johnson Vision Education Team lectured on 'Toric soft contact lens fitting' to help the students prepare for practice placements this summer. Kyounghee also ran a toric fitting seminar at Dongnam Health University in collaboration with CooperVision, with educator Gae-Eun Kim (3 June).
Europe / Africa – Middle East
French student wins FORCE Student of the Year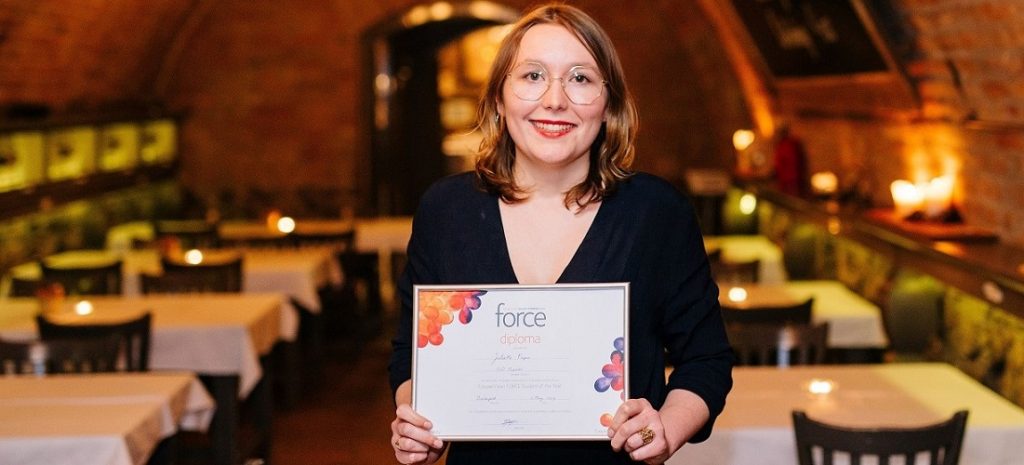 The 2019 CooperVision FORCE Student of the Year is Juliette Papin, a third-year student from the Institut Supérieur d'Optique (ISO) Nantes in France. This year's FORCE (Future Ocular Research Creativity Event) final took place in Budapest, Hungary (10-11 May) with teams of students and educators from 11 countries taking part. Juliette's project was supervised by IACLE member Brigitte Couture. Runners-up were Marianne Lindenberg and Cor Oosting-Klock from Hogeschool Utrecht in the Netherlands, and Aniket Saha from Bharati Vidyapeeth School of Optometry in India was awarded third place.
Find out more about CooperVision FORCE
BCLA announces new myopia management certificate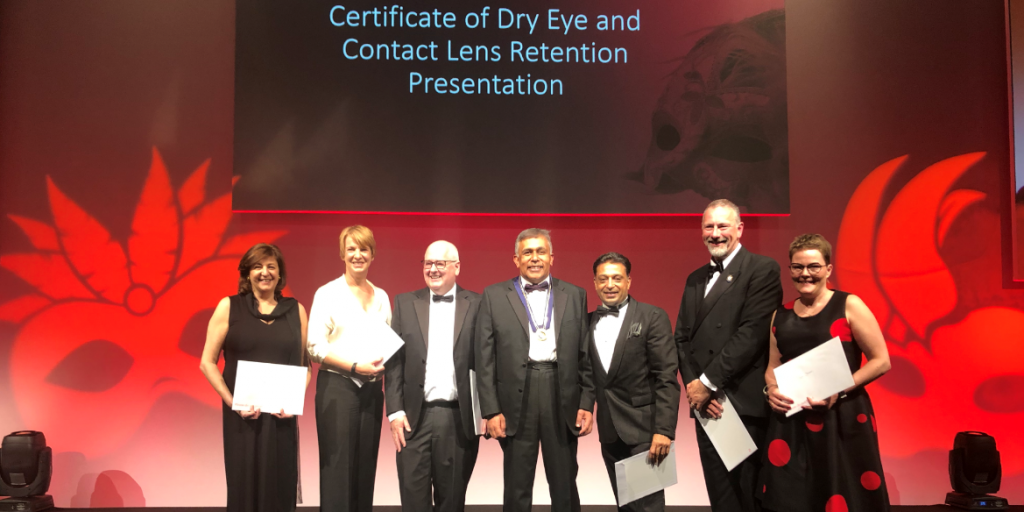 The British Contact Lens Association Certificate in Myopia Management, to be launched later this year, will feature six narrated lectures from leading world authorities, including Professor Pauline Cho (Hong Kong) and Professor Jeff Walline (USA). BCLA members will have free access to online materials required for the course. The BCLA Dry Eye Certificate, introduced in 2017, was awarded at its Clinical Conference in June (pictured).
Read more about the new BCLA certificate
DATES FOR YOUR DIARY
A full list of IACLE and other events in 2019 is available at our Annual Meeting Schedule. Please email dates of events to s.allen@iacle.org.