Global Member Newsletter July 2021
MEMBERSHIP PERKS IN JULY
Prepare for the Fellowship Exam with our monthly workshops
We are conducting monthly virtual workshops for members who have registered for the Fellowship Exam, with the topic changing each month. The sessions will run up until the exam. In July's session, Professor Craig Woods held a Q&A session (6 July) and explained how to use discussions, announcements, and the chat feature. He also gave two examples of how cases would be displayed in the exam. The next session on 3 August will review the Distance Learning Program.
Members registered for the Fellowship Exam can catch up on the sessions here
Utilize IACLE programs and resources with your students
After registering, IACLE members have access to a dedicated Student Area within IACLETOP. The area is designed for educators to offer their students a unique teaching space for learning and assessment opportunities. The Student Area has the tools to allow educators to produce individual teaching content and assessments while streamlining and integrating IACLE resources (which are available in this area) into their teaching. In addition, student data is stored safely, and for your use only.
For more information on the Student Area
---
IACLETOP UPDATES
'How to' videos introduced to IACLETOP
The Education Team have developed instructional videos to visually demonstrate how to use certain aspects of IACLETOP, available to view through IACLE's YouTube channel and our website. The videos explain how to log in, modify the Dashboard, the Student Area (highly recommended for those who teach) and how to access the IACLE Library.
---
THIS MONTH'S THEMED WEBINARS
Grow your contact lens practice
Throughout July, IACLE is hosting four global webinars focusing on growing contact lens practices. Brian Tompkins began the series with 'Business aspects of contact lens practice'. Nick Howard is hosting a webinar on 'Maximize your potential with soft contact lenses', with an introduction by Alcon, IACLE Platinum Sponsor, on Wednesday 21 July. Finally, Caroline Christie is presenting 'Managing presbyopia with soft contact lenses', with an introduction by CooperVision, IACLE Gold Sponsor, on Wednesday 28 July.
Catch up on the webinars via IACLETOP
---
NEWS IN JULY
Announcing the new Officers of the Association
We are pleased to announce the new officer roles for the Association. The Board has elected Professor Philip Morgan as President with Dr Shehzad Naroo moving to the Vice President position. As well as this, Dr Etty Bitton has been elected as Treasurer / Secretary. In addition to these three named officer positions, the IACLE Board also include three newly-elected Directors – Dr Renée Reeder, Dr Byki Huntjens and Fakhruddin Barodawala. IACLE also has three new Regional Directors – Fabrizio Zeri, EAME Regional Director, Kah Ooi Tan, Asia Pacific Regional Director, and Martín Giraldo, Americas Regional Director.
Look out for a Special Notice with more information
Image of the Month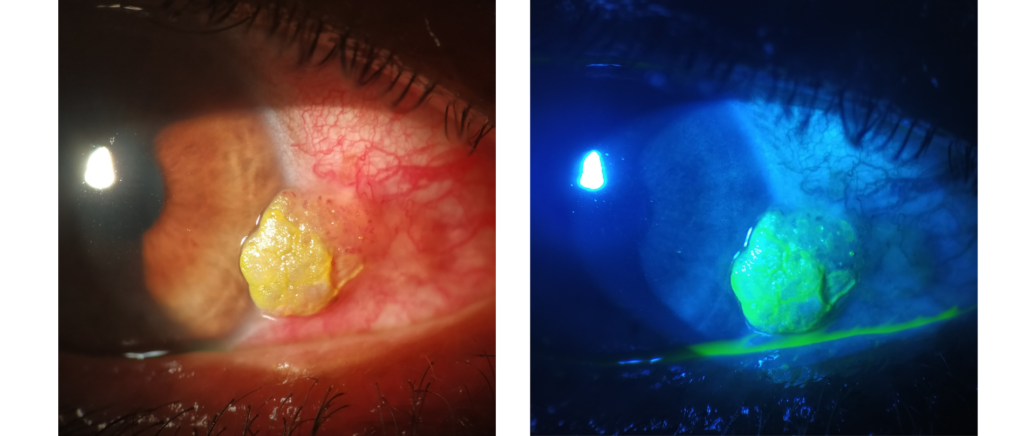 Suraj Kumar Chaurasiya from the C.L. Gupta Eye Institute in Moradabad, India, captured this image using a Redmi Note 7 AI mobile phone. A 38-year-old patient complained of discomfort and foreign body sensation with his contact lenses, along with an elevated mass near the nasal limbus in the right eye for three months. The patient had used extended wear contact lenses for high myopia for a long period of time and was diagnosed with ocular surface squamous neoplasia (OSSN).
Would you like to feature in next month's Image of the Month?
Malaysian member awarded Honorary Membership
Dr Sharanjeet Kaur began her teaching career in 1986 at Universiti Kebangsaan Malaysia in Bangi, Malaysia. In 1995, she founded a resource centre at UKM using IACLE resources and was appointed the first coordinator for the centre, named 'UKM-IACLE Resource Centre'. Although Sharanjeet would love to continue teaching, residents in Malaysia who reach 60 years of age must take mandatory retirement. Sharanjeet has held IACLE membership for 27 years and due to this and her retirement, IACLE awards her with Honorary Membership. 'The resources provided by IACLE are very helpful and up to date. I am truly happy to be a part of the organization', says Sharanjeet.
---
MEET A MEMBER
Introducing Feiruz Hamid Umar Bahasywen (pictured above), a junior lecturer at STIKes Binalita Sudama Medan in Indonesia, specializing in contact lenses and binocular vision. Feiruz Hamid Umar wanted to be an optometrist since she was nine years old due to regularly accompanying her sister, who works in patching therapy for amblyopia. She believes IACLE has helped her expand her knowledge, especially in the complications surrounding contact lenses. IACLE has been her 'go-to resource' to find information about contact lenses as there are very few journals and articles in Indonesia due to the limited amounts of people who specialize in contact lenses. 'I believe teaching is a work of love. Those who teach with love will teach children to love learning, and that's all that matters', says Feiruz Hamid Umar.
Have you advanced the teaching of contact lenses in your institution/company over the past year but have already taken part in Meet a Member? We'd like to hear about your achievements and share them with our membership. If IACLE colleagues would like to connect with other members, we can arrange this by simply emailing us at iacle@iacle.org.
Introduce yourself to other IACLE members by completing this short online form
---
RESOURCES
FIACLE elected as Chief Scientist at IMI
FIACLE Professor James Wolffsohn has accepted a new position of Chief Scientist of the International Myopia Institute (IMI), following the retirement of Professor Earl Smith. 'We look forward to working with Professor Wolffsohn to further the mission of the IMI in advancing research, education and awareness in myopia to reduce future vision impairment and blindness," said IMI Executive Director Dr Monica Jong.
Latest Contact Lens Update features the BCLA CLEAR Report
Dr Manbir Nagra optometrist, educator, and researcher based in the UK, authors an editorial in the latest Contact Lens Update titled 'The CLEAR reports – clarity, consensus, and cogitation'. The report is a valuable resource for eye care practitioners to assist with evidence-based practice.
---
COVID-19 RESOURCE
In this recent survey-based study, Saldanha et al reported responses of over 380 adults with dry eye who spent more time at home during the pandemic than before. The authors conclude that COVID-19 pandemic-related eye strain may impact symptoms, performance, and ultimately employment, especially for those with moderate dry eye.
---
WHAT'S HAPPENING IN OUR REGIONS?
AMERICAS
Latin American members assist with ICLC2020
A group of IACLE members from Mexico, Argentina and Perú are currently reviewing the 2015 versions of the IACLE Contact Lens Course (ICLC). The members will complete the translations by the end of July to prepare for the Fellowship Exam, taking place on 12 November.
ASIA PACIFIC
IACLE at AOCLE
Executive Manager of Global Education Lakshmi Shinde presented at this year's Association of Optometric Contact Lens Educators (AOCLE) meeting, discussing various aspects of IACLETOP and how it is useful for educators and their students. IACLE Secretary / Treasurer Dr Etty Bitton and Lakshmi also spoke about IACLE's Image of the Month initiative. In addition, multiple educators from universities around the globe attended this year's virtual meeting.
Read AOCLE's latest newsletter
Indonesia host industry session
The American Academy of Optometry in Surabaya, Indonesia, conducted an industry session where Johnson & Johnson presented a session on contact lens operating procedures and how to fit toric lenses (9 June). Johnson & Johnson also presented an interactive session on Acuvue products.
Read the full Asia Pacific report
EUROPE / AFRICA / MIDDLE EAST
IACLE at the BCLA
IACLE had a prominent presence at this year's BCLA Virtual Clinical Conference with our officers and staff members acting as chairs, moderators, and speakers. Professor Philip Morgan presented 'Effect of lens materials and design on the anatomy and physiology of the eye', Dr Shehzad Naroo led the 'CLAE Journal Highlights 2021-21' discussion, and Nilesh Thite and Lakshmi Shinde discussed 'Threats and opportunities for future contact lens practice'. Nilesh also delivered a talk titled 'Proactive contact lens prescribing – which approach is more effective?' Professor Craig Woods hosted the 'Why journal Special Issues are ideal for clinicians' session and the '40 years of soft lenses history' quiz.
'De Tafel van 4' in the Netherlands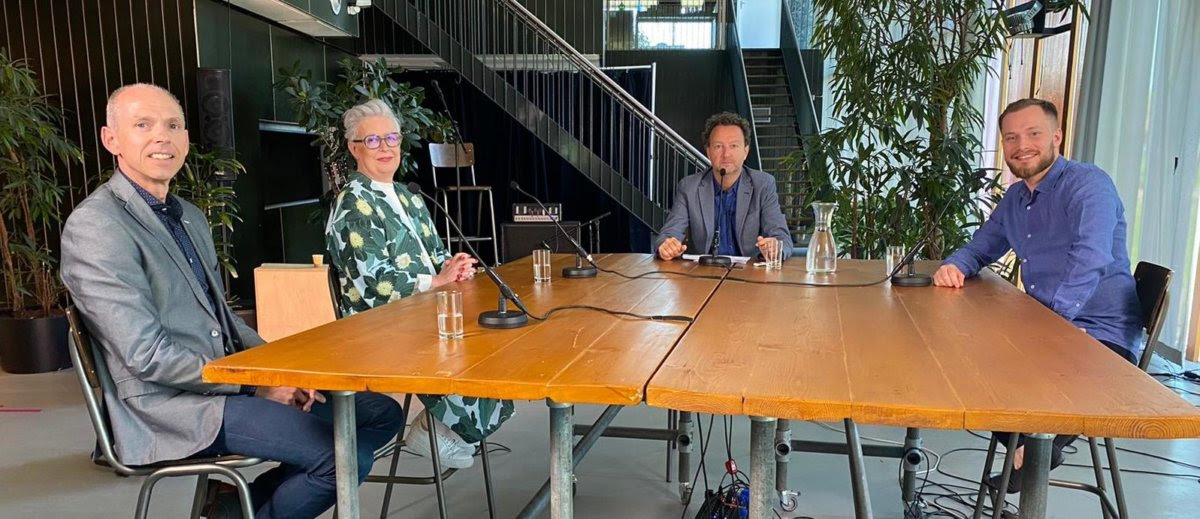 A new series of the contact lens talk show 'De Tafel van 4' was recorded at Kanaal 30 in Utrecht in the Netherlands. Bausch + Lomb organized the internet broadcast series in cooperation with the Dutch magazine EyeLine. FIACLE Dr Eef van der Worp chaired the session, FIACLE Henri Eek was part of the 'Table' guests, and the broadcast also featured FIACLE and 2021 EAME Educator of the Year Dr Byki Huntjens live from London, UK.
---
DATES FOR YOUR DIARY
IACLE TLC (Teach. Learn. Connect) WEBINARS
Visit the IACLE Webinars area on IACLETOP to view the schedule for upcoming webinars.
GLOBAL MEETINGS IN COMING MONTHS
4 September – European Contact Lens and Ocular Surface Congress (online symposium). Details.
29-30 October – New Zealand Association of Optometrists 90th Annual Conference, Christchurch, New Zealand. Details.
3-6 November – American Academy of Optometry, Boston, USA. Details.
---
---
IACLE IS SPONSORED BY