Global Member Newsletter July 2023
MEMBERSHIP PERKS IN JULY
Read this email in
IACLETOP UPDATE
WC4 app now available to all members
During IACLE's 4th World Congress, delegates had access to the WC4 app via IACLETOP, giving them access to relevant information about oral presentations, posters, and workshops. The app has now transformed into a resource centre and is available for all IACLE members in the WC4 Birmingham 2023 area. If you wish to catch up on the meeting, you can find recordings of all presentations and digital copies of the posters here. The workshops will be released next month.
---
THIS MONTH'S GLOBAL WEBINAR
Making the management of MGD as easy as 1-2-3!

Join us on Wednesday 19 July at 12 noon UK (BST) for a webinar with Professor Jennifer Craig.
Professor Craig is a Therapeutic Research Optometrist and a Professor of Ophthalmology at the University of Auckland in New Zealand where she heads the Ocular Surface Laboratory. She has maintained her research interest in the ocular surface, particularly dry eye disease and tear film dysfunction. Jennifer regularly delivers continuing education and research lectures internationally and publishes widely in both the scientific and clinical press. She is an accomplished lecturer, contributing to international workshops and holding various academic appointments.
Members can watch live online via Zoom, and the event will be live streamed to our Facebook page for students and eye care practitioners to tune into.
See all Zoom login details here. Find out what time the webinar begins in your time zone
---
NEWS IN JULY
Image of the Month

Manju Balakrishnan from Sankara Nethralaya in Chennai, India, captured the above images using a Topcon slit lamp. The images are of a patient who relied on a combination of prosthetic type C lenses and RGP lenses, known as piggyback lenses, and reported concerns of discomfort, reduced vision (6/50), and issues with shadowing. Upon examination, it became evident that the fitting of the lenses was compromised and deemed unsatisfactory. A trial with scleral lenses was conducted, leading to notable improvements to address these concerns. The patient experienced enhanced comfort, improved vision to 6/25, and reduced shadowing.
Would you like to feature in next month's Image of the Month? Submit your image
Save the date for our Annual General Meeting
The IACLE Annual General Meeting will take place virtually on Wednesday 20 September, immediately following the September global webinar. The meeting will be conducted via Zoom and is open to all IACLE members and industry partners. The Directors of the Association will present IACLE's financial position for 2022, along with an update on activities.
Further details will be provided in the near future
Members celebrated at BCLA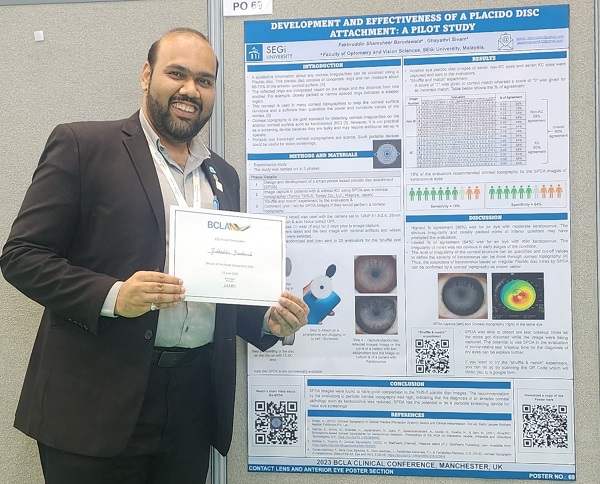 During the British Contact Lens Association's (BCLA) Clinical Conference & Exhibition, a number of IACLE members achieved recognition for their expertise and photography skills (9-11 June). Rabia Mobeen received the BCLA Da Vinci Award, while Dr Sonia Trave-Huarte delivered the Irving Fatt Memorial Lecture. Mhamed Ouzzani won the Diane Gould Photographic Competition, with Dr Elizabeth Chetty second. IACLE Director Fakhruddin Barodawala (pictured) and David Berkow were honored as the winner and runner-up, respectively, in the Poster Competition. Congratulations to all! 
For more information on the BCLA awards
---
RESOURCE
Effects of elective interventions on the ocular surface
A new report explores the impact of elective medications and procedures on the ocular surface, focusing on their effects on tear film homeostasis and patient quality of life. It discusses elective interventions for ocular and non-ophthalmic conditions, including cosmetic enhancement and systemic treatments such as radiotherapy and bariatric surgery. IACLE Secretary / Treasurer Dr Etty Bitton is among the authors of this paper.
---
WHAT'S HAPPENING IN OUR REGIONS?
AMERICAS
'Miércoles de Lentes de Contacto'
The Americas Regional Office hosted three webinars in the past month with 128 attendees, including IACLE members and ECPs. The topics covered included navigating presbyopic changes and motivating patients for trial fittings by Professor Martin Giraldo, the benefits of sports and contact lenses for athletes by Giancarlo Contreras, and new educational strategies from IACLE's 4th World Congress by Professor Guillermo Carrillo.
Catch up on all Spanish-speaking webinars
ASIA PACIFIC
Industry supplies free trial lenses in India
Throughout 2023, the generous support of industry sponsors Alcon, CooperVision, and Bausch + Lomb, in collaboration with IACLE members, has facilitated the provision of free trial lenses to students at various universities in India. This effort, in coordination with IACLE, has meant that students have gained practical knowledge in fittings, insertion and removal techniques, as well as essential care and maintenance required for contact lenses.
For more details. If you are interested in receiving trial lenses for your students, please get in touch with IACLE Asia Pacific Operations Administrator Kavitha Jayanna at k.jayanna@iacle.org.
EUROPE / AFRICA / MIDDLE EAST
South African member travels to 3 CL meetings
Senior Lecturer at the University of Johannesburg in South Africa, Dr Elizabeth Chetty was honored with the 2020 IACLE Travel Award and attended the annual AOCLE meeting in Chicago this year as her prize (1-4 June). Due to the timing of the meeting, this meant Elizabeth travelled from Chicago to Birmingham, UK, for IACLE's WC4 (5-8 June) and then onto Manchester, UK, for the biennial BCLA Clinical Conference & Exhibition (9-11 June), making it a journey of three consecutive contact lens meetings in 11 days. Elizabeth documented her journey, capturing her experiences in a travel diary.
Educators meet at the Alcon Experience Academy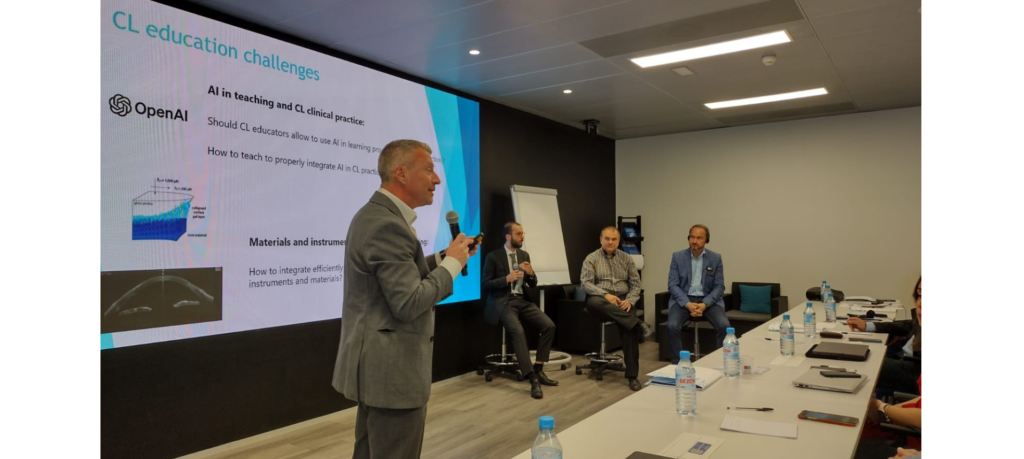 On 27 June, a one-hour IACLE EAME national meeting took place at the Alcon Experience Academy in Barcelona, Spain, focusing on the challenges of contact lens teaching. Chaired by EAME Regional Director Dr Fabrizio Zeri, panellists Professor José Manuel Gonzalez-Meijome from the University of Minho, Professor David Piñero from the University of Alicante, and Dr Alberto Recchioni from the University of Birmingham discussed the impact of artificial intelligence and the importance of modern instrumentation and contact lens materials in education. Fifty Italian delegates attended the event in person, and around 40 participants from Spain and Portugal tuned in remotely.
---
DATES FOR YOUR DIARY
IACLE TLC (Teach. Learn. Connect) WEBINARS
Visit the IACLE Webinars area on IACLETOP to view the schedule for upcoming webinars.
GLOBAL MEETINGS IN THE COMING MONTHS
Contact Connect Conference, Gauteng, South Africa, 1-3 September. Details.
4th World Congress of Optometry (WCO4) and O=MEGA23, Melbourne, Australia, 8-10 September. Details.
American Academy of Optometry, New Orleans, USA, 11-14 October. Details.
---
IACLE IS SPONSORED BY