Global Member Newsletter June 2022
MEMBERSHIP PERKS IN JUNE
Virtual Conference recordings now available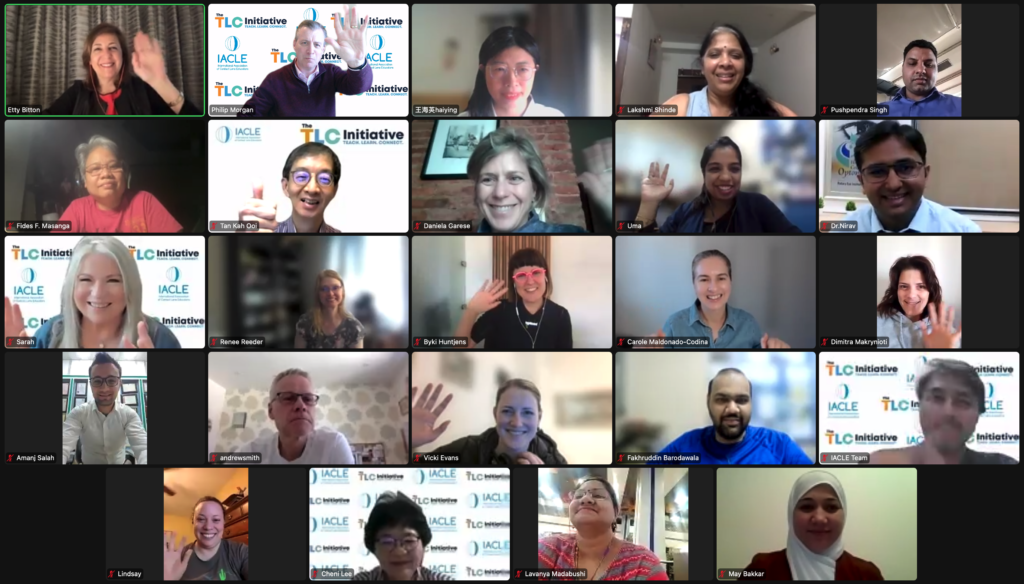 Last month, we hosted a 'Make students practice ready' themed Virtual Conference (14 May). The three-hour meeting, chaired by Dr Etty Bitton featured seven presentations and a panel discussion. Professor Craig Woods reflected on his long experience in optometric education to report on problem-based learning, and Dr Cheni Lee discussed how to use IACLE's case reports in teaching. Dr Vinod Maseedupally shared his experience of running contact lens clinical teaching at UNSW Sydney, and Dr Neema Ghorbani Mojarrad provided a UK perspective, reporting on how he assesses his contact lens students. Sarah Morgan, Nirav Mehta and Dr Bitton shared their expertise in patient communication, using IACLETOP and internships and externships, respectively. The panel discussion allowed colleagues Ithar Beshtawi, Uma Mageswari, Haiying Wang and Martin Giraldo to share their experiences from their own institutions, led by IACLE Director Dr Byki Huntjens.
More details to come in the TLC in July. Access the recordings here
---
THIS MONTH'S GLOBAL WEBINAR
Ocular health of children wearing daily disposable contact lenses
Join Head of Clinical Research at the Centre for Ocular Research & Education Jill Woods on Wednesday 22 June at 1 pm UK (BST) for a global webinar on 'Ocular health of children wearing daily disposable contact lenses'. IACLE Vice President Dr Shehzad Naroo will chair the webinar. The webinar will be live streamed to IACLE's Facebook page and we encourage educators to inform their students of the session.
Find out what time the webinar begins in your time zone
---
NEWS IN JUNE
Image of the Month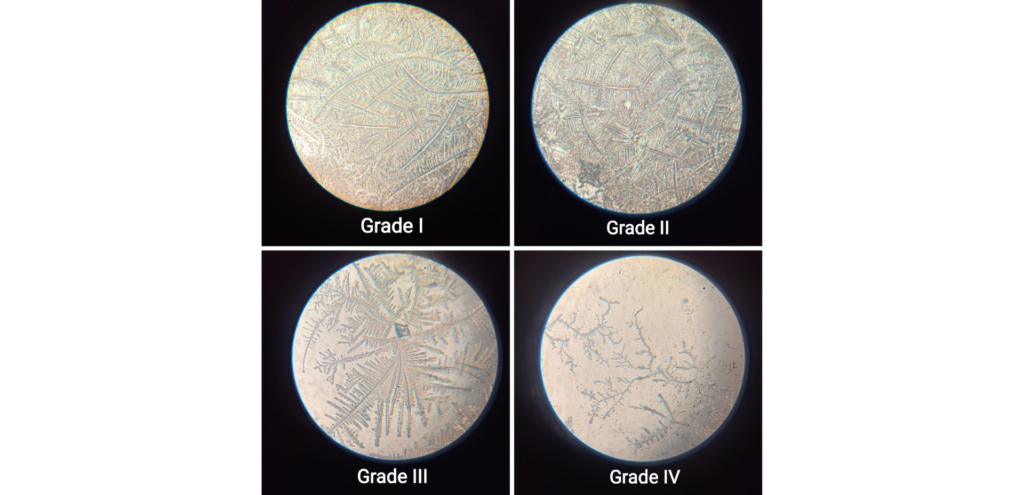 Vandana Kamath from Sankara College of Optometry in Bangalore, India, captured this image using a Samsung F41 mobile phone with a microscope. The tear fern test is a qualitative test that indicates tear film stability. An abnormal tear fern pattern is observed among eye cosmetic users. Tear fern tests are graded as follows: Grade I: the ferns are very closely packed without gaps between the branches. Grade II: the ferns are small and have gaps between the branches. Grade III: the ferns are very small with a many gaps and less / rare branching. Grade IV: ferning is incomplete.
Would you like to feature in next month's Image of the Month?
Congratulations to the 2022 Award winners!

Contact lens educators from three countries – the United States of America, India, and the United Kingdom – receive prestigious awards from IACLE for their efforts in contact lens education. Dr Lindsay Sicks (pictured left), Lavanya Kalikivayi (pictured middle left), and Dr Carole Maldonado-Codina (pictured middle right) receive the 2022 Contact Lens Educator of the Year Awards for IACLE's three regions. In addition, the 2022 IACLE Travel Award winner is Asif Iqbal (pictured right) from India. Congratulations all!
Read a Special Notice on the 2022 award winners
Dr Etty Bitton receives Lifetime Achievement Award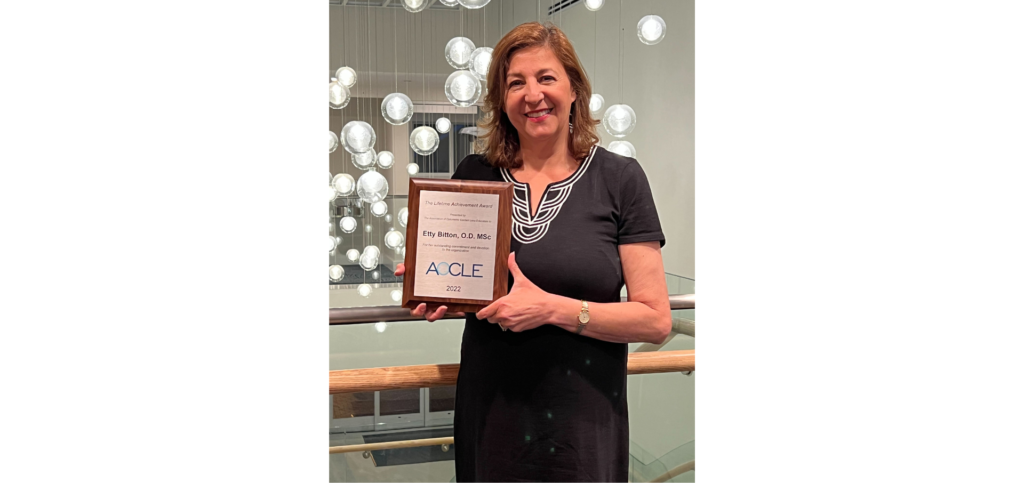 At this year's Association of Optometric Contact Lens Educators (AOCLE) meeting, IACLE Treasurer / Secretary Dr Etty Bitton was awarded the AOCLE Lifetime Achievement Award. The AOCLE presents this award to an optometric educator who has demonstrated exemplary commitment and dedication to the organization over numerous years. Congratulations Etty!
Register your attendance for this year's AGM
A polite reminder that an Annual General Meeting (AGM) of IACLE will take place virtually next Tuesday 21 June at 12 noon (BST) via Zoom. Attending members will receive a Zoom link via email within 48 hours of the meeting.
Click here to register your attendance or apologies. Find out what time the meeting begins in your time zone
RESOURCES
Latest update features specialty rigid contact lenses
Dr Maria Walker authors the latest Contact Lens Update editorial titled 'Managing dry eye with rigid contact lenses', that particularly focuses on two types of specialty contact lenses with dry eye patients – scleral lenses and orthokeratology lenses.
Wireless 'theranostic' contact lenses
A recent report in Nature Communications describes a wireless 'theranostic' (diagnostic and therapeutic) contact lens which is able to both measure intra-ocular pressure and deliver anti-glaucoma drugs as necessary.
---
COVID-19 RESOURCES
A recently published Indian survey-based study of over 600 responders (optometrists) assessed the impact of lockdown on Indian optometry practice. About half of the optometrists switched to teleconsultation to aid patients during the pandemic. As face-to-face consultations continue, the authors appeal to the regulatory bodies to issue appropriate guidelines regarding safe optometry practice.
---
WHAT'S HAPPENING IN OUR REGIONS?
AMERICAS
Latest webinars in Latin America
In the past month, FIACLE Orlando Neira had the opportunity to share one of the papers from the latest Research Update. Karla Herrera spoke on 'Contact lenses and assessment options for athletes'. FIACLE Edison Gamarra discussed the criteria for GP fittings. FIACLE Rolando Rojas reviewed a paper related to mask usage and dry eye. This month, we reached 50 IACLE members and almost 200 contact lens practitioners and students.
Read the full Americas meeting report
ASIA PACIFIC
B+L collaborate with CL Gupta Eye Institute

In association with Bausch + Lomb, CL Gupta Eye Institute hosted a dedicated contact lens conference at the CL Gupta Moradabad campus (21-22 May). The two-day event focused on soft contact lenses and specialty contact lenses. Executive Manager of Global Education Lakshmi Shinde, Executive Manager of Educational Programs Nilesh Thite, FIACLEs and IACLE members gave insights on the contact lens industry through interactive lectures and panel discussions.
Read the full Asia Pacific meeting report
EUROPE / AFRICA / MIDDLE EAST
Members and staff host EAME leadership meeting
Three members from the EAME region – Professor Raquel Gil Cazorla (Europe), Dr Elizabeth Chetty (Africa) and Dr May Bakkar (Middle East) – met virtually with IACLE Board members, past Regional President Judith Morris, and staff to discuss IACLE's mission within the region (19 May). The discussion included updates and outcomes regarding previous meetings with current, former, and potential members within the individual's sub-regions. The group also discussed the need for donations of trial lenses and solution. As a result of the meeting, the IACLE Education Team have contacted IACLE industry partners to assist with this.
Member meeting at this year's NCC
EAME FIACLEs Wim Borst and Henri Eek invite educators and IACLE members to join them for a meeting and discussion on 'The future of contact lens fitting', at this year's Netherlands Contactlens Congress (NCC) in Veldhoven, the Netherlands, at the end of the month. Join the pair and IACLE President Professor Philip Morgan on Sunday 26 June from 12:30-13:30 in the Baroniezaal room. Lunch will be served during the 'meet and greet' part of the session to allow IACLE members to meet face-to-face.
IACLE at the BCLA
IACLE had a prominent presence at this year's British Contact Lens Association's (BCLA) Focus Conference & Exhibition, with our officers and staff members acting as chairs and speakers. IACLE Director Fakhruddin Barodawala received his BCLA Fellowship at the two-day event.
More details on upcoming BCLA events
---
DATES FOR YOUR DIARY
IACLE TLC (Teach. Learn. Connect) WEBINARS
Visit the IACLE Webinars area on IACLETOP to view the schedule for upcoming webinars.
GLOBAL MEETINGS IN COMING MONTHS
Netherlands Contactlens Congress (NCC), Veldhoven, the Netherlands. 26-27 June. Details.
6th International Congress of Scleral Contacts (ICSC), Florida, USA, 29-30 July. Details. 
Cornea & Contact Lens Society Conference, Auckland, New Zealand, 11-13 August. Details. 
The Summit of Specialty Contacts, Sorrento, Italy, 14-16 October. Details. 
American Academy of Optometry, San Diego, USA, 26-29 October. Details. 
3rd Asia Optometric Congress and 8th ASEAN Optometric Conference, Kuala Lumpur, Malaysia, 15-16 November. Details. 
---
IACLE IS SPONSORED BY