Global Member Newsletter March 2020
WHAT'S NEW AT IACLE
NEW Effects of coronavirus felt at institutions worldwide and Dutch Contact Lens Congress postponed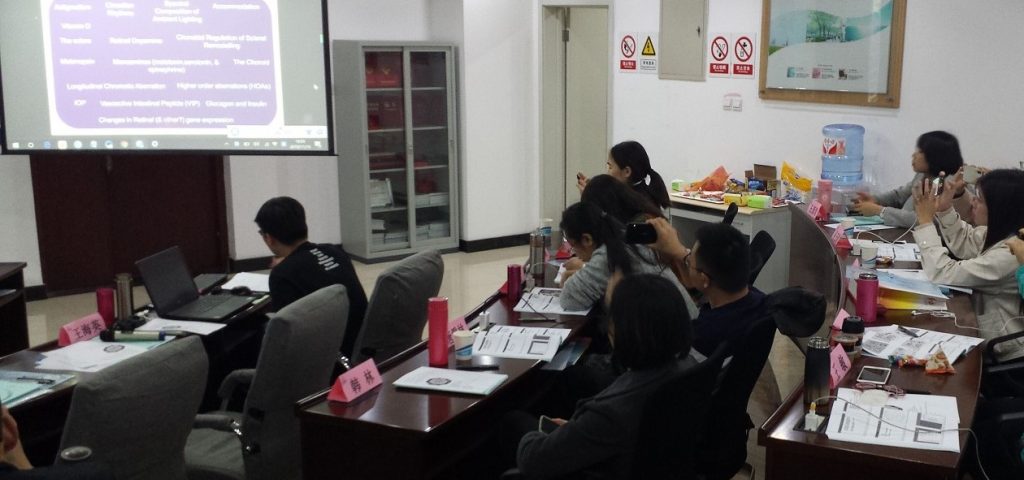 Universities around the world have been affected by the spread of the COVID-19 virus, with institutions closed to students and relying on online education. China National Coordinator Qu Xiaomei said the situation in China was improving, but schools were not open as normal and students were taking online classes at home. Universities in Korea and Italy are among those experiencing closures. The Nederlands Contactlens Congres, due to take place on 15-16 March, has been postponed and will be rescheduled for later this year.
NEW IACLE awards nine new Lifetime Fellowships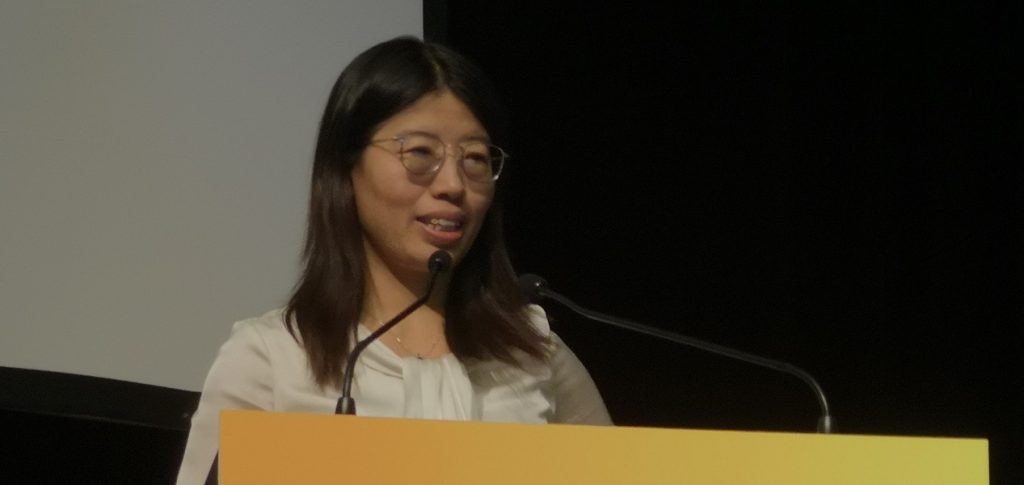 China National Coordinator Haiying Wang (pictured) and Americas Regional President Sergio García are among active members who have been FIACLEs for 15 years or more and receive Lifetime Fellowship of IACLE. Also awarded are: Prema Chande (India), Jianhe Liu (China), Montse Serra Auge (Spain), Evan Kaplan (USA), Fernando Ballesteros (Colombia), Jose Manuel Gonzalez-Meijome (Portugal) and Myriam Mayorga (Colombia).
Jan bows out after nearly 30 years' service to IACLE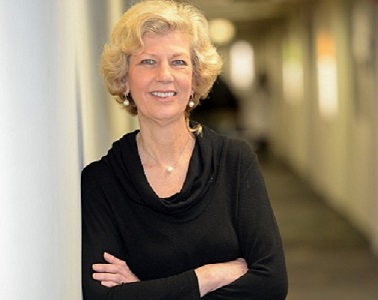 'IACLE has been a major part of my career,' says Professor Jan Jurkus, who stepped down from our Executive Board on her retirement and becomes an Emeritus Member of IACLE. 'I've made friends with colleagues around the world and had the opportunity to teach as part of the Train-the-Trainer program internationally. Being part of IACLE gave me resources I used when teaching at the Illinois College of Optometry. It's amazing how contact lens education can be shared with so many people. Becoming active in this wonderful organization will enhance your teaching ability and expand your life. Thank you IACLE, it's a great pleasure to be part of this organization.'
Election to IACLE board awaits review of its structure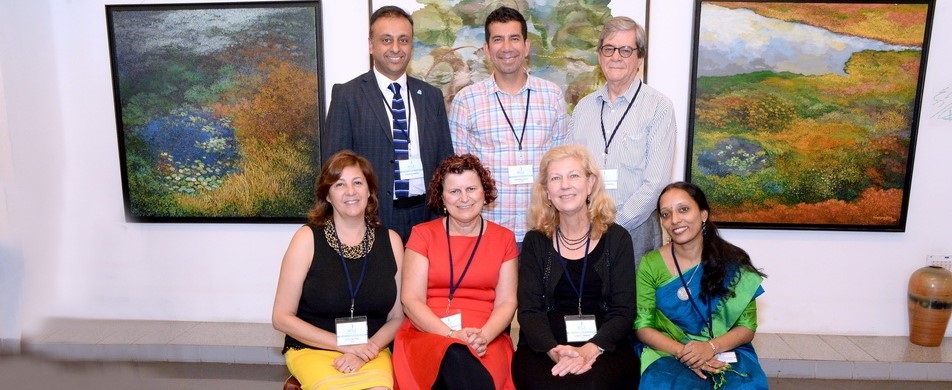 Voting for IACLE's Executive Board will take place after the current review of its structure and updating of the association's by-laws has been completed. Look out for a Special Notice to members inviting nominations for the term 2020-2022. Pictured are Executive Board members at the 2017 IACLE Contact Lens Congress in Hyderabad, India.
Entries now closed for 2020 IACLE Awards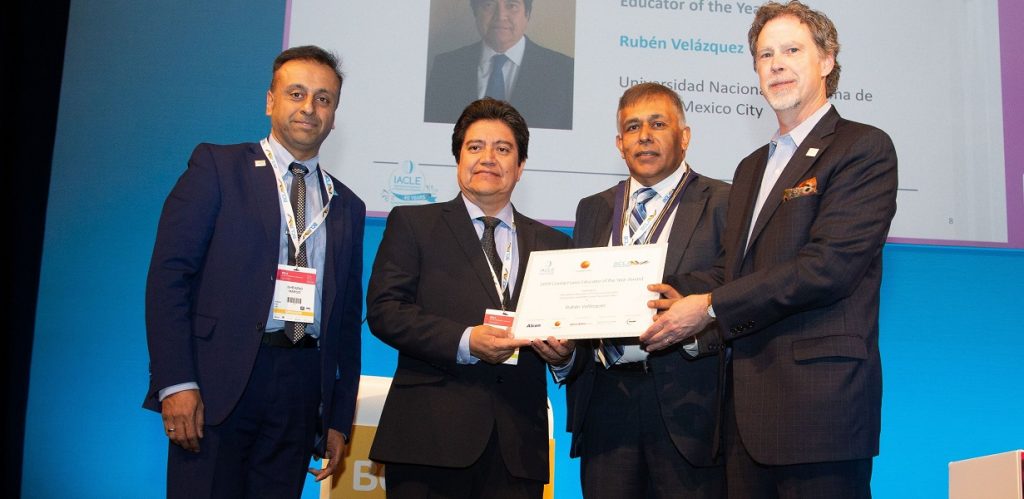 Judging is under way for the 2020 IACLE Contact Lens Educators of the Year and IACLE Travel Awards. The Educator Awards are sponsored by CooperVision and supported by the American Academy of Optometry (AAO). The Travel Awards are supported by all IACLE's Industry Sponsors, the Association of Optometric Contact Lens Educators and AAO. Winners will be notified by the end of March.
Have your say on opportunities and threats in contact lens practice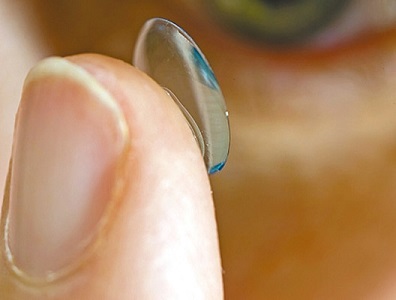 IACLE members who fit contact lenses are invited to take part in a survey into 'Opportunities and Threats in Contact Lens Practice: A Global Perspective'. The initiative is a partnership between the IACLE Education Team and other organizations worldwide. Results will help to design targeted strategies to enhance contact lens practice and address perceived threats.
Renew your membership now to receive all IACLE benefits
Members will recently have received notices to renew their annual membership. Access to our full range of membership benefits – including the new version of the IACLE Contact Lens Course, ICLC2020 – is only available to IACLE members. Note that membership expires when payment is not received.
Contact Siobhan Allen s.allen@iacle.org if you have not received your membership renewal notice
MEET A MEMBER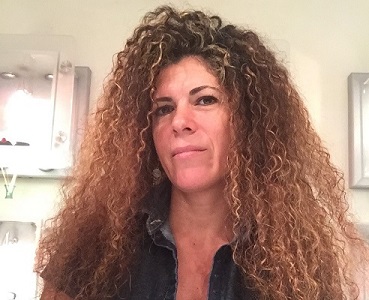 'I rely on myself and I create my own opportunities,' says optometrist Daddi Fadel, who was born in Lebanon during the civil war, emigrated to Greece at the age of 14 and today speaks five languages. Daddi is owner of Il Punto di Vista in Poggio Mirteto, Italy, and Program and Education Chair for the Summit of Specialty Contacts (see below). 'My aim is to bring global key opinion leaders in Italy/Europe to share their knowledge with practitioners who have difficulties with English language and in travelling overseas. I also want to end the gender imbalance in our field.' Daddi's top tip is to educate other practitioners how to design and fit specialty and customized contact lenses. 'Also, talk about emotional intelligence and how to develop an empathetic communication with patients,' she says.
WOULD YOU LIKE TO INTRODUCE YOURSELF TO IACLE MEMBERS WORLDWIDE? WE'RE LOOKING FOR MORE MEMBERS TO TAKE PART IN MEET A MEMBER.
Contact your nearest IACLE office for details
IMAGE OF THE MONTH
Soft contact lens edge defect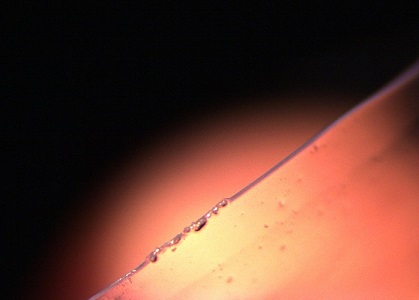 FIACLE Mutahir Shah from the Pakistan Institute of Ophthalmology Al-Shifa Trust Eye Hospital in Rawalpindi submitted this image of a soft lens edge defect. The 34-year-old patient complained of irritation and redness in her left eye only, immediately after applying the lens. Slit-lamp examination with 25X magnification revealed an irregular edge shape. The patient was prescribed a new lens and had no further complaints.
SHARE YOUR PHOTOGRAPHS FOR THE 2020 IACLE IMAGE COLLECTION AND ENTER OUR IMAGE OF THE YEAR COMPETITION FOR THE CHANCE TO WIN A YEAR'S IACLE MEMBERSHIP AND A US$100 AMAZON VOUCHER!
Submit your Image of the Month
RESOURCES
CORE looks to the future for smart contact lenses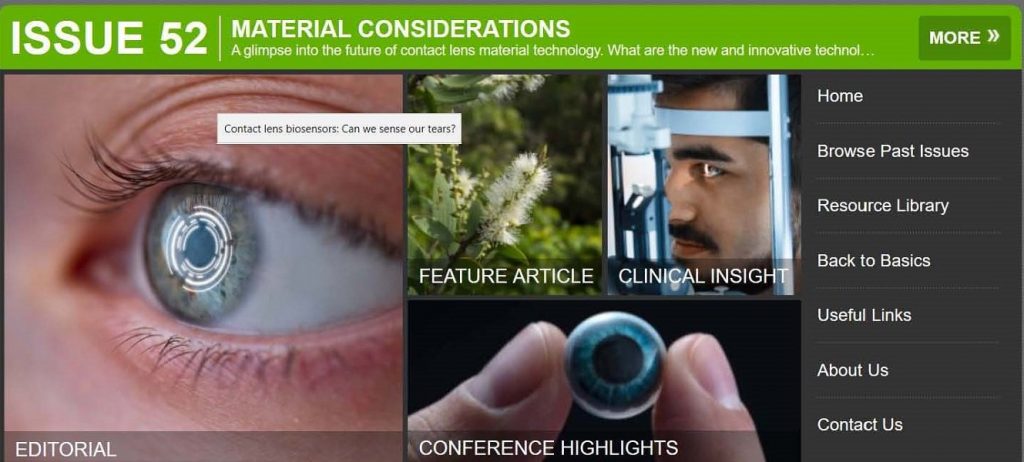 Smart contact lenses are featured in the latest issue of Contact Lens Update from the Centre for Ocular Research & Education which offers a glimpse into the future for contact lens material technology. Topics covered include contact lens biosensors, antihistamine-releasing lenses, the Mojo smart lens and gas-permeable materials for the future.
Academy fills a gap with scleral lens resources

Resources on scleral contact lenses – for patients and professionals – are available from the Euro & Austral-Asian Scleral Lens Academy (EASCA). Founded by IACLE members Daddi Fadel and Carmen Abesami-Dichoso, Australian optometrist Damon Ezekiel and the Russian Academy of Medical Optics and Optometry, EASCA aims to spread knowledge and expertise to countries where there is no local association for scleral lenses.
GLOBAL UPDATE
Americas
Collaboration with Dominican Republic school moves ahead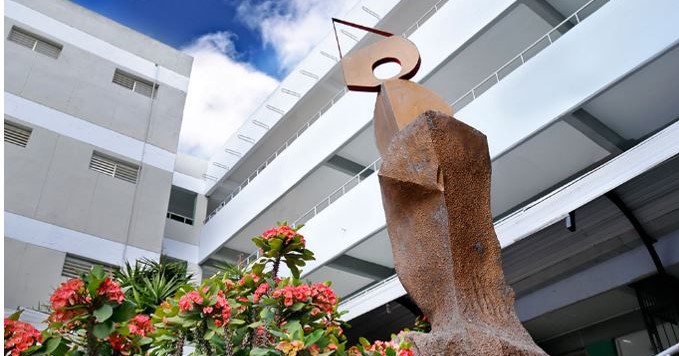 Reviewing the curriculum and equipment, delivering webinars and offering visiting lecturers are among plans for IACLE's support for the Dominican Republic's new optometry program at the Santiago University of Technology (UTESA, above). IACLE Americas Regional President Dr Orlando Neira and Americas Regional Coordinator Guillermo Carrillo held a further meeting last month with Professor Hector Santiago of the Inter American University of Puerto Rico School of Optometry to move the project forward.
NEW Call for CE proposals for new myopia symposium

Contact Lens Spectrum and publisher PentaVision Media have announced the first Global Myopia Symposium (GMS) for 20 January 2021 in Las Vegas, USA. FIACLEs Professor Lyndon Jones and Dr Kate Gifford have joined the organizing committee and will present. The GMS program committee invites submissions of one-hour continuing education courses by 15 March.Submit a CE proposal
Asia Pacific
IACLE duo join presenters at Indonesian meetings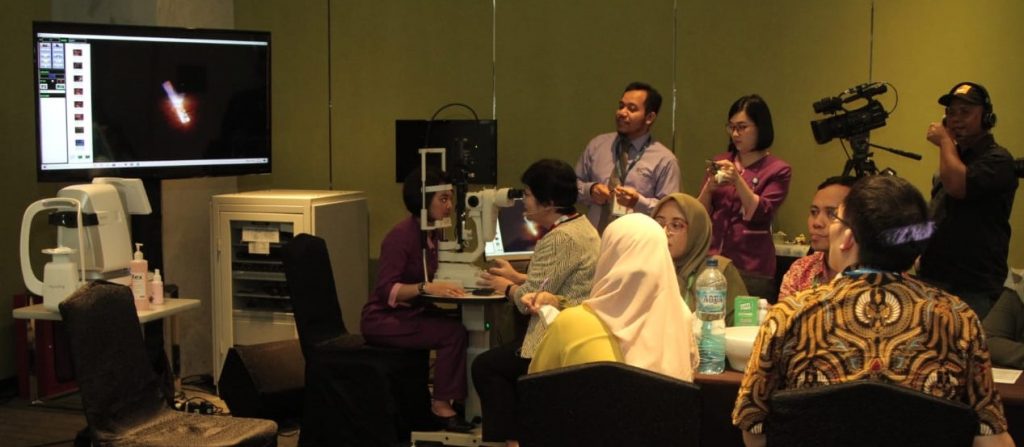 IACLE AP Regional Coordinator Dr Cheni Lee (above center) and FIACLE Tri Rahayu from the Indonesian Contactology Society presented lectures and workshops at recent events in Indonesia: the 4th Jakarta Eye Center International Meeting (6 February) and 14th Sumatra Ophthalmology Meeting (19 February). More than 120 delegates attended the two meetings.
Indian children learn about caring for contact lenses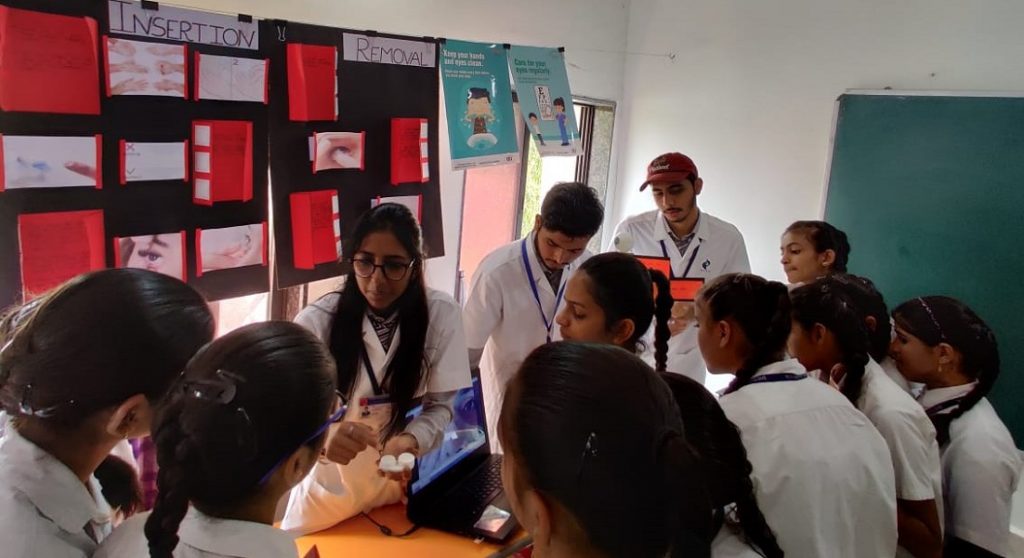 More than 900 school children, teachers and parents joined educators and students at a Gujarati optometry college for an innovative event to promote awareness of contact lenses. 'Care for your eyes' was the theme for OPTO EXPO 2020, organized by the Hari Jyot College of Optometry (HJCO) and Rotary Eye Institute Navsari (11-13 February).
IACLE India enhances its image at Bangalore CME meeting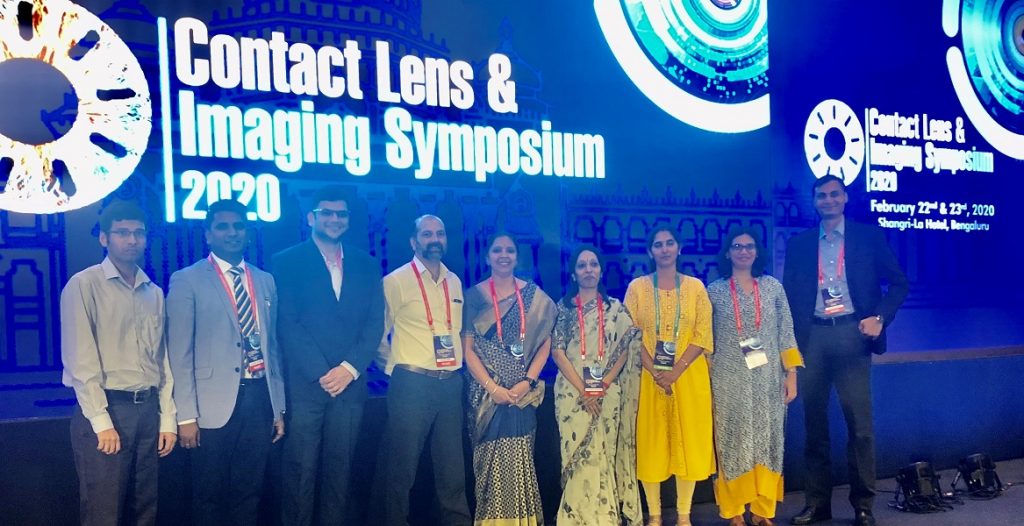 IACLE Fellows, members, board and staff were closely involved as the Narayana Nethralaya Hospital in Bangalore hosted a Contact Lens & Imaging Symposium last month (22-23 February). The two-day meeting attracted as many as 400 practitioners and students, with specialty contact lenses top of the agenda.
Mutahir tackles myopia at Peshwari conference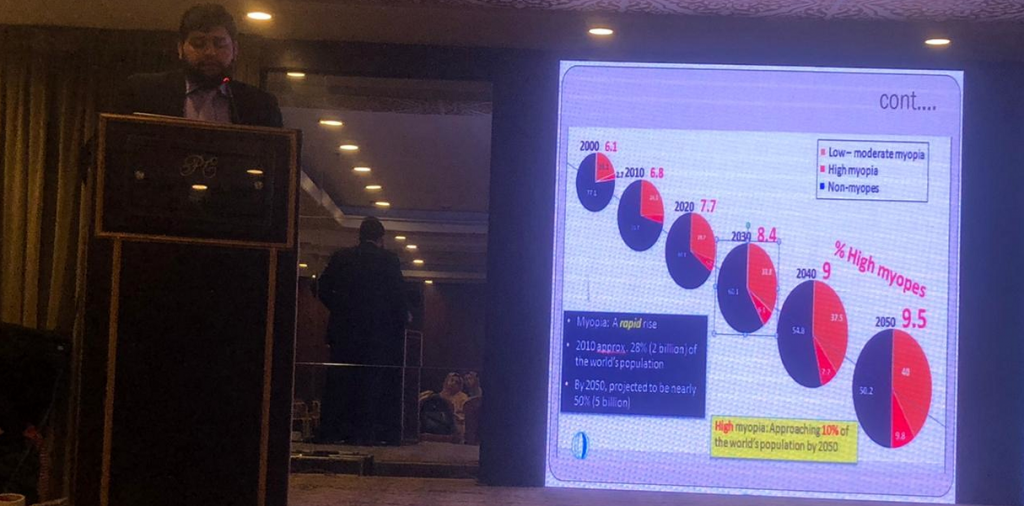 'Myopia is a hot topic nationally as well as internationally,' says FIACLE Mutahir Shah from the Pakistan Institute of Ophthalmology Al-Shifa Trust Eye Hospital in Rawalpindi. Mutahir was among the speakers at the 13th Khyber EyeCon and 5th International Conference of Ophthalmology, held in Peshawar, Pakistan last month (20-22 February). Using IACLE data, his presentation covered the global prevalence of myopia, its management and prevention.
Europe / Africa – Middle East
NEW Register now for Summit of Specialty Contacts

IACLE will again have strong representation at #TheSummit2020, the Summit of Specialty Contacts, which is scheduled to take place in Rome, Italy from 4-6 September. IACLE Assistant Treasurer Dr Luigina Sorbara has joined the planning committee for this year's event, along with FIACLE Dr Eef van der Worp.
Join us at IACLE meetings in Split and Helsinki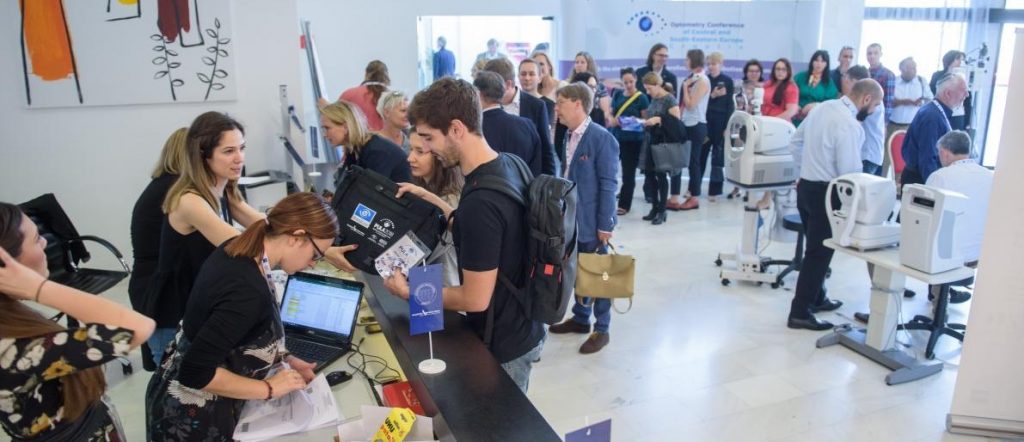 All educators are invited to attend IACLE meetings at the 5th Optometry Conference of Central and South-Eastern Europe in Split, Croatia (24-26 April) and at the European Academy of Optometry and Optics conference in Helsinki, Finland (15-17 May), where FIACLE Dr Fabrizio Zeri will chair an IACLE-run Special Interest Group.
Email Siobhan Allen s.allen@iacle.org to register. Program for OCCSEE 2020. Read about Helsinki 2020.
BUCCLE group publishes study on soft lens adaptation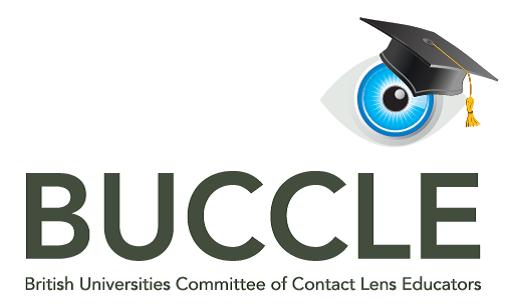 A group from the British & Irish University & College Contact Lens Educators (BUCCLE) has published its first study, conducted at four institutions and led by FIACLE Professor James Wolffsohn from Aston University, UK. The study that showed there was no clinical benefit to a gradual adaptation period in new wearers fitted with modern soft daily disposable lenses. Twenty BUCCLE members have recently registered to be IACLE members for 2020.
DATES FOR YOUR DIARY
24-26 April – 5th Optometry Conference of Central and South-Eastern Europe (OCCSEE), Split, Croatia. Details.
15-17 May – European Academy of Optometry and Optics Annual Conference (Helsinki 2020), Helsinki, Finland. Details.
28-31 May – Association of Optometric Contact Lens Educators (AOCLE) Annual Workshop, Fort Lauderdale, Florida, USA. Details.
A full list of IACLE and other events in 2020 is available at our Annual Meeting Schedule. Please email dates of events to s.allen@iacle.org.
THANKS TO OUR SPONSORS