Global Member Newsletter March 2021
MEMBERSHIP PERKS IN MARCH
IACLETOP UPDATES
NEW Redesigned Student Area for educators
The newly redeveloped Student Area allows educators to develop their own teaching materials on the site. Students can view the IACLE Case Report Series in two formats: as self-directed learning and in a flipped classroom version. In addition, students can access IACLE's Global Webinars and can also sit the Student Trial Exam here. A special rate registration fee applies per student to access the area and is based on the fee structure of our Purchasing Power Parity (PPP) Grouping. Please note this fee is a special rate for 2021. The IACLE Board will review the fee structure after assessing the initial rollout and revisions may take place in 2022.
Group 1 US$5 student registration fee
Group 2 US$10 student registration fee
Group 3 US$15 student registration fee
Watch the Student Area instructional video
NEW Launch of the Distance Learning Program 
The Distance Learning Program (DLP), designed to improve the contact lens knowledge of educators and prepare them for the Fellowship Exam, is launching soon on IACLETOP. The DLP is a series of assessments designed to guide members through the IACLE Contact Lens Course module by module. There are four phases to the self-study program to allow members to adjust to the online environment. After working through each section of the ICLC, members complete a related assignment, submitting directly through IACLETOP with instant feedback available. Once members have achieved the satisfactory grade, they move onto the next phase. This cycle repeats until all modules of the ICLC are covered. Progression is managed with each phase having a staggered released date.
Read more about the Fellowship Exam 
NEW IACLE Library now available
All images and videos are now available in the IACLE Library Area within IACLETOP. This is a searchable database where members can explore resources using keywords. Members can donate their own resources to share with other IACLE colleagues. Photographs from the Image of the Month initiative can also be found here.
THIS MONTH'S THEMED WEBINARS
The theme for this month's webinars is the Fellowship Exam which is taking place on Friday 12 November. The webinars cover the importance of the exam, how it helps members in their careers and how to prepare for the exam. They are available in English, Spanish and Bahasa. Registration for the exam opens on 1 April and closes on 30 June.
TOP NEWS IN MARCH
IMAGE OF THE MONTH
Dr Lina Maria Jaramillo Trejos from Fundación Universitaria del Area Andina in Colombia captured this image using a slit lamp with a mobile phone attachment using diffuse illumination and low magnification. The image is of a keratoconus patient with uncorrected VA 20/400 and VA 20/25 with scleral lenses. A notch was incorporated into the lens to avoid impingement of its edge over the pinguecula.
Save the date for our global Virtual Conference
Following our first-ever Virtual Conference's success in September 2020, the IACLE Education Team is hosting a global virtual conference on Saturday 24 April, starting at 12 noon (BST), themed 'Integrating research into education'. International experts will share their knowledge and experiences on how to combine research and education to become a successful academic. Registration for the Virtual Conference opens on Wednesday 24 March.
IACLE mourns the loss of Professor Luigina Sorbara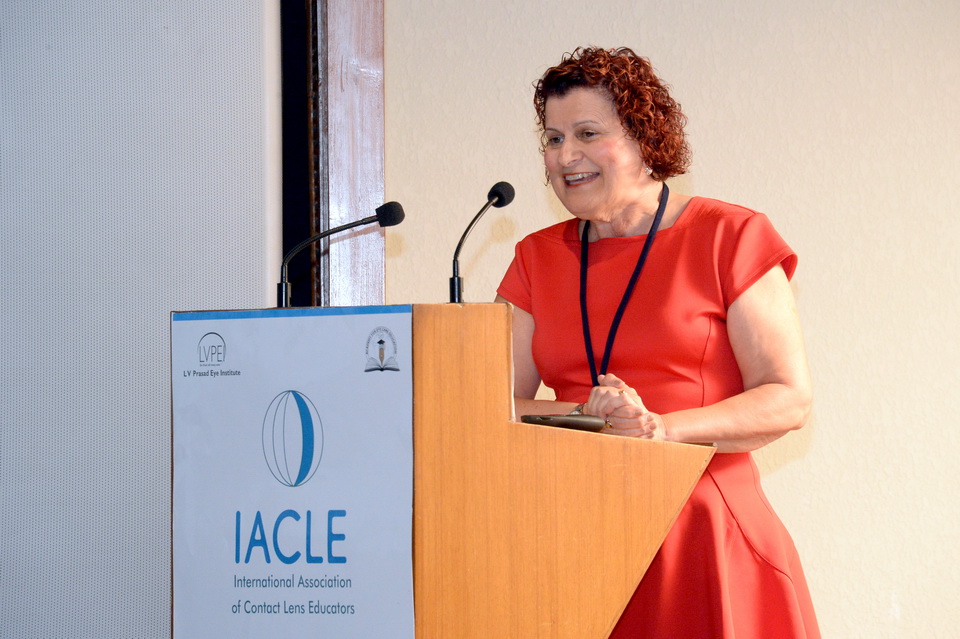 Professor Luigina (Gina) Sorbara passed away on 11 February after battling a long illness that she fought so hard to overcome. She has been a huge part of the IACLE family for many years and she influenced hundreds, if not thousands, of educators and eye care practitioners worldwide. She leaves behind a legacy of kindness and generosity – always sharing her time and resources with others. IACLE has made a donation to the School of Optometry & Vision Science at the University of Waterloo in memory of Gina. Her family have asked that the donations support a Contact Lens Residency, which will be named after Gina.
Members can pay their tributes to Gina here
UK member awarded Lifetime FIACLE
An IACLE member for 30 years, and great supporter of the Association, Dr Christine Astin (pictured above) has been awarded Emeritus Membership and Lifetime FIACLE status. After attending an IACLE meeting in Italy in 1990, Christine was impressed by IACLE's values and aims and with the encouragement of her mentors Professor Geoff Woodward of Moorfields Eye Hospital and Richard Pearson of City, University of London, she became an IACLE member. 'To watch the work of IACLE expand worldwide has been amazing and I have been enthralled to see its influence on contact lens practitioners in so many countries', said Christine.
MEET A MEMBER
Introducing Asif Iqbal, Senior Optometrist at Sankara Nethralaya, Medical Research Foundation in Chennai, India. 'The meaning of ADIDAS to me is 'all day I dream about sclerals!' and I truly believe where there's a will there's a way. Being a clinician, researcher and academic gives me immense pleasure and satisfaction', says Asif. IACLE has helped Asif since he was a student and being part of the IACLE community has enabled him to be the contact lens practitioner he is today. It has given him the platform to connect with the 'remarkable stars' of the contact lenses and optometry industries worldwide.
Long standing members
Have you advanced the teaching of contact lenses in your institution/company over the past year but have already taken part in Meet a Member? We'd like to hear about your achievements and share them with our membership. If IACLE colleagues would like to connect with other members, we can arrange this by simply emailing us at iacle@iacle.org.
RESOURCES
Recent changes to CL education
A new paper written by IACLE staff and officers on recent changes to contact lens education has been published in the leading optometry journal Ophthalmic and Physiological Optics. As previously reported in this newsletter, IACLE conducted an extensive survey in the middle of 2020 to assess the impact of the COVID-19 pandemic on contact lens education. Members worldwide confirmed a shift to online teaching and modified practical sessions. This work's findings informed various IACLE initiatives and publication of the paper will help members and indeed educators in related ophthalmic fields.
COVID-19 RESOURCES
Communication and contact lens compliance during COVID-19
Cardona et al recently conducted a survey-based study in Spain and reported poor compliance, particularly in terms of hand washing and storage case hygiene during lockdown. Hence, practitioners need to provide wearers with precise, detailed, easy-to-follow instructions.
WHAT'S HAPPENING IN OUR REGIONS?
Americas
ALDOO sponsors 20 new members in Latin America
President of the Latin American Association of Optometrists and Opticians (ALDOO) Dr Efrain Castellanos has agreed to sponsor 20 IACLE memberships for educators across the Latin America region. ALDOO's goals are focused around standardizing the level of optometric education and have found IACLE to be of great support.
Asia Pacific
Bausch + Lomb host industry seminar 
Ravi Singh from Dr D.Y. Patil Institute of Optometry and Visual Sciences in Pune, India, hosted an industry seminar to discuss contact lenses on behalf of Bausch + Lomb (8 February). Topics covered included the history of contact lenses, modality basis classification and spherical equivalents. Over 130 students, educators and alumni attended the Zoom seminar.
Read the full Asia Pacific report
Europe / Africa – Middle East
Meet and Chat with Judith Morris
EAME Regional President Judith Morris hosted the first Meet and Chat for our members in the Middle East (20 February). An array of relevant topics was discussed, including suggestions for our upcoming themed webinars, the Student Trial Exam and the Distance Learning Program. The next Meet and Chat session is on Friday 19 March at 1.30pm (GMT) for our members in Africa who will receive the Zoom login details via email prior to the event.
Tune into the next Meet and Chat
DATES FOR YOUR DIARY
IACLE TLC (Teach. Learn. Connect) WEBINARS
Visit the IACLE Webinars area on IACLETOP to view the schedule for upcoming webinars.
GLOBAL MEETINGS IN COMING MONTHS
Key dates for 2021:
23-25 April – European Academy of Optometry and Optics Annual (EAOO) Conference (virtual meeting). Details.
1-7 May – Association for Research in Vision and Ophthalmology (ARVO) Annual Meeting (virtual meeting). Details.
20-23 May – Association of Optometric Contact Lens Educators (AOCLE) Annual Workshop, Fort Lauderdale FL, USA. Details.
13-14 June – BCLA Clinical Conference and Exhibition, Manchester, UK. Details.
1-4 July – 5th Asia Pacific Ophthalmic Trauma Society Meeting, Bali, Indonesia. Details.
3-4 September – 49th European Contact Lens and Ocular Surface Congress (ECLSO), Paris, France. Details.
29-30 October – New Zealand Association of Optometrists 90th Annual Conference, Christchurch, New Zealand. Details.
3-6 November – American Academy of Optometry, Boston, USA. Details.
23-24 November – 3rd Asia Optometric Congress and 8th ASEAN Optometric Conference, Kuala Lumpur Convention Centre, Malaysia. Details.
For more meeting dates, visit our Global Meetings and Conference page
IACLE IS SPONSORED BY