Global Member Newsletter March 2023
MEMBERSHIP PERKS IN MARCH
Read this email in
DLP2023 goes live next month
The IACLE Distance Learning Program (DLP) is a self-study program designed to improve the contact lens knowledge of educators, assist in contact lens teaching endeavors, and prepare candidates for the Fellowship Exam. The DLP is a phased study aid for the IACLE Contact Lens Course and we encourage all those registered for the Fellowship Exam to complete it. The updated version of the DLP goes live in April.
Look out for a Special Notice for more details
Register now for the Fellowship exam
Last month, we opened registration for the 2023 IACLE Fellowship Exam that is taking place on Wednesday 22 November, virtually via IACLETOP, in English, Chinese, Spanish, Korean and Bahasa. Members who achieve a successful outcome of the exam become eligible to apply for Fellow of IACLE (FIACLE) status. The fee for the Fellowship Exam is the same cost as your membership. For example, if your membership fee is $100, the exam fee will also be $100. If you have already registered but haven't yet paid, a reminder that making payment for the exam confirms registration. Please note, Members must hold IACLE membership for at least one year before applying for FIACLE status.
Register for the Fellowship Exam. For more information
---
THIS MONTH'S GLOBAL WEBINAR
Effect of material and care system combination on subclinical inflammation of the ocular surface in soft contact lens wear

Join us on Wednesday 22 March at 12 noon (GMT) for a webinar with Noor Haziq Saliman and a question and answer session with co-authors Professor Philip Morgan and Dr Carole Maldonado-Codina relating to work on the subclinical inflammatory response to contact lens wear.
Previous work conducted by Dr Saliman and colleagues investigated the subclinical inflammatory response (or 'parainflammation') of the ocular surface in contact lens wear. It showed that wearing daily disposable lenses produced a minimal inflammatory response. The authors observed that the inflammatory response was upregulated with reusable lenses compared with daily disposable and no lenses.
In this webinar, the authors will discuss ocular subclinical inflammatory response in two soft contact lens materials when combined with two different care systems (multipurpose solution and hydrogen peroxide).
Members can watch live online via zoom, and the event will be live streamed to our Facebook page for students and eye care practitioners to tune into.
Find out what time the webinar begins in your time zone
---
NEWS IN MARCH
Image of the Month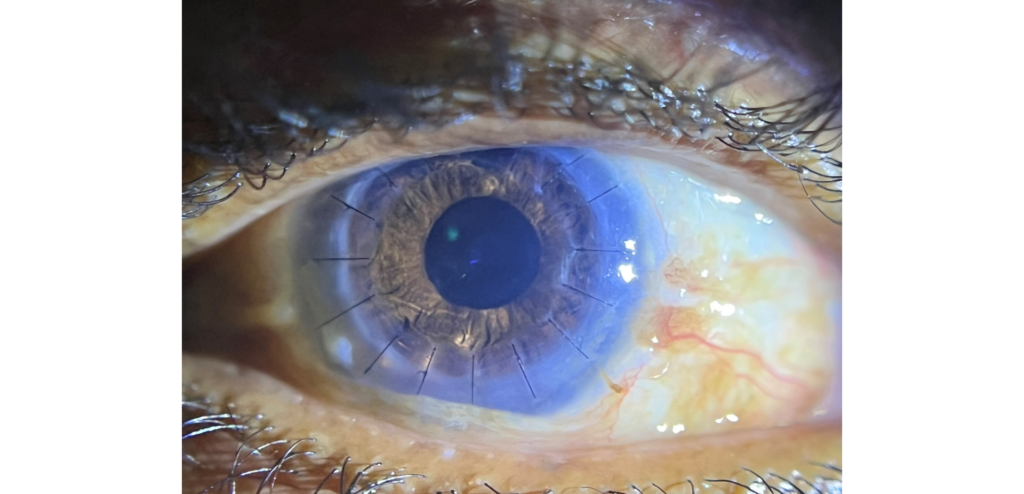 Maruee Pahuja from Natasha Eye Care and Research Centre in Pune, India, captured this image using the macro lens on an iPhone 13 Pro. The image shows a patient who, on day three after undergoing penetrating keratoplasty in the left eye, had a dense corneal opacity with spheroidal degeneration as the reason for needing the operation.
Would you like to feature in next month's Image of the Month? Submit your image
IACLE members collaborate on EBT report
Last summer, a team led by EAME Regional Director Dr Fabrizio Zeri and Vice President Professor Shehzad Naroo invited IACLE members to contribute to an evidence-based teaching report specific to contact lens education. The team, consisting of Dr Zeri, Professor Naroo, Professor Craig Woods, Frank Eperjesi, and IACLE members Dr Stefan Bandlitz, Ajay Kumar Bhootra, Dr Mahesh Raj Joshi, and Helmer Schweizer utilized their expertise to complete a comprehensive literature review of current evidence of teaching methods in contact lens training.
Read the outcomes of the report
---
RESOURCES
CL Update 70 features dry eye management
IACLE member Professor Jennifer Craig authors the latest Contact Lens Update editorial on dry eye management. The review highlights that although there is no cure, there are numerous therapies available, including patient-applied treatments and in-office procedures. Clinicians should consider a multimodal approach to manage dry eye disease and customize treatment based on the identified deficiencies.
The latest Cochrane systematic review
The latest Cochrane systematic review on myopia management is available now. It is a 'living systematic review' which means it will continuously be updated as this is a fast-evolving market and new clinical trial results are published regularly. Its current conclusion is that, although there are pharmacological and optical interventions which effectively reduce refractive change and axial elongation, the sustained effects > one year of treatment are uncertain. This also applies to combination therapies and adverse effects.
---
COVID-19 RESOURCES
A recent study from China concluded that children treated with 0.01% atropine had slower myopia progression during the lockdown period in Shanghai compared with children who discontinued the therapy.
---
WHAT'S HAPPENING IN OUR REGIONS?
AMERICAS
Spanish-speaking webinars in February
Every week, Americas Regional Coordinator Guillermo Carrillo hosts a webinar series 'Miércoles de Lentes de Contacto' (Contact Lens Wednesdays), where speakers and IACLE members from across the Latin America region discuss different contact lens-related topics. In February, there was a total of 207 attendees, including 49 IACLE members and 158 ECPs. The webinars covered topics including proactive contact lens fittings, binocular vision, scleral lens fittings, and IACLE's Research Update.
Catch up on Spanish-speaking webinars. Read the full Americas meeting report
ASIA PACIFIC
South Korean member awarded Honorary Membership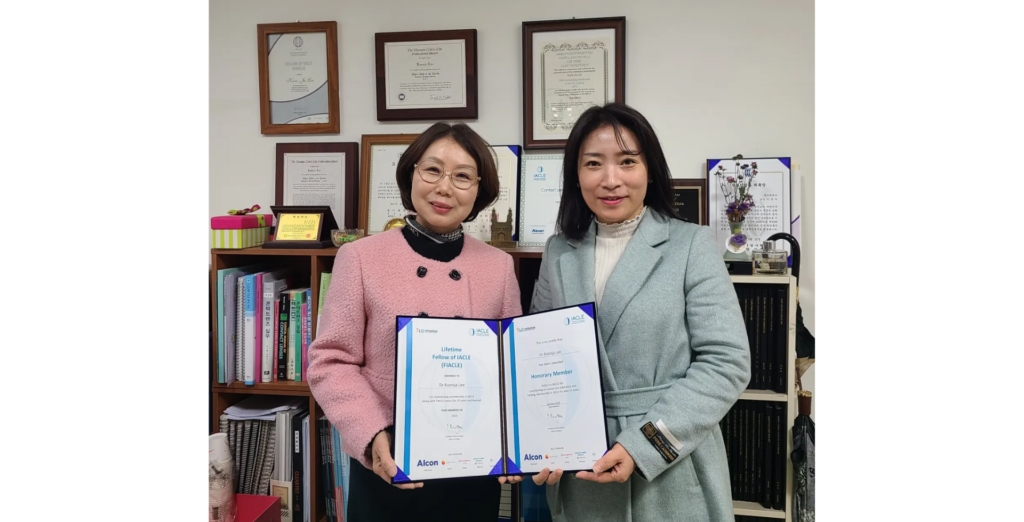 IACLE Korea National Coordinator Professor Kyounghee Park recently visited Eulji University in Daejeon, South Korea, and presented an Honorary Certificate to Lifetime FIACLE Professor Koonja Lee, who has been an IACLE member since 1995, a Fellow of IACLE since 2000 and served as the president of the Korean Society of Vision Science. Professor Lee has been devoted to contact lens education for over 35 years, published four contact lens books and 70 related theses, and was instrumental in introducing IACLE's educational materials for contact lens education in Korea. She has become an honorary member of IACLE ahead of her retirement.
Read the full Asia Pacific report
EUROPE / AFRICA / MIDDLE EAST
Upcoming BCLA webinar on ideal tear ingredients

The British Contact Lens Association invites IACLE members to its upcoming webinar on 'Ideal tear ingredients for comfortable contact lens wear' on Wednesday 29 March at 6:30 pm UK (BST). The webinar focuses on maintaining a healthy tear film to avoid dry eye symptoms, which is essential for successful contact lens wear. It covers diagnostics, key parameters to monitor, acceptable limits, management, and future developments.
For more information and to register
---
DATES FOR YOUR DIARY
IACLE TLC (Teach. Learn. Connect) WEBINARS
Visit the IACLE Webinars area on IACLETOP to view the schedule for upcoming webinars.
GLOBAL MEETINGS IN THE COMING MONTHS
14th Annual Congress on Controversies in Ophthalmology, Lisbon, Portugal, 24-25 March. Details.
49th EFCLIN Congress and Exhibition, The Hague, The Netherlands, 20-22 April. Details.
IACLE 4th World Congress, Birmingham, UK, 5-8 June. Details.
BCLA Clinical Conference & Exhibition, Manchester, UK, 9-11 June. Details.
4th World Congress of Optometry (WCO4) and O=MEGA23, Melbourne, Australia, 8-10 September. Details.
American Academy of Optometry, New Orleans, USA, 11-14 October. Details.
---
IACLE IS SPONSORED BY