Global Member Newsletter May 2021
MEMBERSHIP PERKS IN MAY
Members come together for global Virtual Conference
Around 150 participants watched live online as IACLE's Board, staff and international experts from across the globe shared their knowledge and experiences on how to combine research into educational processes. Professor Lyndon Jones (pictured above) presented 'Forging successful research collaborations'. The post-conference survey was extremely positive; for example, all delegates reported that they either strongly agreed or agreed that each topic was covered in sufficient detail. The full conference is available to watch through IACLETOP.
Utilize IACLE's programs and resources with your students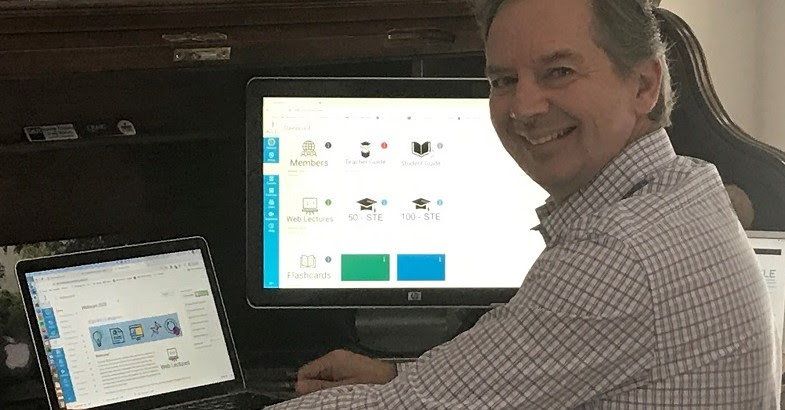 IACLE members have access to their own dedicated Student Area within IACLETOP. The Area is designed for educators to offer their students a unique teaching space for learning and assessment opportunities. The Student Area has the tools to allow educators to produce individual teaching content and assessments, while streamlining and integrating IACLE resources available in this area, into their teaching. Student data is stored safely, and for your use only.
BCLA virtual conference discount for IACLE members

There is still time to receive discounted tickets for the British Contact Lens Association's (BCLA) virtual conference and exhibition, taking place from 13-14 June. Members will benefit from a 55% discount on the 'live streaming' package or receive an added value 'conference plus' package with access to a 50% discount. Both tickets grant members access to two BCLA conferences – the June meeting and an additional event later in the year. The discount code is valid until 10 June. Low-cost options are also available for students. If you would like to discuss possible group discounts for students, please contact the BCLA directly.
Enter the code 'IACLE21' when registering to receive the discount
---
IACLETOP UPDATES
Distance Learning Program is now live
The Distance Learning Program (DLP), a self-study program based on the IACLE Contact Lens Course (ICLC), designed to improve educator's contact lens knowledge to assist with their teaching, is live. The DLP guides members through the ICLC module-by-module and is an ideal way to prepare for IACLE's Fellowship Exam.
Register now for the Fellowship Exam
We are pleased to announce that registration for the Fellowship Exam is open. The exam is the only internationally recognized means of measuring the contact lens knowledge of educators and eyecare professionals. A successful outcome to the exam qualifies members to become a Fellow of IACLE – FIACLE. Payment for the exam must be received by 1 July, and after receipt, members are given access to the Fellowship Exam Area within IACLETOP. 
Register for the Fellowship Exam. For more information
---
THIS MONTH'S THEMED WEBINARS
The theme for this month's webinars is 'Contact lens practice going forward', available in English, Spanish and Bahasa. The theme covers various aspects such as lessons learned from the COVID-19 pandemic, how contact lens practice will look post-pandemic, the changes needed in practice and how technology can be incorporated into practice. On Wednesday 26 May at 12 noon (BST), Professor Nicholas Rumney and Dr Jack Chan are hosting a global webinar under this theme.
Catch up on the first webinar of the series via IACLETOP
---
TOP NEWS IN MAY
Image of the Month
Norma Cárdenas from the Instituto Colombiano de Lentes Especiales in Colombia captured the images above using a Carl Zeiss slip lamp with a Samsung S8 adapter. The image taken is of a patient with a history of allergies, vernal keratoconjunctivitis, severe keratoconus and intracorneal ring surgery in both eyes. The patient wore scleral lenses for one year and complained of intolerance to the lenses, decreased vision and fogging of the lenses. Bio-microscopy showed diffuse conjunctival injection, upper tarsal giant papillae and mucous secretion. Lens wear was discontinued, a detailed assessment was performed, and treatment was initiated.
IACLE is saddened by the passing of Dr Julio Torres Fuentes
Dr Julio Torress Fuentes sadly passed away on 9 May due to Coronavirus. Julio was a great representative of IACLE with a deep passion for contact lens education. He retired from Instituto Politecnico Nacional after being Director for many years. Julio was actively involved with optometry education and was always keen to collaborate with educational projects.
---
MEET A MEMBER
Introducing Alejandro Baraldi, who works in Professional Affairs at Alcon in Buenos Aires, Argentina. The Baraldi family consists of 10 brothers, half of whom are dedicated to the optometric industry. Alejandro has found IACLE resources to be very useful from a training point of view, and believes the tools are supportive for all professionals who are dedicated to contact lens education. 'With my work in Professional Affairs, I am responsible for Argentina and Uruguay, and I have been in sales for key accounts in Argentina', Alejandro says. He likes to take time to learn new things that are not directly related to his job. He also likes to read, travel and spend time with his family.
Long standing members
Have you advanced the teaching of contact lenses in your institution/company over the past year but have already taken part in Meet a Member? We'd like to hear about your achievements and share them with our membership. If IACLE colleagues would like to connect with other members, we can arrange this by simply emailing us at iacle@iacle.org.
Introduce yourself to other IACLE members by completing this short online form
---
RESOURCES
IMI White Papers II
The International Myopia Institute has released a new group of white papers which confirm the imperative to control myopia and offers a range of guidance in the field. The papers make up a special issue of Investigative Ophthalmology and Visual Science.
Latest update features seasonal allergic conjunctivitis
Laura Periman Ocular Surface Disease Fellowship Director at the Periman Eye Institute authors an editorial in the latest Contact Lens Update. 'Seasonal allergic conjunctivitis' reviews ocular allergy and features advice on how to examine and treat the condition. Contact Lens Update is published by the Centre for Ocular Research & Education (CORE) in Canada.
Read the editorial. Sign up to receive Contact Lens Update
---
COVID-19 RESOURCE
Nagra et al analyzed responses of over 1,200 primary care optometrists that provide an overview of changes to optometric practice in the UK during the COVID‐19 pandemic. The majority felt 'very' to 'moderately' comfortable conducting remote consultations. Eye health and vision‐related problems were the most commonly reported patient issues during both remote and face‐to‐face consultations, while contact lens-related problems were the least.
---
WHAT'S HAPPENING IN OUR REGIONS?
AMERICAS
Bausch + Lomb ortho-k webinar
Dr Daniel Torres, Alejandro Tapia and Guillermo Carrillo led a Bausch + Lomb session to discuss ortho-k lenses (14 April). Topics such as how to choose the right patient to start with ortho-k, how to fit ortho-k lenses, and the risks ECPs need to know, were discussed. The event reached more than 100 eye care practitioners.
ASIA PACIFIC
CooperVision delivery webinar to South Korean universities
Minji Kang Director at CooperVision hosted an industry webinar on 'Silicone hydrogels and toric soft contact lenses' for around 100 students from Kookje University in Pyeongtaek, South Korea, Dongnam Health University in Suwon, South Korea, and Kyungdong University in Wonju, South Korea. Professor Kyounghee Park expressed her gratitude to CooperVision for conducting the online session.
Read the full Asia Pacific report
EUROPE / AFRICA / MIDDLE EAST
During the British Contact Lens Association's (BCLA) virtual conference and exhibition, IACLE is hosting an international session on Sunday 13 June from 11.00 am – 12.45 pm with IACLE President Dr Shehzad Naroo as the chair. Shehzad will give an overview of key CLAE papers from the past 12 months, plus six IACLE members will present in the session.
For more info on the BCLA virtual conference
---
DATES FOR YOUR DIARY
IACLE TLC (Teach. Learn. Connect) WEBINARS
Visit the IACLE Webinars area on IACLETOP to view the schedule for upcoming webinars.
GLOBAL MEETINGS IN COMING MONTHS
---
---
IACLE IS SPONSORED BY