Global Member Newsletter May 2022
MEMBERSHIP PERKS IN MAY
Join our Virtual Conference this Saturday

There is still time for IACLE members to register for our fourth global Virtual Conference themed 'Make students practice ready', taking place this Saturday 14 May from 12 noon – 3 pm UK time (BST). The panel discussion, along with all sessions in Part Two, will be live streamed to our Facebook page on the day for non-members and students. Please see program for further details.
Register here – view the brochure – view the program
---
IACLETOP UPDATE
Updates to the DLP and Case Reports
The Distance Learning Program (DLP), a self-study program based on the IACLE Contact Lens Course designed to improve educators' contact lens knowledge, has been reviewed and updated, thanks to the help of FIACLE Daddi Fadel. The new Case Reports and the updated DLP – developed by Daddi – will be available in translated languages soon. 
If you would like to see any particular Case Reports or content added to IACLETOP, please reach out to Professor Craig Woods and Lakshmi Shinde.
---
NEWS IN MAY
Image of the Month

Isha Dave owner of independent practice 'Primary Eye Care Centre' in Mumbai, India, captured the above images using a slit lamp and Oppo camera phone. The images show a 45-year-old female patient who complained of itching and flakiness on the eyelids. The slit lamp examination revealed moderate blepharitis in both eyes. Blephex treatment was recommended, followed by self-management with lid hygiene at home. The images indicate the appearance of the lid margin before and after the Blephex treatment.
Would you like to feature in next month's Image of the Month?
Congratulations to the newly appointed FIACLEs!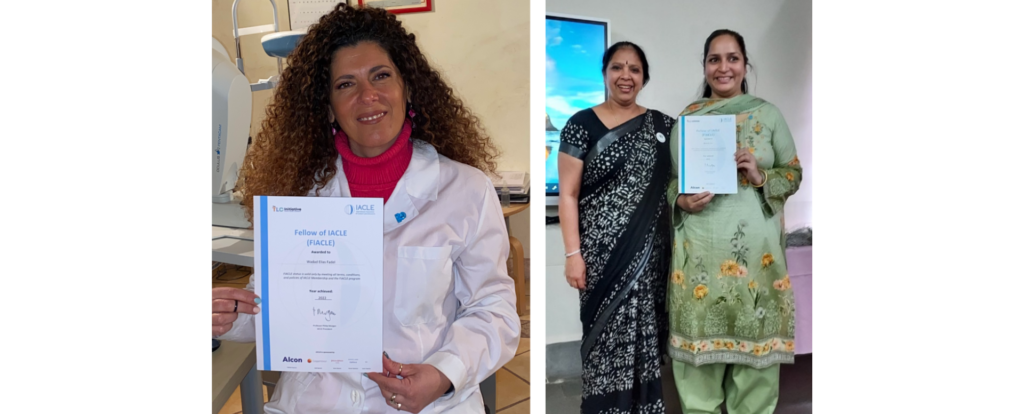 From everyone at IACLE, we congratulate all who have successfully completed the Fellowship Exam and have attained FIACLE status. All successful candidates have been contacted, and FIACLE packs – approval letter, FIACLE certificate and FIACLE badge – have been issued. 'Becoming a Fellow of IACLE recognizes your knowledge in contact lenses and evidence-based practice. During the last two years, I have learned a lot from the DLP and Case Reports available on the IACLETOP, and many aspects of my knowledge were confirmed. It is important to exchange views and knowledge with peers to grow professionally; IACLE provides all the instruments to do so,' says Daddi Fadel (pictured above left).
Also receiving their FIACLE certificate is active member since 2018 Mumtaz Qazi from Lotus College of Optometry in Mumbai, India. Executive Manager of Global Education Lakshmi Shinde visited the college last month and was able to hand over her certificate in person (pictured above right).
More information on the Fellowship Exam
Save the date for the 4th IACLE World Congress
We are pleased to announce that we are holding the 4th IACLE World Congress of Contact Lens Education, a global event dedicated to shaping the future training of contact lens professionals worldwide, next year hosted by Aston University in Birmingham, UK. The four-day congress will take place from 5-8 June 2023 and is timed to precede the British Contact Lens Association's 2023 Clinical Conference & Exhibition (9-11 June).
Look out for more details in the coming months
Myopia Awareness Week is approaching
The Brien Holden Vision Institute (BHVI) has recently announced the 2022 Myopia Awareness Week dates, taking place from 23-28 May. The initiative was launched in 2021 to bring attention to the increasing number of myopia in children. The theme for the week is 'Make your Eye Moves', aiming to encourage participation in activities that promote eye health and reduce the risk of myopia.
CooperVision opens submissions for Science and Technology Awards
IACLE Gold Sponsor CooperVision has recently announced the opening of submissions for their 2022 Science and Technology Awards, a program to bring award recipients and CooperVision scientists together to explore new areas of technology advancements. This year, the two focus areas are around 'Methodologies to Enhance Global Ophthalmic Clinical Insights' and 'New Technologies for Prediction, Prevention, and Treatment of Myopia'.
To apply and for more information – submissions close on 15 July.
Save the date for our Annual General Meeting
The IACLE Annual General Meeting will take place virtually at 12 noon (BST) on Tuesday 21 June 2022. The meeting will be conducted via Zoom and is open to all IACLE members and industry partners. The Directors of the Association will present IACLE's financial positions for 2021, along with an update on activities. IACLE will also transact such other business as may be properly brought before the meeting. If you are unable to attend, you are able to assign a proxy.
Look out for a Special Notice to send an RSVP or apologies
---
RESOURCES
BCLA CLEAR Reports – Open Access
The British Contact Lens Association (BCLA) has announced an extension to the Open Access provision for its landmark global consensus report on contact lenses published in 2021. The new arrangement for the 'CLEAR Reports' will see continued free access to the 10 full papers, written by 102 authors and making up a single issue of Contact Lens and Anterior Eye of over 300 pages. The BCLA reports that the papers have been downloaded nearly 80,000 times.
Contact lens compliance in university students in Spain
A report in Contact Lens and Anterior Eye has highlighted poor levels of contact lens compliance among university students in Spain. A high proportion of the contact lens wearers responding to a survey reported some degree of non-compliance. Around 60% of the participants did not replace their lenses on time and a similar number wore their lenses longer than recommended each day. Over 40% of respondents exposed their lenses to water regularly. Around two-thirds of the group reported that they had not been informed about the risks of contact lens wear.
---
COVID-19 RESOURCES
Antiviral activity and contact lens care solutions
A recent study indicates that oxidative contact lens disinfection systems, based on hydrogen peroxide and povidone-iodine, have higher virucidal activity than non-oxidative systems against the two seasonal human coronavirus strains examined.
---
WHAT'S HAPPENING IN OUR REGIONS?
AMERICAS
Latin America reaches 100 webinar mark
Since the launch of the Teach. Learn. Connect. Initiative (TLC) in June 2020, the Latin America region has delivered 100 webinars, a milestone reached last week. We thank IACLE Americas Regional Coordinator Guillermo Carrillo for his continued support in coordinating such webinars for members in Latin America.
Read the full Americas meeting report
University of Montreal celebrates Dry Eye Clinic's 10th anniversary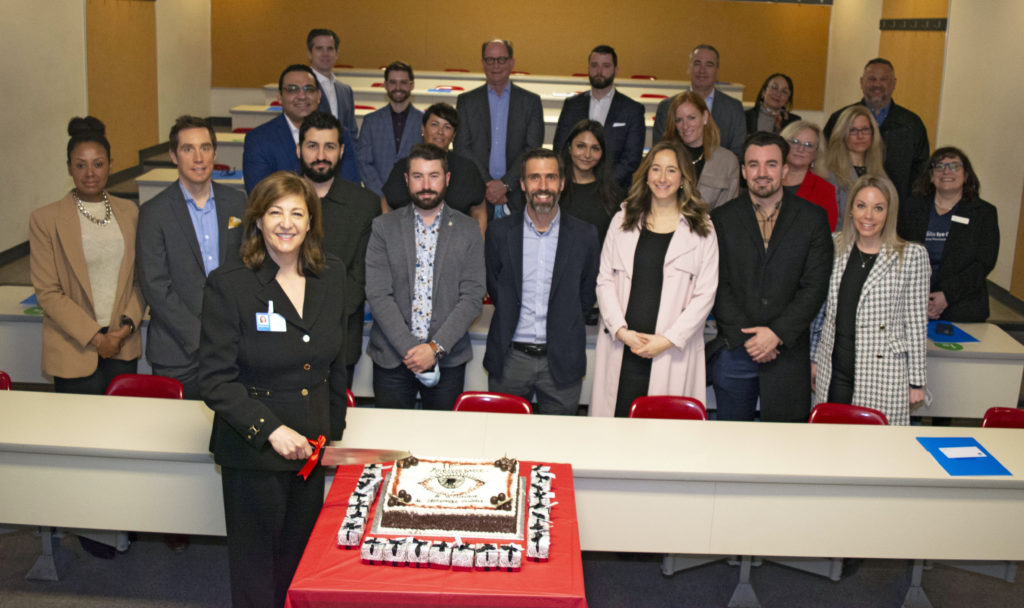 The University of Montreal's Dry Eye Clinic, inaugurated in 2012, was the first dedicated dry eye service in an optometry school in North America. Since then, it has grown and includes advanced dry eye management technologies and has treated over 1,000 patients. 'Incorporating dry eye management at our optometry school has assisted patients with a growing problem, provided enhanced exposure to the disease for our students and provided opportunities for clinical research to share with the larger scientific community', says IACLE Treasurer / Secretary and Director of the Dry Eye Clinic Dr Etty Bitton.
Register for GSLS: Virtual now

An extension of the in person Global Specialty Lens Symposium brings you GSLS: Virtual, taking place on 9-11 June. The digital event focused on successfully managing ocular conditions using today's specialty contact lenses offers the opportunity to stay updated on best practices, and new techniques through interactive sessions streamed virtually.
For more information and to register for the free program
ASIA PACIFIC
IACLE at 'Evolution of Optometry'

Lakshmi Shinde and IACLE Director Fakhruddin Barodawala were invited as guest speakers at VOPTO2022's 'Evolution of Optometry' themed conference, organized by Vinayaka Mission's Research Foundation (9 April). Lakshmi presented 'Contact lenses – Da Vinci to Digital Era', and Fakhruddin discussed 'Dry eye diagnostics – a journey'. He spoke about diagnostic criteria and how dry eye evaluation has evolved over the years based on the TFOS DEWS II Report and clinical experience. Over 1,000 people attended the conference.
Read the full Asia Pacific meeting report
Indian university receives free trial lenses

Samuel Livingstone from Sri Ramachandra Medical College and Research Institute in Chennai, India, has generously received some free trial contact lenses – PureVision soft spherical contact lenses – from IACLE Bronze Sponsor Bausch + Lomb for his students.
If you are interested in receiving some trial lenses for your students, please get in touch with us at iacle@iacle.org.
EUROPE / AFRICA / MIDDLE EAST
Meeting to discuss membership in Spain and Portugal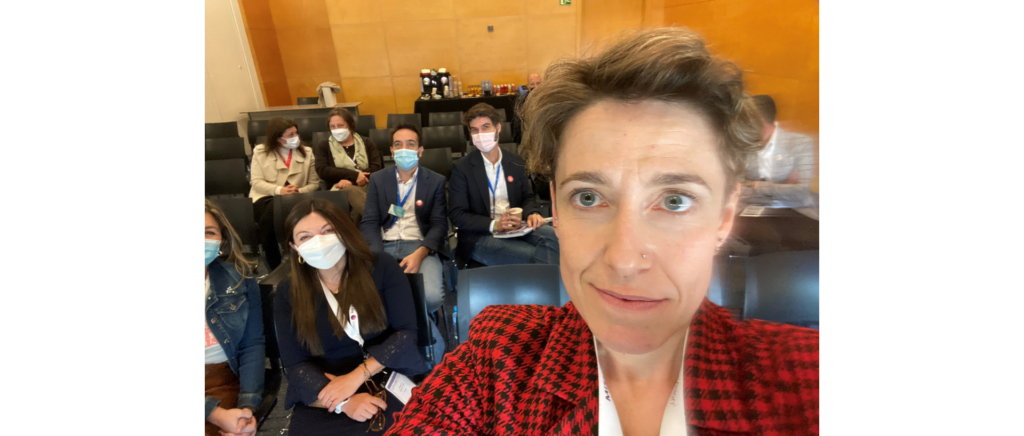 Professor Raquel Gil-Cazorla from Aston University in Birmingham, UK, arranged a meeting with current and past IACLE members and industry colleagues during the Optometry Tomorrow (OPTOM) 2022 Conference in Spain (2 April). The purpose of the gathering was to connect with active members and discuss methods to encourage past members from Spain and Portugal to re-join. The group concluded that an increase in leadership in these countries is needed, and Raquel agreed to champion the task in collaboration with EAME Regional Director Dr Fabrizio Zeri. 
---
DATES FOR YOUR DIARY
IACLE TLC (Teach. Learn. Connect) WEBINARS
Visit the IACLE Webinars area on IACLETOP to view the schedule for upcoming webinars.
GLOBAL MEETINGS IN COMING MONTHS
OPTI, Munich, Germany, 13-15 May. Details.
BCLA Focus, Birmingham, UK and virtual. 11-12 June. Details.
6th International Congress of Scleral Contacts (ICSC), Florida, USA, 29-30 July. Details.
Cornea & Contact Lens Society Conference, Auckland, New Zealand, 11-13 August. Details.
The Summit of Specialty Contacts, Sorrento, Italy, 14-16 October. Details.
American Academy of Optometry, San Diego, USA, 26-29 October. Details.
3rd Asia Optometric Congress and 8th ASEAN Optometric Conference, Kuala Lumpur, Malaysia, 15-16 November. Details.
---
IACLE IS SPONSORED BY