Global Member Newsletter May 2023
MEMBERSHIP PERKS IN MAY
Read this email in
Registration for the Fellowship Exam closes next month
The IACLE Fellowship Exam takes place every two years, and a successful outcome of the exam qualifies members to apply for Fellow of IACLE (FIACLE) status. The upcoming 2023 exam will take place virtually via IACLETOP on Wednesday 22 November in English, Chinese, Spanish, Korean and Bahasa. If you are interested in taking this year's Fellowship Exam, please register by following the link below. Please note, members must hold IACLE membership for at least one year before applying for FIACLE status. Registration closes on 30 June.
Register for the Fellowship Exam. For more information
Less than a month until the 4th IACLE World Congress
As the excitement builds, we look forward to welcoming our members from all over the world who will be attending our 4th World Congress in Birmingham next month. Over the four days, our program features keynote speakers, workshops led by leaders in the contact lens industry, and networking opportunities that will enable educators to return to their institutions to share their learnings with colleagues and students – the contact lens practitioners of the future.
Read the program. Look out for more details in the coming weeks.
---
IACLETOP UPDATES
Fellowship Exam Area launches
We are pleased to announce that the Fellowship Exam Area is now available for paid-up candidates of the Fellowship Exam. This dedicated space will host a series of monthly workshops leading up to the exam aimed at providing valuable guidance and support. IACLE members are invited to join the first webinar titled 'An introduction to the Fellowship Exam' on 24 May at 11 am (BST).
Register for the Fellowship Exam
---
GLOBAL WEBINAR IN MAY
Exploring contact lens opportunities for patients over the age of 40

Join us on Wednesday 24 May at 12 noon UK (BST) for a webinar with IACLE Vice President Professor Shehzad Naroo, Dr Manbir Nagra and FIACLE Neil Retallic.
Improved optical designs in modern multifocal contact lenses provide a viable alternative for patients with presbyopia. With an ageing population, there is a significant opportunity to increase the adoption of contact lenses by managing these patients more effectively. However, multifocal contact lenses have low market penetration.
In this webinar, the authors will reveal their findings on the perceptions and awareness of presbyopes towards contact lenses in established contact lens markets across countries.
The webinar will be introduced by IACLE Platinum Sponsor Alcon and chaired by Professor Shehzad Naroo.
Members can watch live online via Zoom, and the event will be live streamed to our Facebook page for students and eye care practitioners to tune into.
Find out what time the webinar begins in your time zone
---
NEWS IN MAY
Image of the Month

Karpagavalli Subramanian from Sankara Nethralaya Medical Research Foundation in Chennai, India, captured the above images using a Topcon photo slit lamp. A 31-year-old male who underwent OD: PK surgery five years ago reported having trouble driving at night and experiencing ghosting of images and letters. Upon examination, his BCVA was found to be OD: 6/36 OS: 6/6. To improve his vision, he was fitted with a well-fitted PROSE lens (A) with a fluid reservoir of 250 microns (B), which significantly improved his visual acuity to 6/9 in OD and improved binocular comfort. Additionally, the doubling and ghosting of letters were reduced considerably, thereby enhancing his quality of life.
Would you like to feature in next month's Image of the Month? Submit your image
---
RESOURCES
Mapping contact lens comfort over time
A study aimed to map contact lens comfort in asymptomatic to minimally symptomatic soft contact lens wearers over a full wear day and one month of wear. Participants wore the study contact lenses for 16 hours daily and completed a visual analog scale (VAG) survey at various intervals. The results showed that although comfort scores decreased over the wear day, comfort change was minimal, and comfort scores were consistent across one month of wear.
---
COVID-19 RESOURCES
A UK study analyzed vision screening data collected over several years, including post-COVID, from a large cohort of schools to explore a potential trend towards increased myopia among children aged 4-5. The findings revealed a concerning pattern of decreased vision, with the proportion of children failing to meet the screening criterion rising from 7.6% in 2015/16 to 9.3% in 2021/22. The data indicate a trend towards reduced vision in recent years among young children in the UK and highlight the importance of early eye care interventions in this group.
---
WHAT'S HAPPENING IN OUR REGIONS?
AMERICAS
Catch up on the latest Spanish-speaking webinars
The IACLE Americas office hosted four 'Miércoles de Lentes de Contacto' (Contact Lens Wednesdays) webinars with 224 attendees in the past month. The speakers discussed topics such as presbyopia and contact lenses, using technology to register graphic information from patients, and 3D printer technology for diagnostic aids. Americas Regional Coordinator Guillermo Carrillo also hosted a Journal Club discussion on myopia control.
ASIA PACIFIC
Indian university receives free trial lenses from Alcon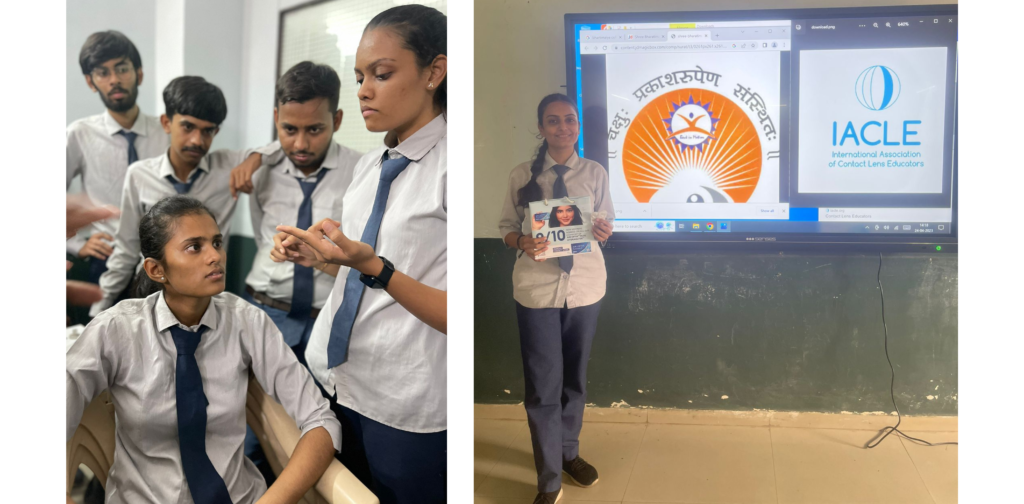 FIACLE Dr Ankit Varshney from Shree Bharatimaiya College of Optometry in Surat, India, collaborated with IACLE to receive free trial lenses from IACLE Platinum Sponsor Alcon. The joint efforts of IACLE and industry allowed the institution's optometry students to experience and gain exposure to various contact lens materials. In addition, the trial lenses provided valuable practical training in insertion and removal techniques and enhanced the students' ability to assess and recommend the appropriate contact lenses for patients.
If you are interested in receiving trial lenses for your students, please get in touch with IACLE Asia Pacific Operations Administrator Kavitha Jayanna at k.jayanna@iacle.org.
Chinese university team up with Bausch + Lomb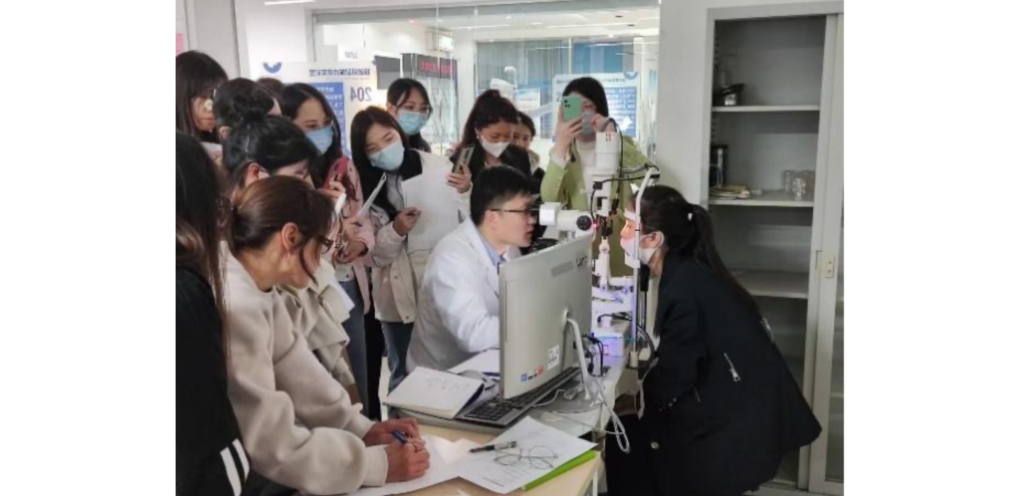 In April, IACLE Bronze Sponsor Bausch + Lomb held an advanced training program on contact lens fittings at Tianjin Vocational Institute in China, providing practical guidance to students. IACLE China National Coordinator Professor Wang Haiying and other IACLE members gave lectures on contact lens fittings, including spherical and toric lenses and complications. As a result, the participants reported gaining a deeper understanding of contact lens fitting, confidence in dispensing functional lenses, and proficiency in eye examinations and evaluating toric lens fittings.
Read the full Asia Pacific report
EUROPE / AFRICA / MIDDLE EAST
EAME Leadership Meeting
IACLE Vice President Professor Shehzad Naroo and EAME Regional Director Dr Fabrizio Zeri, along with FIACLEs Dr Raquel Gil-Cazorla, Dr May Bakkar, Dr Elizabeth Chetty, Dr Stefan Bandlitz and member Philippe Seira, met virtually to discuss upcoming opportunities and events in the EAME region. Dr Chetty discussed her plan for a potential country meeting during the Contact Lens Society of South Africa. Fabrizio announced that he would introduce IACLE at the Alcon Experience Academy in Barcelona.
---
DATES FOR YOUR DIARY
IACLE TLC (Teach. Learn. Connect) WEBINARS
Visit the IACLE Webinars area on IACLETOP to view the schedule for upcoming webinars.
GLOBAL MEETINGS IN THE COMING MONTHS
23rd Asia Pacific Optometric Congress (APOC), New Delhi, India, 2-4 June. Details.
IACLE 4th World Congress, Birmingham, UK, 5-8 June. Details.
BCLA Clinical Conference & Exhibition, Manchester, UK, 9-11 June. Details.
4th World Congress of Optometry (WCO4) and O=MEGA23, Melbourne, Australia, 8-10 September. Details.
American Academy of Optometry, New Orleans, USA, 11-14 October. Details.
---
IACLE IS SPONSORED BY