Global Member Newsletter November 2022
Read this newsletter in:
Arabic – Chinese – French – Korean – Portuguese – Spanish
MEMBERSHIP PERKS IN NOVEMBER
Register now for our Virtual Conference


There's just over one week until our Virtual Conference takes place live online. We will hear from speakers from our Asia Pacific region, plus IACLE colleagues who will discuss their areas of expertise. IACLE industry partners will also share their perspectives on seizing the opportunity.
Register now – read the brochure – view the agenda
Applications opening soon for our 4th World Congress
From 5-8 June 2023, we are hosting the 4th IACLE World Congress of Contact Lens Education, a global event dedicated to shaping the future training of contact lens professionals worldwide. The four-day congress will take place at Conference Aston in Birmingham, UK, and is timed to precede the British Contact Lens Association's Clinical Conference & Exhibition (9-11 June).
We are pleased to inform our members that we are opening applications in the next few weeks. Applications will be based on a first-come, first-served basis.
Keep a look out for applications opening
---
NEWS IN NOVEMBER
Image of the Month

IACLE Korea National Coordinator and lecturer at Kookje University in Pyeongtaek, South Korea Professor Kyounghee Park captured the above images using a Topcon SL7 with a DC4 camera. A persistent pupillary membrane was found under slit lamp examination with 6x magnification in the eyes of a healthy 20-year-old college student. It is a frequently encountered congenital anomaly. It represents remnants of anterior tunica vasculosa lentis and appears as strands of connective tissue bridging the pupillary area. They are usually asymptomatic and of no functional significance.
Would you like to feature in next month's Image of the Month? Submit your image
Updates from the AAO

During the American Academy of Optometry (AAO) meeting in San Diego, USA, the IACLE Board of Directors and senior staff members gathered for a strategic planning meeting to discuss some exciting initiatives that we look forward to sharing with you all.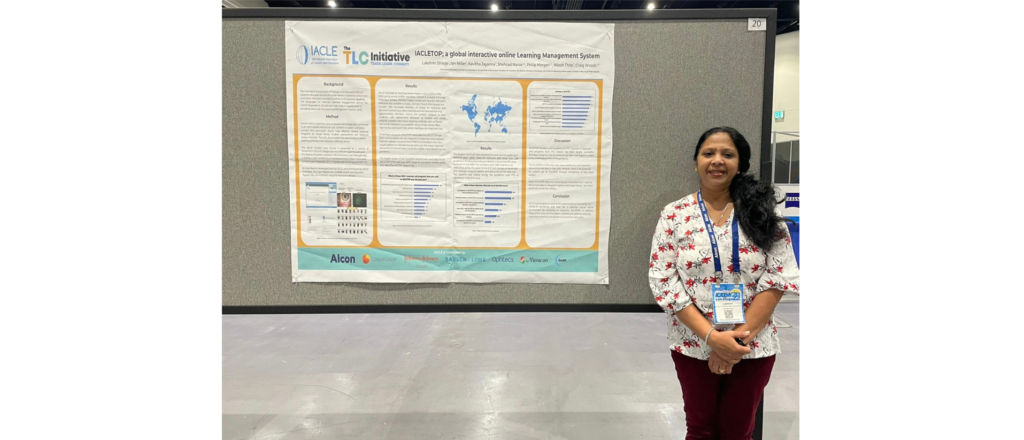 Executive Manager of Global Education Lakshmi Shinde showcased an IACLETOP-themed poster during the poster session (pictured above).

Five Contact Lens Educators of the Year from 2020, 2021 and 2022 received their awards during CooperVison's International Reception. Professor Renée Reeder (2020), Dr Johanna Garzón (2021), Dr Byki Huntjens (2021), Dr Lindsay Sicks (2022) and Dr Carole Maldonado-Codina (2022) were among the recipients who received their awards at this year's celebration. Congratulations to all!
Finally, thank you to all our members who came along to shoot some video interviews. We appreciate your help!
Menicon joins IACLE as a new sponsor
We are delighted to announce that IACLE has a new Bronze Sponsor ­– Menicon Co., Ltd. – a Japanese contact lens manufacturer that developed Japan's first practical corneal contact lens. Menicon offers a full range of products and services as a comprehensive vision care enterprise. Within the RGP and MTO lens portfolio, Menicon has a diverse range of products to satisfy various needs. In terms of disposable contact lenses, to provide better vision and experience to customers, Menicon developed SmartTouch technology which has been applied to all Miru 1day disposable contact lenses.
IACLE presence increases at CLAE
IACLE EAME Regional Director Dr Fabrizio Zeri has recently been appointed as an Editorial Member of Contact Lens and Anterior Eye (CLAE), making him the first CLAE Editorial Member from Italy. The Italian audience is growing with an increasing number of CLAE authors, making Dr Zeri a valuable addition to CLAE.
---
RESOURCES
Evaluating tolerability of commercial eyelid cleansers
This prospective randomised crossover study evaluates the short-term tolerability of five commercially available anti-demodectic eyelid cleansers on 30 healthy non-contact lens wearers. The study outcomes demonstrate varying tolerability profiles with different anti-demodectic lid cleanser preparations and the potential to induce tear film instability, conjunctival hyperaemia, and ocular surface staining on application.
Patient and parent perceptions of myopia modalities
This study compares the quality of life of myopic adults and children who were established spectacle, soft contact lens, or orthokeratology wearers and parent/child responses using the Pediatric Refractive Error Profile 2. The authors conclude that actively driven children and adults perceive significant benefits from orthokeratology over spectacles, and parents' perceptions did not align with their children's perceptions of their correction.
---
COVID-19 RESOURCE
A recent questionnaire-based study of 132 participants assessed the effectiveness of an online educational video in improving contact lens care knowledge and behaviour and found that online video-based learning is an effective educational tool. The authors note that patient education via online videos may become an innovative and successful technique to increase patient knowledge and long-term health behaviours.
---
WHAT'S HAPPENING IN OUR REGIONS?
AMERICAS
IACLE Latin America speak at ALDOO conference

On 21-22 October, Asociación Latinoamericana de Optometría y Óptica (ALDOO) held its 25th conference. IACLE Americas Regional Coordinator Guillermo Carrillo, Lifetime FIACLE Rolando Rojas and IACLE member Ana Paola Mercado delivered a contact lens and ocular surface session. The event was successful, with an attendance of around 1,000 participants.
Professor Wolffsohn receives major AAO Award
Each year, the American Academy of Optometry (AAO) recognize and award individuals who have made significant contributions and excelled in the optometry profession. At AAO San Diego, Lifetime FIACLE Professor James Wolffsohn was awarded the Glenn A Fry Lecture Award. Congratulations James!
ASIA PACIFIC
China hosts educator meeting
IACLE China held a virtual educator meeting on 22 October. Industry representatives from Alcon, CooperVision, Johnson & Johnson, and Bausch + Lomb were a part of the agenda. The topics discussed included toric lenses, orthokeratology, bifocal lens fitting, lens care, and contact lens innovation. A total of 60 members attended the meeting.
Read the full Asia Pacific report
Update from member in Pakistan

In October, Consultant Optometrist from Pakistan FIACLE Dr Mutahir Shah delivered a workshop for students and faculty members at Munawar Memorial Hospital in Chakwal, Pakistan. Dr Shah used IACLE materials, including the ICLC, IACLE Library and training templates, to guide the session. The group received hands-on training from a patient with advanced keratoconus. The hospital's CEO and Dean of the Optometry School appreciated the international resources provided by IACLE and were keen to organize the Student Trial Exam for their students.
Not a member of IACLE? Visit our website to find out how to join
Regional Director presented with President Award
IACLE Asia Pacific Regional Director Dr Kah Ooi Tan recently spoke at the 3rd Asia Optometric Congress (AOC) in Kuala Lumpur, Malaysia, on the topic 'Practitioners' perception on myopia management in Asia – a project by AOC' (15-16 November). Dr Tan was also presented with the Asia Optometric Congress President Award for the region and the Asia Outstanding Optometrist Award during the congress. Congratulations Kah Ooi!
EUROPE / AFRICA / MIDDLE EAST
Upcoming BCLA webinar on keratoconus

The British Contact Lens Association are hosting a 'Management of Keratoconus: What have we learned and how our practice has changed?' themed webinar with FIACLE Daddi Fadel and Barry Eiden. Join the BCLA on Wednesday 30 November at 6:30 pm (GMT). The webinar is open to all; you don't need to be a BCLA member.
Register here. For more information
---
DATES FOR YOUR DIARY
IACLE TLC (Teach. Learn. Connect) WEBINARS Visit the IACLE Webinars area on IACLETOP to view the schedule for upcoming webinars.
GLOBAL MEETINGS IN THE COMING MONTHS
Global Specialty Lens Symposium, Las Vegas, USA, 18-21 January 2023. Details.
14th Annual Congress on Controversies in Ophthalmology, Lisbon, Portugal, 24-25 March 2023. Details.
IACLE 4th World Congress, Birmingham, UK, 5-8 June 2023. Details.
BCLA Clinical Conference & Exhibition, Manchester, UK, 9-11 June 2023. Details.
4th World Congress of Optometry (WCO4) and O=MEGA23, Melbourne, Australia, 8-10 September. Details.
American Academy of Optometry, New Orleans, USA. 11-14 October 2023. Details TBC.
---
IACLE IS SPONSORED BY