Global Member Newsletter October 2023
Read this email in
MEMBERSHIP PERKS IN OCTOBER
Register for our upcoming Virtual Conference

Our 6th Virtual Conference is taking place in just over two weeks on Saturday 21 October from 12:00 – 3:00 pm UK (BST) themed 'Incorporating myopia management into teaching'. The theme reflects the growing global concern regarding the increasing prevalence of myopia. The half-day event aims to provide insights into how myopia management can be integrated into curricula. 
Find out what time the conference begins in your time zone
The agenda features world renowned experts who will share their knowledge, experiences, and expertise. Additionally, Chair and IACLE Director Dr Byki Huntjens and Co-Chair and IACLE Secretary / Treasurer Dr Etty Bitton will host two panel discussions where they will engage with the speakers and facilitate discussions on the conference topics. We encourage our members to inform their students of the panel discussion segments as they will be live streamed to our Facebook page.
Register here – view the agenda
Would you like to be an IACLE Ambassador?
We recently announced the launch of the IACLE Ambassador Program that enables our members to volunteer their assistance and expertise in countries where we do not have dedicated IACLE staff. This program is aimed at facilitating the expansion of our global presence and advancing our mission to enhance contact lens education worldwide. Typically, the process for selecting an IACLE Ambassador involves identification and appointment by the IACLE Board or staff. However, members who aspire to take on this role should also feel encouraged to express their interest and apply to become an IACLE Ambassador. Please note, this is a voluntary position.
For more information and criteria
---
IACLETOP UPDATE
Final Fellowship Exam workshop before the exam
The final IACLE Fellowship Exam workshop takes place on Thursday 26 October, and recordings of previous workshops are available via the Fellowship Exam Area within IACLETOP. A reminder that all exam participants must display their photo ID to their device's camera when administering the exam. The name on the photo ID must match the name used during registration. Failure to meet this requirement could lead to withholding exam results. If you have any questions or concerns, please contact Siobhan Allen at s.allen@iacle.org for assistance.
Access the Fellowship Exam Area
---
NEWS IN SEPTEMBER
Image of the Month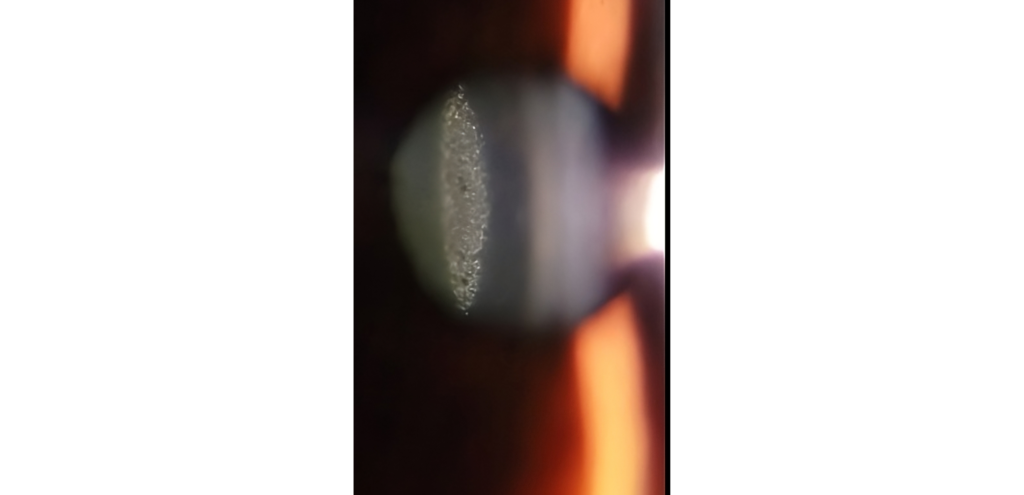 Professor Nora León Rodríguez from Universidade do Contestado in Mafra, Brazil, captured the above image using a mobile phone equipped with a slit lamp. The image showcases a routine eye examination of a young patient who presented with 20/20 visual acuity in both eyes. The examination revealed the presence of bilateral congenital cataracts during biomicroscopy. 
Would you like to feature in next month's Image of the Month? Submit your image here
IACLE India hosts member meeting in Pune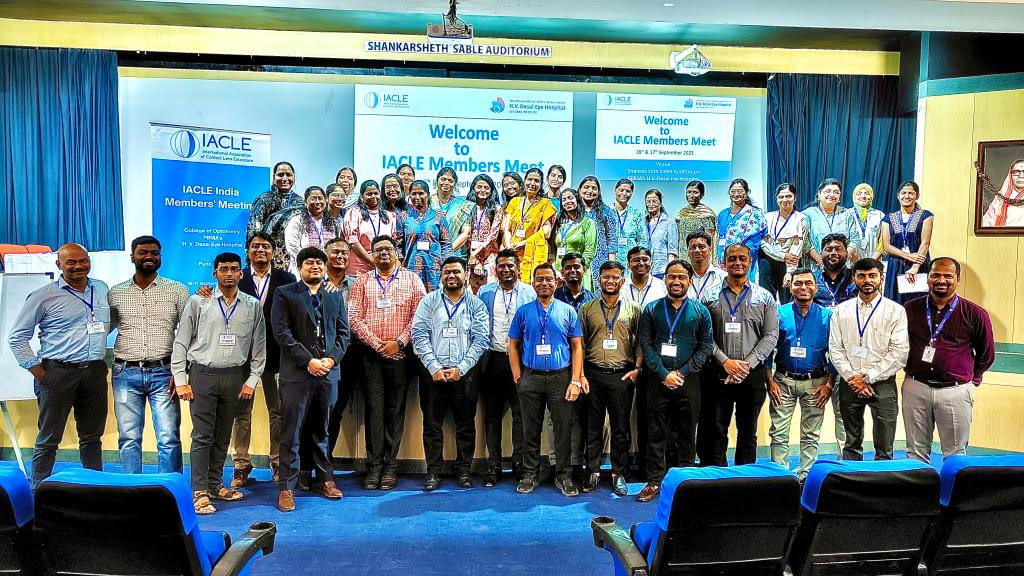 The IACLE India members' meeting took place on 16-17 September 2023 at the College of Optometry, PBMA's H.V Desai Eye Hospital in Pune, India. The event saw the participation of 40 members representing 23 institutions from across India, including both new and experienced members. The agenda for the two-day meeting featured presentations on teaching presbyopic contact lens fitting, using technology and social media in contact lens education, and addressing discomfort and dry eye holistically. Strategies for student motivation were also discussed, along with a demonstration and discussion on IACLE resources. Read the full meeting report
---
RESOURCE
Axial length and spherical equivalent changes in high myopia
This longitudinal study examined axial length and spherical equivalent changes in children and adolescents with high myopia, along with associated risk factors. Over the seven-year follow up period, the average axial length increased by 0.13 mm per year, while the spherical equivalent decreased by 0.36 diopters per year. Notably, myopia progression slowed after age 11, increased with a higher baseline spherical equivalent, and was accelerated in those with pathological myopia at baseline.
---
WHAT'S HAPPENING IN OUR REGIONS?
AMERICAS
IACLE at upcoming conferences in Latin America
IACLE Americas Regional Coordinator Professor Guillermo Carrillo has been invited to speak at the 9th International Conference in Optometry hosted by Guayas College of Optometry (19-21 October). This event allows for networking with Ecuadorian IACLE members, supported by travel and accommodation. Additionally, the Paraguay Association of Optics and Related (APOYA) has invited Professor Carrillo to lecture at their congress in Asuncion, Paraguay, aiming to promote contact lens education IACLE membership in Paraguay.
ASIA PACIFIC
Catch up on the latest Chinese-speaking webinar
In September, the IACLE China Team hosted a webinar on multifocal contact lens fittings and other functional soft contact lens development (14 September). During the session, IACLE China Coordinator Professor Haiying Wang discussed innovations in astigmatism and functional contact lenses, emphasizing soft toric lens design and presbyopia correction. Director of the Eye Hospital of Tianjin Medical University Jinghui Wang focused on presbyopia management with multifocal contact lenses, detailing various correction methods and lens designs. IACLE China Coordinator Sun Tiejing summarized the discussion and held a Q&A section.
IACLE at IVI in September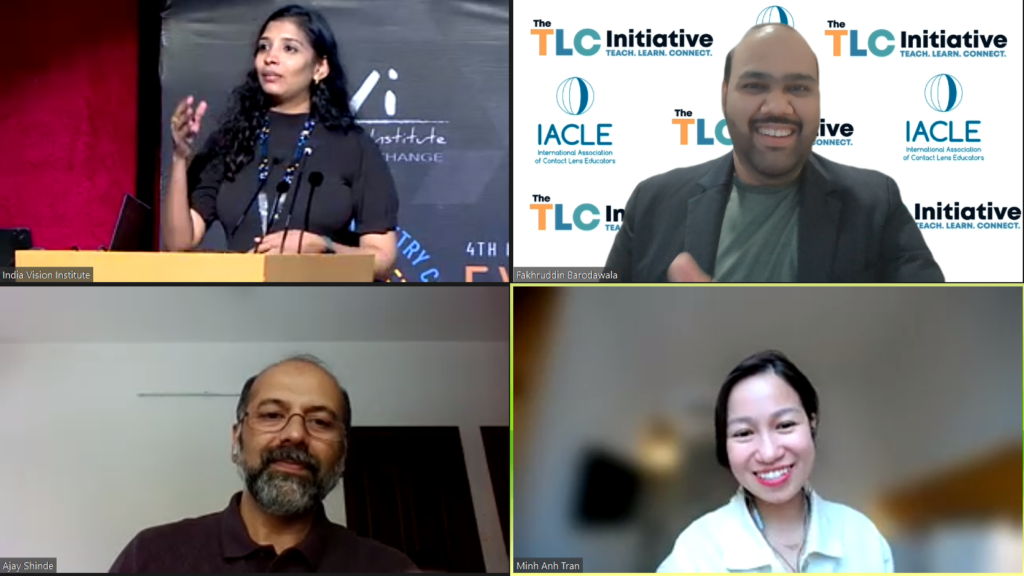 The India Vision Institute organized the 4th International Optometry Conference on Eye Health in a Changing World at IIT Madras Research Park in Chennai from 24-26 September. Over the three days, the event featured lectures delivered by IACLE board members, staff, and FIACLEs. The topics included contact lens solution hypersensitivity, emerging trends in contact lenses, and presentations highlighting IACLE's activities.
EUROPE / AFRICA / MIDDLE EAST
Are you attending upcoming conferences in the Middle East?
We are interested to know if any of our members will be in attendance at the upcoming events: Vision Plus Conference (17-19 October in Dubai, UAE), 8th Saudi Optometry Conference (26-28 October in Riyadh, Saudi Arabia) or the 17th International Congress of The Middle East Africa Council of Ophthalmology (29 November-2 December in Muscat, Oman).
If you are planning to attend the above meetings and would like to meet with fellow IACLE members in your region, please get in touch by emailing Siobhan Allen at s.allen@iacle.org.
---
DATES FOR YOUR DIARY
IACLE TLC (Teach. Learn. Connect) WEBINARS
Visit the IACLE Webinars area on IACLETOP to view the schedule for upcoming webinars.
GLOBAL MEETINGS IN THE COMING MONTHS
American Academy of Optometry, New Orleans, USA, 11-14 October. Details.
Vision Plus Conference, Dubai, UAE, 17-19 October. Details.
8th Saudi Optometry Conference, Riyadh, Saudi Arabia, 26-28 October. Details.
The 17th International Congress of The Middle East Africa Council of Ophthalmology / 19th Muscat International Ophthalmology Conference (MIOC 2023), 29 November-2 December, Muscat, Oman. Details.
IACLE IS SPONSORED BY