Global Member Newsletter October 2020
WHAT'S NEW AT IACLE
NEW Members worldwide come together for Virtual Conference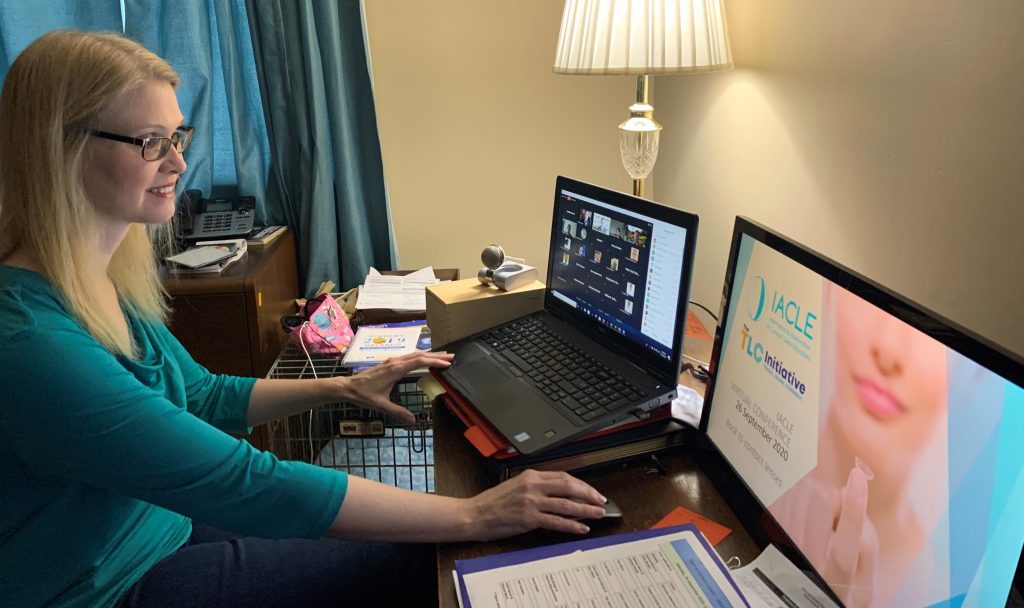 More than 98% of delegates strongly agreed or agreed that the speakers presented information in a way that was easy to understand at IACLE's first virtual conference, the results of our post-conference survey show. Over 200 participants watched live online (26 September) as IACLE's board and staff, educators and industry representatives from across the globe discussed their thoughts and experiences on the current state of the contact lens industry, education and practice. Pictured is FIACLE Professor Renée Reeder who presented 'The new normal in teaching'. The full conference is available to view through IACLETOP.
Read the post-meeting report. Read our press release on the industry session
NEW Global experts speak on myopia in November webinars

IACLE's next global webinar series begins on 3 November with 'Myopia development and its progression', hosted by Professor Nicola Logan (pictured far left) from Aston University, Birmingham, UK. Following this, we will hear from (l-r) Professor Padmaja Sankaridurg, Dr Fiona Cruickshank and Dr Kate Gifford every Tuesday throughout November.
Look out for details on how to tune in
NEW Malaysian students complete Online Student Trial Exam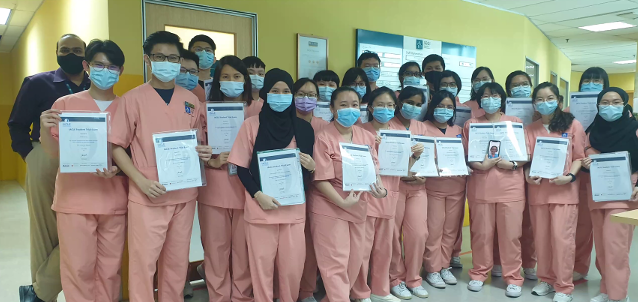 FIACLE Fakhruddin Barodawala (left), lecturer at SEGi University in Malaysia, was one of the first contact lens educators to run IACLE's Online Student Trial Exam with his students (pictured). The exam counts towards 10% of final examination grades at SEGi University. One of Fakhruddin's final-year students said: 'Registering for the STE is easy, and a step-by-step guide is provided. The STE is an internationally recognized exam that effectively evaluated my knowledge in my contact lens studies.'
Watch Fakhruddin share his STE experience through IACLETOP
NEW From Europe to a global organization – a personal perspective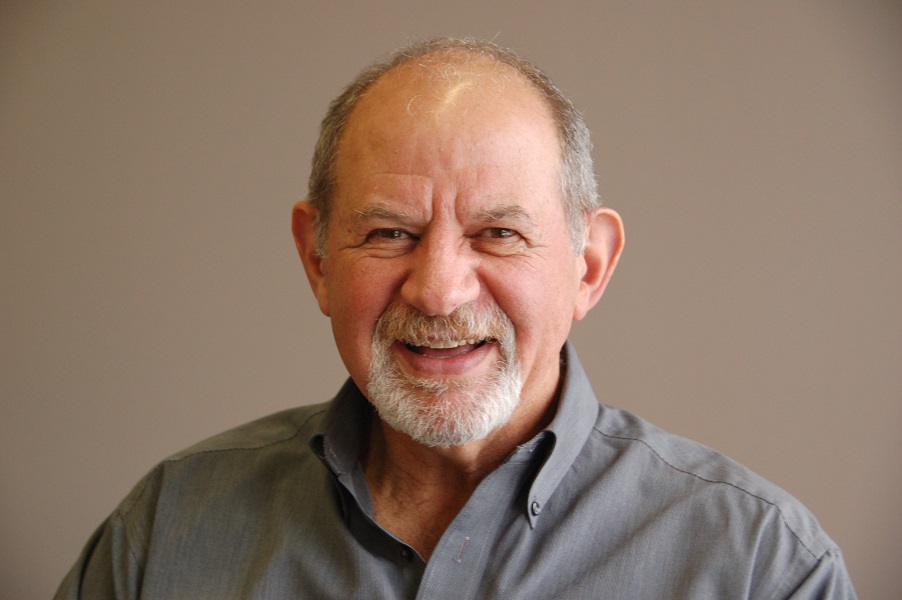 Former Vice President Professor Desmond Fonn recalls the background to the founding of IACLE and charts the Association's evolution from its early days in Europe to an organization with a global structure and industry investment. Des's article is the latest in a series on the history of IACLE commissioned to mark our 40th anniversary in 2019.
Read our History page. Read the full article
Renew your membership to receive all IACLE benefits
Members are reminded that access to our full range of membership benefits – including our Learning Management System IACLETOP, the new version of the IACLE Contact Lens Course ICLC2020, and all resources and events under The TLC (Teach. Learn. Connect.) Initiative – is only available to IACLE members. Note: IACLE membership runs on an annual cycle which expires when payment is not received. Contact Siobhan Allen if you have any questions about your membership renewal.
MEET A MEMBER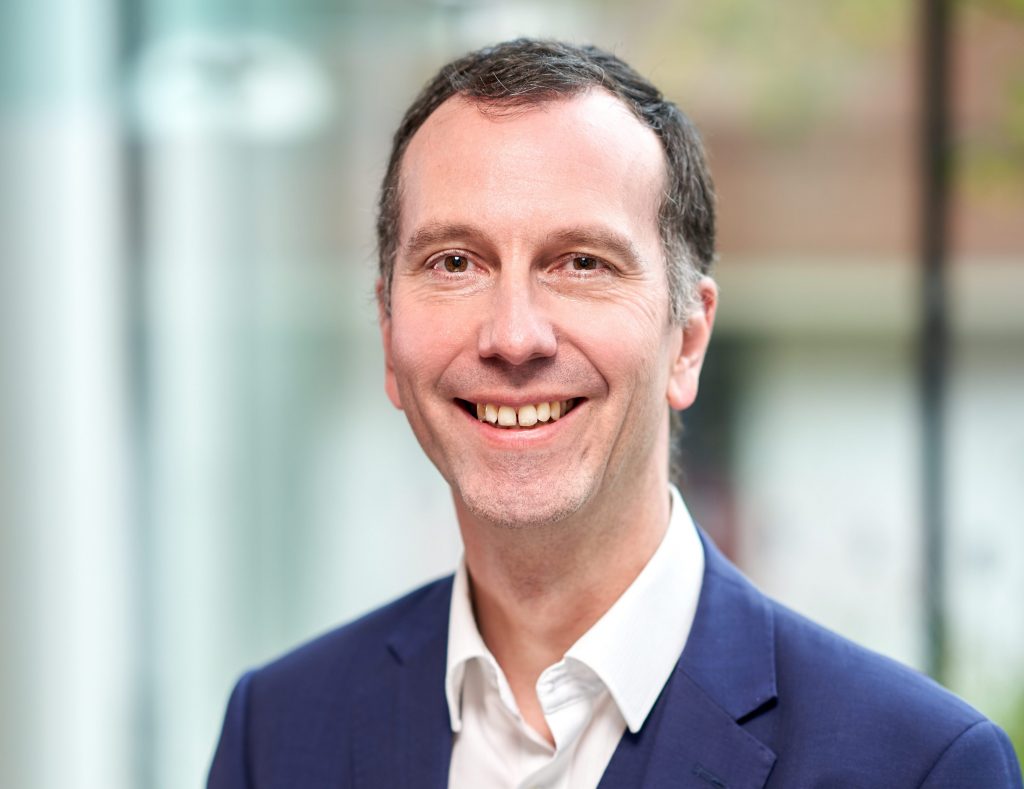 Meet our long-standing member Professor James Wolffsohn, Associate Pro-Vice-Chancellor at Aston University, Birmingham, UK, who specialises in anterior eye, particularly contact lenses, intraocular lenses, dry eye and ophthalmic instrumentation. James has worked with IACLE since 2000 to develop the contact lens course at Aston University as well as to canvas the views of others in the field to support new teaching techniques. Outside work, his interests include gardening and Christian Mission. Another interesting fact: 'My parents were both born, brought up and married in Chile, South America,' says James.
WOULD YOU LIKE TO INTRODUCE YOURSELF TO IACLE MEMBERS WORLDWIDE? WE'RE LOOKING FOR MORE MEMBERS TO TAKE PART IN MEET A MEMBER.
IMAGE OF THE MONTH
Vogt's striae in keratoconus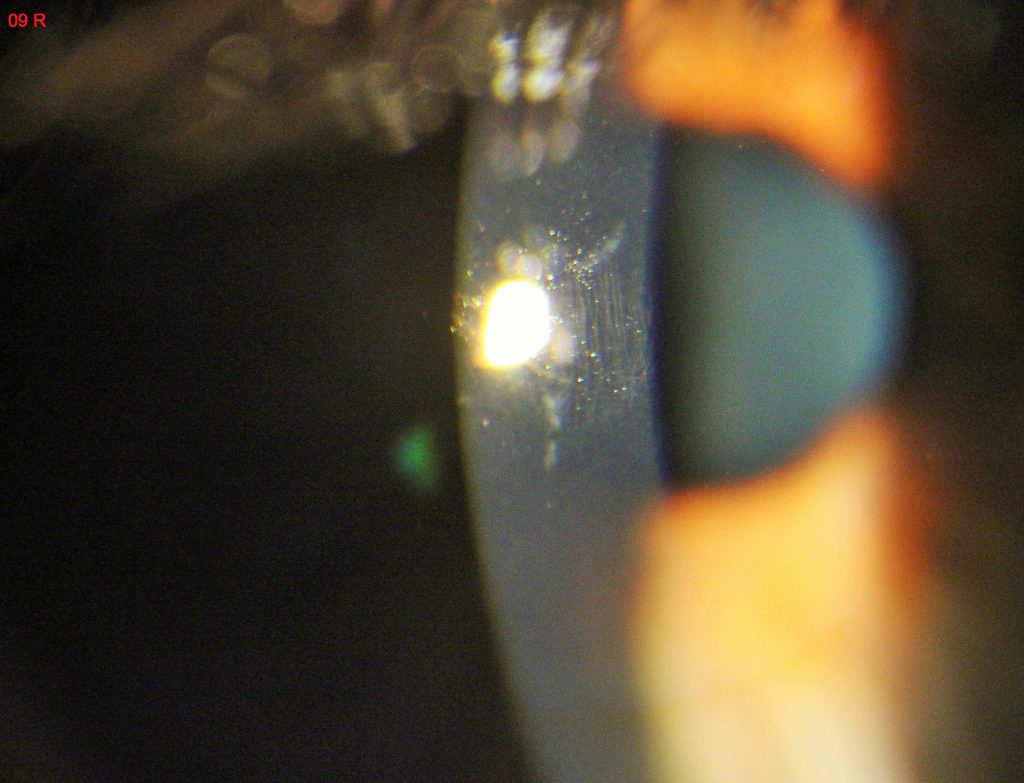 Professor Fausto Miguel Rangel Rosas from Instituto Politécnico Nacional in Mexico City captured this image of a clinical sign in keratoconus. Vogt's striae appear as fine vertical lines deep in the corneal stroma over Descemet's membrane. The photo was taken through a slit lamp camera system with direct parallelepiped illumination.
RESOURCES
What's new in IACLETOP?
The latest version of our most valued resource, the IACLE Contact Lens Course (ICLC2020), is now available to access via IACLETOP. Translations are almost complete for the previous version (ICLC2015) in Chinese, Spanish and Korean, with some content available in French, Italian, German, Portuguese and Russian. The Online Student Trial Exam is now in English, Bahasa, Chinese, Korean and Spanish.
Handout explores blink inefficiency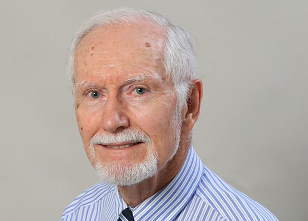 Professor Charles McMonnies from the University of New South Wales, Sydney, Australia has developed a handout, 'Blinking: dry eyes and dry contact lenses', available in English and Spanish. An accompanying report on 'Diagnosis and remediation of blink inefficiency', discusses how efficient blinking habits are essential for maintaining the health of the surface of the eye and optimum contact lens performance.
Find handout and report in Contributed Resources – Guides/Factsheets via Member Login
TFOS holds latest meeting online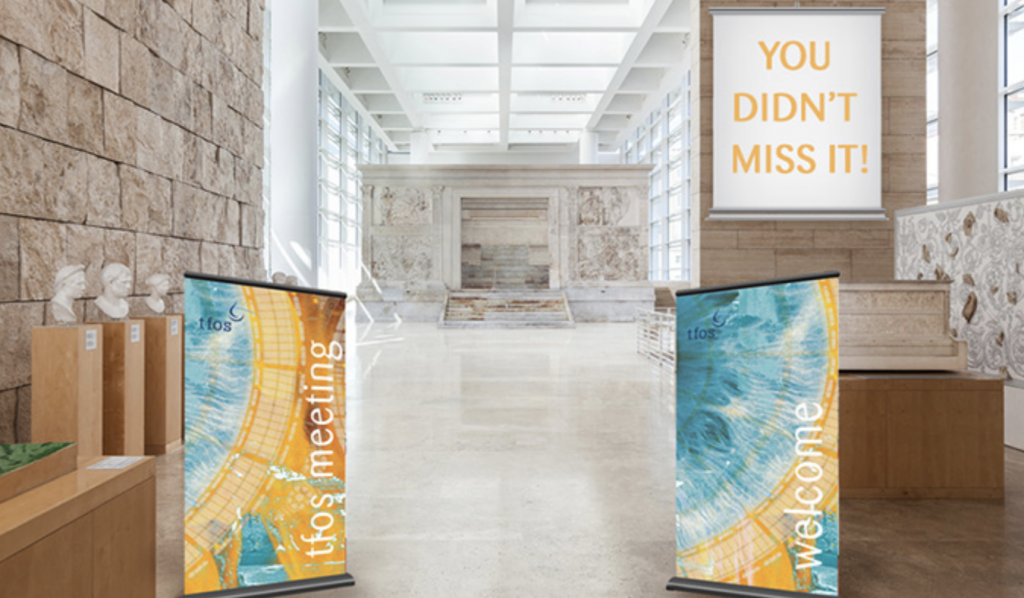 Presentations from the recent Tear Film & Ocular Surface Society (TFOS) virtual meeting (9 September), themed 'Unique challenges and unmet needs for the management of ocular surface diseases throughout the world', are now available to view online. Dry eye specialists worldwide took part in the meeting.
Summit continues its educational program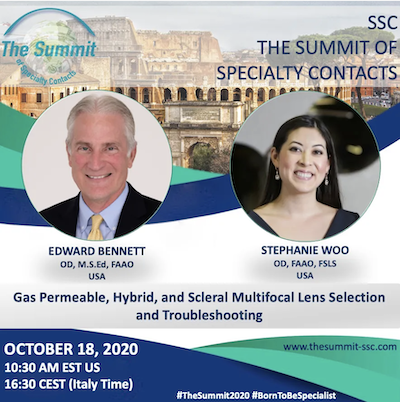 The second part of The Summit of Specialty Contacts' (SSC) educational program continues with a webinar on 'Gas permeable, hybrid, and scleral multifocal lens selection and troubleshooting' on 18 October and is free to view. The SCOPE Study Group also announced the results of its latest survey at SSC's virtual meeting (27 September).
Watch the full program recordings
J&J celebrates World Sight Day with symposium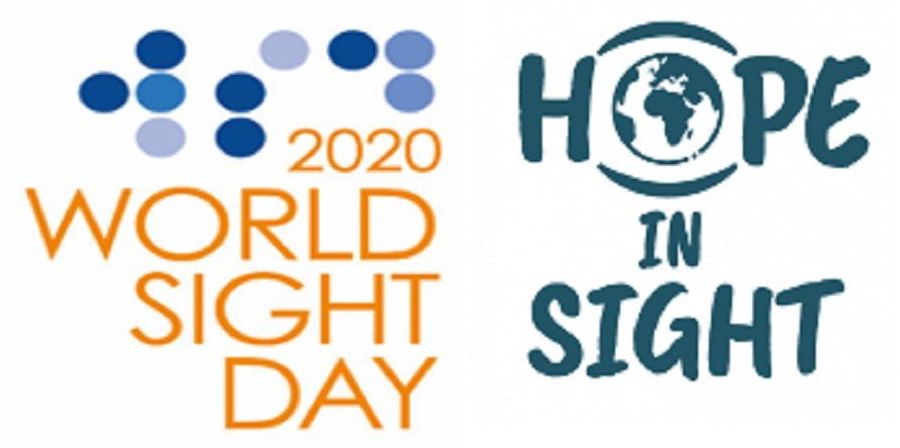 The Johnson & Johnson Institute is celebrating World Sight Day (8 October) with a 6-hour Virtual Symposium from the Asia Pacific region over 3 days. The final webinar, on 'Digital eye strain', runs on 21 October from 7pm-9pm Sydney time. 'We have collaborated with our counterparts in Asia Pacific countries to bring together a robust program. We expect global attendees to his event, and have included speakers from multiple countries,' said J&J.
Simplifying contact lens wear and care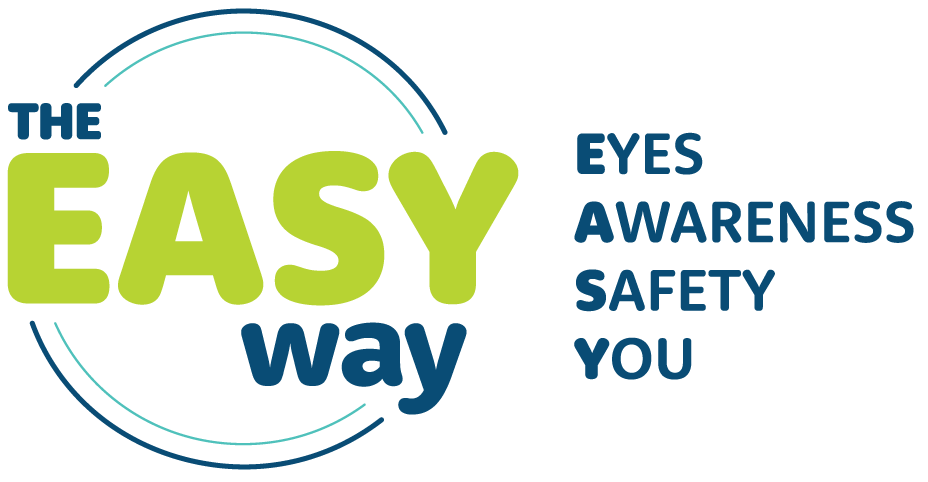 Industry body The Contact Lens Institute (CLI) has launched The EASY Way Program (Eyes, Awareness, Safety, You) that includes simplified wear and care tips, attention-grabbing infographics, and companion digital resources for eye care professionals and staff to use in their practices.
Watch the EASY way video. Access the ECP toolkit
COVID-19 RESOURCES
COVID-19 and spectacle wear
A study by Zeng et al investigates the association between wearing spectacles and susceptibility to COVID-19.
Eye protection and the risk of coronavirus disease
An accompanying editorial highlights the limitations of the Zeng et al study.
BCLA PPE guidance and advice
The British Contact Lens Association shares videos, developed jointly with Alcon, relating to donning and doffing of personal protective equipment.
GLOBAL UPDATE
AMERICAS
Academy 2020 at Home opens

The latest findings in myopia control and effects of the COVID-19 pandemic on eye care practice were prominent themes as the American Academy of Optometry opened its annual meeting, Academy 2020 At Home (7 October). Highlights for educators included surveys on the mental health impact of the pandemic among students, and on diversity, equality and inclusion in US optometry schools. The virtual meeting runs until 22 October.
Look out for a full report next month
Colombia hosts TLC webinar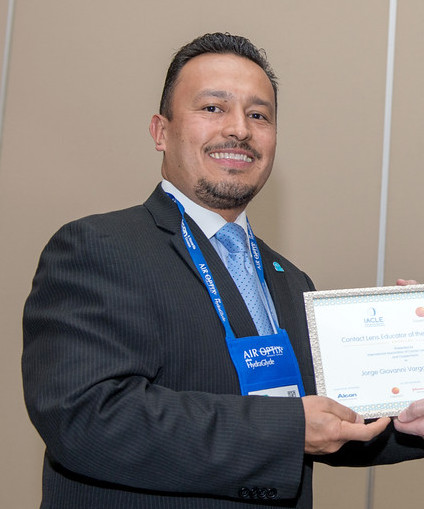 FIACLE Dr Jorge Vargas (pictured) from Colombia – 2016 IACLE Americas Contact Lens Educator of the Year – hosted a webinar under The TLC (Teach. Learn. Connect.) Initiative on the topic of 'Diagnosing keratoconus using ocular tomography' (14 September). Recorded IACLE in the World programs from the LA region can be listened to on demand.
ASIA PACIFIC
World Congress of Optometry to be postponed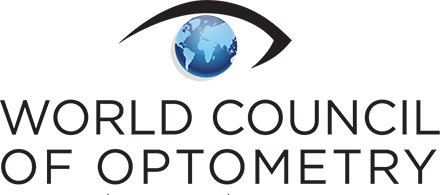 The World Council of Optometry and partner organizations have decided to postpone the 4th World Congress of Optometry (WCO4) until 8-10 September 2023, due to COVID-19 restrictions. The congress was due to take place in Melbourne, Australia in September 2021.
Industry seminar takes place at South Korean university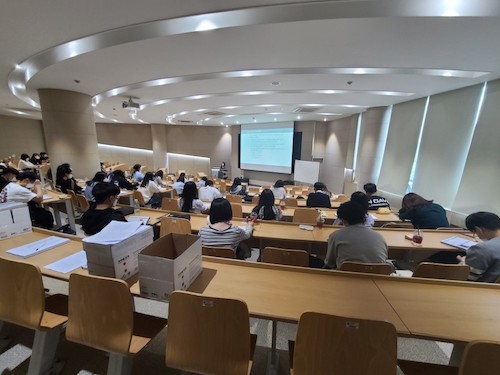 Alcon conducted an industry seminar at Baekseok University, Cheonan City, South Korea, on the topic of 'How to fit multifocal contact lenses', where Jun Eunhee discussed the lens fitting guide via a virtual platform. Professor Hyojin Kim and 15 graduate students attended the meeting.Read the full Asia Pacific report
Educators in China shown IACLE's Contact Lens Course

China National Coordinator Professor Wang Haiying visited Guangzhou Business Vocational School, Guangzhou, China, to speak with contact lens educators about the IACLE Contact Lens Course (ICLC), and to show the educators IACLE's resources and how to use them. Haiying also encouraged the contact lens teachers to use IACLE's Online Student Trial Exam (17 September).
IACLE plays its part in India-wide virtual meeting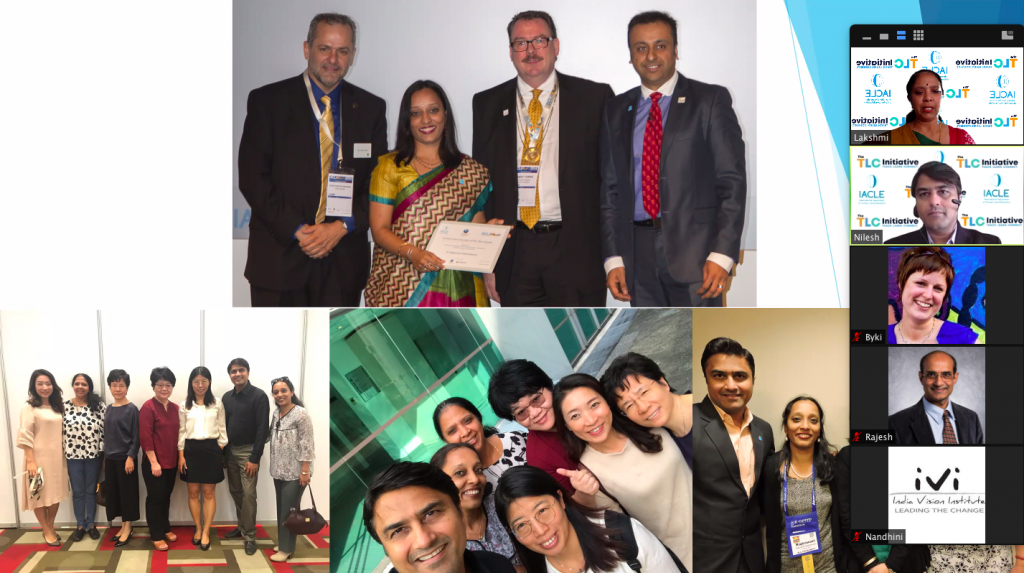 The India Vision Institute organized an international virtual conference and trade fair themed 'Eye health in a changing world' with as many as 1,200 optometrists, ophthalmologists and other eye care professions attending the event (2-4 October). IACLE India's Nilesh Thite and Lakshmi Shinde, along with FIACLE Dr Byki Huntjens and FIACLE Rajesh Wadhwa, took part in the virtual conference. IACLE's involvement was dedicated to Asia Pacific Regional President Dr Rajeswari Mahadevan, who passed away in July.
EUROPE / AFRICA / MIDDLE EAST
South African university holds Online STE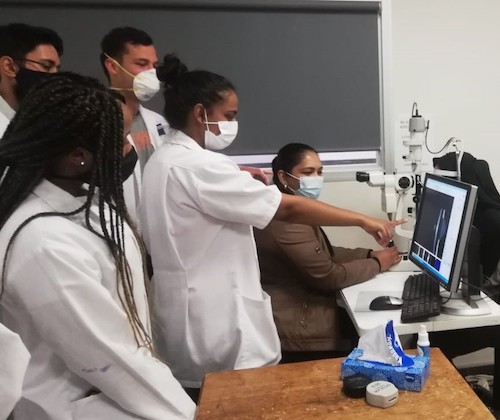 FIACLE Dr Elizabeth Chetty, University of Johannesburg, South Africa, ran IACLE's Online Student Trial Exam (STE) with her students last month (12 September). 'I found this to be a comprehensive examination of their contact lens knowledge. I found the IACLETOP platform to be user-friendly, and Lakshmi and Kavitha were very helpful in taking me through the system and guiding me every step of the way. What I love most about the IACLETOP platform is the analysis of the student's answers after the exam. The reports generated helped greatly in identifying the gaps in student knowledge and provided me with a clear indication of where revision should be focused to prepare the students for their final assessment. Thank you IACLE for this wonderful opportunity!' said Elizabeth.
Read educator and student feedback on the STE
Professor Sankaridurg receives Optometrist of the Year award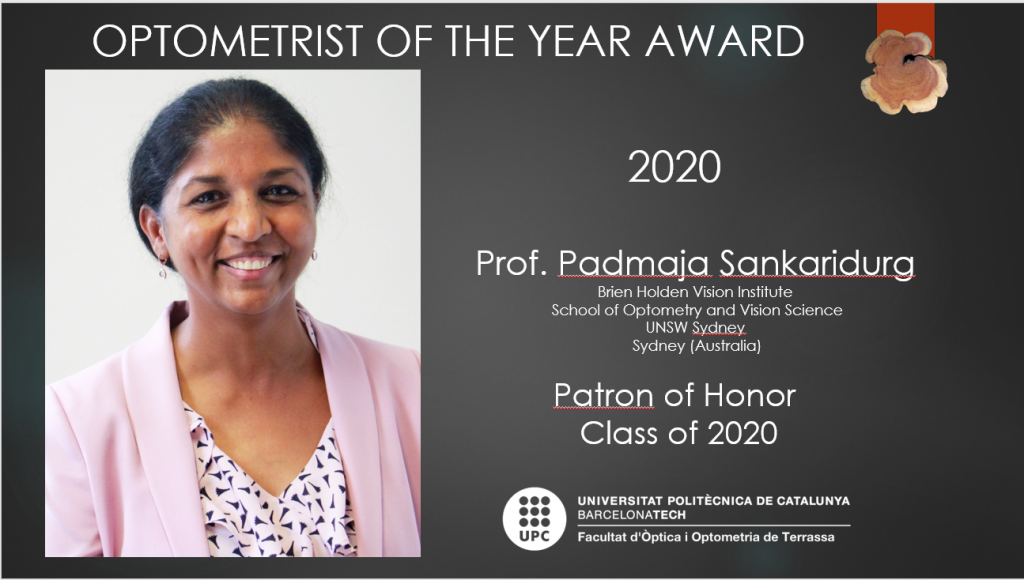 Professor Padmaja Sankaridurg, from the School of Optometry and Vision Sciences, Sydney, Australia has won the International Optometrist of the Year Award 2020. The award is presented in collaboration with Spanish organizations the College of Optometrists of Catalonia, Catalan Association of Optometry and Vision Therapy and Terrassa School of Optics and Optometry. Three FIACLEs are previous recipients of the award: Professors Lyndon Jones, José Manuel González-Meijome and James Wolffsohn.
BCLA calls for papers for 2021 conference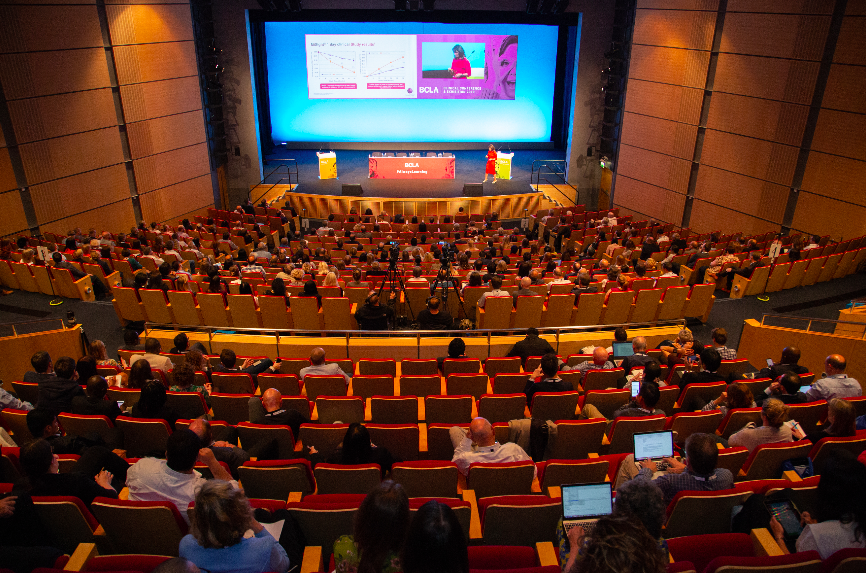 The Call for 2021 Scientific Papers for the British Contact Lens Association (BCLA) Clinical Conference and Exhibition – to be held in Manchester, UK (11-13 June 2021) – is now open, with a pre-screening deadline of 27 November. The final deadline for submissions is 10 January 2021.
Information on Call for Papers
BCLA UK going ahead as virtual event

BCLA UK is taking place as an online event on 8 November and will include a virtual exhibition. IACLE President Dr Shehzad Naroo, Vice President Professor Philip Morgan, FIACLEs Professor James Wolffsohn and Dr Byki Huntjens, and IACLE members Dr Manbir Nagra and Dr Katharine Evans, are presenting.
View the full BCLA virtual meeting program
Manchester universities move teaching online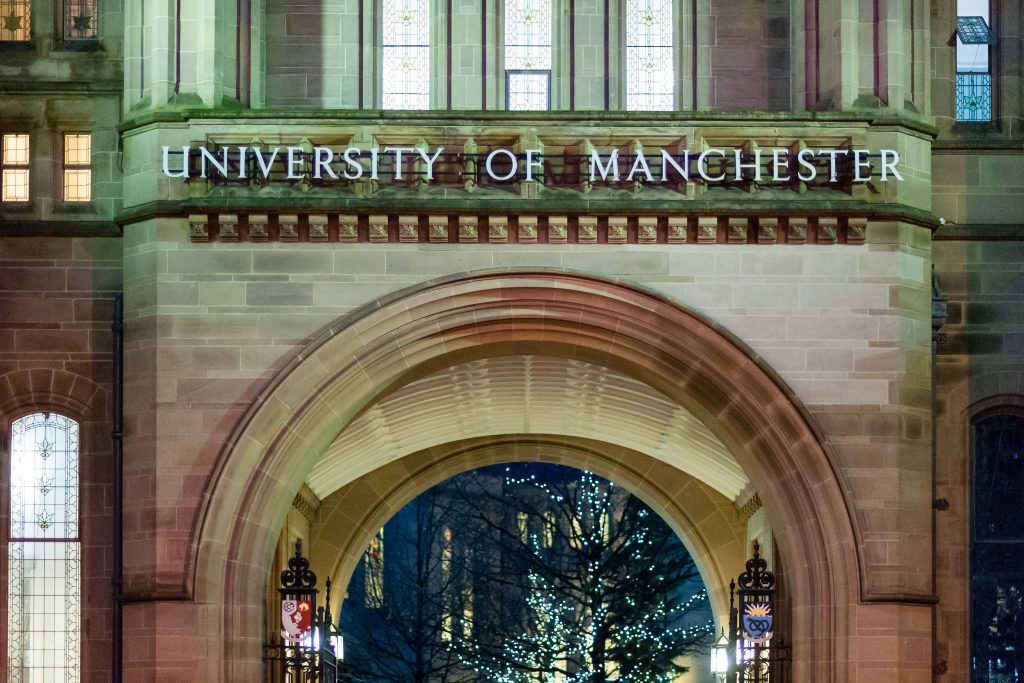 Universities in Manchester, UK are teaching online until at least the end of the month due to an outbreak of coronavirus among students. IACLE Vice President Professor Philip Morgan, Head of Optometry at the University of Manchester, explained: 'The current situation presents a number of challenges for us in delivering our teaching but I'm pleased that the detailed reorganization of our teaching program over the summer means that we will continue to deliver a blended learning experience for our students, including face-to-face practicals and clinics, including contact lens work.'
Read a news item on the situation
DATES FOR YOUR DIARY
The following meetings are among those that have new dates in 2020 due to the COVID-19 pandemic:
7-22 October – Academy 2020 At Home (American Academy of Optometry) Virtual Conference. Details.
1 November-19 December – CLASS 2020 (Contact Lens of the Americas Specialists Symposium), Cartagena Caribe, Colombia. Details.
8 November – BCLA (British Contact Lens Association) UK Virtual Conference and Exhibition. Details.
A full list of events in 2020 and beyond is available in our Global Meetings & Events Schedule. Please email dates of events to s.allen@iacle.org.
IACLE IS SPONSORED BY