Global Member Newsletter October 2022
Read this newsletter in:
Arabic – Chinese – French – Korean – Portuguese – Spanish
MEMBERSHIP PERKS IN OCTOBER
Save the date for our Virtual Conference next month


We are excited to announce that we are hosting a Virtual Conference on Saturday 26 November from 8:30 – 11:30 am (GMT) themed 'Seize the Opportunity'. Contact lens practice around the world is at a critical juncture with exciting opportunities with new products but also the looming threat of wearers dropping out due to discomfort or dryness. To hear about the current hot topics in contact lens practice, we encourage IACLE members, students, and eye care professionals to save the date for our fifth Virtual Conference.
Keep a look out for more details and registration opening next week
Complimentary access to Student Areas for existing members
For our members who already have access to a Student Area, we are pleased to inform you that your complimentary access remains until the end of 2022. If you have any questions, please get in touch with Kavitha Jayanna at k.jayanna@iacle.org
For more information on Student Areas
---
IACLETOP UPDATES
More Flashcards added to IACLETOP
Visit IACLETOP to check out the latest Flashcard: soft contact lens fitting. The IACLE Education Team design the Flashcards to support the delivery of practical skills with crucial aspects of a particular skill summarized on one A4 page. Each Flashcard is available in two formats: as a PowerPoint and an interactive flipped class using the Nearpod software.
---
NEWS IN OCTOBER
Image of the Month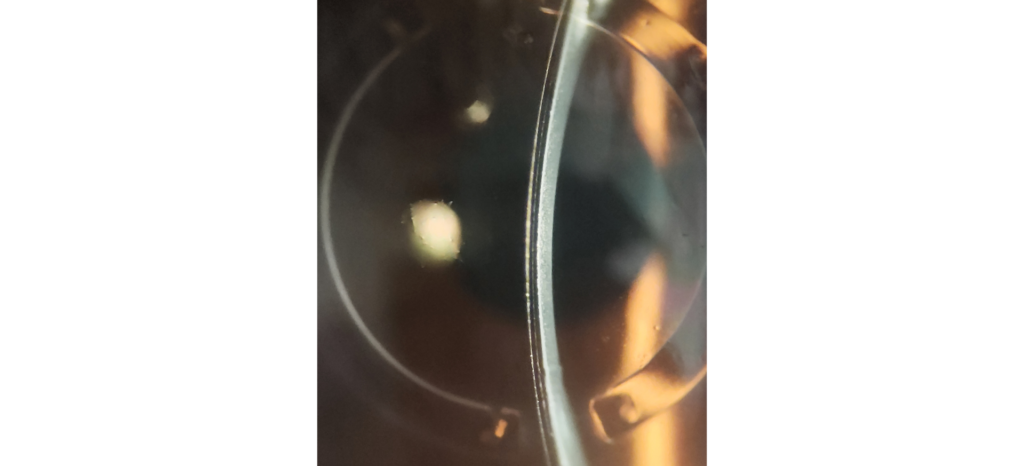 Dr Fausto Rangel from the Optometría y Contactología Especializada in Chalco, Mexico, captured the above image showing a scleral lens with clearance of approximately 150 microns in a keratoconus patient with Intacs, viewed through a slip lamp optic section with white light. Dr Rangel used a smartphone attached to a slit lamp to take the photo.
Would you like to feature in next month's Image of the Month? Submit your image
Upcoming Academy meeting in San Diego
Thanks to our members who have already got in touch about meeting up at the American Academy of Optometry (AAO). We will be in touch soon with the details. With the meeting just around the corner, we'd love to know if any additional members are attending. We are shooting some video content from our members and FIACLEs on Friday 28 October, so please let us know if you will be there by emailing us at iacle@iacle.org. We look forward to seeing you there!
It's almost time to renew your membership
Next month, we will begin sending out membership renewal invoices to our members. IACLE membership runs on an annual cycle, and payment must be made by 31 December to ensure full membership benefits continue. A reminder that membership benefits will end on 31 January 2023 if payment is not received, and a late fee will be payable for members who have not paid by the end of February.
For more information on how to renew your membership
---
RESOURCES
Acanthamoeba keratitis during contact lens wear
Nicole Carnt Scientia Associate Professor at the School of Optometry and Vision Science at UNSW in Sydney, Australia, and also a speaker at our upcoming Virtual Conference, conducted a study on risk factors for Acanthamoeba keratitis during contact lens wear. With her co-workers, Dr. Carnt reported that this infection was less likely in patients using daily disposable contact lenses and by adopting safe lens-wear practices.
COVID-19 RESOURCE
A recent study from Thailand evaluated the outbreak of COVID-19-related myopia progression among early adults (18-25 years) during the COVID-19 pandemic. The authors reported -0.59 D (± 0.67 D) mean two-year myopia progression and concluded that myopia could progress during adulthood among those who have lived under public health measures intended to address the COVID-19 pandemic.
---
WHAT'S HAPPENING IN OUR REGIONS?
AMERICAS
Catch up on the latest Spanish-speaking webinars
IACLE Radio broadcasts across the Latin American region, providing exciting speakers discussing a range of contact lens topics. The sessions last month saw an attendance of 217 IACLE members and eye care practitioners. Corneal contact lenses, managing paediatric patients and managing a contact lens practice were among the topics discussed.
Read the full Americas report. Catch up on the webinars
ASIA PACIFIC
Member meeting in India next month
The IACLE Education Team is hosting a in person meeting for our members in India at the Lotus College of Optometry in Mumbai, India, on 24-25 November. The meeting aims to provide a platform for all Indian members to connect, learn from, and share success stories. The schedule sees a combination of clinical and educational topics, such as issues relating to education, industry interaction and a discussion of IACLE resources and programs.
If you have any questions, please email Nilesh Thite at n.thite@iacle.org
China Team host Virtual Conference
Join the IACLE China Team on Saturday 22 October from 9 am – 5 pm China time (GMT+8) for a Virtual Conference covering a wide range of topics, including presbyopia, myopia management, application, and orthokeratology.
Read the agenda here. For more information, please get in touch with China National Coordinator Wang Haiying
IACLE at IVI International Optometry Conference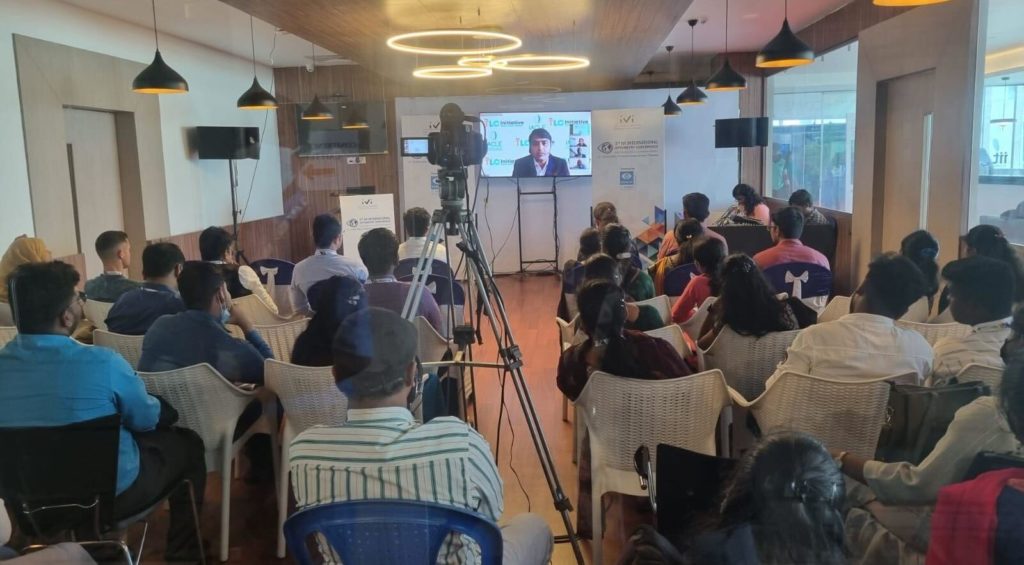 On 13-15 October, IACLE colleagues are presenting at the India Vision Institute's third International Optometry Conference. Lakshmi Shinde and Nilesh Thite, among others, discussed the contact lens market in India – past and future – where over 100 attended the online and in person event (captured above). Over the coming days, Professor Shehzad Naroo is talking about 'Incorporating scleral lenses into your practice'. Regional Coordinator and Directors Guillermo Carrillo, Dr Kah Ooi Tan and Dr Fabrizio Zeri are part of a panel discussion on 'Optometry across the globe'.
Dr Rajeswari Mahadevan Memorial Scientific Session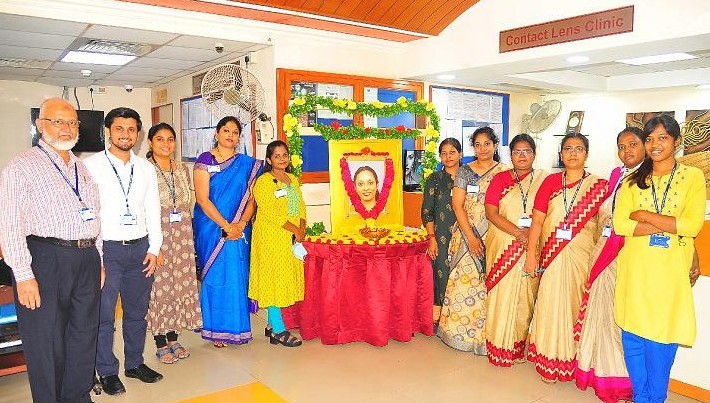 In Dr Raji's fond memory, Sankara Nethralaya held a Memorial Contact Lens Oration on 9 September. As Past Asia Pacific President, Dr Raji's contributions to IACLE were enormous. She was a passionate teacher who participated in numerous IACLE programs, including the Distance Learning Program, Student Trial Exam, the Fellowship Exam, achieved Lifetime FIACLE status, and was the first recipient to receive the IACLE Contact Lens Educator of the Year Award in 2014.
EUROPE / AFRICA / MIDDLE EAST
Train the Trainer workshop at AECSO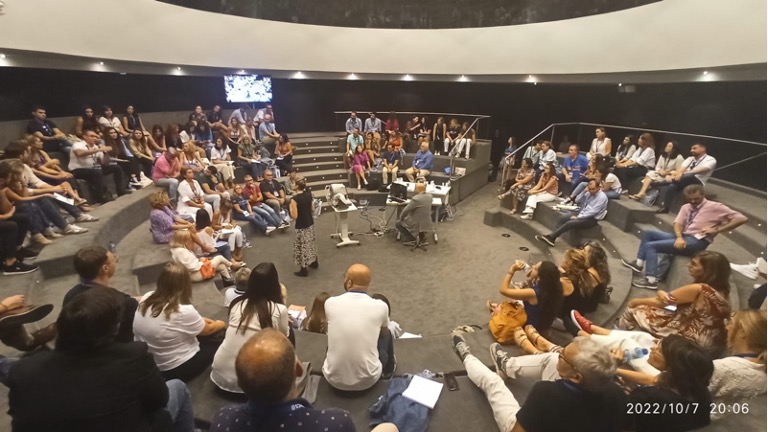 During the Congress of the Spanish Association of Contact Lenses and Ocular Surface (AECSO), FIACLE Dr Raquel Gil-Cazorla delivered a successful 'Train the Trainer' workshop on dry eye, and around 90 participants attended the session (7 October). In addition, Dr Gil-Cazorla also organized a hybrid IACLE member meeting where IACLE members, past members, potential members, and industry gathered to discuss the potential for IACLE in Spain.
Read the outcomes of the meeting in the EAME report
IACLE President speaks at Optometridagarna 2022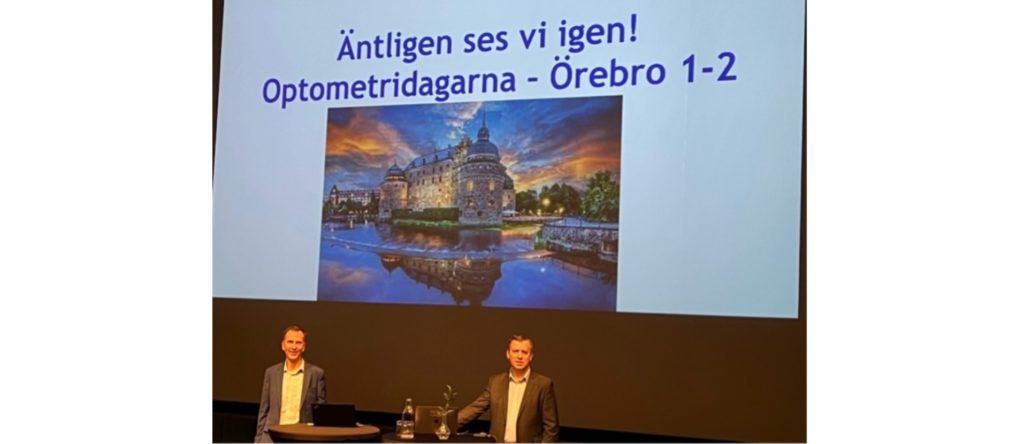 IACLE President Professor Philip Morgan and Lifetime FIACLE Professor James Wolffsohn delivered a review of the British Contact Lens Association's (BCLA) Contact Lens Evidence-based Academic Reports (CLEAR) to a group of over 700 optometrists at the Optometridagarna meeting in Örebro, Sweden (1 October).
---
DATES FOR YOUR DIARY
IACLE TLC (Teach. Learn. Connect) WEBINARS Visit the IACLE Webinars area on IACLETOP to view the schedule for upcoming webinars.
GLOBAL MEETINGS IN THE COMING MONTHS
The Summit of Specialty Contacts, Sorrento, Italy, 14-16 October. Details.
American Academy of Optometry, San Diego, USA, 26-29 October. Details.
3rd Asia Optometric Congress and 8th ASEAN Optometric Conference, Kuala Lumpur, Malaysia, 15-16 November. Details.
---
IACLE IS SPONSORED BY