Global Member Newsletter September 2019
WHAT'S NEW AT IACLE?
NEW Florida key to IACLE's high profile this season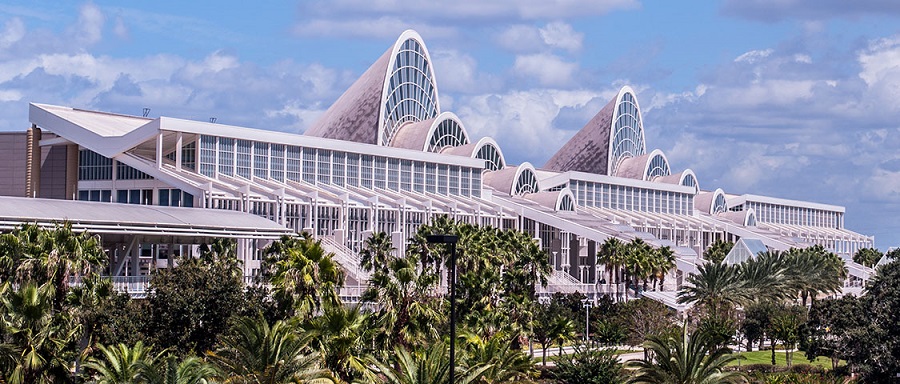 Orlando, Florida will host the Academy 2019 Orlando and 3rd World Congress of Optometry at the Orange County Convention Center (pictured) from 23-27 October. IACLE representatives will deliver nearly 20 presentations, as well as taking part in key events. President Dr Shehzad Naroo has been invited to join the panels for three special symposia and Vice President Professor Philip Morgan will deliver the prestigious Max Shapero Memorial Lecture. Dr Luigina Sorbara, Dr Etty Bitton, Dr Jan Jurkus and Lakshmi Shinde will join members and FIACLEs presenting lectures, workshops and posters.
NEW Preparations in hand for 2019 Fellowship Exam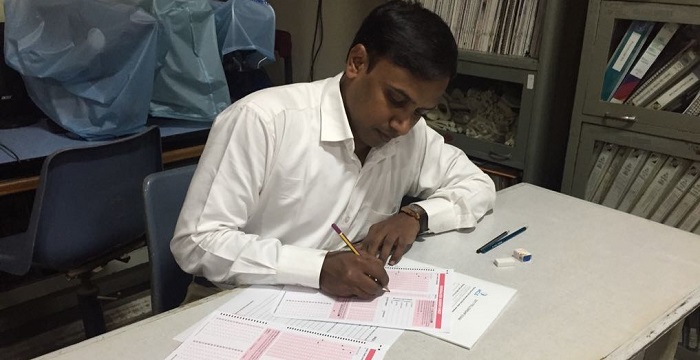 More than 170 members have registered to sit the 2019 Fellowship Exam on 16 November. Registration is now closed. Candidates will be notified by October of the time and location of the exam, their supervisors and contact details, and will receive instructions from IACLE staff on exam day too. Results will be issued early in the New Year. This is the first Fellowship Exam for which the New Distance Learning Program (DLP) is available for preparation.
40TH ANNIVERSARY NEWS
LA members make their mark at FEDOPTO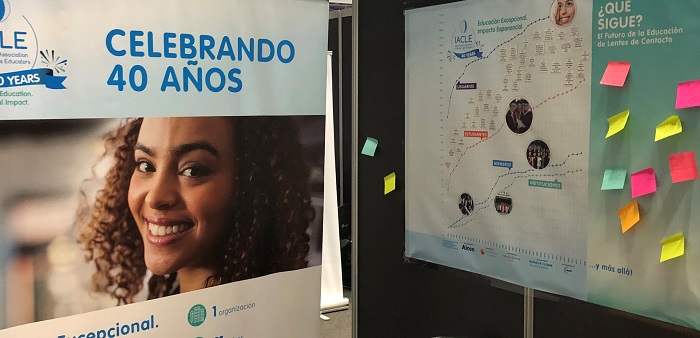 Our 40th celebrations continued at the 17th FEDOPTO International Optometry Congress in Bogotá, Colombia last month (8-10 August). Members were invited to 'Make Your Mark' at the IACLE exhibition booth. At the congress, former Vice President Professor Desmond Fonn recalled the early days of IACLE and its activities in Latin America.
IACLE AP generates interest in press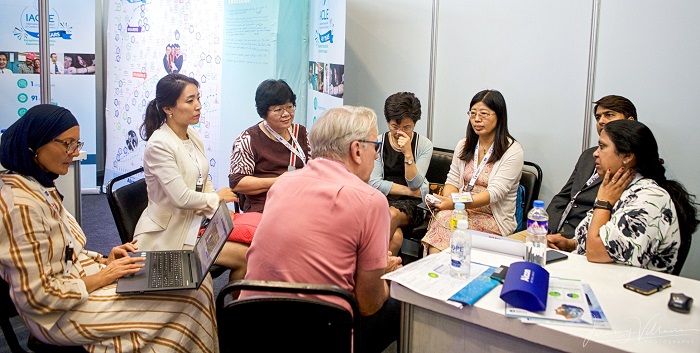 IACLE's presence at the Asia Pacific Congress of Optometry (APOC) in Manila, Philippines in June continues to attract press coverage in the region. A feature on our 40 years' celebration at APOC appears in the July/August issue of The Indian Optician and Vision Plus also covered the events. Pictured are IACLE AP staff at our exhibition booth at the congress.
Read the Indian Optician feature
MEET A MEMBER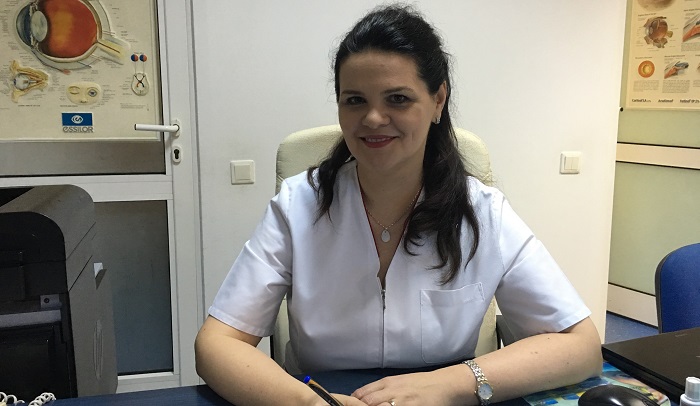 Meet Dr Simona Radu, senior ophthalmologist at Euro-Optics in Bucharest, Romania, where her professional interests are ocular surface, keratoconus and myopia. 'Working as a private practitioner, I have the freedom and flexibility to be involved in teaching. IACLE offers valuable up-to-date information and case presentations I can use for improving my knowledge and as a start for my presentations,' says Simona. Outside work, her interests are travelling, reading, painting, music and yoga.
WOULD YOU LIKE TO INTRODUCE YOURSELF TO IACLE MEMBERS WORLDWIDE? WE'RE LOOKING FOR MORE MEMBERS TO TAKE PART IN MEET A MEMBER.
Contact your regional / country coordinator for details
IMAGE OF THE MONTH
Toric soft contact lens scribe marks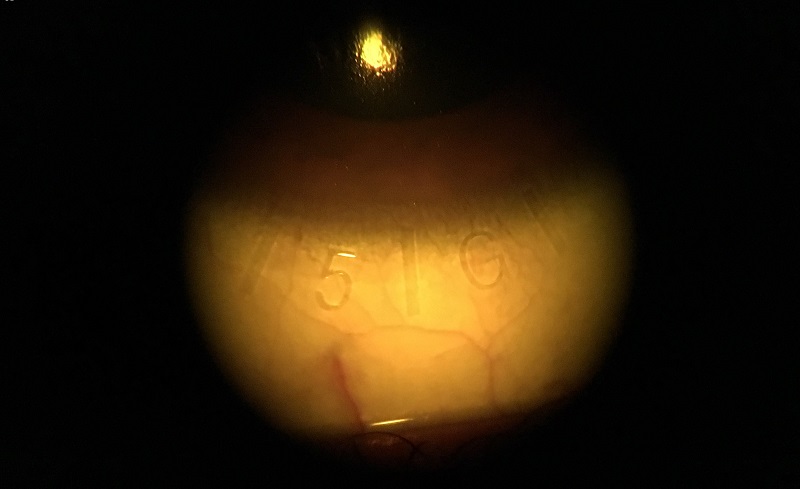 IACLE's Director of Educational Programs Nilesh Thite captured this image using a portable anterior eye imaging module (smartphone based) attached to a standard slit lamp with 16X magnification. The image was taken during a session to demonstrate toric soft lens fitting and how to capture the scribe marks. The location of the marks suggests minimum rotation. In this case, the lens can be ordered as per the spectacle cylinder axis.
COULD NEXT MONTH'S IMAGE BE YOURS? SHARE YOUR PHOTOGRAPHS FOR THE 2019 IACLE IMAGE COLLECTION AND ENTER OUR IMAGE OF THE YEAR COMPETITION FOR THE CHANCE TO WIN A YEAR'S IACLE MEMBERSHIP AND A US$100 AMAZON VOUCHER!
Submit your Image of the Month
RESOURCES
NEW ICLC modules in Korean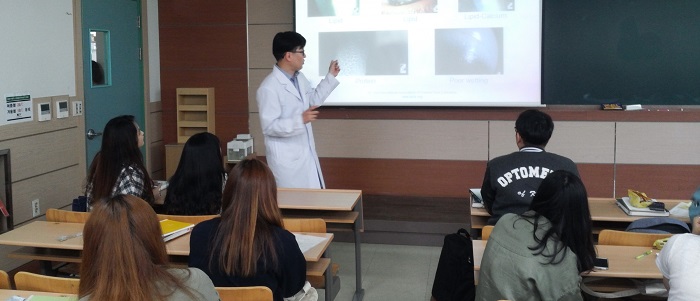 Twenty lectures from the New IACLE Contact Lens Course are now available in Korean. The lectures can be downloaded via Member Login in the New ICLC section, under Translations. Our thanks to Kyoung Hee, Seeun Lee, Kichong Mah, Jeonglim Lee and Geungchang Rye for their help in translating the modules.
CDC Contact Lens Health Week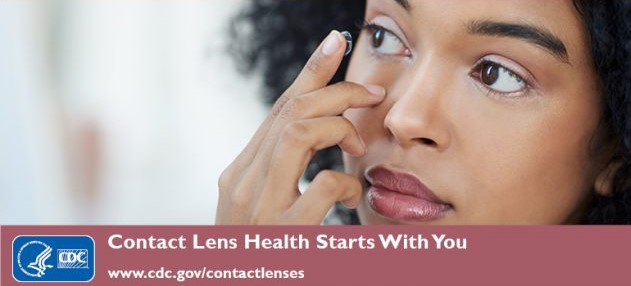 The US Centers for Disease Control and Prevention (CDC) held its sixth annual Contact Lens Health Week last month (23-27 August). This year's campaign theme is 'Contact lens health starts with you' and a range of materials – including videos, posters and tear-off pads – is available to promote health messages throughout the year.
Access Contact Lens Health Week materials
The Contact Lens Museum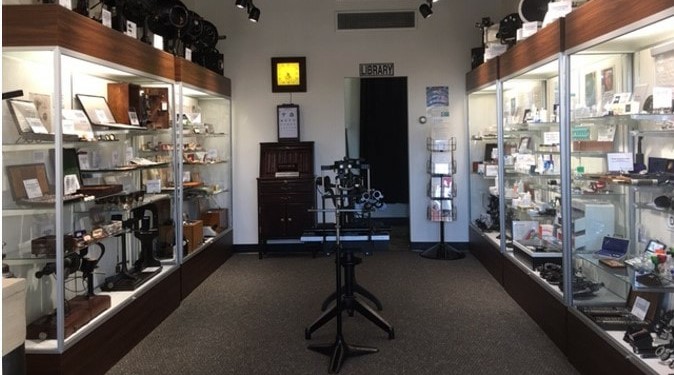 Interested in the history of contact lenses? Then you might want to arrange a visit to the new Contact Lens Museum recently opened in Forest Grove, Oregon, USA. Conceived by Dr Patrick Caroline, Jiah Pack and Dr Craig Norman, the collection showcases more than historical 2,000 items – contact lens artefacts, instruments and publications. Find out more
World Sight Day Challenge 2019

Practitioners, patients and students are encouraged to take part in Optometry Giving Sight's annual fundraising campaign, World Sight Day Challenge, which runs from 10-31 October. The challenge was established to support children who are blind or visually impaired due to lack of access to eye care and resources.
Take the World Sight Day Challenge
CORE resources on SICS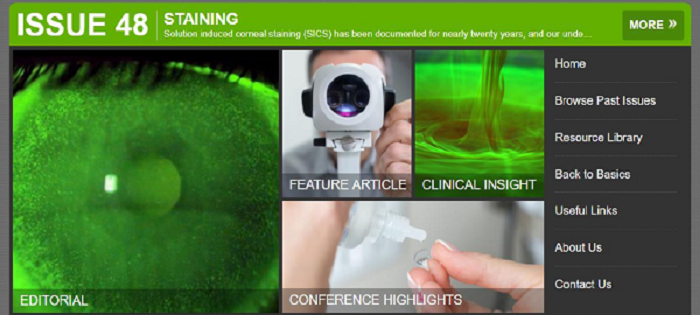 A factsheet on how understanding of solution-induced corneal staining (SICS) is evolving and how to manage it is just one of the resources available from the Centre for Ocular Research & Education (CORE) at the University of Waterloo, Canada. Issue 48 of its Contact Lens Update offers the factsheet, along with an editorial and feature article on SICS.
GLOBAL UPDATE
Americas
Celebrations in LA move on to Guatemala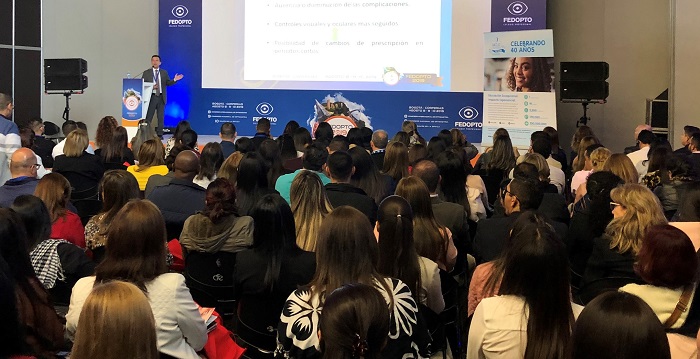 Following its successful participation in the FEDOPTO Congress in Colombia (pictured), IACLE LA joined a one-day meeting and 40th celebration in Guatemala City (4 September). Universidad Galileo was among those supporting this event. In other news, members taking part in the IACLE radio program this month were Rolando Rojas (Perú), Renzo Serrano (Perú), Jose Lay (Nicaragua), Yasmin Alvarez (Ecuador) and Diancy Capella (Colombia).
AAO Foundation announces 2019 awards recipients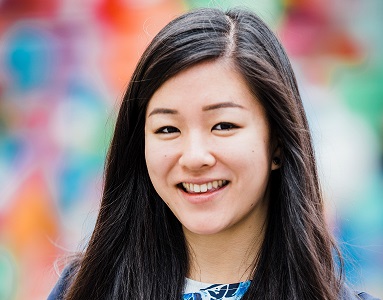 The American Academy of Optometry Foundation (AAOF) has awarded Dr Jocelyn Ou (pictured) the Bert C and Lydia M Corwin Contact Lens Residency award. Dr Ou is a cornea and contact lens resident at the Ketchum Health University Eye Center in Anaheim, California and will be travelling to the Academy 2019 Orlando and 3rd World Congress of Optometry next month. Students from seven US optometry schools will also attend, courtesy of AAOF Student Travel Fellowships.
Asia Pacific
NEW IACLE India releases dates for November meeting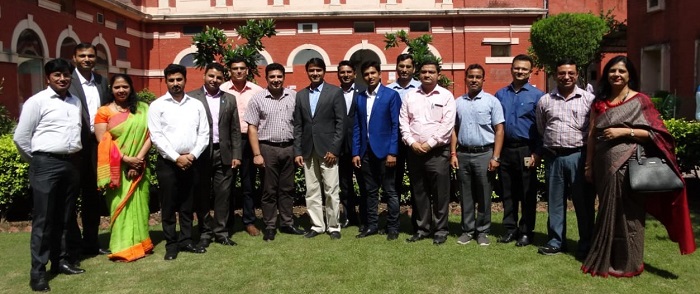 The annual IACLE Members' Meeting in India will take place on 23 and 24 November at the L V Prasad Eye Institute in Hyderabad. Director of Global Education Lakshmi Shinde and Director of Educational Programs Nilesh Thite are compiling the program. Last year saw events held at venues around India including New Delhi (pictured).
Nilesh pays a visit to Pune institute

Director of Educational Programs Nilesh Thite recently visited the Dr D Y Patil Institute of Optometry & Visual Sciences in Pune, India. He distribute certificates to the students who passed the Student Trial Examination and award the first three ranked candidates with trophies. Principal Dr Veshal Madan and senior lecturer Dr Neeta Mishra organized the certificates and trophies. Nilesh also gave a lecture on the journey of silicone hydrogel contact lenses. 'We had great day of joy, education and fun!' said one student.
Europe / Africa – Middle East
NEW Gina sets the agenda as specialists meet in Rome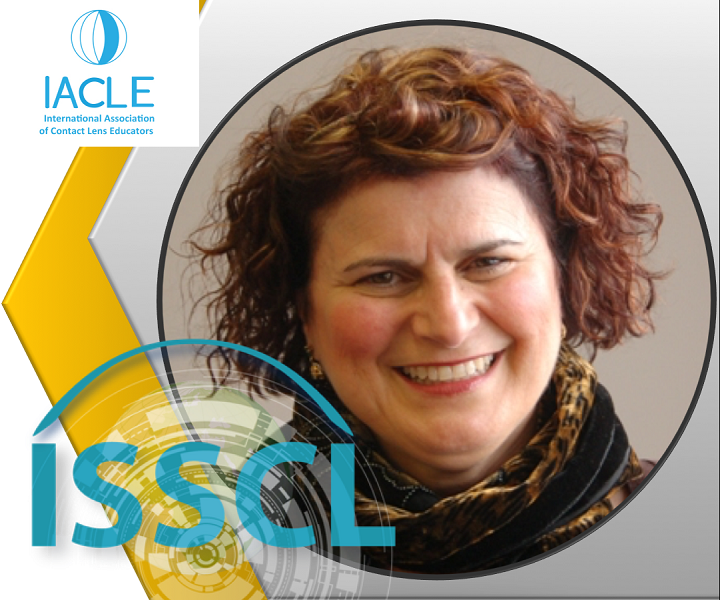 The first meeting in Italy to be organized by both ophthalmologists and optometrists, the International Summit on Specialty Contact Lenses (ISSCL) will convene in Rome from 8-10 November. IACLE is collaborating with the summit and will host a breakout session on the opening day. Assistant Secretary Dr Luigina Sorbara will lead the session and deliver several presentations. IACLE members Professor Jan Bergmanson and Dr Elise Kramer are among the speakers.
BCLA webinar examines myopia management

The latest British Contact Lens Association (BCLA) webinar will examine factors preventing eye care practitioners from fully engaging with myopia management and ways to integrate it into everyday clinical practice. 'Myopia management: incentives and impediments' will be presented by Dr Manbir Nagra of the University of Portsmouth and Edinburgh clinician Gillian Bruce at 6.30pm on 7 October. Dr Nagra is chair of British & Irish University & College Contact Lens Educators (BUCCLE).
DATES FOR YOUR DIARY
14-18 September – The 37th Congress of the European Society of Cataract & Refractive Surgeons (ESCLR), Paris, France.
21 September – European Tear Film & Ocular Surface Society Ambassador Meeting, Rome, Italy.
26-29 September – DOG 2019 (Deutsche Ophthalmologische Gesellschaft), Berlin, Germany.
11-13 October – 17th International Cornea & Contact Lens Congress (ICCLC), Noosa, Australia.
23-27 October – Academy 2019 Orlando and 3rd World Congress of Optometry, Orlando, Florida, USA.
8-10 November – International Summit on Specialty Contact Lenses (ISSCL), Rome, Italy.
A full list of IACLE and other events in 2019 is available at our Annual Meeting Schedule. Please email dates of events to s.allen@iacle.org.
THANKS TO OUR SPONSORS