Global Member Newsletter September 2020
Translation: Español – Chinese
WHAT'S NEW AT IACLE
NEW IACLE releases brochure for half-day virtual event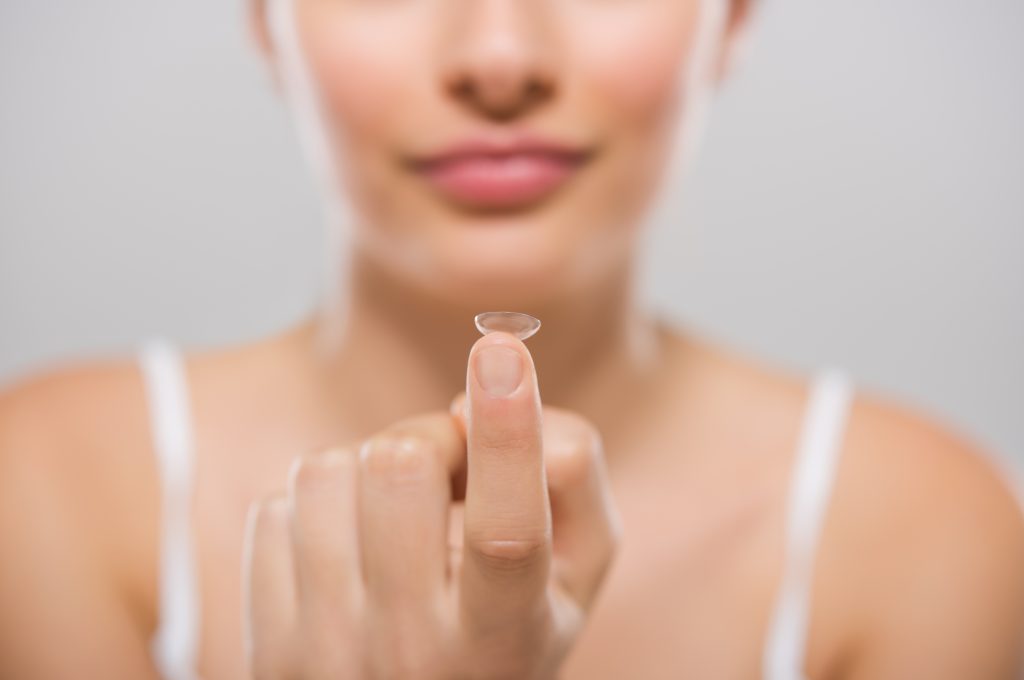 IACLE has published full details of its first Virtual Conference, on Saturday 26 September, to bring the focus 'Back to contact lenses'. The conference brochure includes abstracts and speaker profiles. Members can join this free half-day event via Zoom by registering through IACLETOP, with selected sessions available to watch through the IACLE Facebook page for non-members and students. Full recordings of the conference will be accessible on IACLETOP after the event has taken place.
Access the conference brochure. Register and view the full program.
NEW 2020 IACLE Awards presentations move to 2021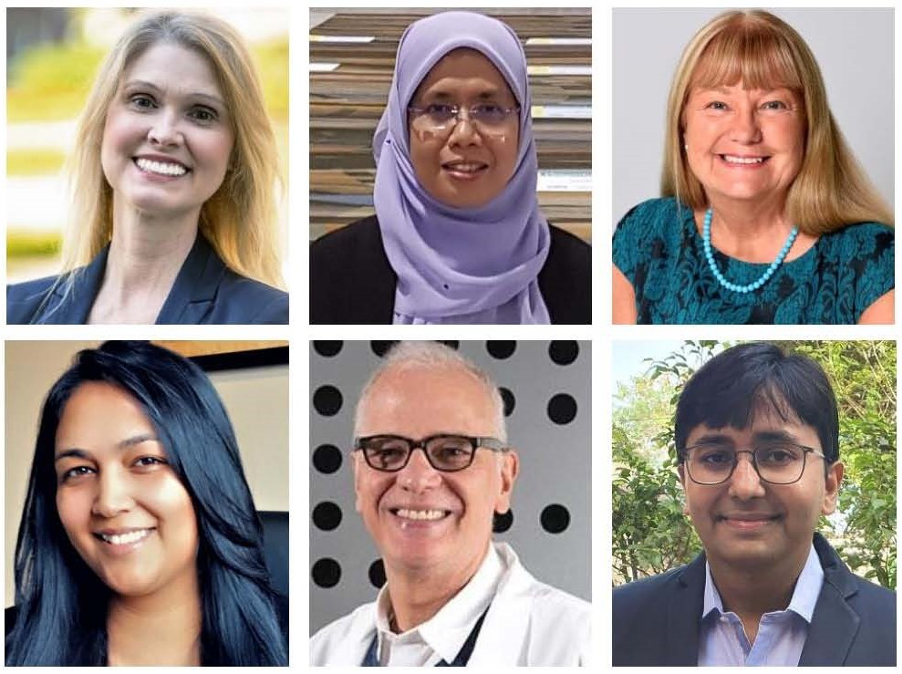 Due to the ongoing COVID-19 restrictions and the cancellation of major events in 2020, we will be postponing the presentation of this year's IACLE Contact Lens Educator of the Year Awards, sponsored by CooperVision, and IACLE Travel Awards, supported by all our industry partners. We will continue to monitor the situation and, once restrictions are lifted, will finalise plans for the presentations of these awards in 2021. Pictured are our 2020 IACLE Awards winners.
Renew your membership now to receive all IACLE benefits
Members are reminded that access to our full range of membership benefits – including our Learning Management System IACLETOP, the new version of the IACLE Contact Lens Course ICLC2020, and all resources and events under The TLC (Teach. Learn. Connect.) Initiative – is only available to IACLE members. Note that membership expires when payment is not received.Contact Siobhan Allen if you have any questions about your membership renewal.
---
MEET A MEMBER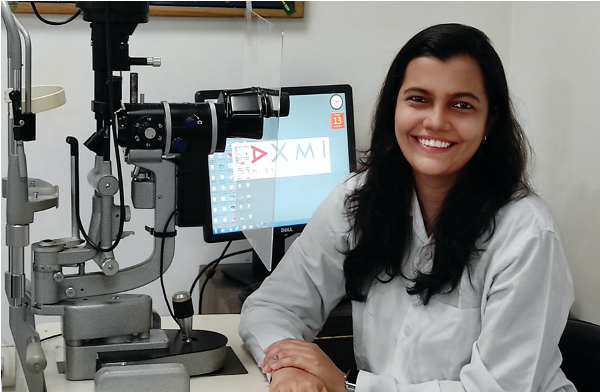 In this month's 'Meet a Member', IACLE introduces Shraddha Kadam, senior member of academic staff at Laxmi College of Optometry in New Panvel, India, who specializes in contact lenses and clinical optometry. Shraddha says that IACLE has shown her how to correctly and ethically teach contact lens material. She also notes that IACLE has given her opportunities to hear and learn from different individuals who have achieved great things in the contact lens industry. Shraddha is a voracious reader and enjoys listening to music, singing and exploring various art forms. 'I believe that every human being on this planet teaches you something, including your students. So, don't stop learning, stay humble and keep smiling!'
WOULD YOU LIKE TO INTRODUCE YOURSELF TO IACLE MEMBERS WORLDWIDE? WE'RE LOOKING FOR MORE MEMBERS TO TAKE PART IN MEET A MEMBER.
---
IMAGE OF THE MONTH
Scleral contact lens fitting in incisional keratotomy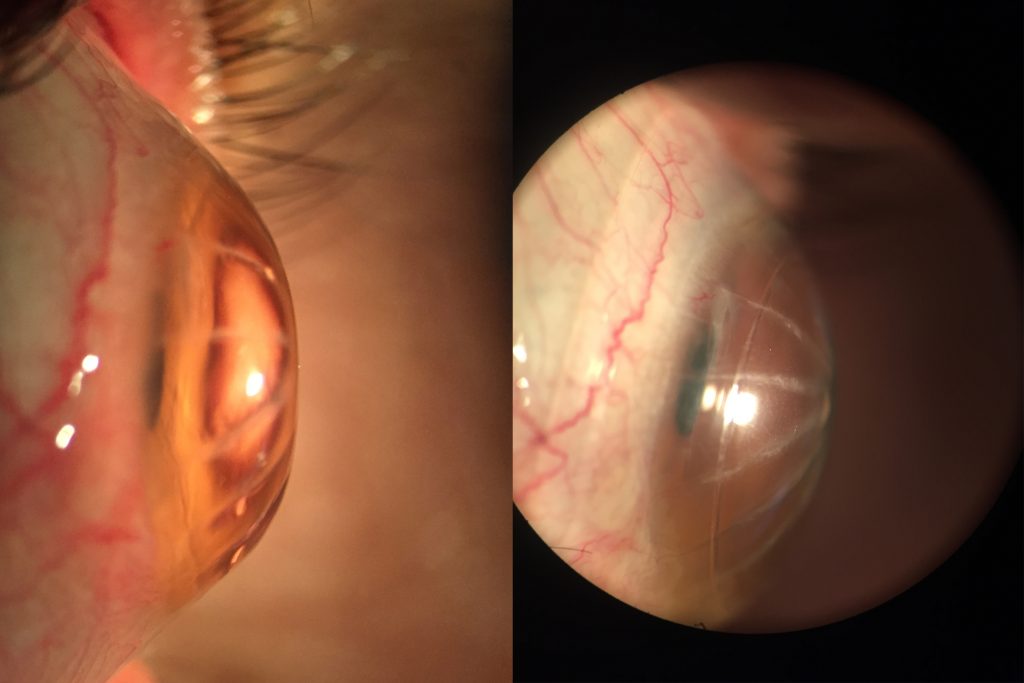 Norma Cárdenas, from Instituto Colombiano de Lentes Especiales in Bogotá, Colombia captured these images using a Topcon slit-lamp and an iPhone adapter. The photos are from a female patient with a history of incisional keratotomy approximately 30 years ago. Five years ago, her visual acuity began to progressively decrease. Her best correction with glasses was 20/200 binocularly. Slit-lamp examination shows marked radial incisions with corneal scarring, a flat cornea in the center and a steep periphery. Oblate scleral contact lenses were fitted, obtaining VA 20/40.
---
RESOURCES
ICLC2020 now accessible on IACLETOP
IACLE's latest Contact Lens Course (ICLC2020) is now available to access via IACLETOP, as well as through the IACLE website under Member Login. The 33 lectures in six modules are delivered in an online format or as downloadable files. The previous version of the course – ICLC2015 – is also available on IACLETOP in six different languages.
Access IACLETOP. Read about the IACLE Contact Lens Course
Myopia lectures added to ICLC in Korean

An additional lecture from ICLC2015 on 'Emmetropization in the context of myopia' (F1) has been translated into Korean and is available to access via IACLETOP and through Member Login. A further myopia lecture from ICLC2020, on 'Methods of controlling in myopia' (F2), is also available and the remaining Korean translations will be based on the latest ICLC version.
Myopia Profile reviews selected ARVO abstracts
The Association for Research in Vision and Ophthalmology (ARVO) cancelled its 2020 annual meeting due to the COVID-19 pandemic and will next meet from 2-6 May 2021 in San Francisco, USA. Australia-based practitioners Kate Gifford and Paul Gifford have selected a range of new research presented at ARVO's 2019 conference for their Myopia Profile website.
Read their review of ARVO's contact lens research sessions
---
COVID-19 RESOURCES
Impact of COVID-19 on academic activities in India

A study to understand the factors affecting academia due to COVID-19 – how the Indian optometry education system has responded to the pandemic.

Read the full text

Soft contact lens wear during the pandemic

More than half of participants in this study (56%) were wearing their contact lenses less during the COVID-19 pandemic.

Read the full text
Mask-associated dry eye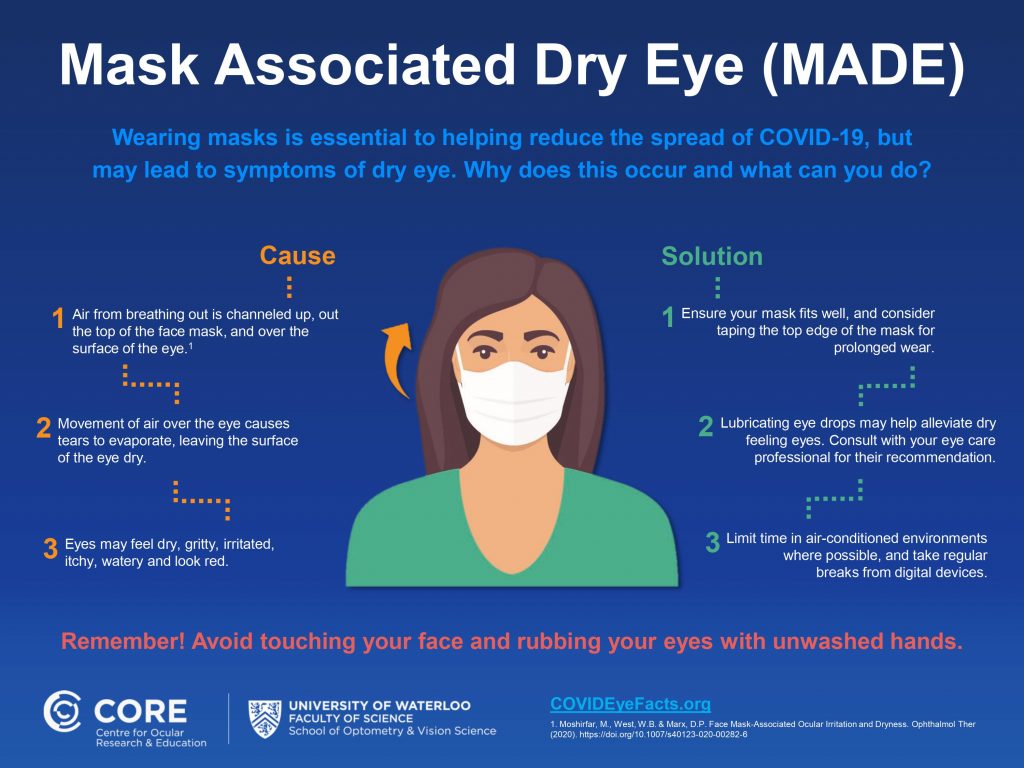 FIACLE Professor Lyndon Jones, from the Centre for Ocular Research and Education (CORE) at the University of Waterloo, Canada discusses why wearing face masks for long periods can worsen dry eye symptoms. CORE has a useful infographic to explain the cause of and solution to mask-associated dry eye.
Read the article. Access the infographic.
---
GLOBAL UPDATE
AMERICAS
Academy stays home for 2020 meeting

The American Academy of Optometry 2020 is taking place virtually as the Academy at Home meeting (7-22 October). A summary of the contact lens sessions is now available. The AAO has announced its 2020 Award Recipients, including Professor Jeffrey Walline of The Ohio State University College of Optometry who will receive the Max Schapero Memorial Lecture Award.
IACLE Treasurer Professor Etty Bitton is participating in two sessions at the Academy at Home meeting:
Session: Anterior Segment – 'Understanding and combating Demodex in clinical practice'
Date: 13 October at 5:00 pm EST (GMT-5)
Authors: Etty Bitton and Jennifer Craig
Session: Anterior Segment – 'MGD therapy is heating up'
Date: 22 October at 9:00 am EST (GMT-5)
Authors: Etty Bitton and William Ngo
More information on Academy at Home 2020
IACLE LA supports advances in Mexican education
The second Mexican Consensus in Contact Lens Education meeting is taking place this month (10 September), where the IACLE Contact Lens Course (ICLC) and Online Student Trial Exam (STE) will be used and performed to analyze the level of contact lens education in Mexican students.
ASIA PACIFIC
IACLE Korea prepares university for STEs
Korea National Coordinator Professor Kyounghee Park (pictured) visited Kyungdong University last month to prepare students and IACLE member Professor Daejong Kim for the Online Student Trial Exam (2 August). In Indonesia, FIACLE Abdul Halim shared his experience on how to conduct student assessments before and after COVID (16 August), and FIACLE Fakhruddin Barodawala presented a lecture on 'Contact lens aftercare' to students in the Philippines (27 August).
IACLE China takes step-by-step approach to education
Dr Zhou Jie Qi (pictured) from Eye and ENT Hospital at Shanghai Fudan University in China was invited to host a lecture on the 'Step-by-step fitting rule of corneal refractive therapy (CRT) lenses' (12 August), where China National Coordinator Professor Wang Haiying chaired the discussion. A total of 38 participants joined the lecture. Other AP events in Korea, Indonesia and the Philippines attracted more than 150 students and educators.
Indian educators and students share Online STE experiences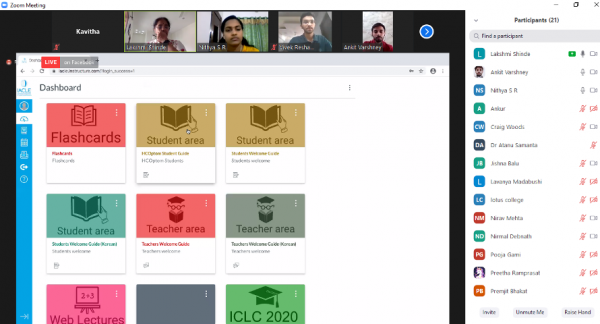 Education Team members Lakshmi Shinde and Nilesh Thite hosted an online panel discussion last month on IACLE's new Online Student Trial Exam (7 August). Students Jishna Balakrishnan from Ahalia School of Optometry in Kerala, Vivek Reshamwala from Shree Bharatimaiya College of Optometry in Surat and Saipriya Balamoni from DY Patil Institute of Optometry & Vision Sciences in Pune, successfully passed the STE and shared their first-time experiences, along with their teachers (FIACLE Nithya Ravindren, FIACLE Ankit Varshney, Susmita Banerjee), using the Online STE through IACLETOP. A total number of 101 participants attended the webinar.
Find feedback on the Online STE from educators and students
India team brings industry together for compliance discussion
'Contact lens care and compliance' was the topic for the latest panel discussion hosted by the IACLE India team (21 August). The panel of industry representatives consisted of FIACLE Rajesh Kumar from Alcon, FIACLE Khemraj Nackwal from Bausch + Lomb, Amod Gogate from Johnson & Johnson and IACLE member Rupam Sinha from CooperVision.
IACLE plays its part in IVI's first virtual conference
Former IACLE Asia Pacific Regional President Dr Nag Rao, Founder and Chair of the LV Prasad Eye Institute in Hyderabad, will join Yvonne Holden, widow of former IACLE President Professor Brien Holden, to open the India Vision Institute's first-ever International Virtual Conference. 'Eye health in a changing world' runs from 2-4 October. Nilesh Thite will present an introduction to IACLE and Lakshmi Shinde will dedicate her talk on discomfort and dry eye to Dr Rajeswari Mahadevan.
More information and registration
EUROPE / AFRICA / MIDDLE EAST
Emmanuel represents West Africa at TFOS meeting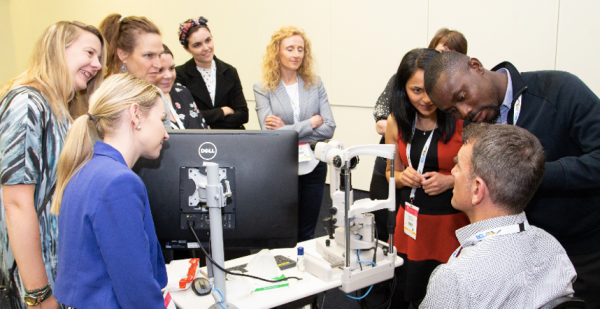 IACLE member Emmanuel Kobia-Acquah was among those participating in the Tear Film & Ocular Surface Society (TFOS) meeting this month (9 September). 'Unique challenges and unmet needs for the management of ocular surface diseases throughout the world' was the theme for the online event. Emmanuel (pictured right), who represented West Africa, lectures at the Department of Optometry and Visual Science, Kwame Nkrumah University of Science and Technology in Kumasi, Ghana.
OCCSEE becomes latest casualty on events calendar
The 5th Optometry Conference of Central and South-Eastern Europe (OCCSEE) is the latest meeting to be cancelled due to the COVID-19 pandemic. The conference had been rescheduled from April to take place from 23-25 October in Split, Croatia. OCCSEE's Scientific Committee included IACLE President Dr Shehzad Naroo and FIACLEs Stefan Bandlitz, José González-Méijome, Sebastian Marx and Helmer Schweizer.
---
DATES FOR YOUR DIARY
26 September 2020 – IACLE Virtual Conference. Details.
3-4 October 2020 – India Vision Institute Virtual Conference, India. Details.
7-22 October 2020 – Academy 2020 At Home (American Academy of Optometry) Virtual Conference. Details.
12-14 October 2020 – International Agency for the Prevention of Blindness – 11th General Assembly, Singapore. Details.
5-7 November 2020 – Contact Lens of the Americas Specialists Symposium, Cartagena Caribe, Colombia. Details.
8 November 2020 – BCLA UK, Birmingham, United Kingdom. Details.
A full list of events in 2020 and beyond is available in our Global Meetings & Events Schedule. Please email dates of events to s.allen@iacle.org.
For the IACLE Events Calendar providing all information and login details to the TLC Initiative events go to www.iacle.org member login
---
IACLE IS SPONSORED BY