Global Member Newsletter September 2022
IACLETOP UPDATE
Visit IACLETOP to check out the latest Flashcards
The IACLE Education Team has been working on two brand new Flashcards: 'Soft toric contact lens fitting' and 'Measuring vision with contact lenses'. The Flashcards are designed to support the delivery of practical skills with key aspects of a particular skill summarized on one A4 page. The new Flashcards are currently available in English, with translations into other languages in development.
Visit the Flashcards via IACLETOP
---
NEWS IN SEPTEMBER
Image of the Month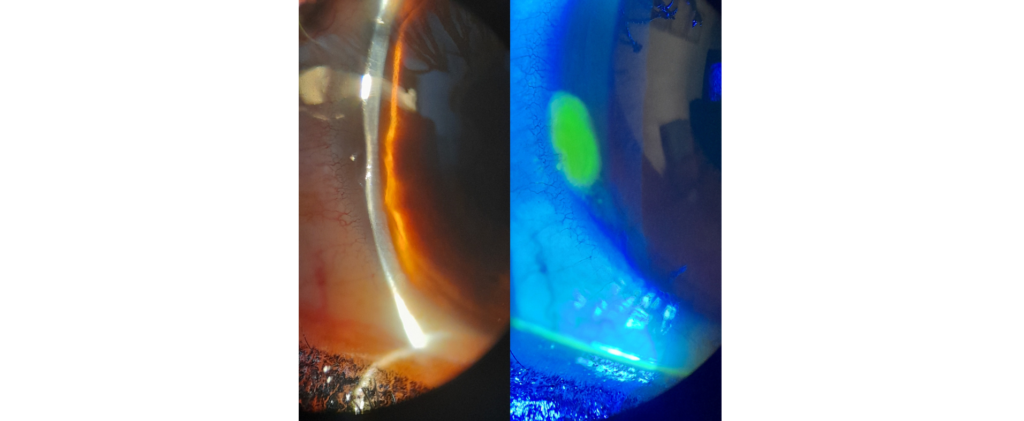 Laura Gutiérrez from Optometría y Contactología Especializada in Mexico captured the above images. Viewed through an optic section with a slit lamp, the left image shows thinning due to peripheral corneal ulcers. The image on the right shows an ulcer highlighted with fluorescein staining with a blue cobalt light.
Would you like to feature in next month's Image of the Month?
Etty receives Montreal School of Optometry Founder's Award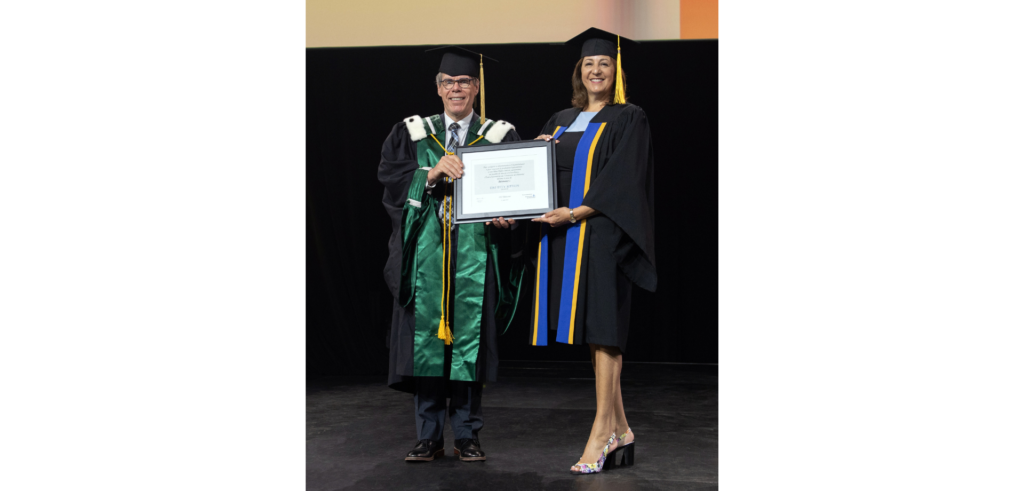 IACLE Treasurer / Secretary Professor Etty Bitton has been honored with the Montreal School of Optometry Founder's Award at its recent graduation ceremony on 21 August. The award is given to individuals who have had a substantial contribution and influence in one of four categories: academics, entrepreneurship, advocacy for the profession, or social/political involvement for the profession. Congratulations Etty!
Upcoming Academy meeting in San Diego
Are you attending the American Academy of Optometry (AAO) Meeting in San Diego? We'd love to know if you are so we can meet up and catch up. We are shooting some video content from our members and FIACLEs, so please let us know if you will be there by emailing us at iacle@iacle.org. Thanks to our members who have already got in touch. We look forward to seeing you there!
Contribute to the newest edition of CORE Knowledge
We have a fun opportunity to take part in the American Academy of Optometry's Centennial Celebration in San Diego this fall. The Centre for Ocular Research & Education (CORE) has teamed up with Academy to unveil and play the newest edition of CORE Knowledge – a multiple choice eye science trivia game – at the October meeting. IACLE has been invited to contribute a series of eye-related questions that will be included during live play in the CORE booth. Questions may include optometry research, history, anatomy, etc.
For more information. Please submit questions to Bonnie Boshart at b.boshart@iacle.org no later than 30 September. If you'd like to include an image, please attach it as a jpeg or png.
Dr Gina Sorbara Cornea and Contact Lens Residency is awarded
The School of Optometry & Vision Science at the University of Waterloo has recently announced the first recipient of the Dr Gina Sorbara Cornea and Contact Lens Residency – Dr Sharon Qui, the valedictorian of the Class of 2022 at New England College of Optometry in Boston, Massachusetts. This residency ensures the advancement of corneal and contact lens research, education, and clinical training for doctors while honoring Dr Sorbara's contributions to the field.
More information on the Dr Gina Sorbara Cornea and Contact Lens Residency
World Council of Optometry Grant Program
For the past two decades, the World Council of Optometry's Fellowship Program has funded numerous innovative projects resulting in long-term sustainable results that have improved eye care delivery and assisted in the development of optometry worldwide. Moving forward, this program will now be known as the WCO Grant Program and intends to support the vision and mission of WCO by funding projects that lead towards the advancement of the role of optometry and its participation in eye and vision care within health care systems.
---
RESOURCES
CL Update 67 features myopia management
The latest Contact Lens Update editorial features myopia management and focuses on three different perspectives from global contact lens experts Professor Mark Bullimore, Paul Chamberlain, and Dr Noel Brennan. Professor Bullimore's take is 'Practitioners must embrace myopia management', Mr Chamberlain's view is 'With unprecedented knowledge and tools, there's no time to lose', and Dr Brennan believes we should 'Act now!'
Study investigates attitudes and perceptions in CL practice
A study investigates eye care practitioners' attitudes and perceptions toward potential interventions that can enhance contact lens practice worldwide and how this influenced their practice setting. IACLE colleagues Nilesh Thite, Lakshmi Shinde, Professor Shehzad Naroo, Guillermo Carrillo, Haiying Wang, Dr Fabrizio Zeri, Fakhruddin Barodawala, Dr Cheni Lee, and Professor Kyounghee Park are among the authors.
---
COVID-19 RESOURCES
Microvascular and neurodegenerative complications of mild COVID
A recent study examined non-invasive methods of examining retinal and corneal neurodegenerative and retinal microvascular changes in patients with mild COVID-19 disease. The examination suggested that confocal microscopy may be an important tool in monitoring peripheral neuropathy after COVID-19 infection.
---
WHAT'S HAPPENING IN OUR REGIONS?
AMERICAS
IACLE at FEDOPTO
After two years, FEDOPTO's annual conference took place on 26-27 August in Cali, Colombia. Around 1,400 delegates attended the meeting, and IACLE colleagues and members played a part in several sessions. The conference gave members in the Latin America region the opportunity to meet and discuss some exciting research projects including one project idea about the collection of epidemiological data through educators and students from optometric institutions across Colombia.
ASIA PACIFIC
Preparing South Korean students for the STE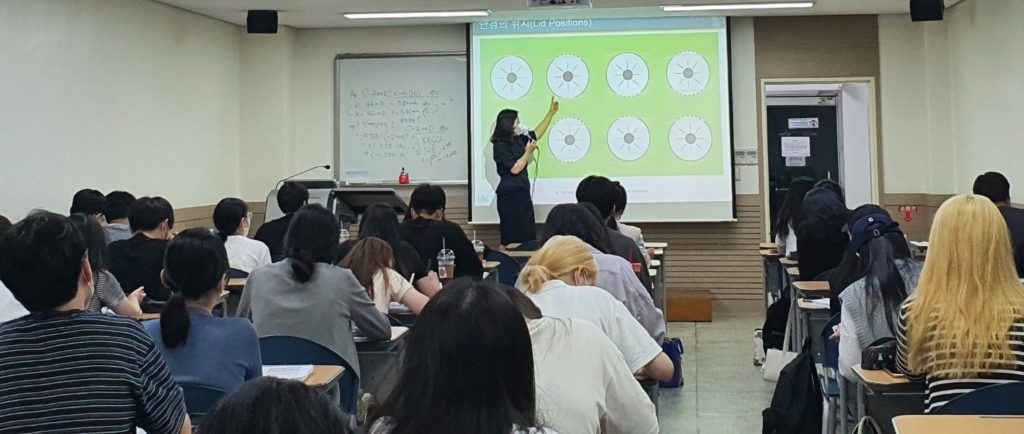 In August, IACLE Korea National Coordinator Professor Kyounghee Park visited Dongnam Health University in Suwon, South Korea, to prepare the students for the upcoming Student Trial Exam. Professor Park demonstrated the IACLE Case Reports and the IACLE Contact Lens Course. A total of 50 students and two IACLE members were present.
EUROPE / AFRICA / MIDDLE EAST
Are you attending the Assottica Conference?
Join EAME Regional Director Dr Fabrizio Zeri at the Assottica Conference in Milan, Italy, on 3 October from 2:30 pm, who is chairing a session on 'Empowering contact lens education to empower contact lens practice'. The meeting will begin with an IACLE update from President Professor Philip Morgan.
Join IACLE at AECSO in October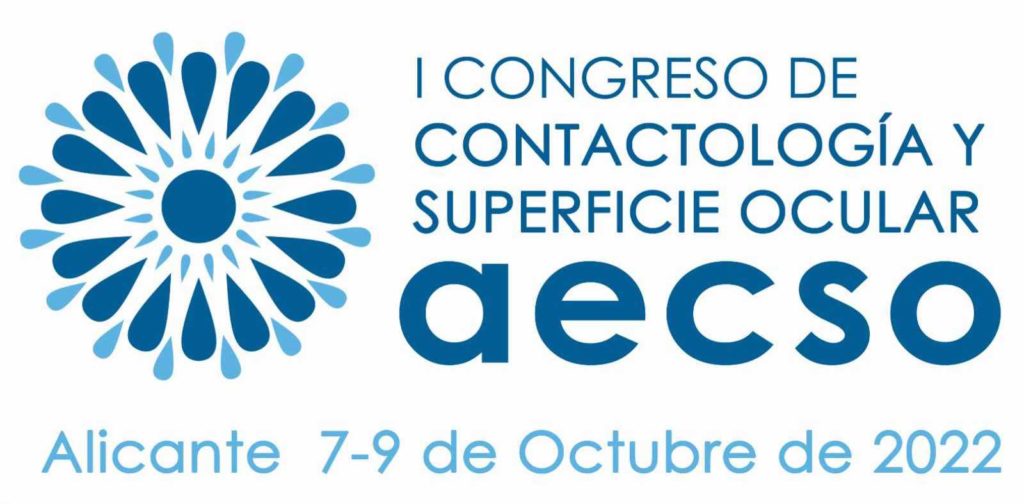 Dr Raquel Gil-Cazorla has collaborated with the IACLE EAME team to arrange two IACLE meetings during the Congress of the Spanish Association of Contactology and Ocular Surface in Alicante, Spain. Join Dr Gil-Cazorla in the IACLE dry eye workshop on 7 October at 5:45 pm. An IACLE meeting for members and aspiring members will also take place on 8 October at 10:30 am.
If you have any queries or would like more information, please get in touch with Dr Gil-Cazorla at r.gil-cazorla@d-duttaaston-ac-uk
Connect with IACLE members at the Summit of Specialty Contacts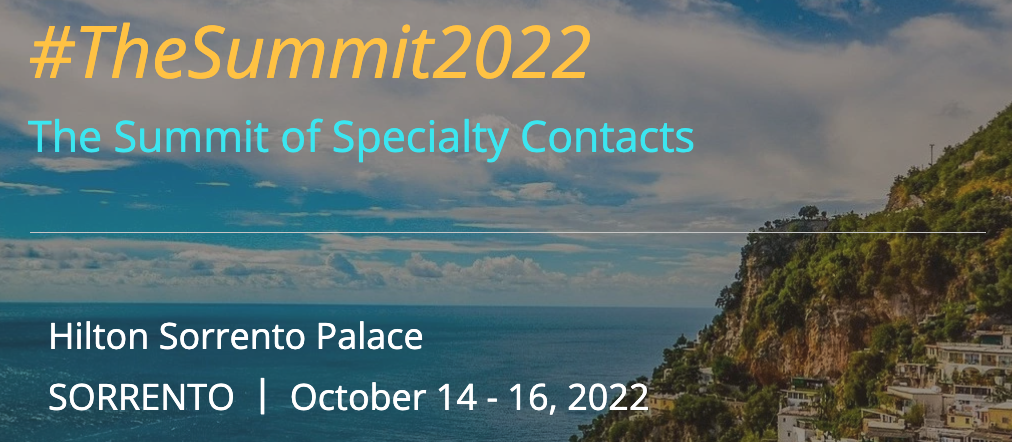 EAME Regional Director Dr Fabrizio Zeri has teamed up with FIACLEs Dr Luca Benzoni and Dr Marta Farioli to run an IACLE meeting at the Summit of Specialty Contacts in Sorrento, Italy. The session will take place on 14 October at 12:30 noon themed 'Challenges in specialty contact lens teaching' and will be chaired by FIACLEs Dr Luca Benzoni and Dr Eef van der Worp. The meeting will begin with an IACLE update from President Professor Philip Morgan. We invite all IACLE members to attend the meeting.
If you have any queries or would like more information, please get in touch with Dr Fabrizio Zeri at fabrizio.zeri@gmail.com
BUCCLE celebrates 100th meeting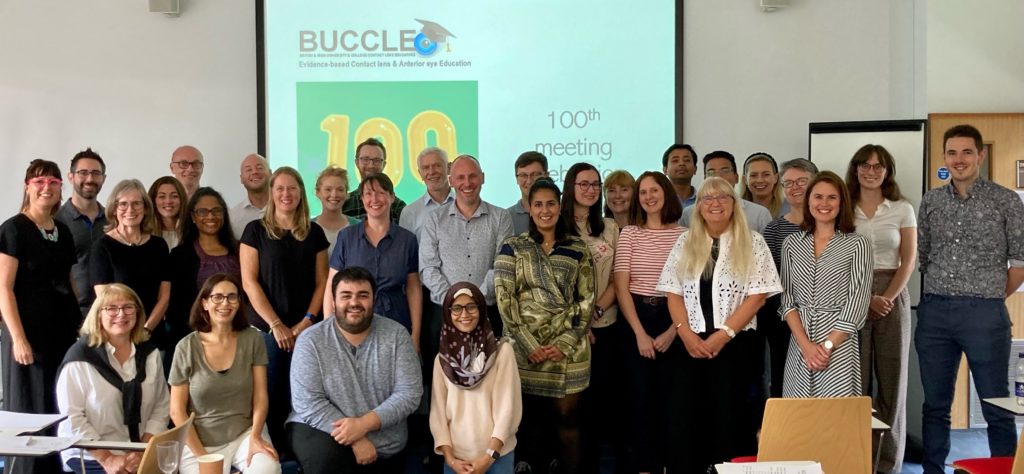 The British and Irish University and College Contact Lens Educators (BUCCLE) held its 100th meeting at the University of the West of England in Bristol, UK, earlier this month (7 September). Members celebrated the centennial meeting by looking back at their achievements over the years. Following the event, IACLE Director and Chair of BUCCLE, FIACLE Byki Huntjens and Vice Chair Dean Dunning said, 'We are so pleased to be part of this wonderful, collaborative group of UK and Irish educators who have an immense passion for the topic we teach'.
---
DATES FOR YOUR DIARY
IACLE TLC (Teach. Learn. Connect) WEBINARS
Visit the IACLE Webinars area on IACLETOP to view the schedule for upcoming webinars.
GLOBAL MEETINGS IN COMING MONTHS
Assottica Conference, Milan, Italy, 2-3 October. Details.
Congress of the Spanish Association of Contactology and Ocular Surface, Alicante, Spain, 7-9 October. Details.
The Summit of Specialty Contacts, Sorrento, Italy, 14-16 October. Details.
American Academy of Optometry, San Diego, USA, 26-29 October. Details.
3rd Asia Optometric Congress and 8th ASEAN Optometric Conference, Kuala Lumpur, Malaysia, 15-16 November. Details.
---
IACLE IS SPONSORED BY