IACLE Global Member Newsletter September 2018
September 2018
WHAT'S NEW AT IACLE?
NEW IACLE launches New Distance Learning Program
IACLE's Distance Learning Program (DLP) has been fully revised by our Education Team in line with the New IACLE Contact Lens Course and is now available, exclusively to members. Members should submit a DLP registration form to their local / regional IACLE office to access. The program consists of four phases: each phase requires the completion of two to four assignments in a multiple-choice format. Director of Educational Development Dr Lewis Williams welcomed the launch of the New DLP and thanked FIACLEs for contributing new material.

Find out more about the New DLP here and download a sample assignment and registration form. Look out for our Special Notice with more details

NEW

Dry Eye lecture to complete New ICLC modules
FIACLE Professor James Wolffsohn will edit the one remaining lecture of the New IACLE Contact Lens Course, on Dry Eye and Contact Lenses (D4). James is Associate Pro-Vice Chancellor at Aston University in Birmingham, UK and a board member of the Tear Film & Ocular Surface Society (TFOS). The lecture will be updated to align with the findings of the 2017 TFOS Dry Eye Workshop II (TFOS DEWS II). The New ICLC covers all aspects of contact lens education in six modules and 33 lectures. Translations into key languages are under way. 
Find the full list of New ICLC modules and editors here
Editorial outlines benefits to education of market growth   
If the global contact lens market doubled in size, marketers could improve patient education on the benefits of contact lenses and educational organizations such as IACLE would have access to substantially greater funding to enhance their mission of 'educating the educators'. So says FIACLE Dwight Akerman (pictured) in an editorial in the August issue of Contact Lens and Anterior Eye. Dr Akerman concludes: 'Our greatest opportunity in clinical practice today is to prescribe advanced technology contact lenses to all appropriate new and existing patients proactively.'
Read the full article here

RENEW YOUR MEMBERSHIP NOW TO ENJOY ALL THE BENEFITS OF IACLE MEMBERSHIP…
Access to our full range of membership benefits –including the New IACLE Contact Lens Course and our latest resource Research Update – is only available to IACLE Members. Membership must be renewed annually and expires when payment is not received. Please renew your status here to continue as an IACLE member in 2018 and make your contribution to Our Mission for worldwide contact lens education.
MEET A MEMBER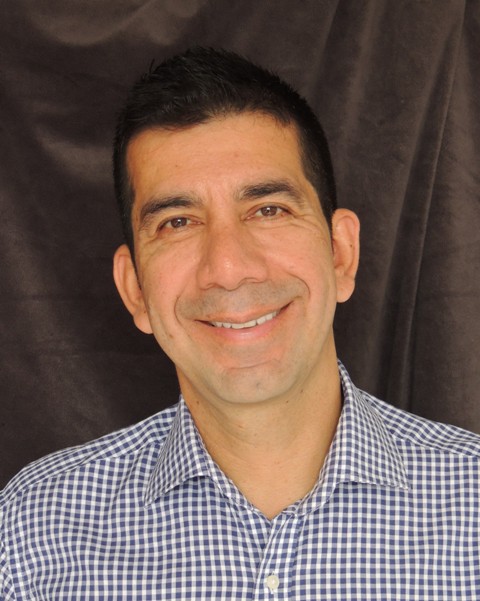 'It's a big honor to be part of IACLE and it's also a big responsibility,' says Dr Orlando Neira, IACLE's Assistant Treasurer and Executive Board member.  Orlando teaches at Universidad Areandina Pereira in Colombia where his interests are speciality contact lenses and innovation in education. 'I strongly believe you must not teach your students, you should inspire them. The most valuable thing you can do is not to lead students through the books – they can do that by themselves, outside the classroom – it's to share your experience. I tell my students contact lens practice is a decision-making process; they must not learn information but what is the best they can do with that information.'   
We're looking for more members to take part in our monthly feature introducing an IACLE member from around the world. Contact your regional / country coordinator here for details.
 IMAGE OF THE MONTH

Dimple veiling in a steep ortho-K lens fit
FIACLE Premjit Bhakat from Manipal Academy of Higher Education in India, captured this image using a Samsung Galaxy J7 Prime with a Wratten filter. This was a 25-year-old female patient (R&L -2.50DS) who came for an ortho-K trial and was fitted with a Paragon CRT lens. The impression of the final fit was steep. The dimple veiling phenomenon was observed due to the steep fitting relationship. Small bubbles were trapped between lens and cornea. A potential complication is indentation of the corneal epithelium due to mechanical compression of bubbles by the back surface of the lens.
Click here for more information on Image of the Month. Download a submission form to send an image
 RESOURCES
NEW

Annual Contact Lens Health Week promotes patient safety
The fifth Contact Lens Health Week (20-24 August), organized by the US Centers for Disease Control and Prevention (CDC), focused on patients' health and safety. This year's campaign theme was 'Healthy habits mean healthy eyes', encouraging all contact lens wearers to practice healthy habits now, for healthy eyes later. CDC has developed a range of tools and materials to help promote Contact Lens Health Week and healthy contact lens wear and care throughout the year.
Find the CDC's Contact Lens Health Promotion tools and materials here
NEW

BHVI releases guidelines for myopia management
Brien Holden Vision Institute (BHVI) has launched its 'Guidelines for Myopia Management', available free online. The guidelines complement BHVI's 'Managing Myopia' online course and 'Myopia Calculator', which have been translated into various languages. The course runs again in October and is CE-accredited for practitioners in North America, Europe and Asia Pacific. 
Access the BHVI guidelines here and enrol for the course here 
Review highlights benefits of collaboration between professions
Incorporating interprofessional education into the optometry curriculum gives graduates more confidence and understanding about how they fit into the framework of the primary care team. That's according to an evaluation in Canada, reviewed by Marian Elder, a clinical associate at the Centre for Ocular Research & Education (CORE), in the University of Waterloo School of Optometry & Vision Science. The findings are reviewed in a feature article in the latest Contact Lens Update newsletter (Issue 42).
Read about the study here and sign up to receive Contact Lens Update here 

Study points to environmental impact of CL disposal
Around 15-20% of contact lens wearers dispose of their lenses down the sink or toilet and could be contributing to microplastic pollution of our waterways. Media around the world covered the claims, made at the National Meeting & Exposition of the American Chemical Society, held in Boston last month (20 August). PhD student Charles Rolsky conducted the study, as yet unpublished, at Arizona State University (ASU). The authors call on manufacturers to provide product packaging information on how to dispose of contact lenses properly. (Image courtesy of Charles Rolsky, ASU). 
Read the ASU press release here and the abstract here. Listen to a podcast with Charles Rolsky here
GLOBAL UPDATE
Americas
IACLE maintains high profile at FEDOPTO events
August was an exceptional month for IACLE Americas, with a series of events to coincide with the annual FEDOPTO Congress in Barranquilla, Colombia (9-11 August). Dr Gina Sorbara (Canada) and Dr Janice Jurkus (USA), represented the Executive Board at an IACLE Educator Meeting, as well as presenting on the main congress program and paying a visit to Universidad Metropolitana during their stay. Members and FIACLEs were also closely involved in the congress, which attracted more than 1,100 delegates.      
Read a full report here 
AAO holds first Research Academy program
The American Academy of Optometry held its inaugural program, The Research Academy, in Columbus, Ohio (17-19 July), with 60 vision researchers, graduate students, optometric leaders and health agency officials attending. The Research Academy was designed to help optometry faculty develop ideas that will result in extramural funding for basic and patient-oriented research in optometry and vision science.
Learn more about the program here 
 
Asia Pacific
IACLE India hosts largest-ever audience for Web Lecture 
More than 260 students and educators in eight Indian institutions took part in a Web Lecture last month, the largest participation in a single lecture so far. FIACLE Anitha Aravind, from Naseema Institute of Optometry & Research in Bangalore, presented an overview of myopia. In a separate lecture, 15 members across India tuned in to hear FIACLE Yeshwant Saoji review myopia control strategies. IACLE India is also looking at the potential for using Facebook as an educational platform in future.   
Learn more about IACLE's Web Lectures & Discussion Forums here

Register now for regional meetings in India next month
Registration is now open for three IACLE Educator Meetings taking place in cities around India next month. The dates and venues for the regional meetings are: 3-4 October, New Delhi (North and East regions); 20-21 October, Mumbai (West region); and 27-28 October, Chennai (South). The agenda for these interactive events will cover important aspects of contact lens education and research.
To register, email Kavitha Mahesh at k.jayanna@iacle.org by 10 September
B+Lieve delivers uplifting program on advanced CL fitting
Sankara Academy of Vision hosted a successful B+Lieve event in the Indian city of Bangalore (26 and 27 August), where members of the IACLE Education Team and FIACLEs played a key role. A live scleral lens fitting demonstration by our Global Education Manager Lakshmi Shinde proved especially popular with delegates, reports Diwakar Rao, Head of Department at Sankara College of Optometry in Bangalore. 
Read a full report on B+Lieve 2018 here
BCLA and HKA0 to collaborate on new ortho-K course 
Eye care professionals with an interest in ortho-K can take advantage of a new course from the British Contact Lens Association and Hong Kong Academy of Orthokeratology. The Orthokeratology Continuing Education (OKCE) course will feature online and didactic lectures, lab sessions, seminars and exams. The first phase of the course is taking place in China, and delegates (pictured) are expected to attend this month's BCLA Asia event in Singapore. Plans are in place for a global roll-out via an online digital platform.
Find more information on the OKCE course here
 


Europe / Africa – Middle East
BCLA issues call for papers for Manchester conference   
The British Contact Lens Association is calling on researchers and eye care professionals to submit their latest work ahead of next year's BCLA Clinical Conference and Exhibition in Manchester, UK. The Call for Papers and Posters is now open and a pre-screening service will be available until 23 November. The final deadline for submissions is 11 January 2019. The three-day conference (30 May – 1 June 2019) will have a change in format, culminating in the Awards Dinner on the Saturday night.
Find out more about plans for BCLA 2019 here

DATES FOR YOUR DIARY 

21-22 September – 2nd EMCO International Congress of Optometry, Marrakech, Morocco. Details here.
22-26 September – 36th Congress of the European Society of Cataract and Refractive Surgeons (ESCRS), Vienna, Austria. Details here.
27-30 September – Deutsche Ophthalmologische Gesellschaft (DOG) 2018, Bonn, Germany. Details here.
3-4 October – IACLE Educator Meeting, Delhi, India. Contact k.jayanna@iacle.org.
20-21 October – IACLE Educator Meeting, Mumbai, India. Contact k.jayanna@iacle.org.
27-28 October – IACLE Educator Meeting, Chennai, India. Contact k.jayanna@iacle.org.
A full schedule of IACLE and other events in 2018 is available at Meetings & Conferences. 
Please email dates of 2018 events to s.allen@iacle.org.
International Association of Contact Lens Educators
E:  iacle@iacle.org
W: www.iacle.org


Thank you to our sponsors

Platinum sponsor        
Gold sponsor
 
 
Silver sponsor
Bronze sponsor
Donor sponsor