IACLE celebrates 40th at Academy 2019
Florida meeting is key to IACLE's high profile in its 40th year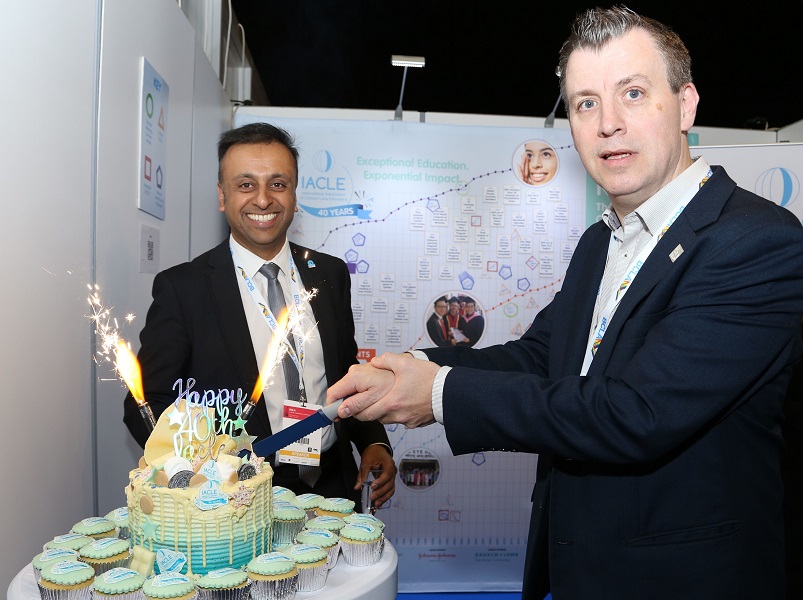 The International Association of Contact Lens Educators will be involved throughout the program at Academy 2019 Orlando and 3rd World Congress of Optometry (WCO). The meeting runs at the Orange County Convention Center, Florida, USA from 23-27 October.
IACLE will continue its 40th year celebrations with an interactive exhibition booth on the theme 'Exceptional Education. Exponential Impact', where visitors are invited to make their mark on a time wall of milestones in the Association's history.
A 40th Anniversary Celebration will be held at the IACLE booth (booth 730) on Thursday 24 October from 5.30 pm to 6.30 pm, during the Attendee Reception.
IACLE representatives will deliver nearly 20 presentations over the five days of the Academy/WCO meeting, as well as taking part in key events on the program. President Dr Shehzad Naroo will join the panels for three special symposia:
WCO 3rd President's Forum: Optometry's Role in Addressing the Changing Face of Technology, Public Health and Clinical Care (Saturday, 8 am to 12 noon)
Joint Public Health and Environmental Vision Section/WCO Symposium: International Optometry: Public Health, Education, and Personnel Issues (Saturday, 1 pm to 3 pm)
Joint Association of Schools and Colleges of Optometry, WCO, American Academy of Optometry: Global Summit on Optometric Education (Sunday, 8 am to 12 noon)
Vice President Professor Philip Morgan will present the prestigious Max Shapero Memorial Lecture during the Section on Cornea, Contact Lens and Refractive Technologies session (Wednesday 4 pm to 5 pm).
Board members and staff Dr Luigina Sorbara, Dr Etty Bitton, Dr Janice Jurkus and Lakshmi Shinde will join Shehzad and Philip in delivering lectures, workshops and posters. Lakshmi's poster will describe IACLE's Four Decades of Exceptional Education. Dr Renee Reeder, Dr Carol Lakkis, Dr Elise Kramer, Dr Manbir Nagra, Ian Davies and Ithar Beshtawi will be among FIACLEs and members on the speaker program.
Dr Naroocommented: 'We're delighted to have such a strong presence at the first joint Academy/WCO meeting and look forward to seeing members and potential members from around the world at this unique event.
'Following successful participation at the British Contact Lens Association Clinical Conference in the UK, the Asia Pacific Optometry Congress in the Philippines and the FEDOPTO Congress in Colombia, this will be our final celebration before IACLE's official birthday on 6 November.
'IACLE meetings and celebrations will continue throughout our 40th year, including events in China, India and Korea before the year end. And we'll have exciting plans to announce on new IACLE resources, programs and events, for 2020 and beyond.'
PICTURE CAPTION:
IACLE will mark its 40th Anniversary with a celebration at its interactive exhibition booth at the Academy 2019 Orlando and 3rd World Congress of Optometry. President Dr Shehzad Naroo (left) and Vice President Professor Philip Morgan are pictured cutting a cake at the British Contact Lens Association Clinical Conference earlier this year.
Information on all IACLE membership benefits is available at www.iacle.org.
Thanks to our Sponsors