IACLE Lifetime Achievement Award 2015 Recipient Prof Fonn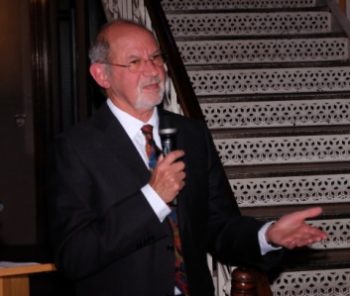 In 2015, presented the first IACLE Lifetime Achievement Award for global contribution to contact lens education and IACLE, to Professor Desmond Fonn.

Professor Fonn received the award at a dinner at Manchester Museum to mark the Third IACLE World Congress on Contact Lens Education, held in Manchester, UK from 24-28 May 2015.

His contribution to global contact lens education includes being a founding member of IACLE and its Vice President for 15 years. He also served as Editor in Chief of the first edition of the IACLE Contact Lens Course (ICLC), used by educators around the world. And in 1994 and 2000, he organized the previous two IACLE World Congresses.

A Distinguished Emeritus Professor at the University of Waterloo, Canada, Professor Fonn joined the university in 1986 and was founding Director of its Centre for Contact Lens Research (CCLR). He retired from the university's School of Optometry in 2010.

At the award presentation, Professor Fonn's successor at Waterloo, Professor Lyndon Jones, described him as a 'giant in the contact lens world'. 'We owe Des a phenomenal thanks because without him we wouldn't be here,' he said.

'IACLE has been very dear to me,' said Professor Fonn, acknowledging the contribution of the association's co-founders and the support of industry since its inception. 'I've made incredible friends around the world who have spent thousands of hours working for IACLE. The result is that IACLE has been so instrumental in driving contact lens education.