IACLE salutes award winners at Academy 2018
IACLE salutes award winners at Academy 2018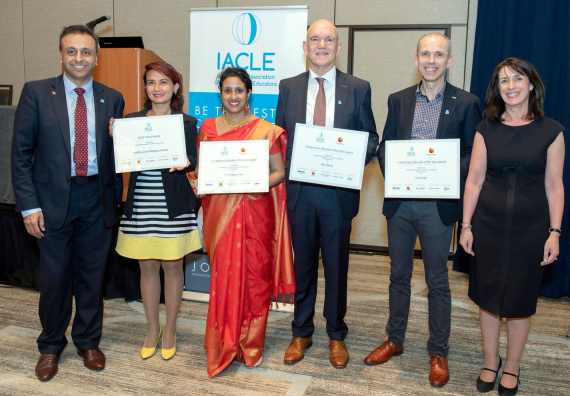 The International Association of Contact Lens Educators presented the prestigious IACLE Contact Lens Educator of the Year Awards and IACLE Travel Award at the American Academy of Optometry's Academy 2018 meeting in San Antonio, Texas, USA (7-10 November 2018).
The ceremony took place on 9 November at an International Reception hosted by CooperVision, sponsor of the Educator Awards.
The IACLE Contact Lens Educator of the Year Awards recognize and reward achievements in contact lens education worldwide. Each winner also receives a bursary ofup to US$3,000 towards the cost of attending a major international conference. The 2018 winners are:
IACLE Americas Contact Lens Educator of the Year
Professor Lyndon Jones,University of Waterloo, Canada
IACLE Asia Pacific Contact Lens Educator of the Year
Associate Professor Runa Mazumder,Vidyasagar College of Optometry & Vision Science, Kolkata, India
IACLE Europe / Africa – Middle EastContact Lens Educators of the Year
Wim Borst, Deltion College, Zwollen and Henri Eek Deltion College and Hogeschool Utrecht, the Netherlands
Marcella McParland, Director of Professional Services EMEA CooperVision, presented the certificates to winners from the Asia Pacific and Europe / Africa – Middle East regions. Professor Jones was unable to attend and will receive his award at a separate ceremony.
Ms McParland commented: 'It's very easy to partner with someone like IACLE because we have a common passion for educating the eye care practitioners of the future so they can have the skills to change lives with contact lenses.
'I remember when I did my Fellowship [of IACLE] what fantastic materials were available, and the help and support I had from IACLE. I appreciated the passion of the people in IACLE, all those members in all those countries who every day try to support education. Great job IACLE – keep up the good work.'
'Thank you to the 2018 Award winners who are encouraging a new generation of scientists, clinicians and educators to push further, look deeper and consider how contact lenses really can have a bigger impact on the world we live in.'
The IACLE Travel Award is a travel bursary for IACLE Educator Members who would not otherwise be able to attend a major international conference. These annual awards are funded by IACLE and its global sponsors. Receiving her award at Academy 2018 from IACLE President Dr Shehzad Naroo was:
Professor Martha Lucila Márquez García, Santo Tomás University, Bucaramanga, Colombia
2018 Travel Award recipient Ahmed Sherry of the Modern University for Business and Science, Beirut, Lebanon travelled to the Association of Optometric Contact Lens Educators' Annual Workshop in May (thanks to additional support from AOCLE), and Professor Sabrina Lara of the Universidad Nacional Villa Maria, Córdoba, Argentina attended the FEDOPTO Congress in Barranquilla, Colombia in August.
The Awards ceremony completed a successful week for IACLE that saw its members and Fellows involved throughout the program at Academy 2018, where the association also held a Strategic Planning Meeting and its Annual General Meeting.
Dr Naroo commented: 'Our thanks to CooperVision, all our sponsors, the Academy and the AOCLE for their support, and to all our members who applied for IACLE Awards this year.'
Nominations and applications for the 2019 IACLE Awards will open in December.
-ENDS-
PICTURE CAPTION
Pictured at the IACLE Awards ceremony at Academy 2018 are (left to right): President Dr Shehzad Naroo, IACLE Travel Award recipient Martha García, IACLE Contact Lens Educators of the Year Runa Mazumder, Wim Borst and Henri Eek, and Marcella McParland, Director of Professional Services EMEA CooperVision
For media inquiries please contact:
Alison Ewbank
Communications | International Association of Contact Lens Educators
London | United Kingdom
Email: a.ewbank@iacle.org
Work: + 44 208 390 9378 | Mobile: + 44 7732 121 959
Skype: alisonewbank1 | Web: www.iacle.org
NOTES FOR EDITORS
Click here for full details of the IACLE Contact Lens Educator of the Year
Click here for full details of the IACLE Travel Awards
Information on all IACLE activities and membership benefits is available at www.iacle.org.
ABOUT IACLE
The International Association of Contact Lens Educators was established in 1979 and is a non-profit, non-political association. IACLE currently has 839 (as of June 2018) active members in 76 countries and welcomes contact lens educators from all eye care professions and related disciplines. IACLE is dedicated to raising the standard of contact lens education and promoting the safe use of contact lenses worldwide. It is the leading provider of educational and information resources essential to contact lens educators. IACLE is supported by leading global contact lens manufacturers: Platinum Sponsor Alcon, Gold Sponsor CooperVision, Silver Sponsor Johnson & Johnson Vision, Bronze Sponsor Bausch + Lomb and Donor Sponsor Euclid.

ABOUT COOPERVISION
CooperVision, a unit of The Cooper Companies, Inc. (NYSE:COO), is one of the world's leading manufacturers of soft contact lenses. The Company produces a full array of monthly, two-week and daily disposable contact lenses, all featuring advanced materials and optics. CooperVision has a strong heritage of solving the toughest vision challenges such as astigmatism and presbyopia; and offers the most complete collection of spherical, toric and multifocal products available. Through a combination of innovative products and focused practitioner support, the company brings a refreshing perspective to the marketplace, creating real advantages for customers and wearers. For more information, visit www.coopervision.com.