IACLE Virtual Conference
Industry comes together for positive message on future for contact lenses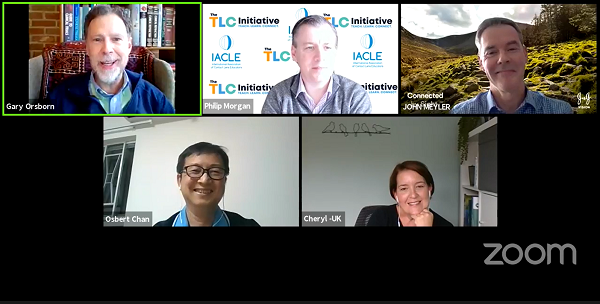 The future is bright for the contact lens industry and there are positive developments arising from changes brought about by the COVID-19 pandemic. That's the verdict of industry leaders taking part in the first-ever International Association of Contact Lens Educators (IACLE) Virtual Conference, on the theme 'Back to contact lenses' (26 September).
Joining a panel discussion chaired by IACLE Vice President Professor Philip Morgan were:
Cheryl Donnelly, Head of International Professional Affairs and International KOL Lead – Vision Care at Alcon
Gary Orsborn, Vice President Global Professional, Medical & Clinical Affairs, CooperVision
John Meyler, Global Head, Professional and Clinical Education, Johnson & Johnson Vision
Osbert Chan, Director of Medical and Clinical Affairs for Bausch + Lomb, Asia Pacific
Key developments for the contact lens sector arising from the COVID-19 pandemic included:
• Collaboration between industry, practitioners, scientists and educators to dispel myths about the safety of contact lens wear at the early stages of the pandemic
• Lack of going out, socializing and playing sport were the reasons for patients wearing contact lenses less, rather than safety concerns
• Hygiene now 'top of mind' for patients and practitioners
• Efficiencies in appointments and services, such as telemedicine or 'teleoptometry'
• Rising demand for online ordering, direct-to-patient delivery and digital engagement
• Recognition that contact lenses are an important, ongoing revenue stream for practices
• Acceptance of online learning among industry, practitioners, educators and students
• Opportunities for wearing contact lenses to avoid spectacles fogging and to enhance eye appearance when wearing face masks and coverings
Each of the panel members expressed optimism about the future for contact lenses and identified major changes to contact lens practice that had resulted from the pandemic:
Cheryl Donnelly said that patients purchasing habits for contact lenses, and how and where they interacted with their contact lens practitioners, had changed. 'We need to look at how patients want to engage, and consider changes to our practice patient journey to allow for the imposed and required changes. It's not about doing things to a lesser extent clinically… but doing things differently.'
Dr Gary Orsborn anticipated a permanent change in the patient journey. 'Virtual aftercare appointments, I believe, will improve the situation we have in retaining patients in contact lenses and this should result in fewer dropouts, because of the effectiveness of improved virtual communications. Expect to see increased investment in telemedicine solutions for eye care.'
John Meyler said the sector could work in a much smarter way going forward. 'Patient experience will improve. This has been a time to reflect on how we can do things more efficiently and better serve patients. I think the future's very bright for the industry.'
Dr Osbert Chan was also 'very optimistic' about the future. 'We know what to do. We need to learn how to live with the virus and how to overcome it.'
All congratulated IACLE and its members – contact lens educators worldwide – on their response to the pandemic. 'From the IACLE perspective, you've stepped up education delivery so well in these last few months, and have led the way with The TLC (Teach. Learn. Connect) Initiative,' said Ms Donnelly.
More than 200 delegates took part in the IACLE Virtual Conference live. Members participated via the Zoom platform, while non-members and students were able to watch selected sessions via Facebook.
The conference was introduced by IACLE President Dr Shehzad Naroo, chaired by Europe / Africa – Middle East Regional President Judith Morris and organized by Executive Manager of Educational Programs Nilesh Thite. Speakers on education topics were Lakshmi Shinde (India), Dr Etty Bitton (Canada), Professor Craig Woods (Australia), Fakhruddin Barodawala (Malaysia), Dr May Bakkar (Jordan), Dr Frank Eperjesi (UK), Professor Renée Reeder (USA) and Dr Byki Huntjens (UK).
A recording of the conference is available to IACLE members on its learning management system, IACLETOP, along with around 40 global, regional and national webinars delivered under the TLC Initiative so far. The next series of global webinars – on myopia and its management – will run weekly in November.
– ENDS –
For media enquiries please contact:

Alison Ewbank
Communications | International Association of Contact Lens Educators
International Association of Contact Lens Educators
London | United Kingdom
Email: a.ewbank@iacle.org
Work: + 44 208 390 9378 | Mobile: + 44 7732 121 959
Skype: alisonewbank1 | Web: www.iacle.org
Amelia Morgan
Marketing Consultant | International Association of Contact Lens Educators
Leeds | United Kingdom
Email: amelia@ameliamorgan.org
Work / Mobile: + 44 7740 858 395
Skype: ameliagracemorgan_1 | Web: www.iacle.org
Notes for editors
About IACLE
The International Association of Contact Lens Educators was established in 1979 and is a non-profit, non-political association. IACLE has 967 (as of 30 June 2020) active members in 726 institutions in 79 countries and welcomes contact lens educators from all eye care professions and related disciplines. IACLE is dedicated to raising the standard of contact lens education and promoting the safe use of contact lenses worldwide. It is the leading provider of educational and information resources essential to contact lens educators. IACLE is supported by leading global contact lens manufacturers: Platinum Sponsor Alcon, Gold Sponsor CooperVision, Silver Sponsor Johnson & Johnson Vision, Bronze Sponsor Bausch + Lomb and Donor Sponsor Euclid.