ICLC2020 Released in April 2020
IACLE's flagship resource – ICLC2020 – goes live today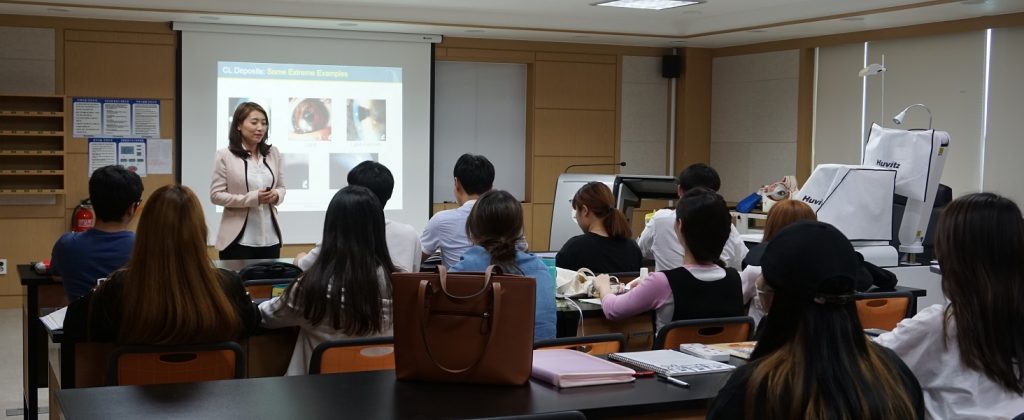 The International Association of Contact Lens Educators has today announced the release of the latest version of its most valued and important resource, the IACLE Contact Lens Course (ICLC), which is used by educators in institutions worldwide.

ICLC2020 has been fully revised and updated by the world's leading authorities in contact lenses. The course is now available exclusively to IACLE members via its website. From this year the course will be updated every 2 years to keep pace with the latest developments in the contact lens field.
ICLC2020 covers all aspects of contact lens education – from the anatomy of the cornea to the business of contact lens practice – in six modules and 33 lectures in PowerPoint format. The course provides educators with the materials needed to teach a high-quality contact lens course, and is also suitable for students and practitioners. A sample lecture is available free via the IACLE website.
Professor Lyndon Jones, of the University of Waterloo, Canada, is among the 27 Editors of ICLC2020 and commented: 'The IACLE Contact Lens Course is a "one-stop shop" that covers every relevant aspect of modern contact lens practice in a thorough, easily readable manner. I highly recommend ICLC2020 to students and experienced practitioners looking for an up-to-date and comprehensive resource on contact lenses.'
The previous version of the course – the New ICLC – will now be known as ICLC2015. This version will continue to be available to members in Chinese (simplified), Korean and Spanish, with some lectures translated into French and Italian. The 2013 version of the ICLC is freely accessible as a student aid and can be found on our website under Free Resources.
'Achieving excellence is a continuous process,' said Director of Educational Programs, Nilesh Thite, who led the project. 'As we approached the symbolic year 2020, updating the IACLE Contact Lens Course was an obvious step.
'The diversity of the topics and the vastness of the information make this a difficult task to execute. However, with outstanding support from the international experts, the course is updated and is ready for members to access. We present ICLC2020 and thank all the Editors for their timely inputs and expertise!'
– ENDS –
For media enquiries please contact:
Alison Ewbank
Communications | International Association of Contact Lens Educators
International Association of Contact Lens Educators
London | United Kingdom
Email: a.ewbank@iacle.org
Work: + 44 208 390 9378 | Mobile: + 44 7732 121 959
Skype: alisonewbank1 | Web: www.iacle.org
NOTES FOR EDITORS
Lyndon Jones is Professor at the School of Optometry & Vision Science at the University of Waterloo, Canada and Director of the Centre for Ocular Research & Education.
Information on all IACLE activities and membership benefits is available at www.iacle.org.
About IACLE
The International Association of Contact Lens Educators was established in 1979 and is a non-profit, non-political association. IACLE has 938 (as of December 2019) active members in 79 countries and welcomes contact lens educators from all eye care professions and related disciplines. IACLE is dedicated to raising the standard of contact lens education and promoting the safe use of contact lenses worldwide. It is the leading provider of educational and information resources essential to contact lens educators. IACLE is supported by leading global contact lens manufacturers: Platinum Sponsor Alcon, Gold Sponsor CooperVision, Silver Sponsor Johnson & Johnson Vision, Bronze Sponsor Bausch + Lomb and Donor Sponsor Euclid.