Membership Terms & Conditions
Translations: Chinese – Korean – Spanish
Member Criteria
Thank you to our members for continuing to support IACLE and welcome to new members. As a Member of IACLE you will:
Keep your professional knowledge and skills up to date
Be an example of good clinical practice to your colleagues and students.
Undertake your professional responsibilities by following best practice
Ensure that you work within the legal framework of your country
Show respect and fairness to others and do not discriminate
Maintain appropriate boundaries with others
Be honest and trustworthy
Never engage in any corrupt or unethical activities
Not damage the reputation of your profession through your conduct
Never engage in any activity that will put IACLE into disrepute
Respect and adhere to IACLE's Terms & Conditions and follow the organization's approved policies and procedures
Communicate respectfully with IACLE staff at all times
Membership annual cycle
IACLE membership runs on an annual cycle, from January to December. Access to our online systems, resources, programs and events (via IACLE website Member Login and IACLETOP) is made available to existing members from 1 January to 31 December and to new members from the time they join until 31 December.

New members can join at any time of the year – please note that the full annual fee applies whatever time of year a member joins.

When membership is renewed annually, members' access to our online systems is extended for another year. Members who are Fellows of IACLE may continue to use the suffix FIACLE for that year (provided they continue to meet all terms and conditions of the FIACLE program).

Membership flowchart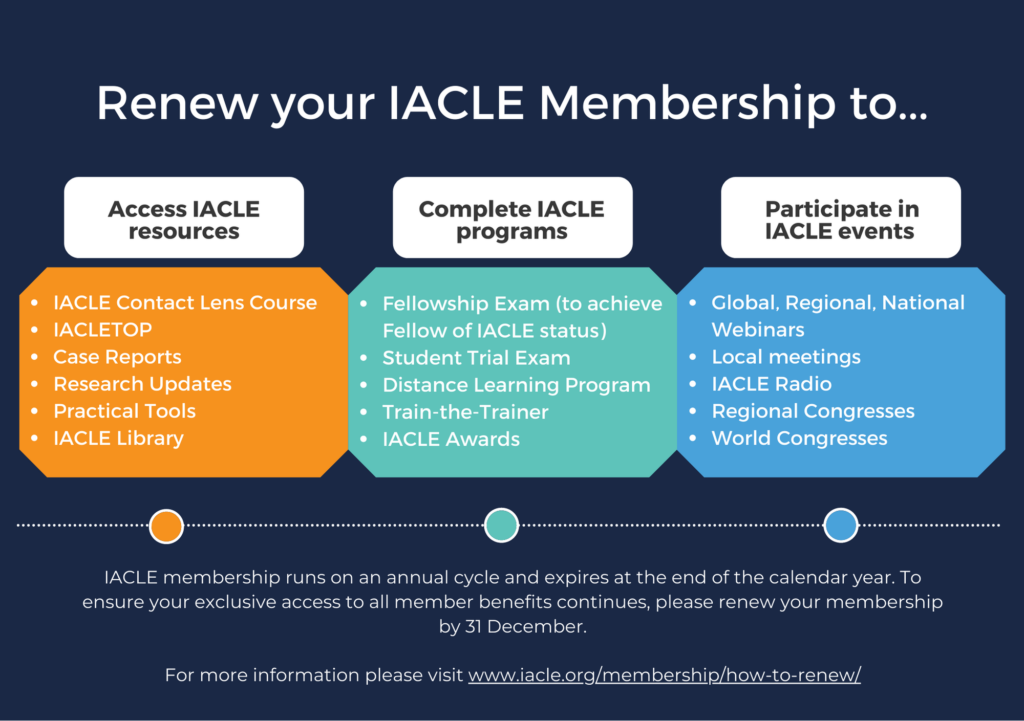 • Annual invoices will be sent out to existing members in the beginning of November
• Payment of your annual membership renewal fee before 1 January
• Access to full membership benefits will end on 31 January if payment is not received
• A late fee will be payable for members failing to pay by the end of January

We calculate membership fees based on Purchasing Power Parity (PPP), which is a pricing structure based on country economic demographics. Please see our fee structure.

Annual renewal payment is due before 1 January

Annual fees can be paid by any of the following:
Online via credit card (Visa or MasterCard – we do not accept Amex) is our preferred method of payment
PayPal upon request
Local bank transfer – some IACLE offices such as India, South Korea and China can accept local bank transfers
International bank transfer – wire payments to our Head Office in Canada will be accepted, but do incur a fee of US$30 (subject to change at any time) to offset bank fees
Cheque – issued to Head Office in Canada. Please contact us prior to arranging a cheque at: iacle@iacle.org
Late fee

A late payment fee will be applied to a member's renewal to cover additional administrative costs, if they fail to pay the subscription by the end of January.
| | | | |
| --- | --- | --- | --- |
| Membership Type | Late Fee PPP1 | Late Fee PPP2 | Late Fee PPP3 |
| Full Member | US$15 | US$30 | US$50 |
| Associate Member | US$22.50 | US$45 | US$75 |
A late fee is applied to payments received from February onwards
Late fee appeal
If you wish to appeal your late fee, please email a formal request, providing a detailed explanation to support your appeal to have IACLE waive the late fee, to Executive Manager of Global Operations, Siobhan Allen at s.allen@iale.org. Your request will be forwarded to the IACLE Board of Directors for review and you will be advised of their decision in writing.

Expired membership
When a member has not renewed their membership by 31 January, their membership expires and they will no longer have access to full membership benefits. If the member subsequently pays the annual fee, their membership can be reinstated for that year.
If membership has expired for 1 – 2 years, the member must pay the late fee per year of lapsed membership in addition to the annual fee for each year. When membership has expired for over 2 years, the member must reapply to join IACLE and their membership begins from the date the application is approved.
Members who have achieved Fellow of IACLE (FIACLE) status but whose membership has expired for 3 years or more, lose their FIACLE status. FIACLE status cannot be renewed just by renewing IACLE membership, nor can they use the suffix FIACLE. The member is required to successfully complete the Fellowship Exam again and on approval can become a FIACLE again.
Terms and conditions: IACLE programs and resources

Access to IACLE's exclusive resources and programs is provided to active (paid-up) members of IACLE only. When membership expires, access to these benefits ceases.
IACLE membership is an agreement between a member (contact lens educator) and IACLE (the association). IACLE membership does not extend to a member's work colleagues, faculty or students, or to their workplace/institution.

Resources and programs that are exclusively for IACLE members include:
IACLE Contact Lens Course (ICLC) – this course is used by contact lens educators who hold active membership in IACLE, to prepare their teaching curriculum and to teach students. ICLC content can be used for lecturing at meetings/conferences/events provided appropriate credits to IACLE are included. The course material should not otherwise be shared. Contact lens educators must join IACLE to gain access to our resource materials.

Student Trial Exam – members conduct this online exam for their final-year students. Only members can run this exam. It cannot be arranged/run by non-members.

Distance Learning Program – completed by our members only, to assist in preparing for the IACLE Fellowship Exam.

IACLE Fellowship Exam – completed by our members only. A successful outcome enables members to apply for Fellow of IACLE (FIACLE).
Fellow of IACLE – members approved for FIACLE can use the suffix FIACLE provided their membership remains active (renewed annually) and they continue to meet the policies, terms and conditions of FIACLE.
Many other IACLE resources and programs are exclusive to members, such as the IACLE Case Reports, Image Galleries, Student Flashcards, Research Updates and more. Members also have exclusive access to IACLE events, including webinars on IACLETOP, local meetings, and Regional and World Congresses.
Membership agreement

When joining IACLE or renewing membership, members acknowledge that the copyright pertaining to all IACLE programs and resources is owned and retained by IACLE. They agree to undertake to ensure that all IACLE educational resources will be used only by them and their students under their direct supervision.

Members must further undertake to ensure that IACLE's programs and resources will not be used outside of their institution/company or by colleagues, without written permission from IACLE.
Members accept that any unauthorized copying, editing, and/or selling of these educational programs/resources or any part(s) thereof, is strictly prohibited and any infringement of IACLE's copyright may result in legal action by IACLE against the offending party/parties.