Fellowship Exam
Exclusively available to IACLE members, the IACLE Fellowship Exam is the only internationally recognized means of measuring an eye care professional's contact lens knowledge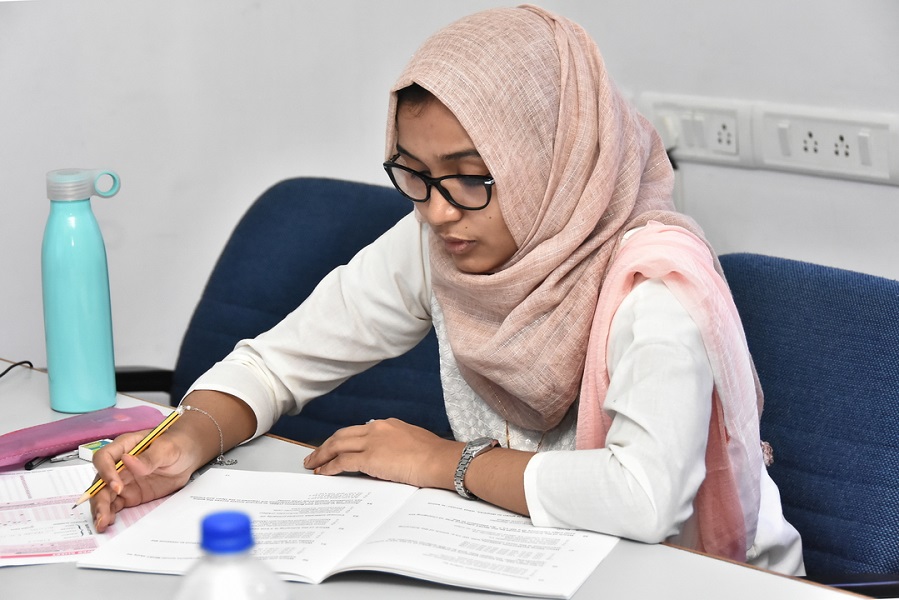 The next exam year is 2025. The Fellowship Exam is run every two years in the month of November. When it is an exam year, registration opens in January/February and closes at the end of June.
---
2023 Fellowship Exam results are being prepared and result reports will be issued in the new year. If 2023 exam candidates have any questions or comments about the exam please contact Craig Woods on c.woods@iacle.org.
---
About the Exam
The Fellowship Exam is the only internationally recognized means of measuring an eye care professional's contact lens knowledge. There is no other means like it, which assesses their level of knowledge by identifying their strengths and weaknesses concerning all areas of contact lenses.
What is the outcome of this exam?
A successful outcome to the exam qualifies the member to apply become a Fellow of IACLE (FIACLE). Obtaining the FIACLE title is done via an application process and approval process. Becoming a FIACLE is a great achievement and is associated with a reputation that defines an educator or eye care professional as a leading expert in their profession. Please note, only members of IACLE who have been approved for FIACLE status can use the status – expired membership means expired FIACLE status – a non member can NOT use FIACLE status.
As the exam is diagnostic in nature, there is no 'failure' and IACLE members may sit for the exam as many times as they wish whenever IACLE conducts it.
Who can take this exam?
The exam is exclusively available to members of IACLE. If you don't hold membership and are interested in joining to sit the Fellowship Exam and haven't the intention to remain an active member of IACLE after taking the exam, then please do not apply. Our aim is to have members join our association who fully engaged with our programs, resources and events to enhance their teaching skills.
Exam format
The exam consists of 150 multiple-choice questions, including questions that require you to recognize or identify a certain type of lens fit or eye condition through case-based questions, by viewing a color photograph.
The categories covered in every exam are:
Anatomy and Physiology
Optics and Instrumentation
Deposits, Care and Maintenance
Lens Design, Lens Fitting, Lens Fit/Behavior
Clinical Issues/Eye/Lens Exams/After-Care, S/Lamp
Lens Materials, Manufacture, Physiologic Performance
Ocular Responses, Microbiology and Ocular Defences
Complications, Pathology (including General)
Marketing and Practice Management
Language formats available
English
Simplified Chinese
Spanish
Korean
Bahasa
Other language formats can be arranged when 12 or more members are confirmed.
How is the exam conducted?
Online via IACLE's Teaching Online Platform IACLETOP.
Exam results
Each exam candidate is provided with a confidential report of their results.
The report indicates where a satisfactory level of knowledge has been achieved and where knowledge may be lacking. Further advice is provided by IACLE upon request however, please note we do not provide exam candidates with a copy of the exam due to confidential purposes. By providing the total score per category this is sufficient for an educator to identify their strengths and weakness.
Receiving your results can take up to 2 months after the exam date as we carry out an in-depth analysis of the results to obtain global averages.
How to prepare for the exam
Distance Learning Program
Our Distance Learning Program (DLP) is a series of assessments designed to guide members through the IACLE Contact Lens Course, module by module, and was specifically designed to help members prepare for the Fellowship Exam.
Fellowship Exam Area
The Fellowship Exam Area is a space within IACLETOP dedicated to those sitting the Fellowship Exam, allowing members to join study groups, understand different methods of assessment, sit mock exams, and chat with other members who are also taking the exam. Once your exam payment is received, you will gain access.
Monthly Workshops
The Education Team host monthly online workshops, using IACLETOP, to help members prepare for the exam and answer any questions or concerns they may have. Recordings of these workshops are available to exam candidates from within the exam area in IACLETOP.
How to register for the exam
The exam is held biennially and the next exam will be held in November 2025. Registration will open in January or February 2025.
Exam cost
The cost is the same amount as a member's annual membership. For example, if you pay US$30 per year for membership, if you wish to write the Exam you would also pay another US$30, so a total of $60.

NOTE: we do not provide refunds. We urge members to assign enough time to prepare for the exam. We cannot refund or transfer a payment to cover a future exam administration or membership renewal fee.
Acknowledgement of Fellowship Excellence
Fellows who have successfully completed the exam more than three times are eligible for the 'Acknowledgement of Fellowship Excellence' certificate. Receiving this certificate so far are the following FIACLEs, all from the Latin America region:
Daniela Garese (Uruguay)
Orlando Neira (Colombia)
Ricardo Pintor (Mexico)
Robin Rodriguez (Peru)
Rolando Rojas (Peru)
Ruben Velazquez (Mexico)
Ajay Shinde (India)

Testimonies from our FIACLEs
View this video (Spanish) from Fellow of IACLE (FIACLE) Dr Ricardo Pintor, a recipient of the 'Acknowledgement of Fellowship Excellence' IACLE certificate
View this video from IACLE Board member and Fellow of IACLE (FIACLE) Dr Byki Huntjens
View this video from Fellow of IACLE (FIACLE) Fakhruddin Barodawala, SEGi University, Malaysia

"The exam covered all aspects of contact lenses and was a good test of our theoretical knowledge. And we could easily apply that knowledge in practice due to the case analysis element. I'd completed the IACLE distance learning program before taking the exam with the guidance of IACLE's Shanghai office. It makes me more confident in contact lens teaching and fitting."

Jian Qin, Henan Institute of Ophthalmology, China

"I didn't take the exam for career development but to make sure I was teaching students the most up-to-date information. The preparation for the exam forced me to revisit more challenging areas, such as immunology."

Andrew Elder Smith, University of Bradford, University of Manchester and Doncaster Royal Infirmary, UK

"I think the FIACLE Exam is very useful for educators to not just evaluate but to update their knowledge and to come together with CL educators across the world. It is a very comprehensive exam with a user friendly format. I would specially like to mention the last section of the exam related to case studies – this section based on practical knowledge was very interesting and helped to reinforce my knowledge about CL complications and their management. I will be willing to take the exam every two years in order to revise and brush up my knowledge."

Gauri Kunjeer Patel, Nagar School of Optometry, India

"In the academic field there are numerous ways to 'upgrade' yourself professionally (MSc, PhD etc). However, in the field of contact lens teaching there is no such standard or classification. Therefore, I was very excited about the FIACLE accreditation exam. For me as a young teacher, it proved that I was on a level that I hoped I would be among peers. It gave me self confidence to proceed and to excel. Also, within our school, with many other faculties under one roof, the international recognition was viewed upon with respect. I have not regret a single minute of doing it, and use the FIACLE title wherever I can".

Eef van der Worp, University of Maastricht, The Netherlands

"In my professional career it has brought distinction, self-esteem and growth not only goodwill but also options for additional income on an international scope."

Orlando Neira, Fundacion Universitaria del Area Andina-Pereira, Colombia

"To achieve the title of FIACLE was always a dream for me as soon as I started teaching contact lenses. I realized while teaching the IACLE resources are a must for imparting any education on contact lenses. When I received the title of FIACLE, it was my dream come true! The accreditation exam was a real excitement as I studied a lot of things in detail which I had not taken seriously when I was a student. I really feel proud of being a part of this association where I share my name with other eminent professionals in the field of contact lens & optometry as a whole. I will try harder to behold the title forever."

Runa Talukdar, Vidyasagar College of Optometry & Vision Sciences, India

"FIACLE status is important to give credibility to me as an evidence-based clinical contact lens practice educator. It also inspires up and coming educators as to the standard of education they should aspire to and to indicate the level of support they will receive. It has also allowed me to be instrumental in worldwide contact lens education to give something back for all the support and encouragement I have received."

James Wolffsohn, Aston University, UK

"Without a doubt it has been a springboard to catapult to another level, because my colleagues and the industry recognise the dedication that I have undertaken in recent years. FIACLE status is not the goal of every educator, but the official beginning to the path of professional growth."

Richardo Pintor, Johnson & Johnson, Mexico
More Video Testimonies
Dr May Bakkar (Jordan):
https://youtu.be/a4e9acnN3N0
Minh Tan (Vietnam):
https://youtu.be/WzLuZLQsrbU
Ma Yuying (China):
https://youtu.be/kdUOT-6zWEs
Dr Daniela Garese (Uruguay):
https://youtu.be/VwzYWbY6Qd0
Ajay Shine (India):
https://youtu.be/QPvYkQsCzpA
Abdul Halim (Indonesia):
https://youtu.be/XMUYC6sNw9E