Fellow of IACLE
What is a Fellow of IACLE (FIACLE)?
FIACLEs are IACLE's most active, visible and involved members. They are recognized for their accomplishments within the global field of contact lens education.
FIACLEs are seen as leaders within their field, frequently invited to speak at educational meetings, providing practitioner and student education within their professional communities.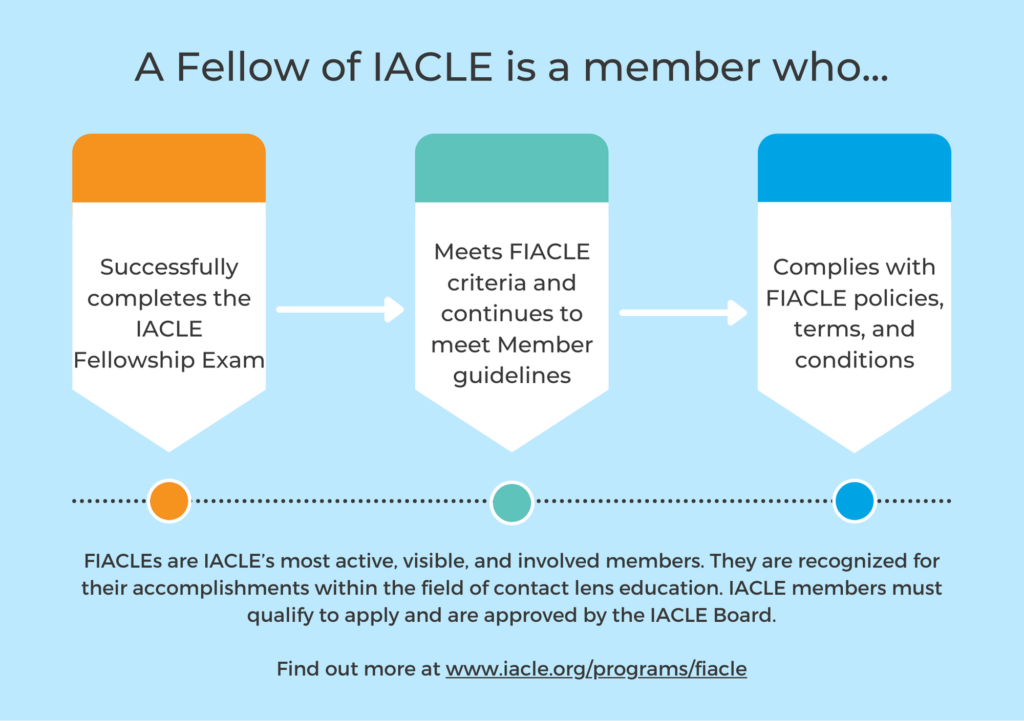 Purpose of being a FIACLE
With IACLE acting as the coordinating body, FIACLE status is designed to enable members within the order of contact lens education to:
Create opportunities for FIACLEs to become known in their local/regional academic circles
Develop a team of FIACLEs who can provide quality practitioner and student education
Provides the CL education sector with an educational team who can respond to requests/needs on a local/regional level
Provides industry sponsors with a team of educators who they can use to assist in professional education
Improves contact lens education by creating the opportunity for collaboration with local/regional sources of knowledge
Helps create a stronger working relationships between local FIACLEs, professionals and industry
Who can become a FIACLE & how
FIACLEs are active IACLE members who have successfully completed the IACLE Fellowship Exam.
The Fellowship Exam is open to all IACLE members and is held every two years. All members who receive a successful outcome may apply to become a FIACLE.
FIACLE status is approved by IACLE when the member meets the criteria.
FIACLE status can not be awarded to a member until they have held active IACLE membership for at least one year. Full terms and conditions apply.
Entry level FIACLE criteria
IACLE's Board of Directors approves an IACLE member to become a Fellow of IACLE (FIACLE) when they meet the following criteria:
Successfully completed the IACLE Fellowship Exam, and
Has held membership for at least one year or more, and
Continues to qualify as a member, and
Is a financial member (fees are paid up to date), and
Promotes IACLE educational goals and objectives, and
Continues to make a contribution to contact lens education, and
Participates in programs that advance contact lens education
Maintaining FIACLE status
As a Fellow you will follow the Member guidelines, plus each year IACLE expects that you are engaged in at least three of the activities below:
Developed and presented at least one lecture or workshop session to practitioners, and/or educators
Submitted and/or published a journal article or book chapter in an international journal or textbook
Participated and/or attended relevant conferences for your personal continued professional development
Presented at an IACLE Meeting or an IACLE Webinar
Developed and donated an educational resource to IACLE
Actively involved in research activity related to contact lenses
FIACLE terms and conditions
IACLE members who have been approved for FIACLE status are required to follow all terms and conditions of the FIACLE program to keep their FIACLE status active. Members are urged to familiarize themselves with the programs criteria, policies, terms and conditions.



Acknowledgement of Fellowship Excellence Certificate
Fellows who have successfully completed the Fellowship Exam more than three times are eligible for the Acknowledgement of Fellowship Excellence Certificate.
Members who have received this certificate are the following FIACLEs:
Daniela Garese (Uruguay)
Orlando Neira (Colombia)
Ricardo Pintor (Mexico)
Robin Rodriguez (Peru)
Rolando Rojas (Peru)
Ruben Velazquez (Mexico)
Ajay Shinde (India)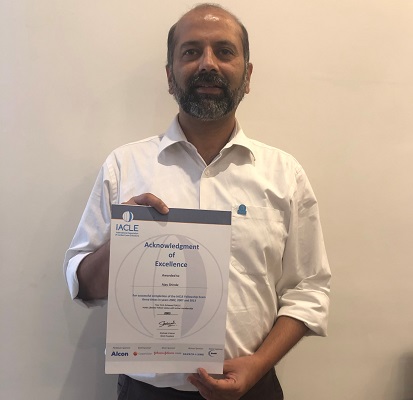 Inquiries
If you require further information please contact your respective IACLE Office or the IACLE secretariat on: iacle@iacle.org.