New IACLE Contact Lens Course
Latest Version of ICLC

The ICLC will be revised and updated for release in 2020 as ICLC2020. Director of Educational Programs Nilesh Thite is coordinating the new version and is looking for help with the following images: conjunctival / limbal / corneal desiccation staining with lissamine green, and topography maps of normal and astigmatic eyes. 
Contact Nilesh to supply these images: n.thite@iacle.org


About ICLC
The IACLE Contact Lens Course (ICLC) is the longest established, most popular and most important of IACLE's teaching resources, and is used by its members in educational institutions worldwide.

The original ICLC was fully revised and updated in 2015 by the world's leading authorities in contact lenses, to keep pace with developments in the contact lens field. This version was called New ICLC.
The ICLC covers all aspects of contact lens education – from the anatomy of the cornea to the business of contact lens practice in six modules and 33 lectures in PowerPoint format.

It provides educators with the materials needed to teach a high-quality contact lens course, and is also suitable for students and practitioners.
This course is available exclusively to members and is free of charge. If you would like access to the course and qualify to join IACLE, please apply for membership.
What our members say about the New ICLC…
"Trying to keep abreast of new developments in such a rapidly changing field as contact lenses is very tough. Many textbooks are out of date almost as soon as they are published, and trying to find one resource that covers all the essentials is almost impossible. The New IACLE Contact Lens Course is a 'one-stop shop' that covers every relevant aspect of modern contact lens practice in a thorough, easily readable manner. I highly recommend it to students and experienced practitioners looking for an up-to-date and comprehensive resource on contact lenses."

Professor Lyndon Jones, University of Waterloo, Canada
Free sample lecture from the New ICLC:

A. The Basics of Contact Lenses
A1. Anatomy and Physiology of the Anterior Eye
A2. History of Contact Lenses
A3. Optics of Contact Lenses
A4. Contact Lens Designs
A5. Contact Lens Fabrication
A6. Corneal Oxygenation in Contact Lens Wear
B. Contact Lens Fitting
B1. Examining the Prospective Contact Lens Patient
B2. Selecting Lens Type, Wear Mode and Replacement Rate
B3. Fitting Spherical GP Contact Lenses
B4. Fitting Spherical Soft Contact Lenses
B5. Correcting Astigmatism with Contact Lenses
B6. Fitting Silicone Hydrogel Contact Lenses
B7. The Dispensing Visit and After Care
B8. Contact Lenses for Sports
B9. Presbyopic Contact Lens Options
C. Contact Lens Care
C1. Contact Lens Contamination & Lens Deposits
C2. Contact Lens Care and Contact Lens Care Products
C3. Rigid Contact Lens Care
C4. Silicone Hydrogel and Hydrogel Contact Lens Care
D. Complications
D1. Defending the Ocular Surface in Contact Lens Wear
D2. Rigid Contact Lens Complications
D3. Soft Contact Lens Complications
D4. Dry Eye and Contact Lenses
E. Advanced Contact Lens Practice
E1. Children and Contact Lenses
E2. Fitting Scleral and Miniscleral Contact Lenses
E3. Myopia Control and Orthokeratology
E4. Contact Lenses for Keratoconus
E5. Special Applications of Contact Lenses
E6. Advanced Techniques and Instrumentation
E7. Business Aspects of Contact Lens Practice
F. Myopia and its Management
F1. Emmetropization in the Context of Myopia
F2. Methods of Controlling Myopia
F3. Contact Lenses for Myopia Control
Access the member login to download the New ICLC
Course Content
Lectures: A series of text, diagrammatic, picture, and/or video slides arranged logically to lead the 'student' (student, educator, or practitioner) to a greater understanding of the lecture topic by presenting the underlying principles sequentially. Most slides are accompanied by explanations and relevant references in PowerPoint's Notes panel. In some lectures, Appendices that detail related but not necessarily mainstream information, are hot-linked within a slide. A related hot-link in the Appendix returns the user to the originating slide.
Features:
The PowerPoint format enables the educator to create a lecture, a whole subject, or a whole curriculum, easily and flexibly
Most educators will find that the New ICLC covers all aspects of the contact lens curriculum and more
Many presentations will be selected modules and lectures from the New ICLC as few contact lens courses can accommodate all the material it offers
Educators can select the topics required for course, institution, or country requirements. Enables the delivery of a contact lens course at a level appropriate to local needs
The use of an electronic format and a single source (IACLE) means that files can be updated or corrected relatively easily and frequently, all at no cost and minimal inconvenience to end users
Example Slides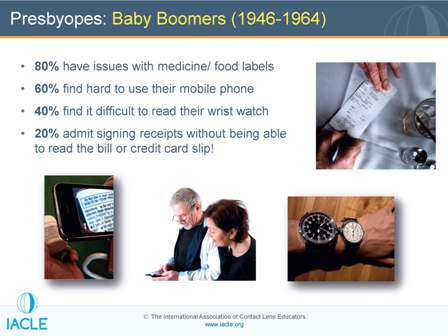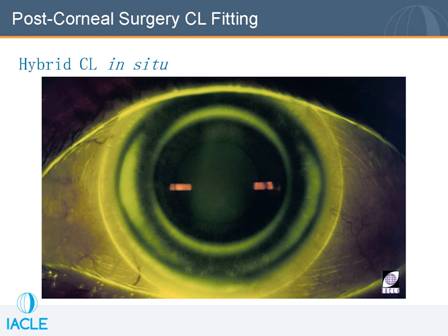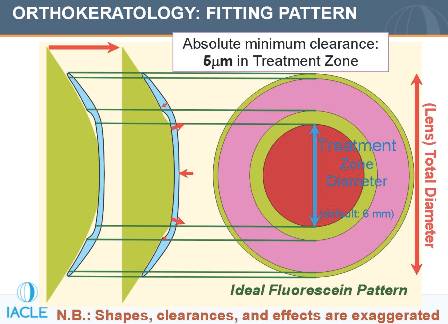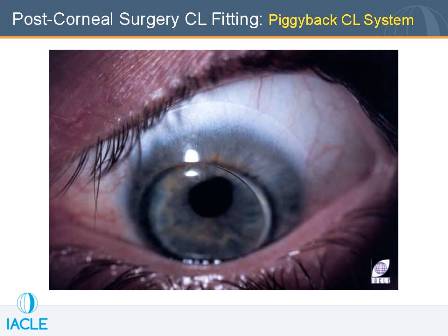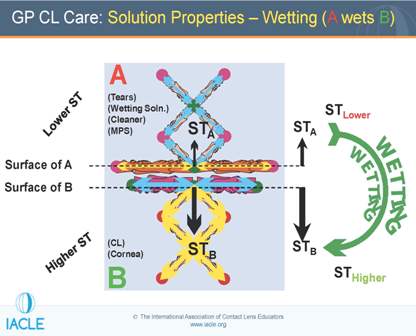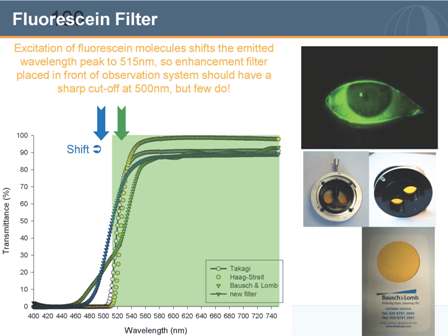 Translations of the New ICLC
Translations of the New ICLC are currently under in our core languages (Spanish, Chinese (simplified) and Korean). In the member login of our website we currently have lectures available in Korean and Spanish. Chinese (simplified) is coming soon.
Non core languages available are lectures in French (A2, B8, E1, E2, E3) and Italian (D2).
Previous Formats
The original IACLE Contact Lens Course was available on DVD-ROM in English, Chinese (traditional and simplified), Spanish and Bahasa.
IACLE has phased out the DVD and it is no longer for sale. However, copies may be archived in IACLE Resource Centres which are run by our members at various institutes worldwide.
A print version (PDF) of the original course is offered to members via the Member Login of our website.
Translated versions of the original course modules and / or selections of PowerPoint slides are also available in the Member Login section in Korean (module 3 print format, plus selected PPT slides), German (selected PPT slides), Russian (selected PPT slides) and Portuguese (selected PPT slides).