Resources
IACLE produces a range of educational resources for contact lens education
IACLE provides a range of educational materials and essential teaching aids to help you be the best in contact lens education.
Our resources are aimed at eye care professionals:
Who teach contact lens education AND
Students studying contact lenses
Resources offered to members and how to access them
Details of all the following resources are available by clicking on the links below. IACLE members can access all these programs on joining our association.

The contact lens educator's must-have teaching resource, exclusive to IACLE members.

Members receive access to IACLE's online resources via member login on our Homepage. Members can also request access by emailing us at: iacle@iacle.org.
These include:
Online Educational Programs
The IACLE Case Report Series
Image Gallery
Contributed Resources
IACLE Resources
Video Resources
Links to Useful Resources
Research
Industry Resources
Resource Centre Materials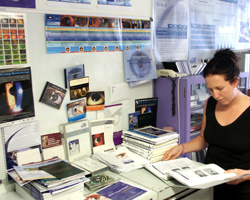 IACLE members can also access a collection of resource materials at IACLE Resource Centres.  Read more







Research Update
IACLE and BCLA have taken the step of providing a regular, monthly summary of important and interesting contact lens-related research papers published in the literature for your quick reference. Read more

Free Resource
The following resources are available free to non-IACLE members by clicking on the links below: