IACLE Case Report Series
The IACLE Case Reports Series is a growing collection of interactive, illustrated case reports intended for use as a contact lens teaching resource by educators, practitioners and students.
Case Report content includes:
Introducing lectures on related topics, assessing knowledge imparted by a lecture, the basis of a tutorial, a self-paced student learning aid, and continuing professional education.
Colour illustrations, videos, and useful references to the IACLE Contact Lens Course and other resources
Interactive multiple-choice questions that guide the user towards the correct answer with explanations at every step. Progression through the report is not possible until a correct answer is achieved. Each report can only be navigated using the on-screen 'buttons' provided.
They are in Flash format and can be easily viewed – just as you would a PowerPoint presentation.
IACLE Case Reports are available in: English, Spanish, Portuguese, Korean, Chinese (simplified)
The case reports are based on materials supplied by contact lens educators from around the world. As the series grows, topics will move from the current introductory and intermediate levels to more advanced topics. All educators are invited to supply details of cases they believe have educational value.
How to use the IACLE Case Report Series:
Check out a short video on our YouTube Channel with Dr Lewis Williams explaining how to use this resource.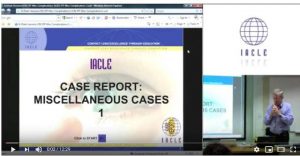 The following Case Reports are available from the member login:
Miscellaneous Cases 1
Miscellaneous Cases 2
Miscellaneous Cases 3
Miscellaneous Cases 4
A Young Prospective CL Wearer
Patient Screening
SCL Fitting
Lens Care & Handling
After-Care
Lens Deposit
An Unusual Case
Post-LASIK Complication?
Presbyopia
A Corneal Lesion
CL Effects on the Lids
Red & Teary Eyes During CL Wear
Corneal Ectasia
Unusual Corneas
Focal Corneal Infiltrates
Silicone Hydrogel & Soft Lens After-Care & Wear Complications
Keratoconus An Acute Complication
Post-LASIK CL Fitting: To Ortho-K or Not to Ortho-K
Will I Still Be Able to Drive?
Case Reports and the languages they are provided in
Further instructions and information is provided in the member login portal of this website – available to members only. Become a member of IACLE to gain access to this wonderful resource and many others!
Contact the IACLE iacle@iacle.org or your National/Regional IACLE Coordinator with any questions or requests for additional information.
Student Testimonies
'I found CRs a fun way of learning and understanding various conditions of the eye with CLs'

Tanvi Aravind, Sankara College of Optometry, Bangalore
'I wish our question papers were in the CR format'

Keerthana, Naseema Institute of Optometry and Research, Bangalore
'Through CRs I understood that every topic in CL education is important and cannot neglect any!'

Prabina Shrestha, Sankara College of Optometry, Bangalore
'I will not forget SOAPE and will use this for every case that I see in future'

Monica, Naseema Institute of Optometry and Research, Bangalore
'These real-life examples left all of us in an applying mode rather than hearing mode helping with a long-term memory of the theory'

Manish Kumar, Ansal University, India