Image Galleries
IACLE members have access to a growing range of image galleries. Available in PowerPoint with detailed descriptions in the notes section.
From 2018, the IACLE Image Collection evolved into an annual series, consisting of a compilation of images donated by our members towards IACLE's Image of the Month initiative. IACLE members have provided their best clinical images and gained recognition for their skills. IACLE's monthly Global Member Newsletter features an 'Image of the Month' and the IACLE Education Team awards the 'Image of the Year'. These images make up our annual series of Image Collections.
Our next edition will be the 2020 IACLE Image Collection due for release in January 2021.
The following teasers are of each gallery available to our members:
IACLE Image Collections
The AOCLE Image Collection
Similar to the IACLE Image Collection, our North American colleagues at AOCLE created a PowerPoint file consisting of over 80 photographs of various eye conditions and generously made it available to IACLE members.
IACLE wish to acknowledge AOCLE, the 'Association of Optometric Contact Lens Educators', as the owners of this resource and would like to thank them for permitting IACLE to share it freely amongst our members.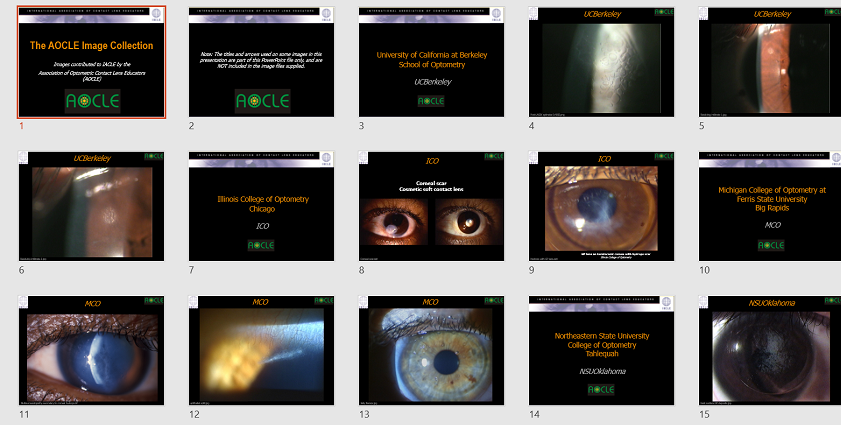 ---
The Salazar Image Collection
These images are the work of the late Mr Ralph Salazar, a Venezuelan optometrist with extensive interests in contact lenses, the anterior eye, and ocular pathology. Fortunately for IACLE, he also had access to hospital cases and an interest in recording photographically, what he saw in practice. This collection is a selection of his work, a series he always intended to be used for educational purposes. Read more..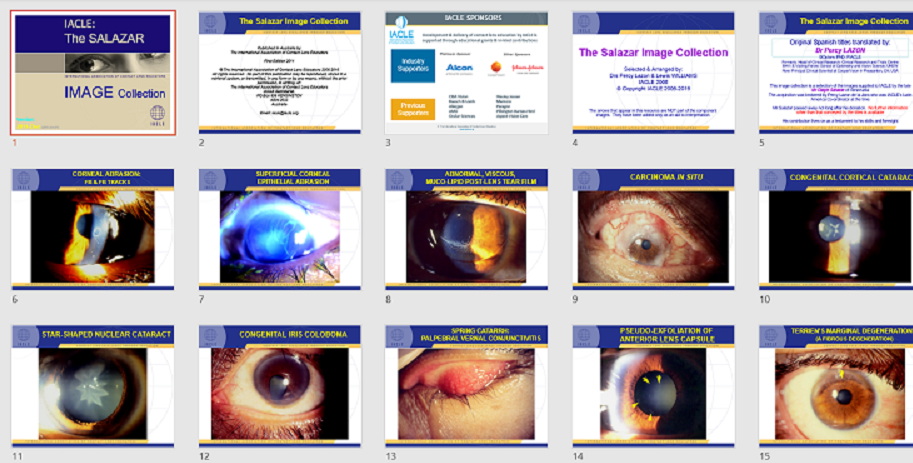 ---
Alcon Image Library
Alcon has generously offered our FIACLEs access to their online image library and encourage FIACLEs to help grow their gallery by donating their own images.
In order to gain access Alcon requests the following contact details: your name, business name, email address and the region you are from.
Please forward your request including your details direct the IACLE secretariat: iacle@iacle.org. We will in turn send your request onto Alcon once your FIACLE status has been verified. Receiving your access codes from Alcon can take a few weeks.
Please note, once we provide Alcon with your contact information, Alcon is responsible for setting up and managing your access. Donating images to Alcon is done via Alcon's website. Technical issues are to be reported to Alcon.