IACLE Teaching Online Platform (IACLETOP)
About IACLETOP
The IACLE Teaching Online Platform – IACLETOP – is an online Learning Management System developed by IACLE using the Canvas platform, which is said to be the world's fastest-growing Learning Management System.
IACLETOP is IACLE's central point to access our online resources and teaching materials.
IACLE is developing IACLETOP to deliver an ever-increasing, powerful array of highly integrated learning products that enable educators to build a digital learning environment tailored to their needs, simplify their teaching and elevate their students' learning.
What's Available on IACLETOP
The range of programs and resources available on IACLETOP is continually expanding. Here's a list of our top resources and programs accessible at no extra cost (covered by annual membership fee):
IACLE Contact Lens Course (ICLC) 2020 and previous versions

How to release the ICLC presentations to your students:
New versions of the IACLE Contact Lens Course curriculum are available as a package with access through the IACLETOP Library. The package contains all the lectures from the ICLC2020 in a 'view only' format. The package allows educators who have access to their own Student Area to import the package, release any chosen lecture and create additional teaching and assessment materials orientated around the ICLC2020 presentations.
Student Area
Within the Student Area our programs and resources for student's learning are accessible to members and their students including:
Student Trial Exam (STE): 50 and 100 question version, plus a basic entry assessment (registration details below)
Case Reports; as both self-directed learning and flipped classes
IACLE Contact Lens Course (ICLC); a student access version
IACLE Flashcards designed to support the delivery of practical skills
Your own dedicated virtual classroom
IACLE global webinars offered in English, Chinese, Korean, Spanish and Bahasa
* In future, more resources will be made available as we continue to develop this learning environment.
Cost of the Student Area
Access to IACLETOP is free of charge for IACLE members. For members who teach students and want to have access to a Student Area for their students these are costs according to IACLE's price list:
PPP1 – $4 per student
PPP2 – $8 per student
PPP3 – $12 per student
Student Area fees are valid for the calendar year
New institutions who sign up for the Student Area will not be charged fees for their first calendar year
Learning Management System development
The Student Area also provides members with tools to develop individual teaching content and assessments. IACLE's programs and resources available in this area can be integrated with the members' developed resources whereas the Student Area performs as the member's own Learning Management System (LMS).
Benefits and opportunities include:
Design your own course using the state-of-the-art Canvas platform
The individual spaces are only for your students to access the course you create
Integrate IACLE resources with your self developed resources
Access to a wide range of Canvas tools to create a customized program
Test and examine your students with the in-built assessment system that automatically generates grades
Create discussion boards for ongoing communication with students about the course
Calendar system to help students track deadlines and manage their time effectively
Deliver live, online presentations
Create workspaces for collaborative student learning
Distribute announcements to keep students updated and informed
Student Area Registration
Members who wish to register for a Student Area on IACLETOP, please complete the Student Area Registration Form and email it to your IACLE Representative, along with any questions you may have.

IACLE provides the member with an invoice. Once paid, the member's students are registered on IACLETOP and setup in IACLETOP is arranged by the IACLE member for their students. Instructions on how to do this are in IACLETOP's Teacher's Area.


A member's feedback on using a Student Area:
A Student Area in IACLETOP is a wonderful resource and has proved to be most helpful not only for me as a contact lens educator, but my students are also enjoying it to the fullest extent. The latest version of the IACLE Contact Lens Course is very compact and extensive, covering all aspects of contact lens teaching for senior year optometry students. The favourite tool among my students and I is the IACLE Case Report series as it provides a fantastic opportunity to conduct an interactive contact lens tutorial without the need of actual contact lens clinical set up. The images are of the highest quality and provide realistic pictures of all clinical scenarios. The IACLE Flashcards are also very useful in providing students with immediate recall prompts for common contact lens procedures. Overall, I am very much satisfied with this resource and looking forward to conducting the IACLE Student Trial Exam towards the end of the semester for a complete analysis of contact lens teaching. Thank you IACLE for creating and providing this resource.

Dr Memoona Arshad, The Green International University, Pakistan

Share our IACLETOP fact sheet with your institute:

How to Access IACLETOP
All paid-up IACLE members have access to IACLETOP. When new members join, they are registered and will receive an email from the system to login and activate their access.
If you have not received your registration email from the system, please inform your IACLE Representative or contact us at iacle@iacle.org.
IACLETOP's sign-in page: https://iacle.instructure.com/login/canvas
NOTE: due to the U.S. sanction programs, some members may not be able to access Canvas. Find out more.
We expect that using a VPN system will allow the Canvas site to be used but we are not able to formally recommend this as we cannot be sure this will work in all countries and the legal status of VPN systems varies.
Watch our instructional videos for further assistance:
Instructions & information about a Student Area
How to use and navigate the IACLETOP Library
How to modify your dashboard
How to log in and what to do when you forget your password
How to log into IACLETOP and a short introduction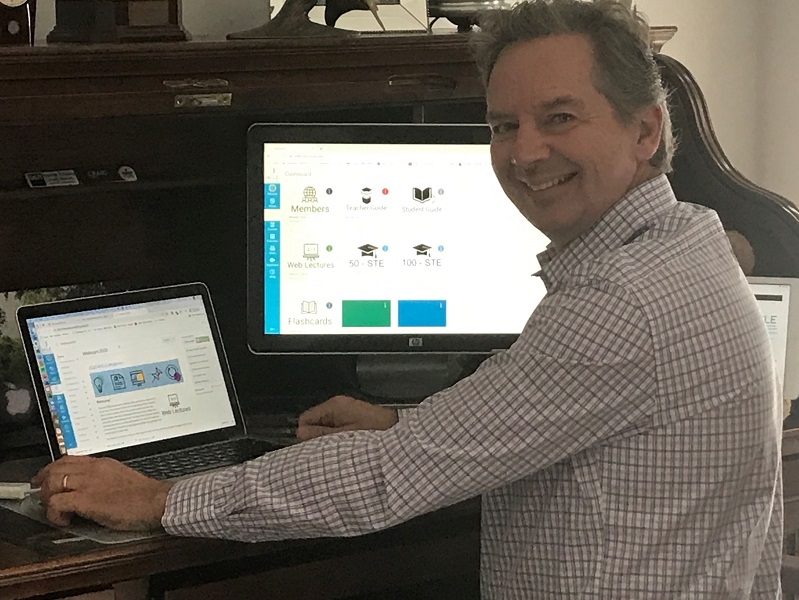 IACLE's Global Manager of Educational Development, Professor Craig Woods (pictured), who is leading the project, said: 'This is an exciting time to be involved with IACLE. The launch of IACLETOP will take the support offered to all contact lens educators to the next level. IACLETOP will allow our members to deliver education to their students using blended or fully virtual learning environments. It is based on the world-leading platform Canvas, used globally by over 4,000 universities and colleges. IACLE is transforming its online material using this state-of-the-art system to allow the best education to be delivered to the world.'
Members feedback on IACLETOP
A Student Area in IACLETOP is a wonderful resource and has proved to be most helpful not only for me as a contact lens educator, but my students are also enjoying it to the fullest extent. The latest version of the IACLE Contact Lens Course is very compact and extensive, covering all aspects of contact lens teaching for senior year optometry students. The favourite tool among my students and I is the IACLE Case Report series as it provides a fantastic opportunity to conduct an interactive contact lens tutorial without the need of actual contact lens clinical set up. The images are of the highest quality and provide realistic pictures of all clinical scenarios. The IACLE Flashcards are also very useful in providing students with immediate recall prompts for common contact lens procedures. Overall, I am very much satisfied with this resource and looking forward to conducting the IACLE Student Trial Exam towards the end of the semester for a complete analysis of contact lens teaching. Thank you IACLE for creating and providing this resource.

Dr Memoona Arshad, The Green International University, Pakistan
I enjoy designing lessons and working on IACLETOP. It's a great tool and if students take an interest it can definitely help them. Setting assignments is becoming very easy.

Nirav Mehta, Hari Jyot College of Optometry, India
IACLETOP is very effective and easy to use especially in this pandemic situation when students are present only in virtual classrooms. Our 23 students participated this year in the online IACLE STE on IACLETOP. All found this tool helpful and easy to operate and flexible. From the Institutes perspective, it reduced additional staff member involvement, reduced administration work and documentation.
I would like to thank the IACLE team for giving us the opportunity and having faith in us to conduct STE in our institute.

Ankit Varshney, Shree Bharatimaiya college of Optometry, India
The STE is the best platform for students. It is very useful and easy to explain. The students actively participated because it is at an international level. The students and I learned a lot from this program. I am very glad and thankful to have participated in this program.

Susmita Banerjee, D.Y Patil Institute of Optometry and Visual Sciences, India