Research Update
As an educator, do you struggle to keep updated with important research papers being published in peer-reviewed journals? IACLE's Research Update is a monthly e-resource which will help you.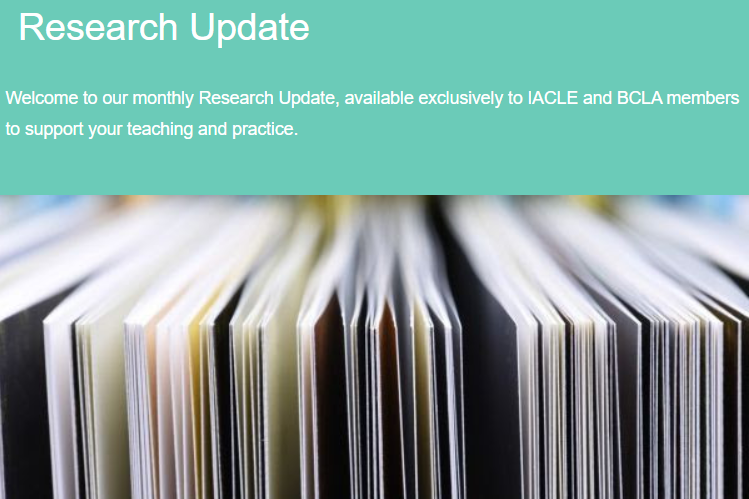 The presence of numerous journals in the optometric field and lack of access makes it difficult for many educators to keep pace with published research. Hence IACLE have taken the step of providing a regular, monthly summary compiled by the IACLE Education Team, of important and interesting contact lens-related research papers published in the literature for your quick reference.
This initiative will give educators multiple opportunities, such as:
Teach evidence-based science and practice
Make your interactions with students more engaging and meaningful
Encourage critical analysis of research papers
Keep up to date in your area of interest
Generate ideas for future research topics
Explore the possibility of collaboration in common areas of interest
How can you maximize this resource?
Here are just a few ideas for incorporating Research Update in your teaching:
Use it to teach students how to carry out a literature search and evaluate evidence
Conduct a lunchtime journal club with one assigned student/s presenting a critical analysis of a paper while the group provides additional inputs
Establish Discussion Forums where students are encouraged to interact – these could be on virtual platforms too
Encourage students to identify areas of further research
Access IACLETOP archives of Research Updates. Excessively available to IACLE members
IACLE would like to thank Bausch + Lomb for helping with the preparation of the Research Update

What our members say about Research Update…
This is a great initiative by IACLE to provide members with updates on research. As an active IACLE member, I find the information very helpful to impart to our students and apply in our routine practice. We have reached the era of evidence-based practice and this research-based resource will help uplift our practice and lead to better outcomes. A big thumbs-up to IACLE and BCLA for undertaking the herculean task of gathering all the important articles from different journals. I am very sure this will help us to carry out further research in future.

Premjit Bhakat, Manipal University, India
As a contact lens practitioner and educator, this Research Update initiative will help me stay abreast of developments in the field. It's also inspiring and thought provoking in terms of what research we can conduct in our own practices. Sometimes, due to limited access, we miss reading about these studies. This is knowledge served on a plate and all IACLE members should use it to its full potential. Another great initiative by team IACLE.

Gauri Kunjeer Patel, Nagar School of Optometry, India
Student Feedback
Sayani Pal Chowdhury is a student of Fellow of IACLE Runa Mazumder from Vidyasagar College of Optometry and Vision Science in Kolkata India. Sayani shares her feedback on how the Research Update assists her in her learning.
'I love to read the articles of these issues, we love to conduct the journal clubs on various topics. I would like to thank the entire IACLE team for this incredible initiative' says Sayani Pal Chowdhury. Watch the following video to hear Sayani's full testimony: