Special Notice – Launch of Online STE
IACLE introduces Online Student Trial Exam to support its members following the COVID-19 pandemic
Translations: Chinese (simplified), Spanish
IACLE has launched an online version of its Student Trial Exam (STE) to support educators whose students are unable to attend their institutions in person or who want to assess students' knowledge online.
The Impact of COVID-19 on Global Contact Lens Education' survey conducted in May 2020 among IACLE Educator Members worldwide revealed:
• 71% of their institutions were currently closed to students to attend in person
• Only 24% were running exams or assessments for students to take in person
• 22% said they were not currently assessing students at all
Hosted on our new teaching online platform – IACLETOP – the Online STE is one of many additional resources IACLE is introducing under The TLC (Teach. Learn. Connect.) Initiative to support educators, students and industry, and help reduce the impact of the COVID-19 pandemic.
The STE has previously been a 100 multiple-choice question (MCQ) assessment in paper format to help teachers gauge how their students are progressing through their contact lens curriculum. The paper-format STE will now be discontinued. Delivering the STE online means IACLE can offer a number of enhancements:
• A choice between the traditional 100 MCQ exam or a reduced STE with 50 MCQs, providing more flexibility for you and your students
• Questions and answer options randomized, so each student gets an individual exam
• The option to complete the STE via a smartphone app as well as on their computer
• Online feedback for each student, either on the day or when the educator prefers
The Online STE will be free of charge until the end of 2020 and will initially be conducted in English, with translations into Spanish, Korean, Chinese (Simplified) and Bahasa to be completed by September.
IACLE's Executive Manager of Educational Development Professor Craig Woods, who is leading the project, explained: 'Even if educators are teaching remotely and their students are learning from home, IACLE is able to support them with this tried, tested and trusted exam. We're very excited to add this to our existing resources and the three institutions that have already tried it out were impressed by how easy it was to administer to their students.'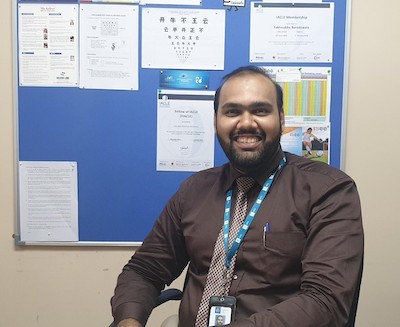 FIACLE optometrist Fakhruddin Barodawala (pictured), lecturer at SEGi University in Malaysia, was among the first to run the exam. He commented: 'IACLETOP came to the rescue just in time. The pandemic has hit everyone globally, and we were clueless on how we would conduct the STE. At SEGi University, STE is an important element of contact lens teaching as it forms a part of our summative assessment for final-year students.
'I appreciate the efforts of the IACLE team to initiate IACLETOP and provide training on its use. Both I as the educator and my students had a good learning experience. A special thanks to Professor Woods who helped and supported us throughout the journey, and for being there to make sure the STE experience was student as well as educator friendly.'
Find out more about the Student Trial Exam
Read more about the TLC (Teach. Learn. Connect.) Initiative
Read Information on all IACLE membership benefits is available at www.iacle.org
IACLE IS SPONSORED BY