TLC Initiative Monthly Issue #10

Teach. Learn. Connect. in March

The TLC (Teach. Learn. Connect.) Initiative is IACLE's new online education and communications program that will supplement our existing educational activities. Our aim is to support our members, students and industry as recovery from the COVID-19 pandemic continues.

Please note that login details for every event are under IACLE Webinars through the IACLETOP Dashboard
GLOBAL CONFERENCE
Save the date for our second Virtual Conference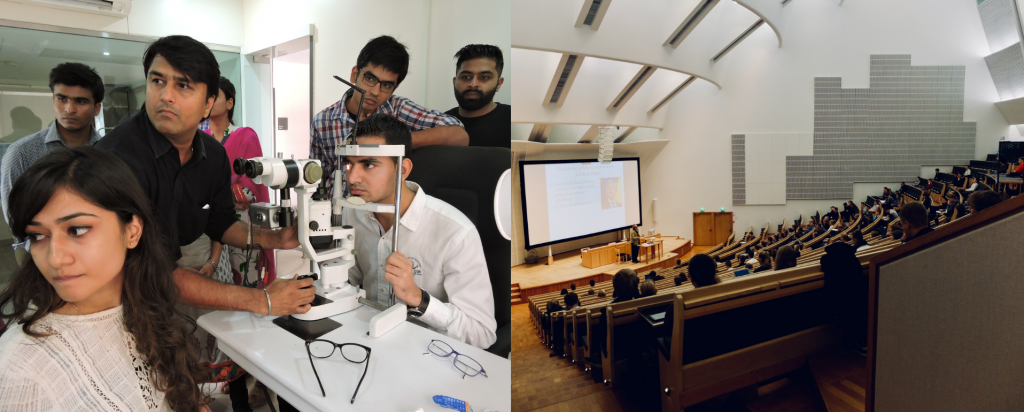 Following the success of our first-ever Virtual Conference in September 2020, the IACLE Education Team is hosting a second global Virtual Conference on Saturday 24 April, starting at 12 noon (GMT), themed 'Integrating research into education'. International experts will share their knowledge and experiences on how to combine research and education to become a successful academic.
IACLETOP
What can IACLETOP offer you?
What can IACLETOP offer you? IACLETOP is our online Learning Management System designed to support educators and their students. IACLETOP is IACLE's central point to access our online resources and teaching materials, with access via the IACLETOP Login. 
NEW this month
The Distance Learning Program, designed to improve educators' contact lens knowledge and prepare them for the Fellowship Exam, launches on IACLETOP this month. The DLP is a series of assessments designed to guide members through the IACLE Contact Lens Course module by module. There are four phases to the self-study program to allow members to adjust to the online environment. After working through each section of the ICLC, members complete a related assignment, submitting directly through IACLETOP with instant feedback available. Once members are satisfied with their progress, they move onto the next phase. This cycle repeats until all modules of the ICLC are covered. Progression is managed with each phase having a staggered released date.
The newly redeveloped Student Area allows educators to develop their own teaching materials, their students can access a dedicated copy of the IACLE Case Report Series and IACLE Global Webinars, launches this month. The Student Trial Exam is also administered here. In 2021, a special rate registration fee applies per student to access the area and is based on the fee structure on our Purchasing Power Parity (PPP) Grouping:
• Group 1 US$5 student registration fee
• Group 2 US$10 student registration fee
• Group 3 US$15 student registration fee
Please note this fee is a special rate offered in 2021. The IACLE Board will review the fee structure after assessing the initial rollout and revisions may take place in 2022.
Executive Manager of Educational Development Professor Craig Woods has produced a video guide on how to use the Student Area.
Did you know?
You can access IACLETOP via the Canvas app on your mobile phone or tablet. There are three versions of the app – Canvas Teacher, Canvas Student and Canvas Parent. Download the Teacher app for your own access with your students using the Student app. Try it out today and let us know your feedback.
The IACLETOP Team has added language icons to the resources available in additional languages. Please see the IACLETOP Dashboard to view.
The IACLETOP Team has redesigned the Flashcards page allowing members to easily select the language they wish to view the resource in. We plan to model other areas where translated materials are available.
All IACLE images and videos are now available to view and access in the IACLE Library. Access the Library from your Dashboard.
Coming up in the New Year…
The Fellowship Area launches next month to coincide with the opening of registration for the Fellowship Exam. After registration, members will continue their preparation and find mock exams in this area to familiarize themselves with the different exam environment and assessment. This area will be available in English, Spanish, Chinese and Korean.
GLOBAL WEBINAR
On Wednesday 24 March at 12.00 noon (GMT), we are hosting a global webinar to discuss the Fellowship Exam which is taking place on Friday 12 November. The webinar will be split into three sections to cover different aspects in preparation for the exam. The details are as follows:
Time: 12.00pm – 12.15pm
Topic: The importance of the Fellowship Exam – my experience
Presenter: Dr May Bakkar
Time: 12.15pm -12.45pm
Topic: What to expect and how to prepare
Presenter: Professor Craig Woods
Time: 12.45pm – 12.55pm
Topic: How the exam will be administered
Presenter: Siobhan Allen
REGIONAL WEBINARS
Weekly webinars in Spanish
Weekly webinars to be conducted in March across the Latin America region. Please contact Americas Regional Coordinator Willy Carrillo for more information.
3 March at 11.00am (GMT-5) Colombia
Topic: Contact lens practice in 2020 with focus on 2021
Presenter: Ma Victoria Báez
10 March at 1.00pm (GMT-3) Uruguay
Topic: Criteria for the appropriate selection in contact lens fitting
Presenter: Milagro Baptista
17 March at 11.00am (GMT-5) Colombia
Topic: Vital stains: fluorescein and lissamine green
Presenter: Adriana Navarrete

17 March at 6.00pm (GMT-6) Mexico
Topic: How to achieve a successful Fellowship Exam
Presenter: Ruben Velazquez

24 March at 11:00am (GMT-5) Colombia
Topic: Assertive communication with patients: Educate to prevent
Presenter: Diancy Capella

31 March at 10:00am (GMT-6) Mexico
Topic: Key points to ensure success for new wearers for frequent replacement contact lenses
Presenter: Alicia Alcazar
NATIONAL WEBINARS
IACLE webinar in India
On Wednesday 3 March at 3.00pm India (GMT+5.5), Lifetime FIACLE Ajay Shinde, FIACLEs Kalikivayi Venkataramana and Prasad Sawant, and Pushpendra Singh are hosting a webinar on the Fellowship Exam. There will be a panel discussion to explore the importance of the Fellowship Exam, how it helps members in their careers, preparation for the exam and industry involvement. Please find the meeting login details below.
Zoom Meeting ID: 869 3570 5363
Password: 809963
IACLE webinar in Bahasa
On Sunday 21 March at 11.00am Jakarta (GMT+7), Asia Pacific Regional Coordinator Cheni Lee, FIACLE Febry Corina and IACLE member Abdul Halim are hosting a webinar to discuss the Fellowship Examination.
Members can tune in live via Zoom and a recorded version will be available on IACLETOP after the event has taken place. Bahasa-speaking members will be contacted with login details. 
Journal Club with the Education Team in India
This month, Bharat Bhayal and Rupam Sinha are hosting Journal Club on Friday 26 March at 3.00pm (GMT+5.5) India. The team will discuss the most relevant papers and topics related to education. We encourage all Fellows and members to take part in Journal Club. If you would like to present, please don't hesitate to contact Nilesh Thite.
COMMUNICATIONS
As we continue to grow our online presence through our social media channels, our follower count has increased over the past year across all platforms. To keep up to date with our latest news and webinar reminders, follow us on social media by clicking on the links at the top of this newsletter.
IACLE IS SPONSORED BY